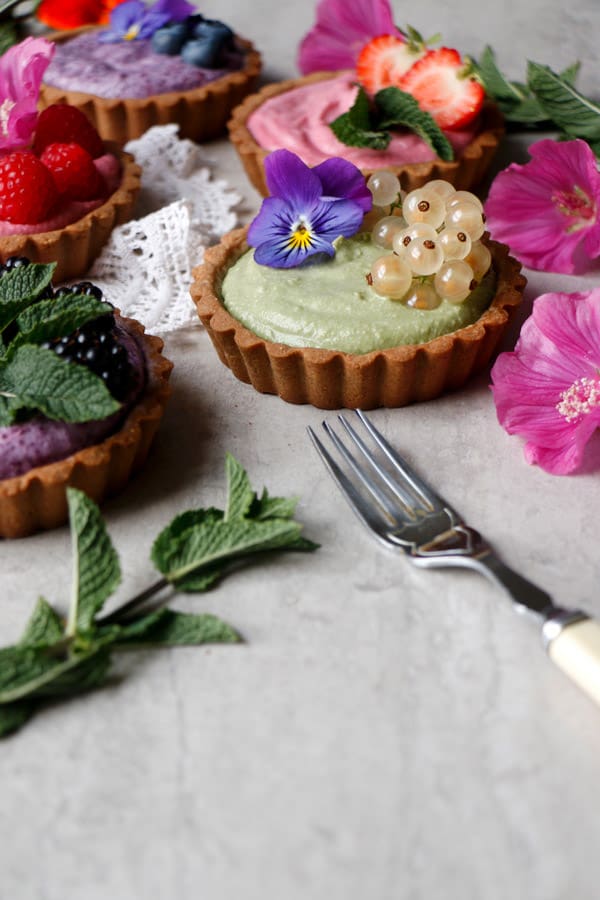 I'm so happy to share these amazing Summer Berry Tarts with you today made with the most delicious gluten-free vegan pastry I've made to this day. Filled with raspberry chia jam, coconut frosting and topped with summer berries and edible flowers they are the ultimate summer dessert.
The two most fussy eaters in my family, especially when it comes to anything too healthy or vegan – my husband and my son went crazy for these so they have to be something quite special!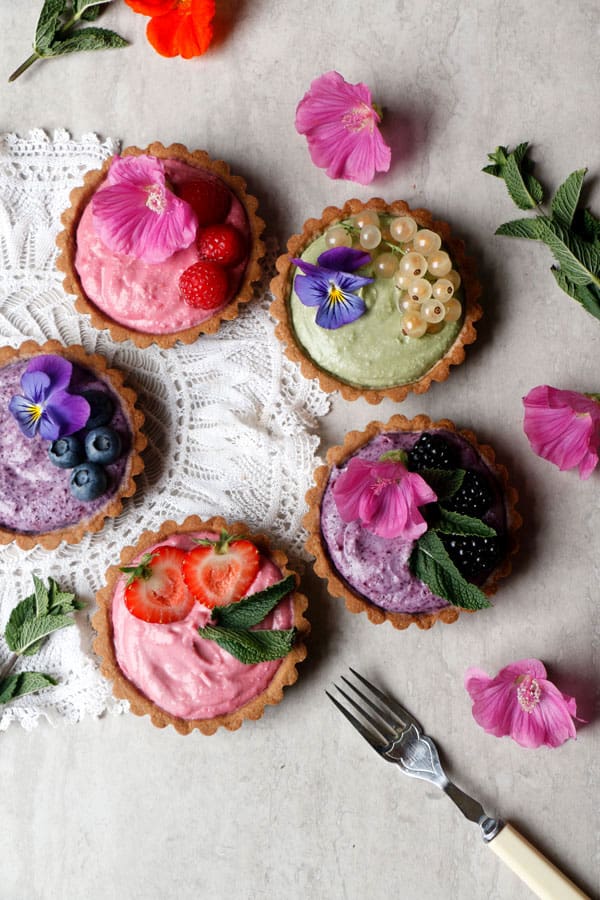 There are few elements to these, but they are not at all complicated to make. The pastry is quick to make and doesn't require chilling as you will be pressing it into the tart tins. I did try to roll it out and it was OK to roll after about an hour in the fridge, but I think it's easier to just press it in. However I think it would be possible to make cut out cookies with it. The taste is really amazing, the gluten-free mix that I've used works so well together, you know once you try.
The tart shells are strong, very much like shortcrust pastry and you could choose to fill them with anything that you like. I've picked my favourite combination, raspberry chia jam and coconut frosting, because I love the creamy cheesy fresh flavour. A gorgeous selection of summer berries and fresh edible flowers transform these into stunning summer dessert for all senses. Enjoy!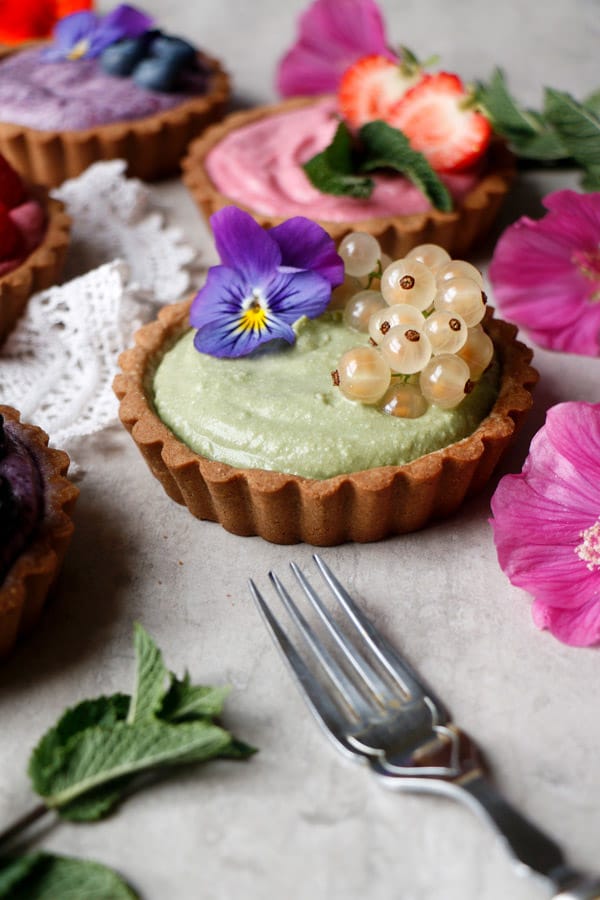 Yield: 6 tarts
Summer Berry Tarts (gluten-free & vegan)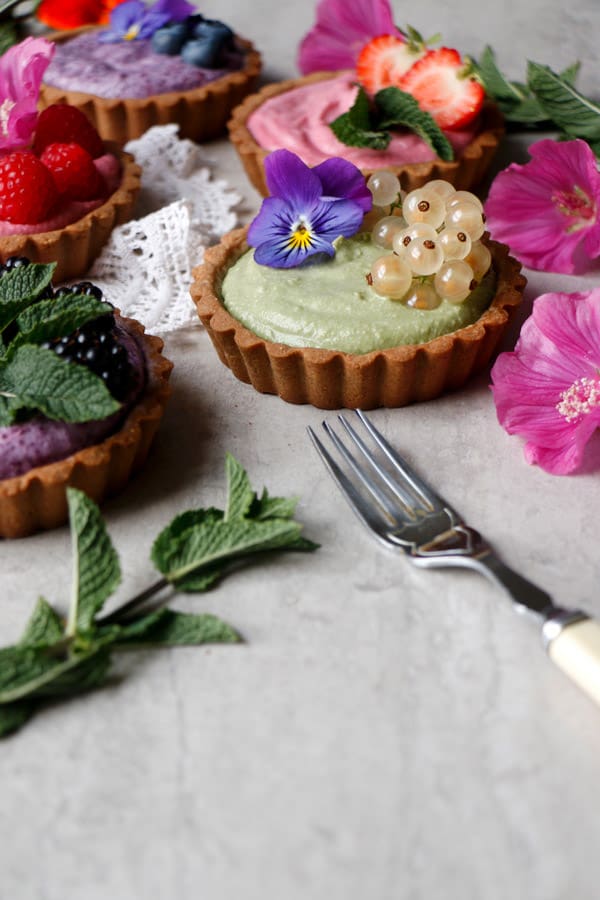 Ingredients
Tart shell:
50g ground almonds (1/2 cup)
70g teff flour (1/2 cup)
70g buckwheat flour (1/2 cup)
30g tapioca flour (1/4 cup)
1tsp psyllium husk
pinch sea salt
60ml coconut oil, melted (1/4 cup)
60ml maple syrup (1/4 cup)
1tsp water
Raspberry chia jam:
150g fresh or 100g frozen raspberries (1 cup)
1tsp lemon juice
1tbsp maple syrup
1tbsp chia seeds
Coconut frosting:
1x 400ml can full fat coconut milk, refrigerated overnight
250g coconut yoghurt (1 cup)
2tsp maple syrup (optional)
½-1tsp matcha powder
2tsp raspberry powder
2tsp blueberry powder
Topping:
summer berries
edible flowers
fresh mint leaves
Instructions
Place the can of full fat coconut milk into a fridge, preferably overnight.
Preheat the oven to 180°C (350F)
In a large bowl whisk together ground almonds, teff flour, buckwheat flour, tapioca, psyllium husk and pinch of salt.
Add coconut oil and maple syrup and with a fork stir the mixture until it starts coming together. Mix in 1tsp of water. Press some of the dough together, it should stick together. Add another 1tsp of water if needed.
Use your hands to gently bring it into a smooth soft dough.
Divide the dough into 6 small balls.
Evenly press each ball onto the base and up the sides into each little tart to form a crust.
Pierce the base few times with a fork and bake for about 20 minutes until lightly golden.
Remove from the oven and leave to cool down for about 20 minutes before removing from the tart tins. If the base sticks, use knife to gently break the seal. Leave to cool down completely before filling.
To make the raspberry chia jam place raspberries, lemon juice and maple syrup into a small pot and gently heat for about 5 min until raspberries are soft and mushy. Take off the heat and roughly mash the raspberries with a fork. Stir in chia seeds and leave to cool down for a bit before transferring into a fridge to set.
To make the frosting scoop the solid part of the coconut milk into a bowl, add coconut yoghurt and maple syrup and whip until smooth. It will thicken as you continue to whip. Separate into 3 small bowls and add the different powders to each of the bowls. You can use the amount to suit your taste.
Once the tart shells are completely cooled dollop chia jam onto the base of each tart and spoon the coconut frosting on top.
Top with fresh berries, mint leaves and edible flowers and serve immediately or place into fridge for about an hour for the frosting to set.
Enjoy with all the senses!
Notes
I've used 6 small 10cm tart tins in this recipe.
You can serve these immediately after filling, but I think they are even better if you leave them to set for about an hour in the fridge.
The pastry freezes well.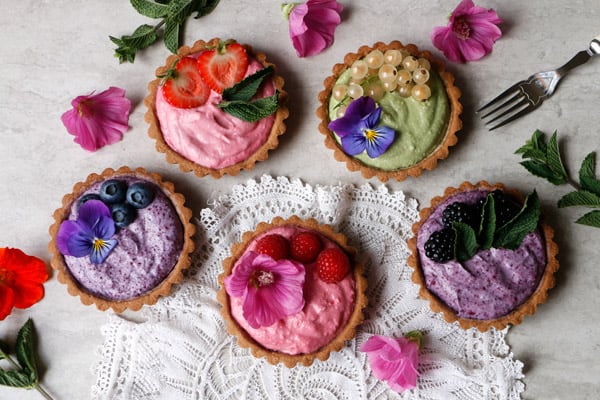 Similar Posts: