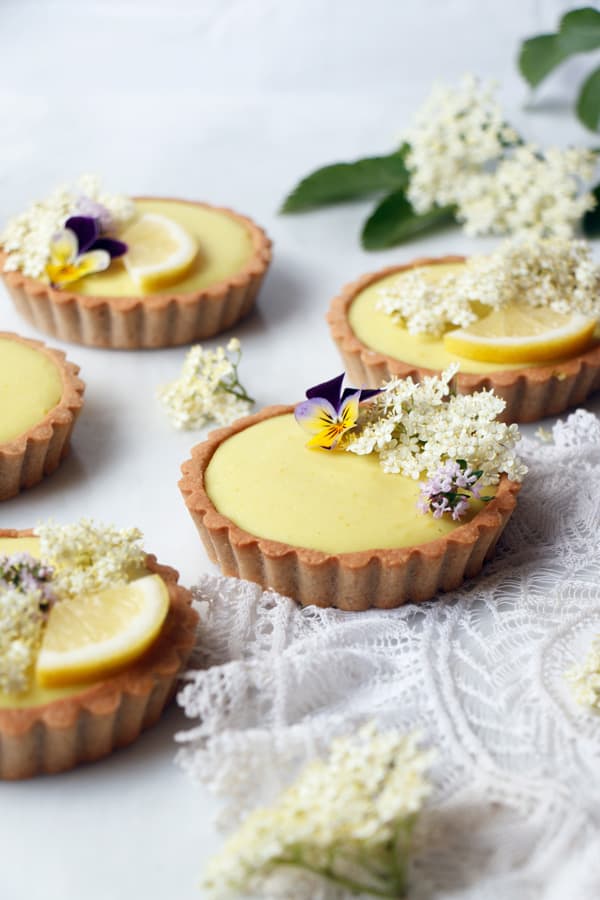 The delicate beauty and scent of elderflower have inspired these Elderflower Lemon Tarts. A lovely seasonal recipe for you to enjoy now. You can make these delicate tarts with fresh elderflower or elderflower cordial or both depending on your resources and taste. They are both wonderful.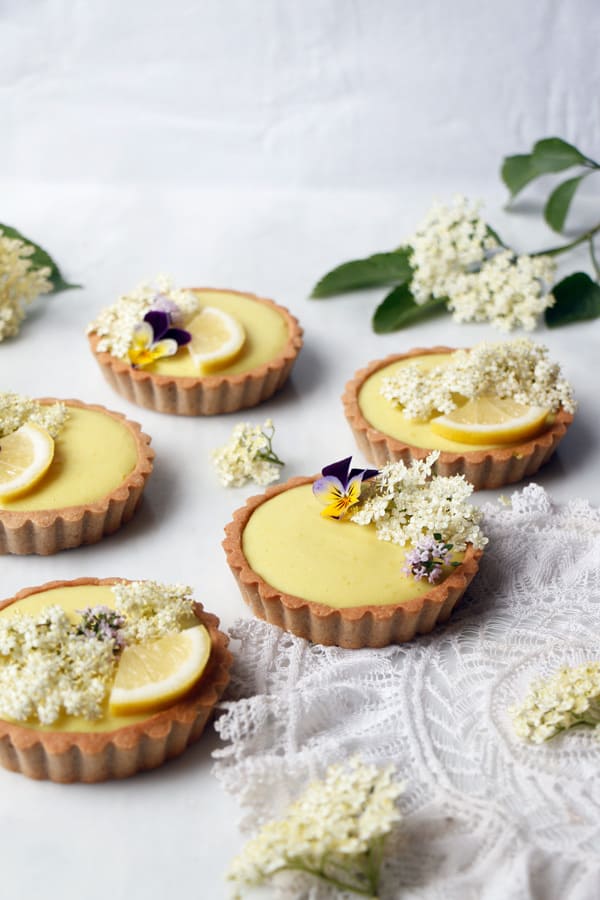 I've made both versions of this recipe, one with fresh elderflower and one with the elderflower cordial. I've also tried it with and without lemon juice to see the flavour difference. I have to say that using fresh elderflower will add such lovely fragrant flavour to the cream that is worth to go that extra step.
If you have an elder tree in your area that is free from pollution then it's a wonderful recipe to try. You don't even need to bake the tarts and just try making the cream filling as a dessert.
Just take note if you're not familiar with elderflower please do seek help from someone you can trust to help you to identify it. There are few trees with similar flowers at this time of a year.
The elderflower cream made with lemon juice had more curd-like flavour and one without lemon juice tasted more like a custard. It really depends on you which flavour you prefer and maybe you can even try both versions and decide then. They're both lovely and to be honest I like them both.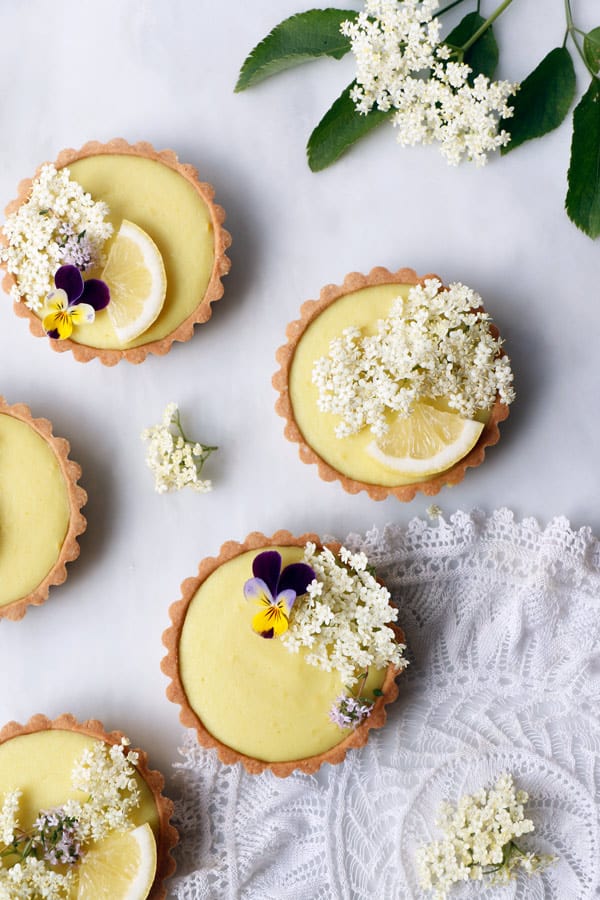 Lastly, I wanted to mention my NEW Ebook I've just launched last week and if you haven't seen it yet you can preview and buy it here. I've created it as a Spring-Summer collection of 34 beautiful wholesome gluten-free vegan cake recipes some from my blog and some exclusive ones to this Ebook. Also comes with a guide to gluten-free flours & plant-based ingredients and my tips on using them to create amazing gluten-free vegan cakes. All created to help you with your plant-based cake making this season :)
Hope you love this recipe, always love to hear your thoughts.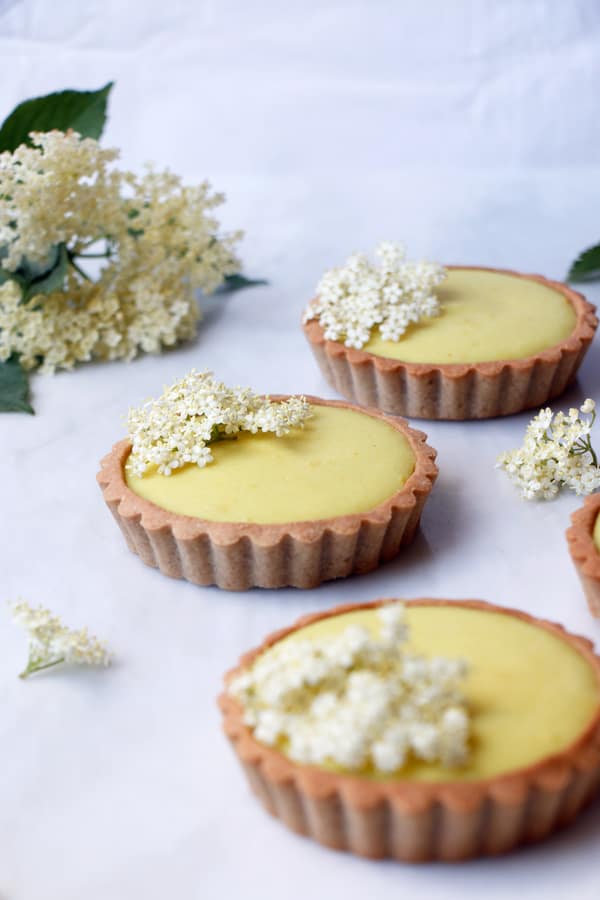 Yield: 6 tarts
Elderflower Lemon Tarts (vegan & gluten-free)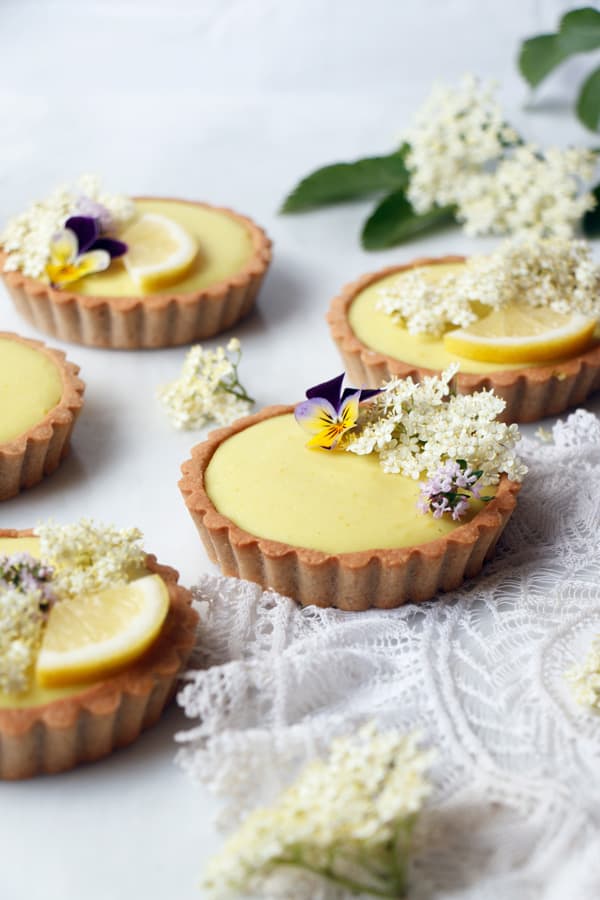 Ingredients
Tart shell:
50g ground almonds (1/2 cup)
70g brown rice flour (1/2 cup)
70g buckwheat flour (1/2 cup)
30g tapioca flour (1/4 cup)
1tsp psyllium husk (optional)
zest of 1/2 lemon
pinch sea salt
60ml melted coconut oil (1/4 cup)
60ml maple syrup (1/4 cup)
1-3tsp water as needed
Elderflower lemon cream:
400ml can of full-fat coconut milk or cream (1⅔ cups)
4 elderflower heads (optional) *
60ml elderflower cordial (1/4 cup)
2tbsp maple syrup
zest of 1 lemon
juice of 1 lemon (optional) *
4tbsp cornflour
small pinch turmeric powder (optional)
Topping:
lemon slices
elderflower
fresh thyme
edible flowers
Instructions
Preheat the oven to 180°C (350F)
Prepare 6 small 10cm tart tins with removable base.
In a large bowl whisk together ground almonds, brown rice flour, buckwheat flour, tapioca, psyllium husk if using, lemon zest and sea salt.
Add melted coconut oil and maple syrup and with a fork stir the mixture until it starts coming together. Mix in 1tsp of water at the time and use your hands to bring it into a smooth soft dough. If you prefer use food processor.
Divide the dough into 6 small balls.
Press each ball onto the base and up the sides into each little tart to form a crust.
Pierce the base few times with a fork and bake for about 15 to 20 minutes until lightly golden.
Remove from the oven and leave to cool down for about 20 minutes before removing from the tart tins. If the base sticks, use knife to gently break the seal.
Elderflower lemon cream:
Optional step if you're using fresh elderflower. Place the coconut milk into a bowl, if the cream got separated just gently heat it and give it a whisk. Check your elderflower heads and remove any little insect but don't wash them to keep the pollen intact. Immerse them into the coconut milk, cover and place into the fridge overnight. When you're ready to make the filling, pass the coconut milk through a sieve discarding the elderflower. It's likely that the milk got separated in the fridge, just gently heat it before passing it through the sieve.
In a medium pot whisk together coconut milk, elderflower cordial, maple syrup, lemon zest and juice, cornflour and a tiny pinch of turmeric. Bring the mixture to boil while whisking continuously. Leave to cook for couple of minutes and take off the heat.
Pour evenly into each of the tarts and leave to set. You can leave it to set at room temperature or in fridge.
Before serving top the tart with your choice of decoration.
Store in fridge.
Notes
You can make the elderflower cream with coconut milk or coconut cream.
*Without the lemon juice the cream tastes more like custard. With the lemon juice is more curd-like flavour.
*If you're using fresh elderflower you might omit the cordial and use extra maple syrup instead.
If your elderflower cordial is very sweet you might not need the maple syrup.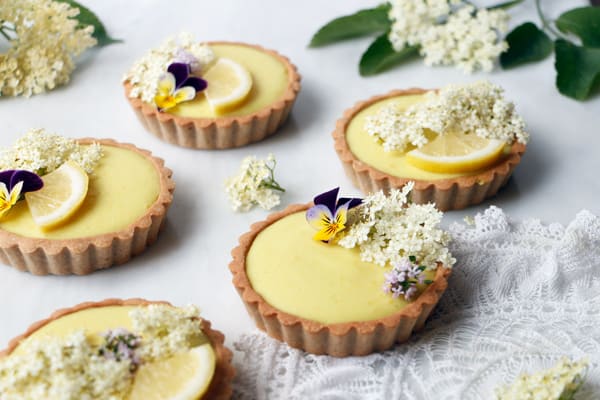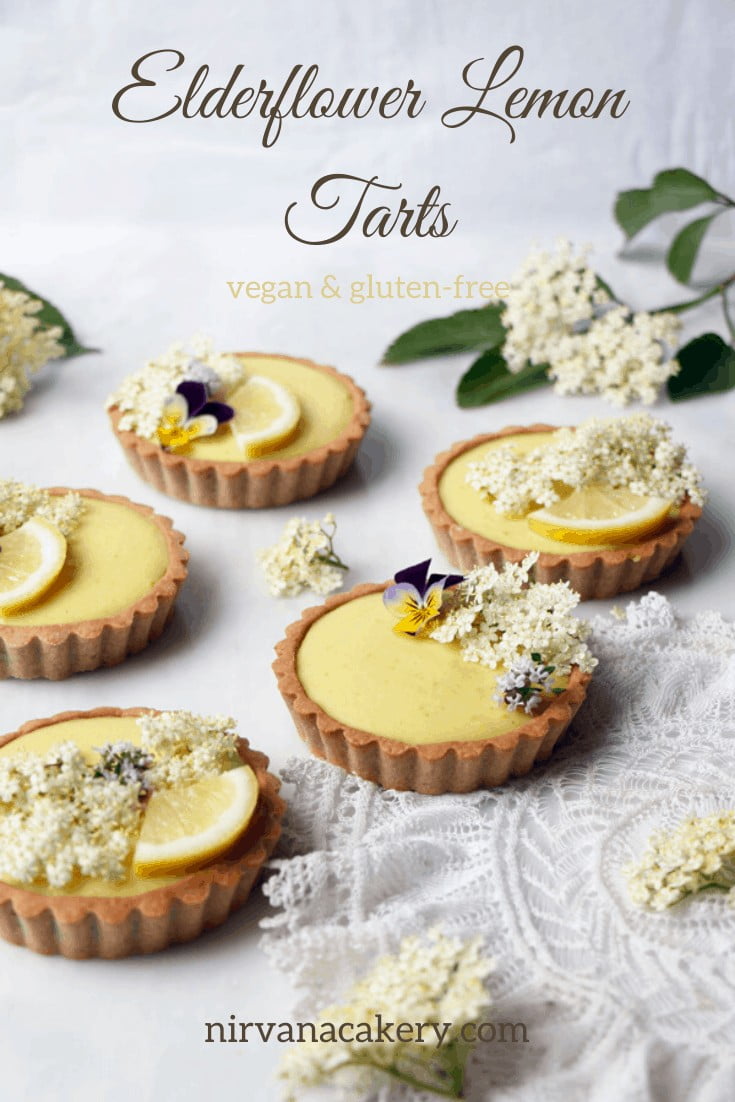 Similar Posts: