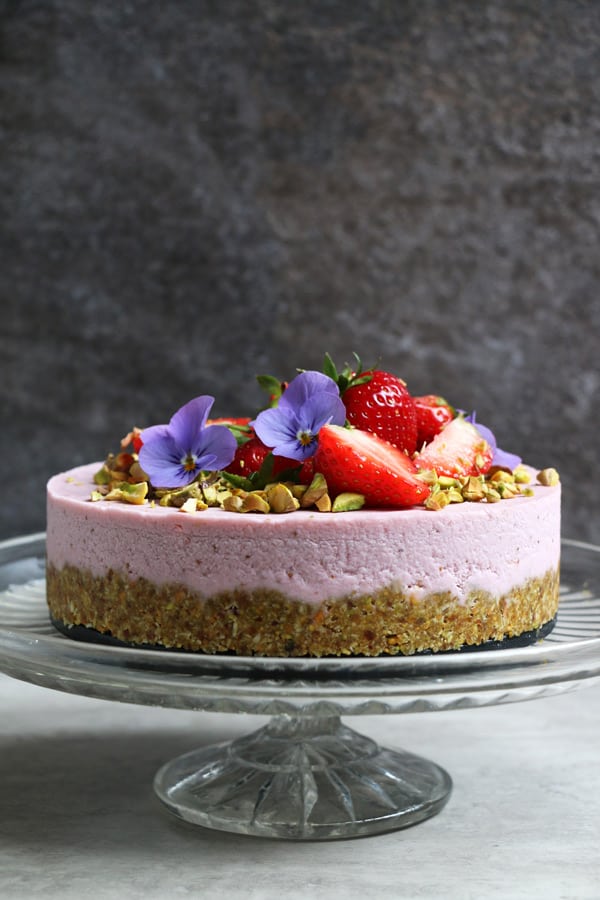 I'm continuing with the berry season creating lots of new recipes for you that are perfect for the summer. Today I've got a cute little Pistachio and Strawberry Raw Cake recipe to share with you.
Strawberries are now in season in the UK and they are popping up at local Farmer's markets so we can all enjoy this gorgeous summer fruit. In this cake I've teamed up the strawberries with coconut, lemon and pistachios to make a special healthy summer treat.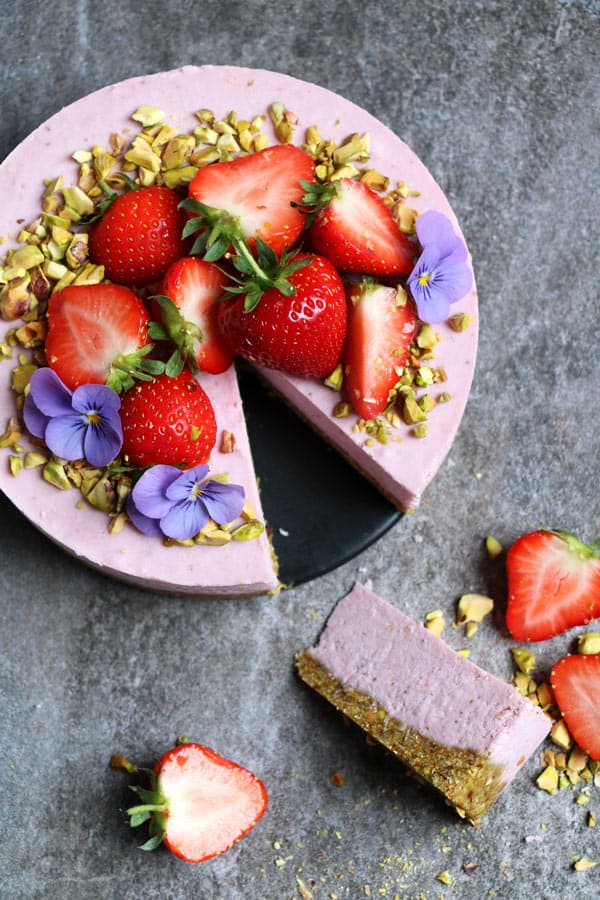 This is a small 6″ cake, just perfect for a little celebration. The yummy crust is a mix of pistachios, desiccated coconut and medjool dates. The creamy strawberry layer is a mix of fresh strawberries, lemon zest and coconut butter. It's a quick cake to make and doesn't take too long to set in the freezer. What took me the longest was shelling the pistachios, but the crust is so worth it.
A lot of you keep asking about coconut butter and creamed coconut. They are the same thing, coconut butter usually comes in a jar and creamed coconut comes in a form of a solid block. When I make cakes I tend to use creamed coconut, because it comes in a handy 200g block that's perfect for my recipes. I haven't tried yet, but you can also make your own coconut butter and there are many recipes online. Enjoy the recipe:)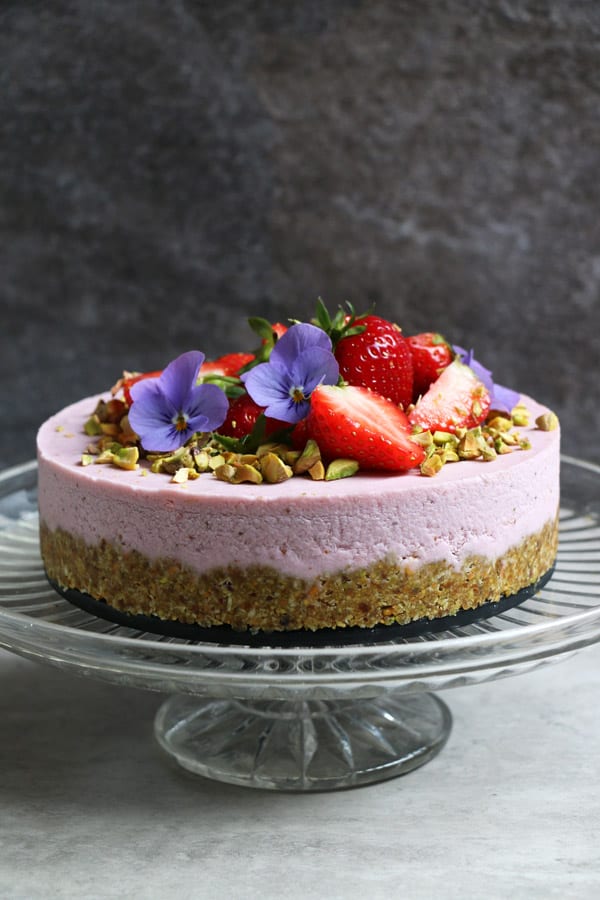 Yield: 6" cake
Pistachio and Strawberry Raw Cake (grain-free & vegan)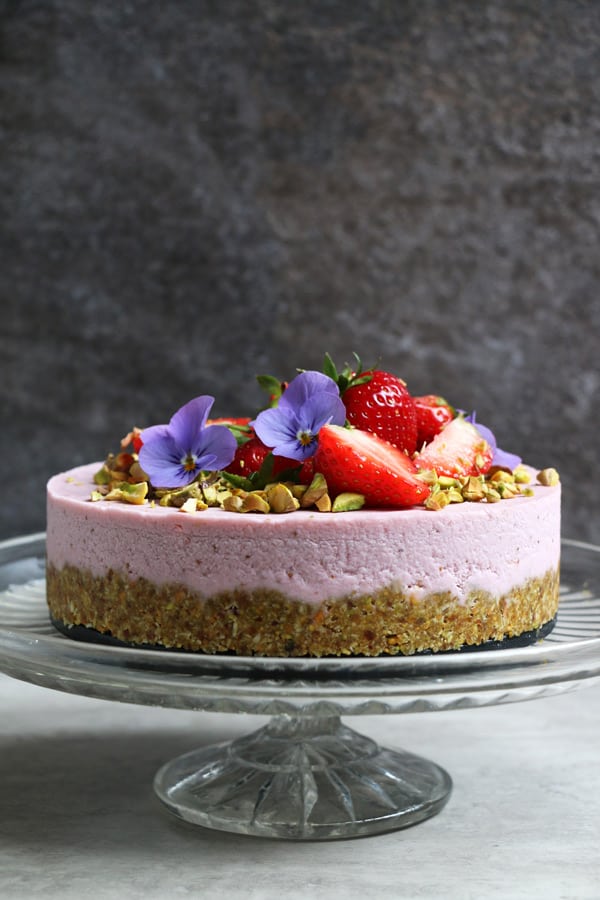 Ingredients
Pistachio crust:
80g shelled pistachios (1/2 cup)
50g desiccated coconut (1/2 cup)
6 medjool dates
1tbsp coconut oil
pinch of sea salt
Strawberry layer:
250g strawberries (2 cups)
200g coconut butter or creamed coconut (1 cup)
2tbsp coconut oil
2tbsp maple syrup
1/2 lemon, zest
1tbsp lemon juice
Topping:
fresh strawberries
chopped pistachios
Instructions
Prepare 6" round cake tin with removable base.
Place pistachios into a food processor and blend until coarsely ground. Add desiccated coconut, pitted medjool dates, coconut oil and sea salt and blend until the mixture comes together. Spoon the mix into the tin, spread evenly onto the base and press tightly down. Place into a fridge.
Place strawberries into high speed blender or use hand blender and blend until you have smooth puree. Set aside.
In a double boiler gently melt coconut butter with coconut oil. Stir in 2tbsp maple syrup, strawberry puree, lemon zest and lemon juice. Mix well together.
Spoon onto the crust layer and smooth out the top.
Place into a freezer for about 1 hour to set.
Once set carefully remove from the tin.
Place onto a cake stand and decorate with fresh strawberries and chopped pistachios.
Store in a fridge or freezer.
Enjoy!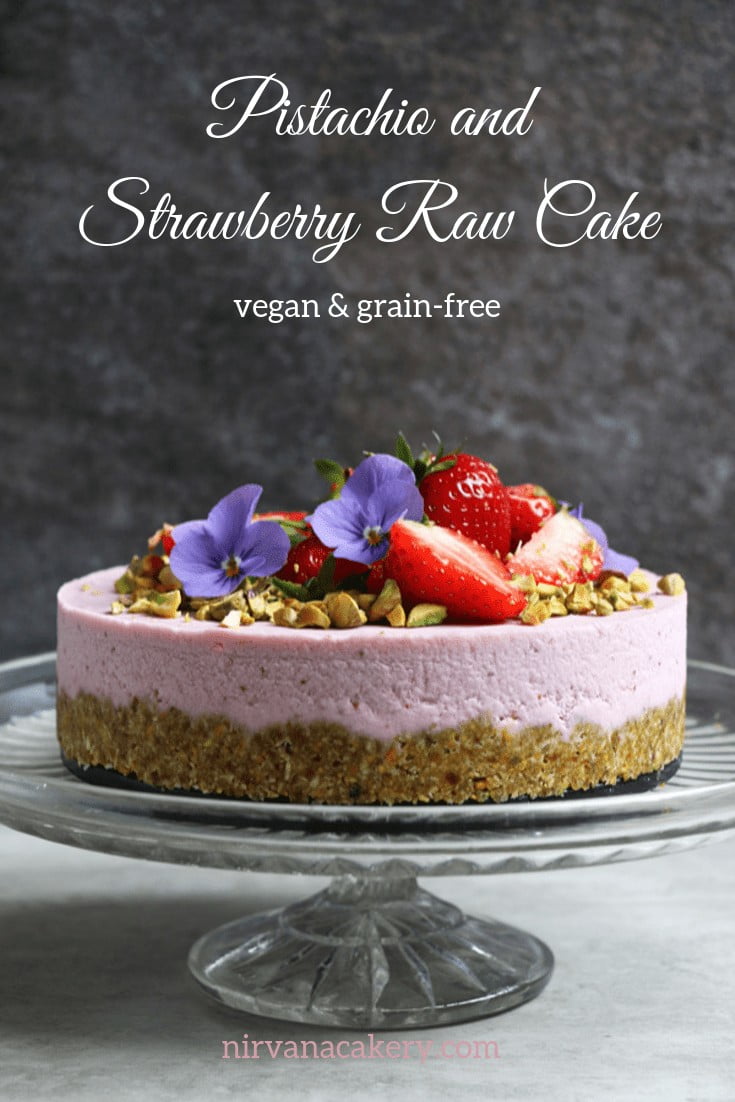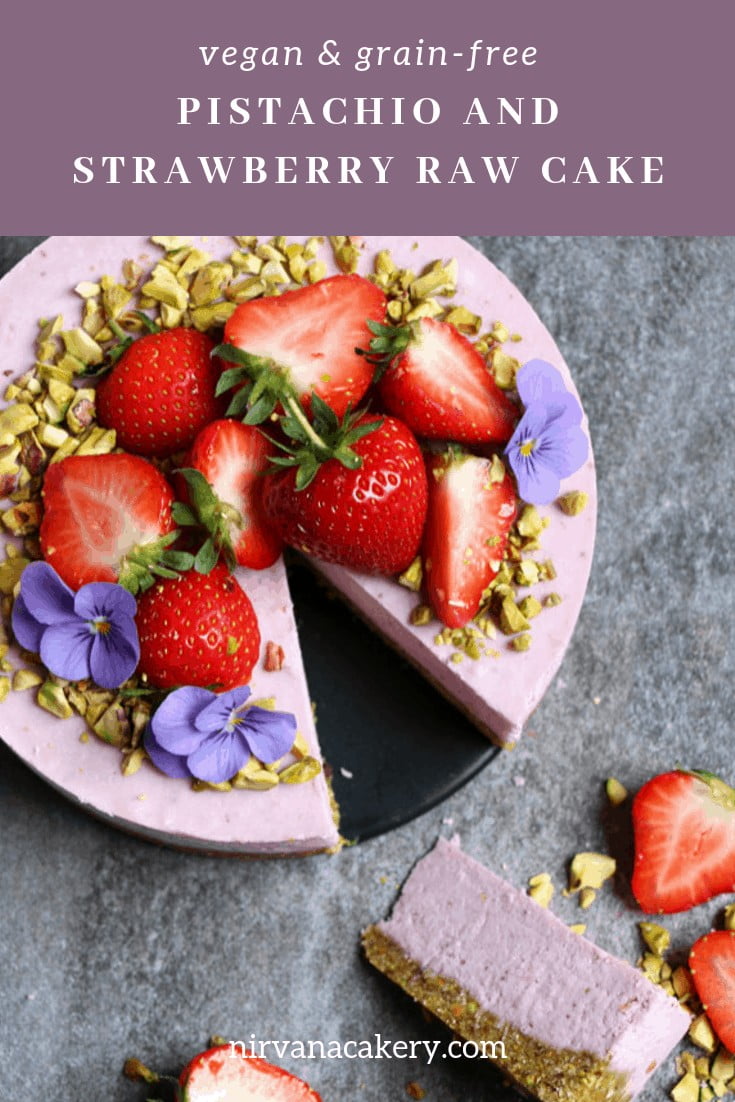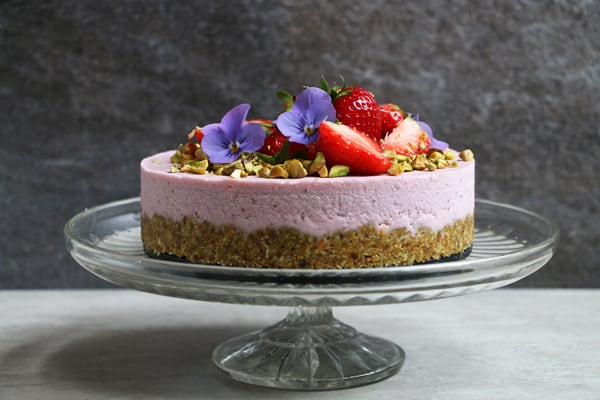 Similar Posts: