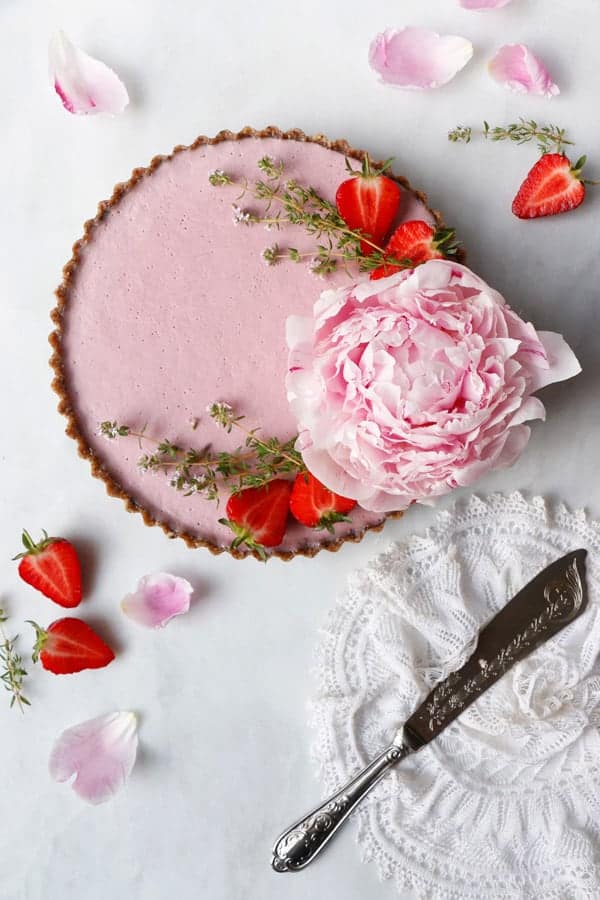 Happy Summer Solstice!
To celebrate this special day I've got another strawberry creation for you – Raw Vegan Strawberry Tart, because strawberries are amazing, sweet and juicy and doesn't everyone loves them. So when you get your hands on some amazing organic strawberries this week and craving something delicious and sweet you might like to try making this amazing tart :)
This time I've used a mix of hazelnuts and sunflower seeds to make the crust. My thyme is looking really lovely at the moment and so I've added some into the crust, which makes it beautifully fragrant and just gives it another layer of flavor that I love. I've used this combination in many savory recipes before, but first time using it in sweet creation. However the thyme is optional and you can leave it out if you don't fancy it.
The filling is a mix of cashews, strawberries and coconut cream with little coconut oil and maple syrup. This one has lighter texture, more mousse like. Alternatively you could use the strawberry filling from my Strawberry Basil Vegan Cheesecake recipe that uses coconut butter instead of coconut cream and is more dense.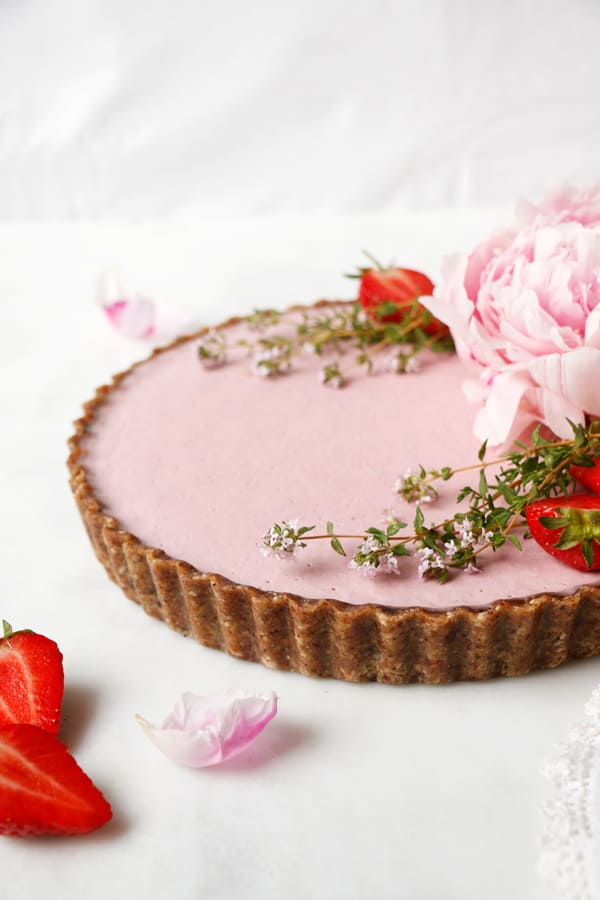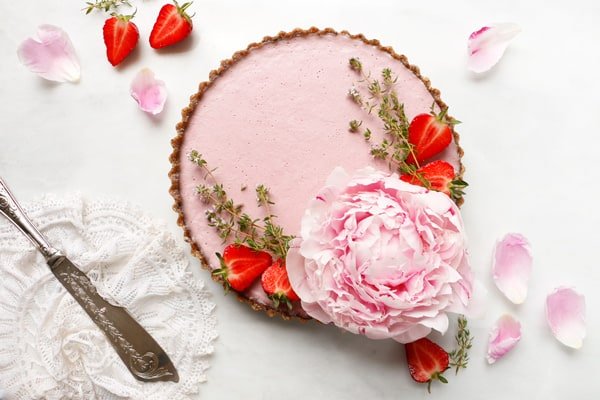 I've decorated my tart with this gorgeous peony, because strawberries & peonies, could it get any better? It has a lovely fresh, summery and romantic feel to it and didn't I just love taking photos of this beauty!
Enjoy the recipe & let me know how you like it :)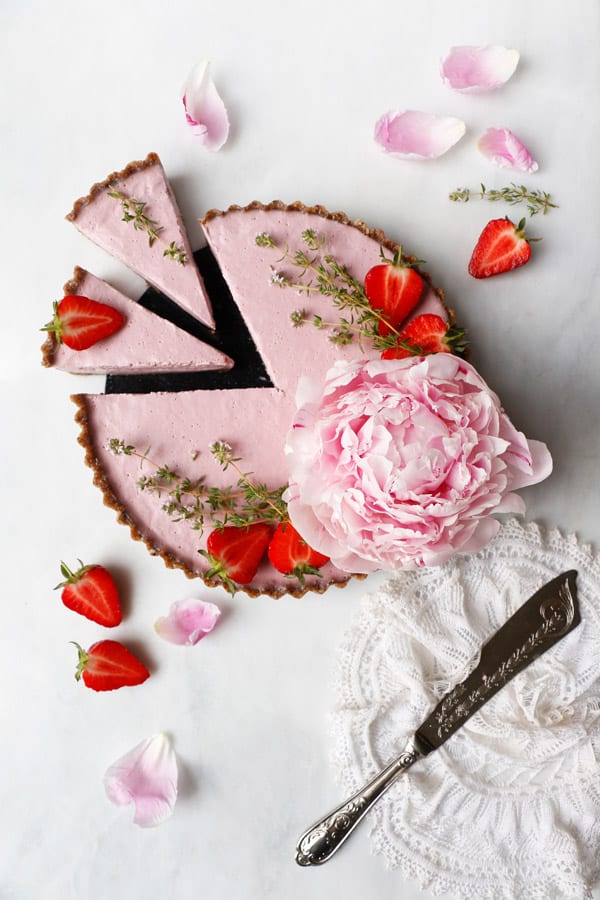 Yield: 9" tart
Raw Vegan Strawberry Tart (grain-free)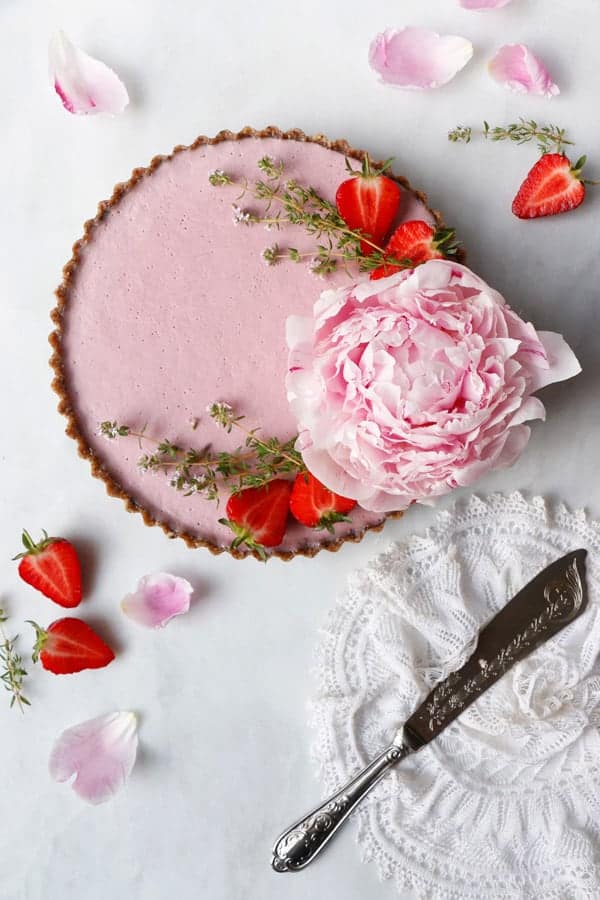 Ingredients
Crust:
130g hazelnuts (1 cup)
70g sunflower seeds (1/2 cup)
6 medjool dates, pitted
3-5 thyme sprigs, picked
1/4 lemon, zest
pinch sea salt
1tsp coconut oil
Strawberry filling:
250g strawberries (2 cups)
120g cashews, soaked overnight (1 cup)
½ lemon, zest
½ lemon, juice
2tbsp maple syrup
1tsp vanilla
1 can full fat coconut milk, refrigerated overnight
80ml coconut oil (1/3 cup)
Topping:
fresh strawberries
thyme sprigs
Instructions
Prepare 9"tart tin with removable base.
Place hazelnuts and sunflower seeds into a food processor and pulse few times until coarsely ground. Add medjool dates, thyme leaves, lemon zest, salt and coconut oil and blend until the mixture comes together. You should have a sticky mix when pressed together.
Spoon the crust mix into the tart tin, spread evenly onto the base and around the edges to create the crust. Don't go all the way up, about ¾ high. The crust edge on mine was about ¾" tall. Place into fridge.
Rinse the soaked cashews under running water and place into blender. Add strawberries, lemon zest, juice, maple syrup and vanilla. Scoop the solid part from the can of coconut milk, add to the blender and blend until smooth. Slowly add melted coconut oil and blend until just incorporated.
Pour the filling into the tart tin and place into freezer, preferably overnight until set.
Once set carefully remove from the tin and place onto a serving dish. Decorate with few strawberries and thyme sprigs. Peony optional.
Leave to slightly thaw before serving.
Store in a fridge or freezer.
Enjoy!
Notes
Originally I've added 4tbsp of maple syrup, but found it too sweet, se have reduced it to 2tbsp in the recipe. You can add extra 2tbsp if you like more sweetness.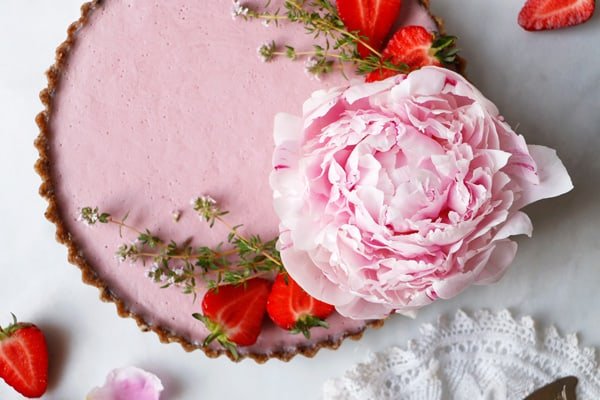 Similar Posts: