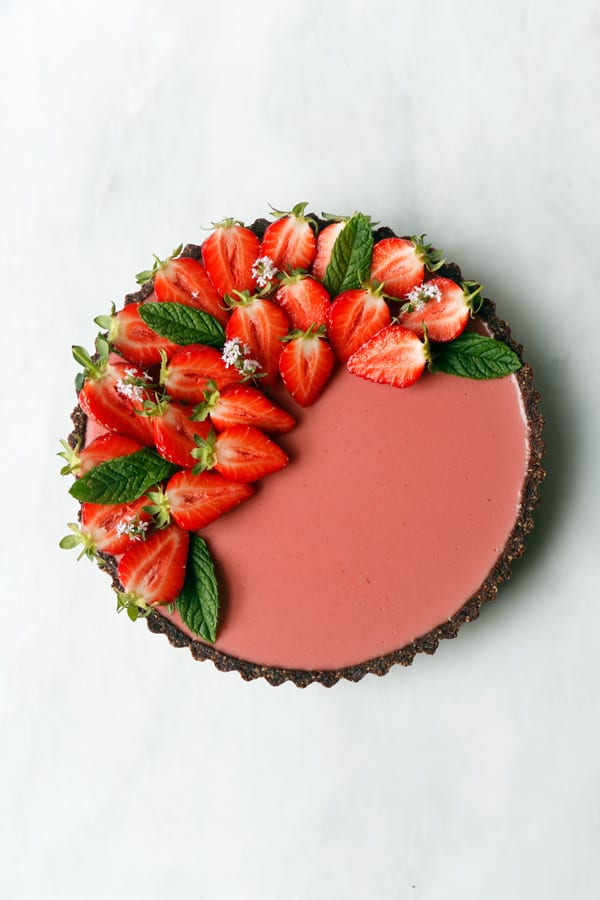 Special thank you to Amore di Mona for sponsoring this post.
Something to make us all happy – a strawberry season! And even better making this delightful Strawberry Chocolate Tart I have just created for you. It's a real summer recipe, light, no-bake, and just stunning with two different layers of chocolate and strawberry.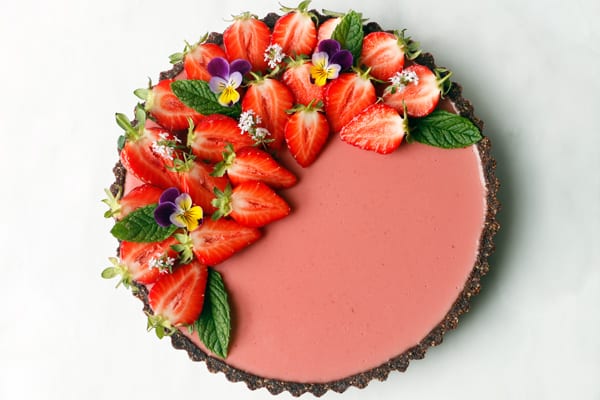 It's a gluten-free, vegan and nut-free recipe that you can put your own spin on and create it with any of your favourite seasonal ingredients and flavours.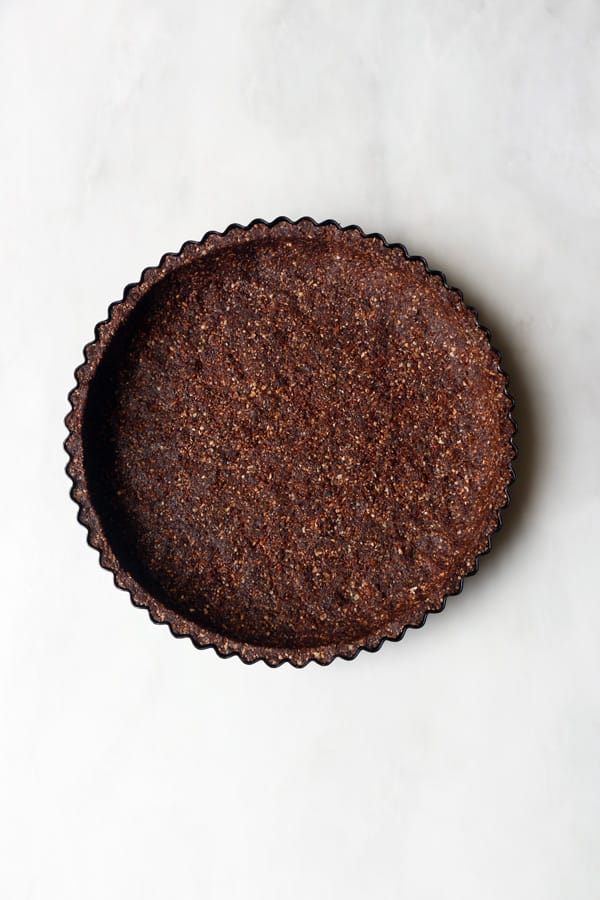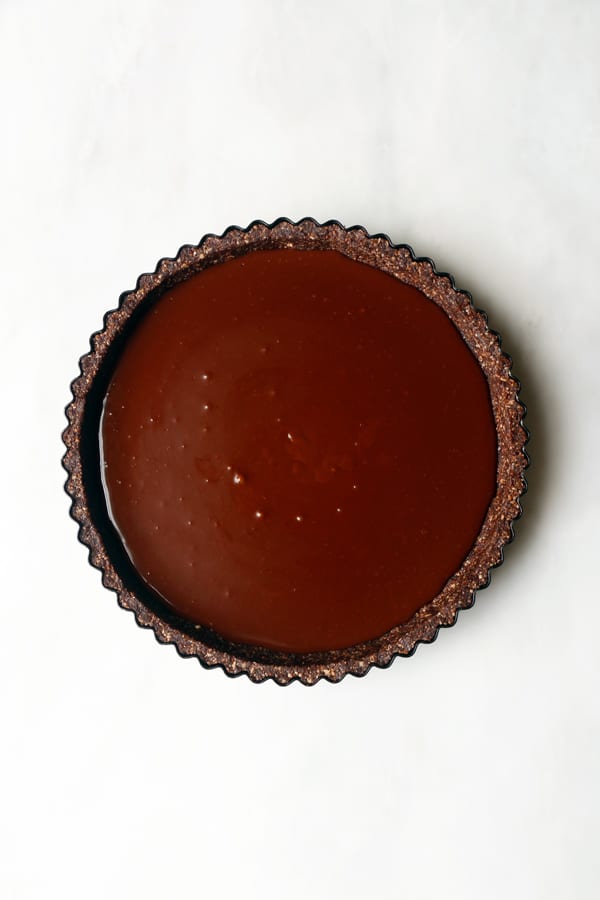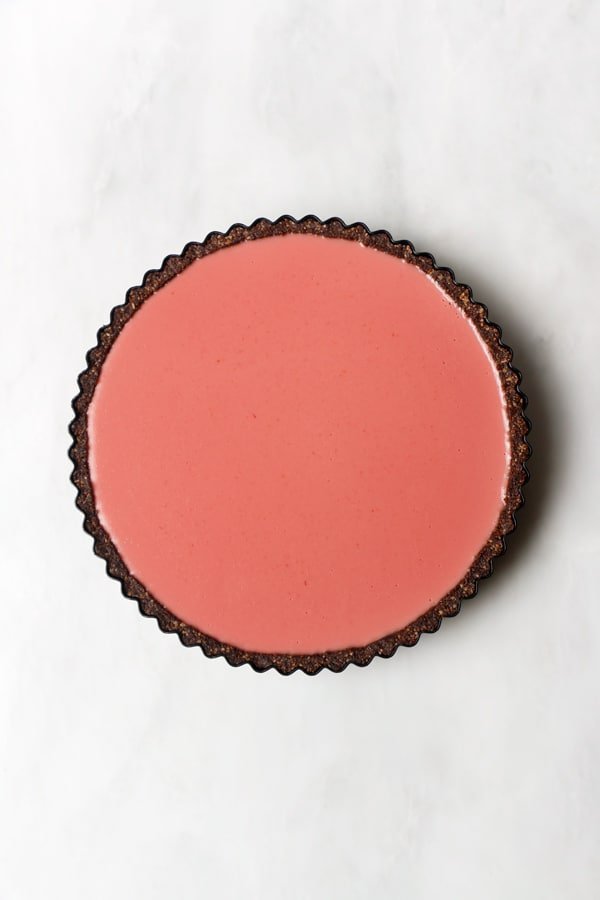 To make the tart I've opted for a nut-free raw based crust made with sunflower seeds, oats, cacao and dried apricots. You can happily adapt the crust to your liking. If you don't need it to be nut-free you could use almonds or hazelnuts. And you can replace the apricots with dates or dried figs, both would be lovely too.
If you are intolerant to oats, just use extra seeds or you could also use quinoa flakes in here instead.
Also worth mentioning I have originally made the tart with baked crust which you're welcome to do but then opted to change to a no-bake one. I am saving the baked one for another recipe :)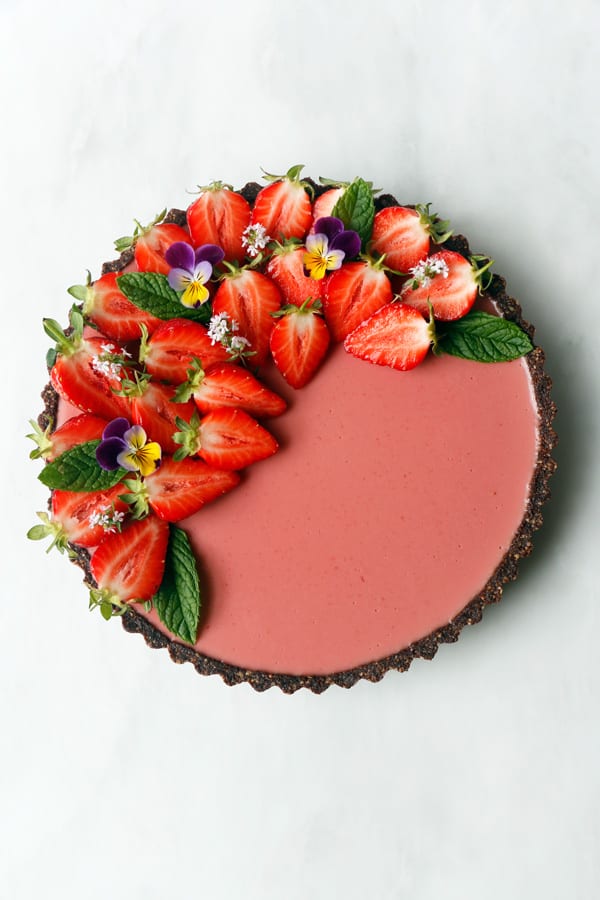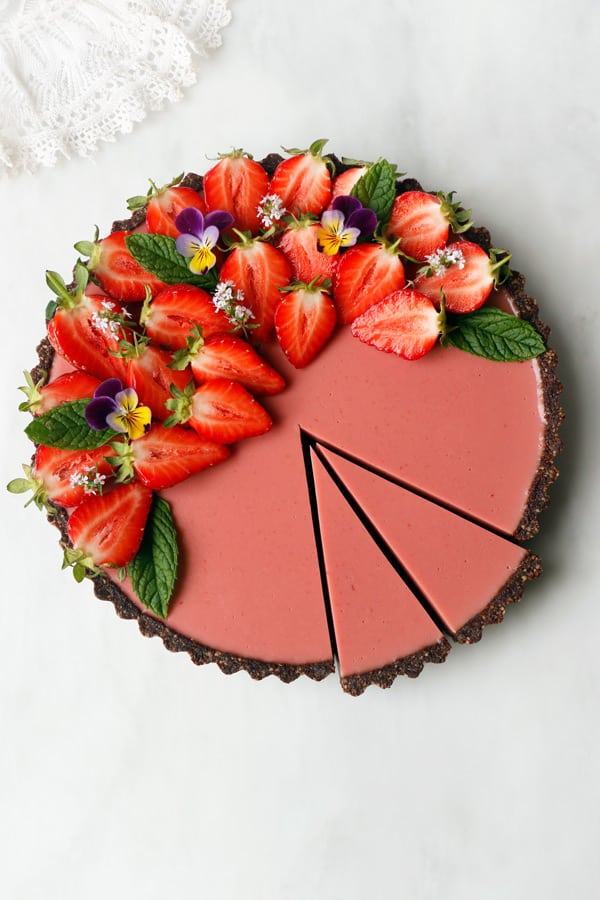 The chocolate and the strawberry layers are both set with agar agar which makes it really great recipe for summer. Agar keeps the layers solid and you don't have to worry about it melting when keeping it at room temperature. I couldn't get the usual agar flakes that I normally use and have been using agar powder in few recipes lately. I have to say I do prefer using agar flakes, although it takes longer to cook I feel that the texture is lighter somehow. But on the contrary agar powder only needs five minutes max to cook and sets really well.
The tart is inspired and adapted by my ever so popular Raspberry Chocolate Bavarois recipe from two years ago. It's my new spin on it.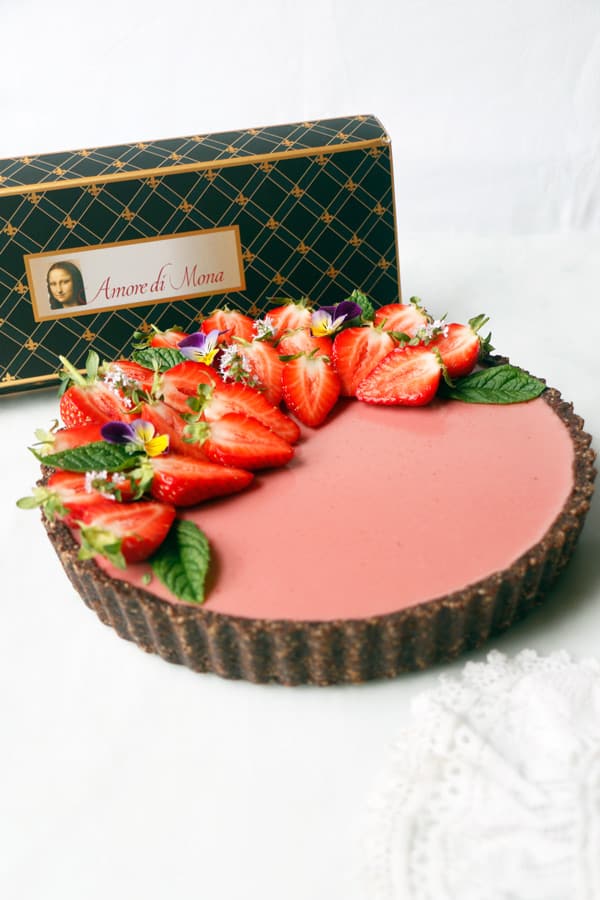 What I love about making tarts is that I have a large canvas to play with the decoration and it brings me lots of joy decorating it. Not that it necessarily needs it but if you have an occasion or you just want to create something special you can really go for a wow effect. I've decorated my tart with halved strawberries, fresh mint, fresh thyme sprigs and edible flowers.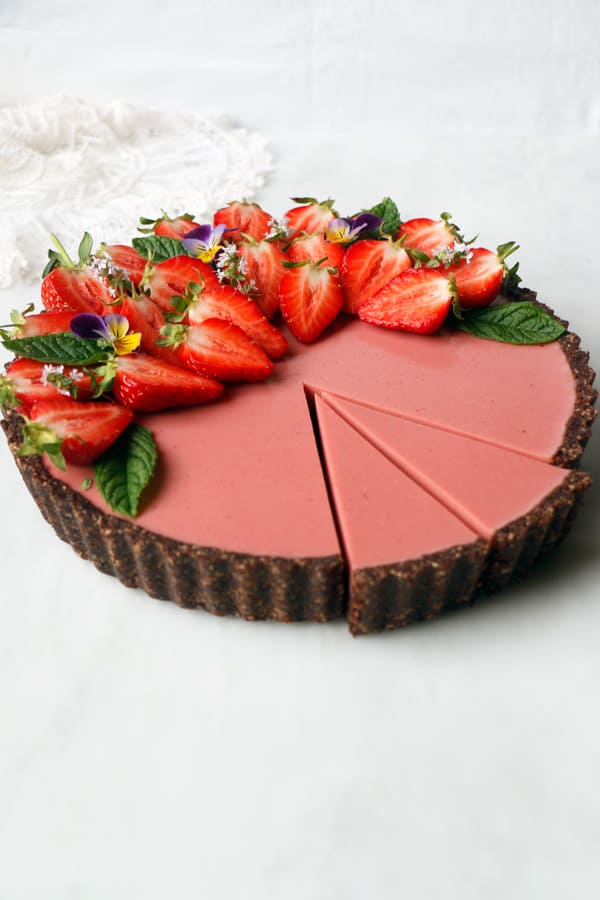 Strawberry and chocolate are such a delightful combination and I do hope you enjoy this recipe. I'm looking forward to seeing your gorgeous creations! Happy cake making.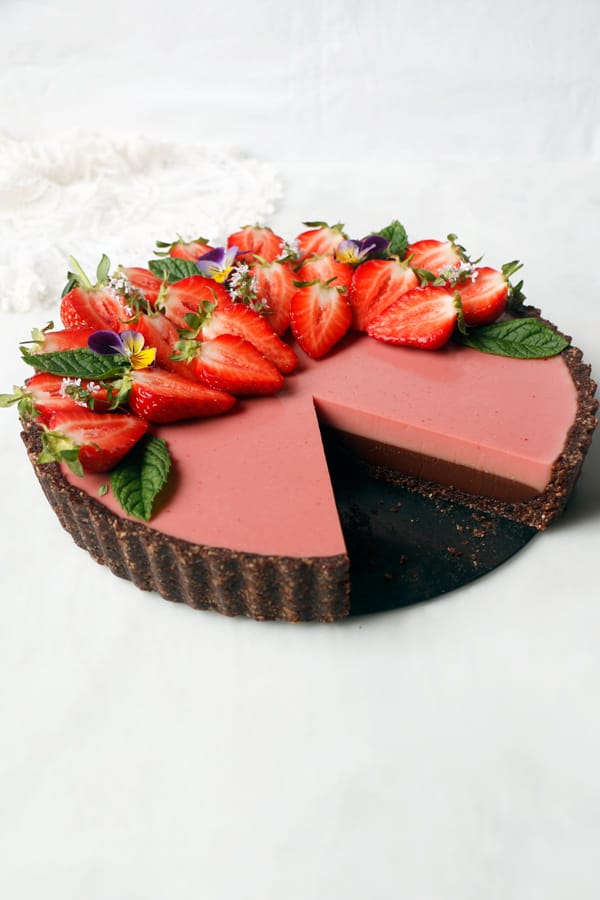 Yield: 9" tart
Strawberry Chocolate Tart (vegan & gluten-free)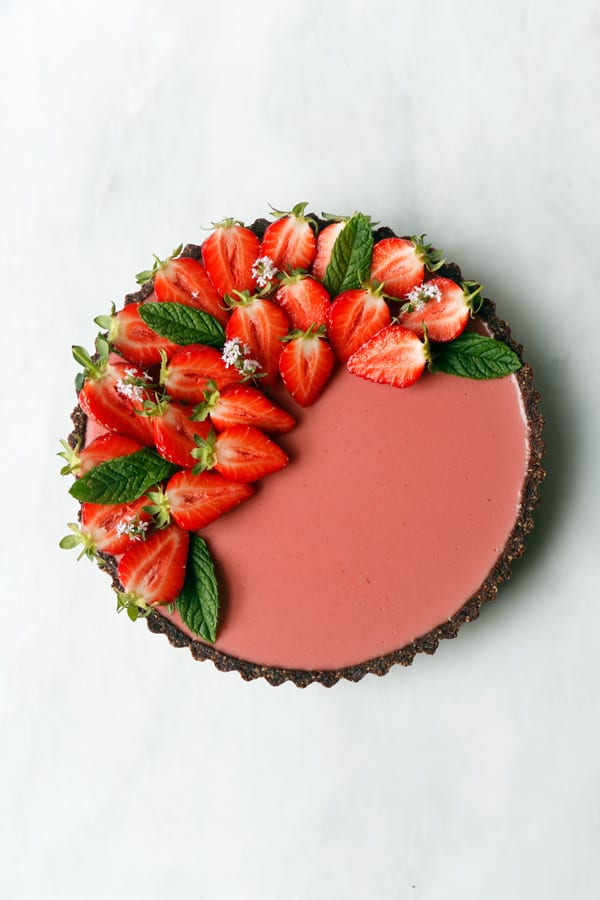 Ingredients
Tart crust:
120g sunflower seeds (1 cup)
50g gluten-free oats (1/2 cup)
2tbsp cacao/cocoa powder
½tsp cinnamon
pinch sea salt
150g dried apricots (1 cup)
1 to 2tbsp water
Chocolate layer:
150g dark vegan chocolate (5.3oz)
250ml oat cream (1 cup)
1tsp agar powder
1tbsp maple syrup
Strawberry layer:
250g strawberries (2 cups)
2tsp lemon juice
250ml oat cream (1 cup)
3tsp agar powder
2tbsp maple syrup
Topping:
strawberries
fresh mint
thyme sprigs
edible flowers
Instructions
Grease 9" tart tin with removable base with little oil.
Place sunflower seeds and oats into food processor and blend until ground. Add cacao, cinnamon, and sea salt and mix to incorporate. Add apricots and blend again. Add water bit by bit as needed and keep blending until the mixture sticks together. The amount of water will depend on how moist your apricots are.
Spoon the crust mix into the tart tin, spread evenly onto the base and around the edges to create the crust. It will be little sticky so wash your hands if needed in between. Place into a fridge.
Chocolate layer:
Finely chop dark chocolate and set aside.
Pour oat cream into a medium pot, stir in agar powder, bring to a boil and leave to simmer for 5 minutes stirring frequently. Take off the heat and stir in the chopped chocolate. Mix until completely melted, stir in maple syrup and carefully pour onto the crust layer. Place into fridge to set. It will take about 15 to 30 minutes to set.
Strawberry layer:
Place strawberries and lemon juice into blender and blend until smooth. Pour into a medium pot, add oat cream, maple syrup and agar powder and whisk well. Bring the mix to a boil and leave to simmer for 5 minutes stirring frequently.
Take off the heat and leave to slightly cool down before carefully pouring on top of the chocolate layer. Place back into fridge to set. It will take about 15 to 30 minutes to set.
Once set gently remove from the tin and place onto a serving plate. Decorate with halved strawberries, fresh mint, fresh thyme sprigs and edible flowers.
Store in fridge.
Enjoy!
Notes
You can replace the oat cream with other vegan cream or light coconut cream.
You can replace oats with extra seeds or quinoa flakes.
If you can tolerate nuts in the recipe, use a combination of sunflower seeds and almonds or hazelnuts in the crust.
You can replace apricots with dates or dried figs.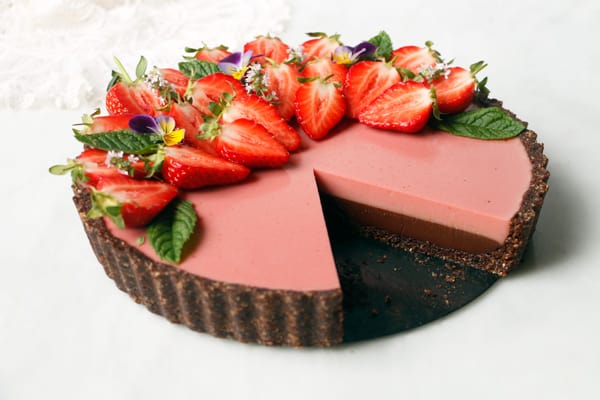 Similar Posts: