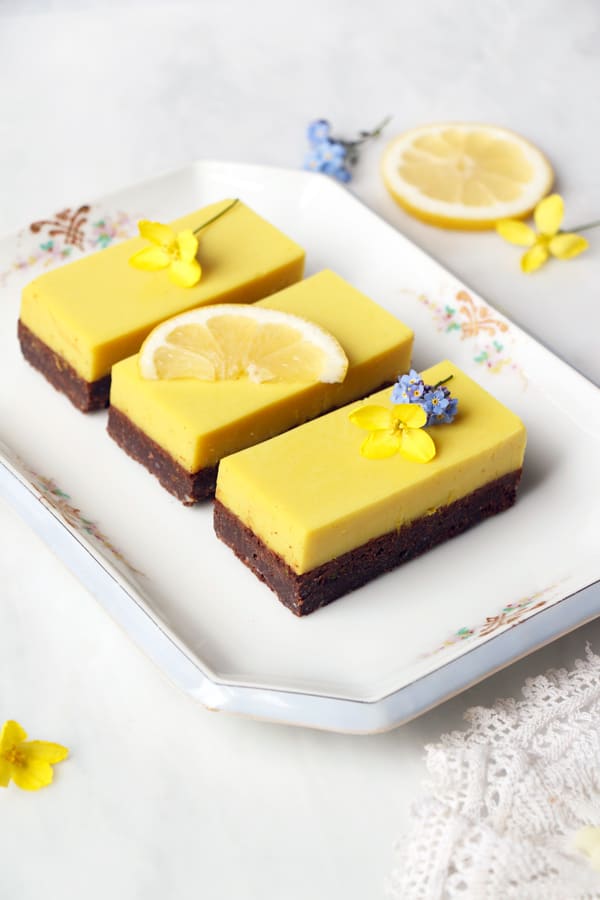 Special thank you to Amore di Mona for sponsoring this post.
My third lemon recipe in a row, what can I say, I'm into lemons right now! Maybe it's for their properties, maybe it's because of the beautiful uplifting colour we all need right now in our life. In these Earl Grey Brownies with Lemon Panna Cotta I'm combining the lovely zesty lemon flavour with earl grey tea infused brownies.
This recipe is really two recipes in one and you can adapt it any way you like. Bake the brownies and make the panna cotta separately in moulds. Use it as two separate recipes or make it into the bars as I did. Have a play with the recipe and put your own spin on it.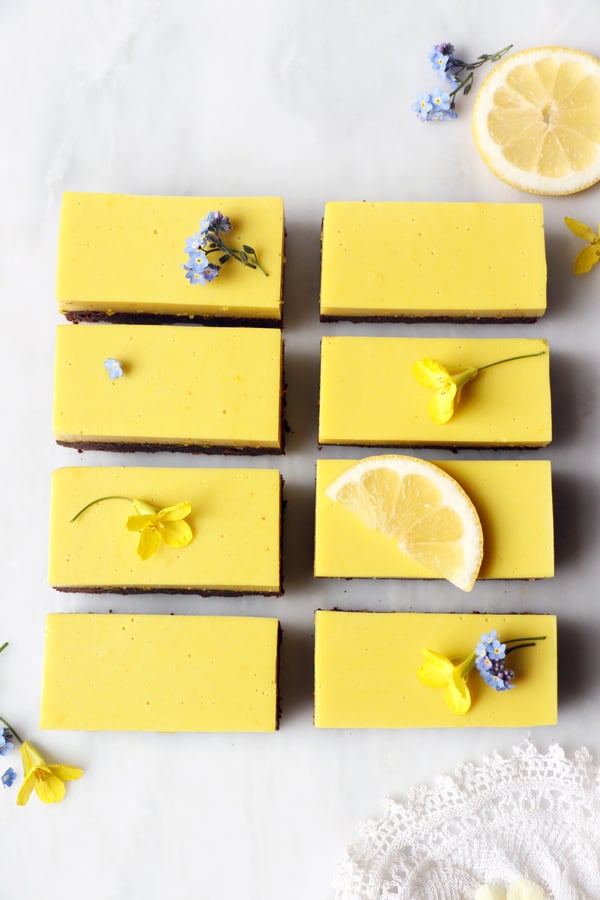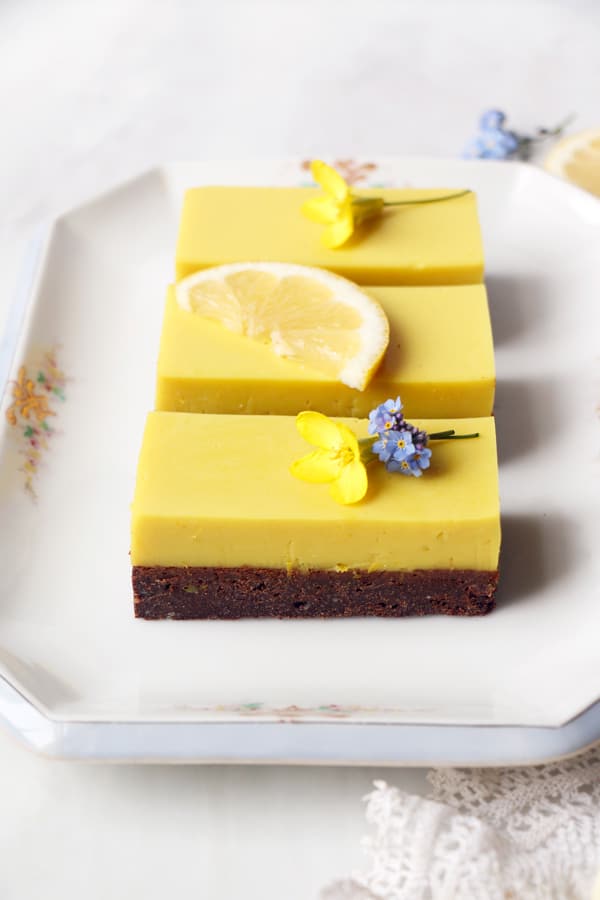 I've realised I don't even have a brownie recipe on the blog! I do love brownies but it's not a recipe that I bake very often. What I don't like about brownies is that they are often loaded with way too much sugar and so I've tried my best to keep the sugar low without affecting the recipe too much. You can substitute rapadura with a sugar of your choice and of course if you feel that you need more sweetness you can add extra. I've made them with 50g and 75g of sugar and with either amount I find them sweet enough.
I'm finding it more tricky to source ingredients in our current situation, luckily I still have some sorghum flour which together with ground sunflower seeds worked really well in this recipe. They came out beautifully soft and rich. I really do love them still slightly warm! Once stored in a fridge they will become dense and fudgy so depending on how you like your brownies, leave them to set with the top layer at room temperature to keep them soft and cakey or in a fridge for denser fudgier finish. They are chocolate rich and if you like to make them lighter you can just reduce the chocolate. I've left them set in a fridge overnight as you can see on the photos.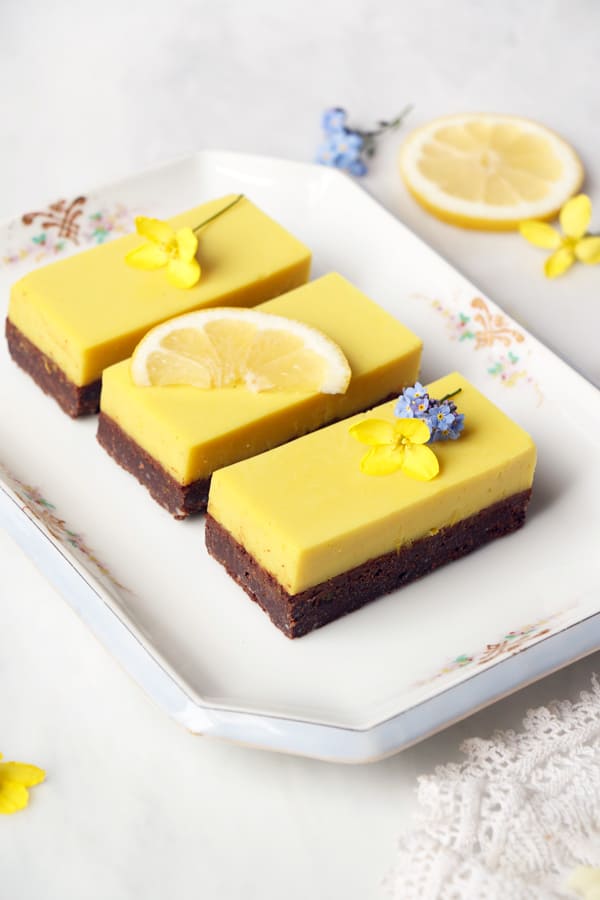 With the lemon panna cotta I've adapted the recipe from the Rosemary Lemon Tart but this time I've used oat cream and agar powder. Again I've used turmeric to add a beautiful yellow colour. Start with a small amount and work your way to desired colour.
Because the cake always pulls away from the edges of the baking tin I've baked the brownie layer in a slightly larger tin and then cut 7″ square to snuggly fit into my 7″ square cake tin before topping it with the panna cotta layer. That way none of the top layer spills over the edges. I've also cut the edges to make the slices neat.
I didn't feel they needed too much decoration but do feel free to get creative with them. Enjoy the recipe.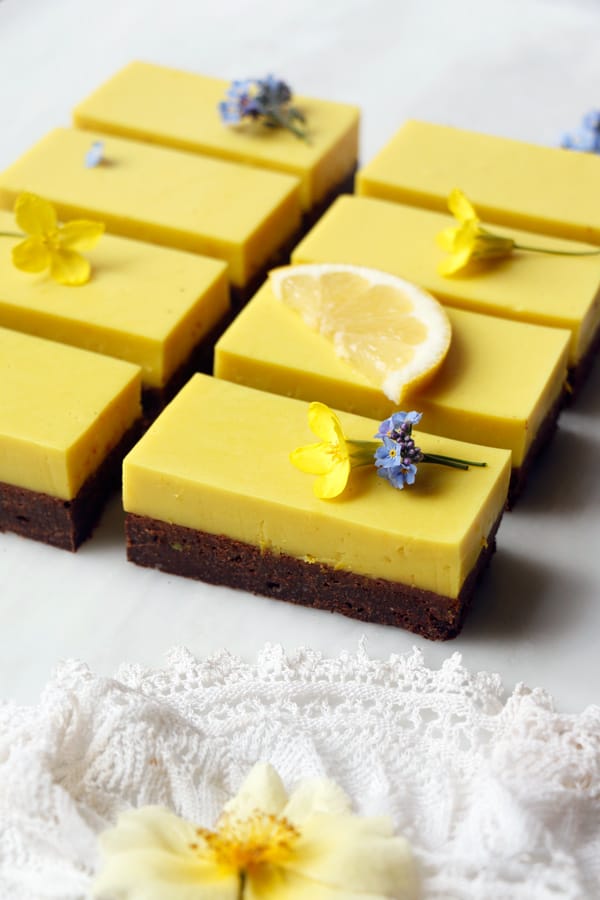 Yield: 8 servings
Earl Grey Brownies with Lemon Panna Cotta (vegan & gluten-free)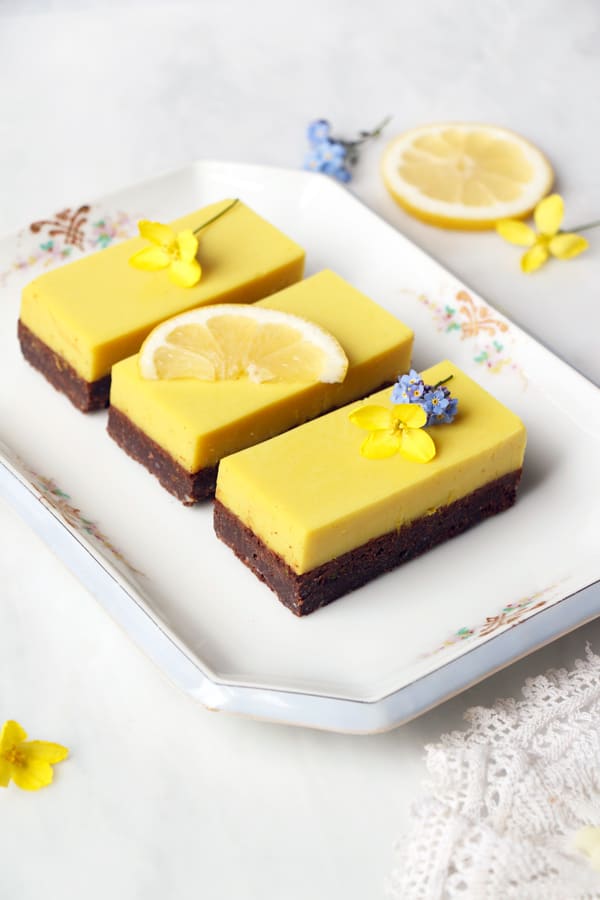 Ingredients
Earl grey brownies:
70g sorghum flour (1/2 cup)
70g sunflower seeds (1/2 cup), ground into flour consistency
2tbsp tapioca flour
75g rapadura sugar (1/2 cup)
1tsp baking powder
pinch sea salt
2tbsp ground flaxseed + 6tbsp water
60ml olive oil (1/4 cup)
80ml strong earl grey tea plus more as needed (1/3 cup)
1tsp vanilla extract
200g dark vegan chocolate (7oz)
Lemon panna cotta:
480ml oat cream (2 cups)
zest of 2 lemons (add at the end)
juice of 2 lemons
80ml maple syrup (1/3 cup)
2tsp vanilla extract
turmeric powder
3tsp agar powder
Instructions
Earl grey brownies:
Mix 2tbsp ground flaxseed with 6tbsp water and set aside to thicken. Brew earl grey tea.
Preheat the oven to 180°C (350F)
Line 10"x7,5" rectangular baking tin or 8"x8" square cake tin. You will need something slightly larger than 7"x7" square cake tin, see notes.
In a large bowl whisk together sorghum flour, ground sunflower seeds, tapioca flour, sugar, baking powder and salt.
In a small bowl whisk together gelled flax eggs, olive oil, earl grey tea and vanilla.
Roughly chop the chocolate, place into heatproof bowl and gently melt over pot of simmering water.
Add the wet mix to the dry mix and mix until well combined. Add extra tea as needed. Fold in the melted chocolate.
Spoon the mixture into the cake tin and level out the surface.
Place into the oven and bake for about 25 minutes.
Remove from the oven and leave to cool down.
Use the outside of your 7" square cake tin with removable base as a guide to cut out 7" square. It should fit tightly inside the tin. Place at the base and set aside.
Lemon panna cotta:
In a medium pot whisk together oat cream, lemon juice, maple syrup, vanilla, good pinch of turmeric and agar powder and bring to a boil. Gently simmer for about 5 minutes stirring frequently. Take off the heat and stir in lemon zest. At this point you can blend the mix if the zest is not fine enough and you'd like completely smooth finish. Leave to slightly cool down and pour onto the brownie layer.
Depending how you like your brownies leave it to set at room temperature for soft brownies or fridge for fudgy brownies.
Once set cut into 8 rectangular slices.
Enjoy!
Notes
I've baked the brownies in a 10"x7,5" rectangular baking tin and then cut 7"x7" square to create the base for the cake. You can adjust the recipe depending on baking tins that you have available.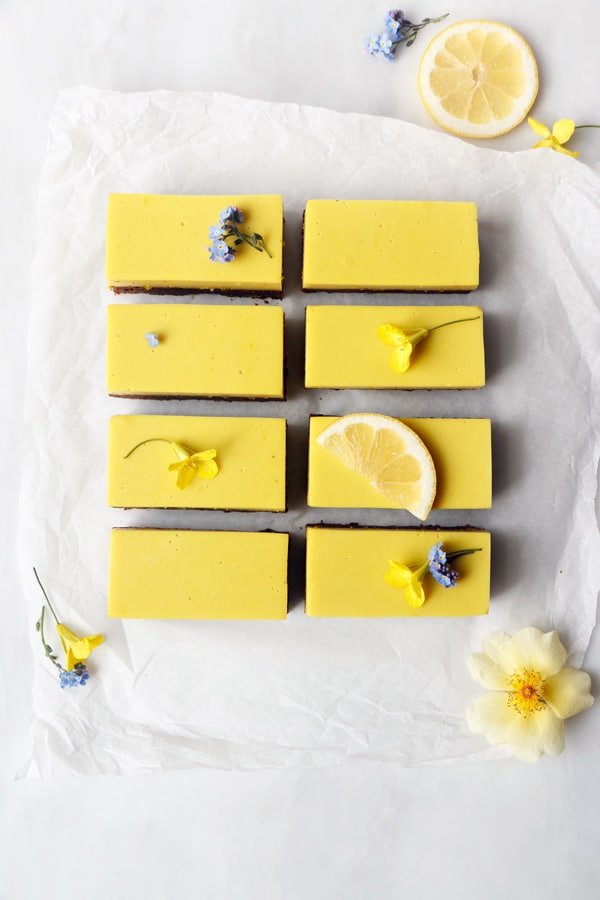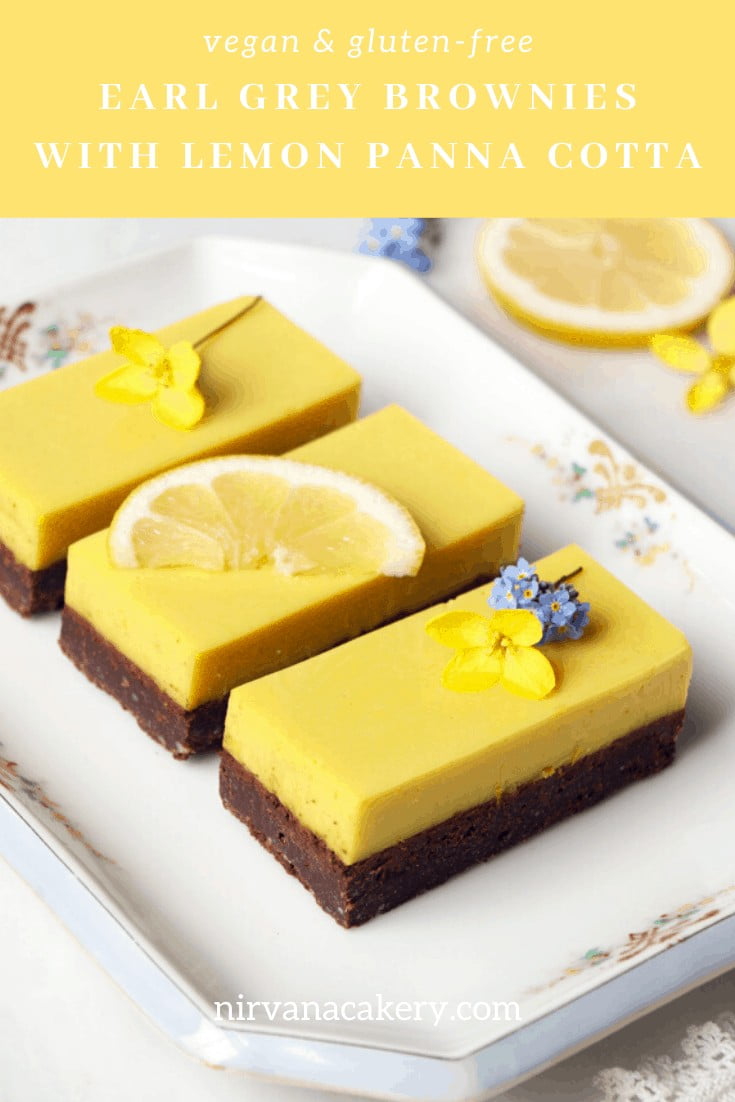 Similar Posts: