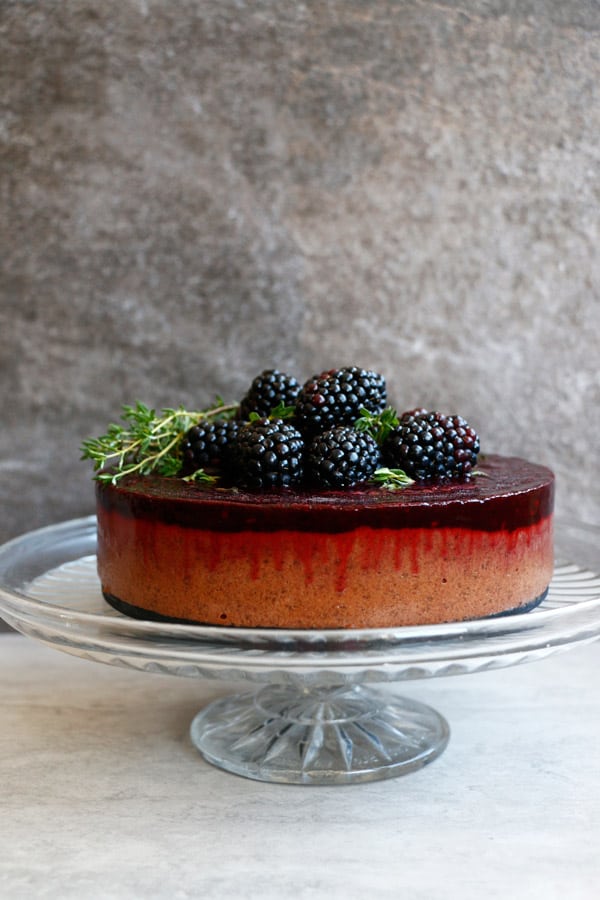 We've been having a wonderful summer weather in London this week that is to continue for some time and so I've decided to make you another ice cream cake. I love to cook seasonal and use blackberries in my recipes at this time of a year. For this recipe I've combined blackberries with chocolate and thyme to create a Chocolate, Blackberry and Thyme Ice Cream Cake. Chocolate and blackberries are such a wonderful combination plus that little hint of thyme makes it even more delicious.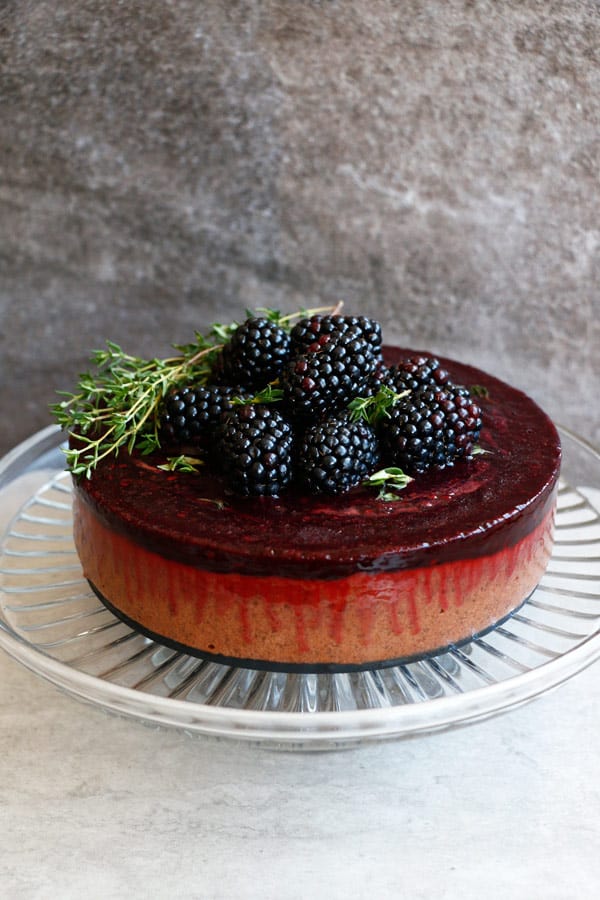 This post is another collaboration with chocolate company Amore di Mona with whom I've collaborated on my Vegan Chocolate Cake with Chickpea Tahini Frosting. Amore di Mona asked me to create vegan, gluten-free, nut free and coconut free desserts using their gorgeous vegan and allergy friendly chocolate. I've been also working on a chocolate tart, but so far I'm not happy with the results. Gluten-free vegan pastry is definitely challenging to get right, now nut and coconut free! Fingers crossed I get it right and one epic chocolate tart is coming your way soon:)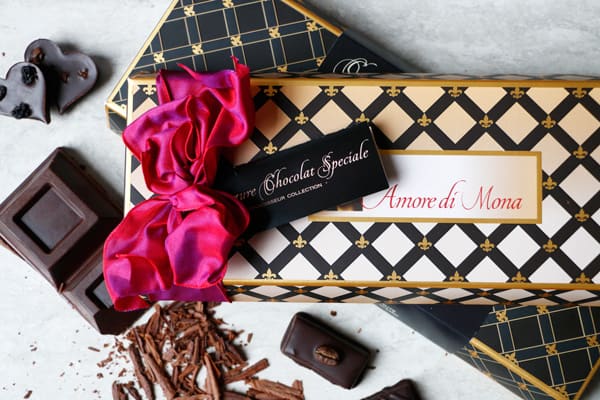 To make this ice cream cake nut and coconut free I've used a simple base of banana nice cream with an addition of Amore di Mona bulk dark chocolate and mixed in luscious blackberry and thyme sauce. The flavours work like a dream and with only few ingredients this cake makes a fantastic late summer dessert. If you don't fancy making the cake, but love the flavours, you could serve the chocolate ice cream with the blackberry sauce for an instant dessert instead. Either will taste totally amazing. Enjoy!
Special thank you to Amore di Mona for sponsoring this post.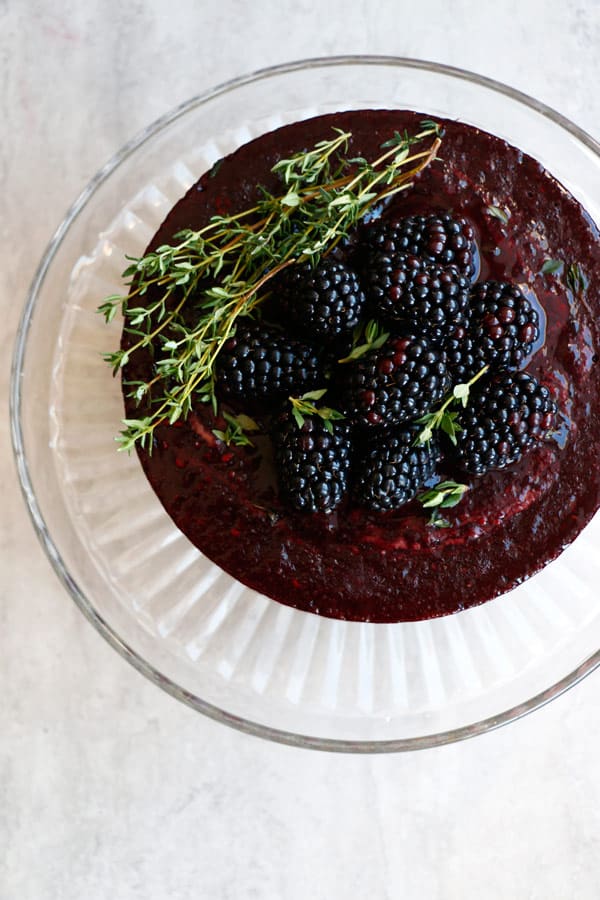 Yield: 6" cake
Chocolate, Blackberry and Thyme Ice Cream Cake (grain-free & vegan)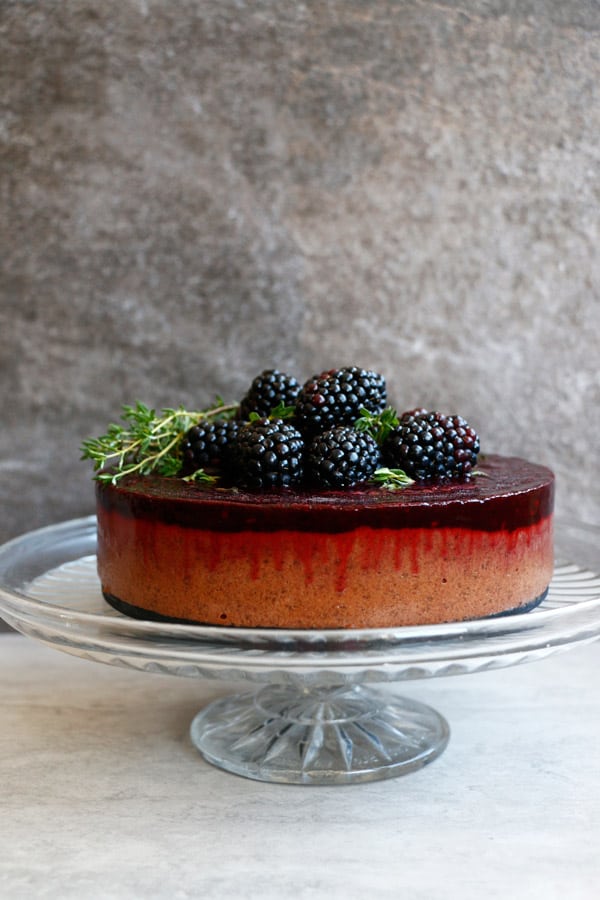 Ingredients
Chocolate layer:
100g bulk chocolate (2 cubes) or dark vegan chocolate (3.5oz)
3 bananas, frozen
1-2tbsp rice milk
1tbsp maple syrup
2tbsp raw cacao powder
Blackberry layer:
150g blackberries (1 cup)
1tbsp maple syrup
3 sprigs of thyme
Topping:
Instructions
Peel and chop the bananas, place into an airtight container and freeze overnight.
Have 6" round cake tin with removable base ready.
Chop the chocolate and gently melt in double boiler. Leave to cool down.
Place frozen banana pieces into high speed blender or food processor and blend until you've achieved creamy ice cream consistency. If needed add 1-2tbsp of rice milk for easier blending. You might have to stop and scrape the sides few times. Add melted dark chocolate, maple syrup and blend again. Finally add cacao powder. Blend until all incorporated.
Scoop the mixture into the tin and smooth out the top.
Blend the blackberries and maple syrup until smooth. Mix in thyme from about 3 sprigs and spoon on top of the chocolate layer. Give it a little swirl to mix in some of the sauce with the chocolate layer, but to still have some left on top. Sprinkle with extra thyme if you like.
Cover with parchment paper and plastic wrap and place into a freezer until set, at least 4 hours. You don't want it completely frozen, but set enough to hold the shape when removed from the tin.
Once set carefully remove from the tin.
Place onto a cake stand and decorate with some fresh blackberries and thyme if you like.
Serve and enjoy!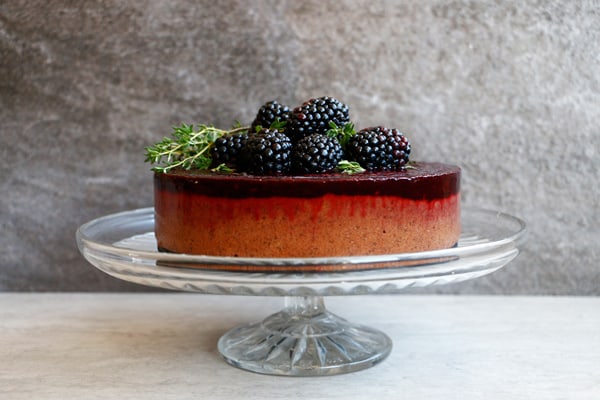 Similar Posts: