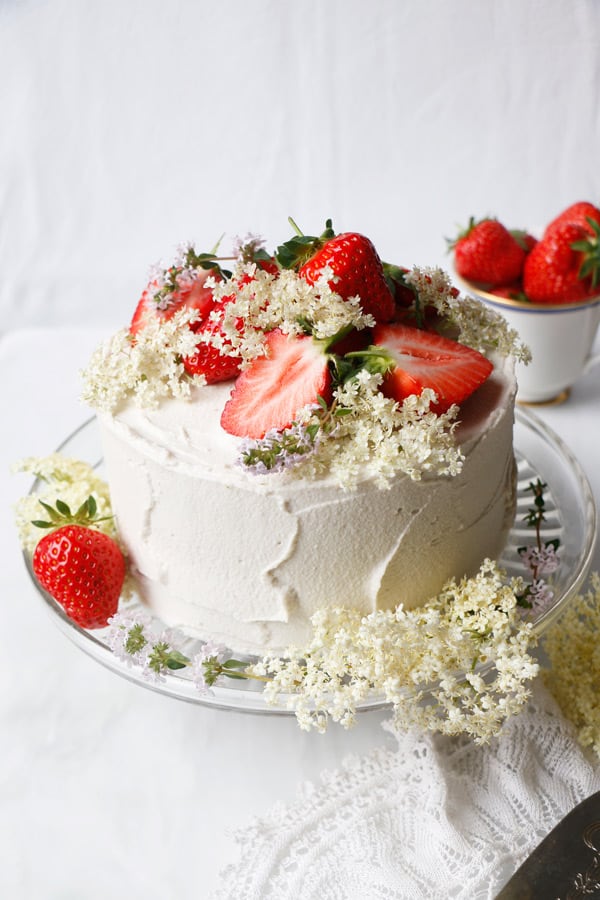 I'm so excited to share this Strawberry Elderflower Layer Cake recipe with you. It's one of those really lovely early summer recipes when you feel like baking something special. It's fluffy, it's light and has the most beautiful soft flavours from elderflower and strawberries.
I've adapted my most trusty sponge recipe to make this cake and created a light elderflower cashew cream to frost the cake with. Topped with strawberries and fresh elderflower heads makes this cake look really feminine and special.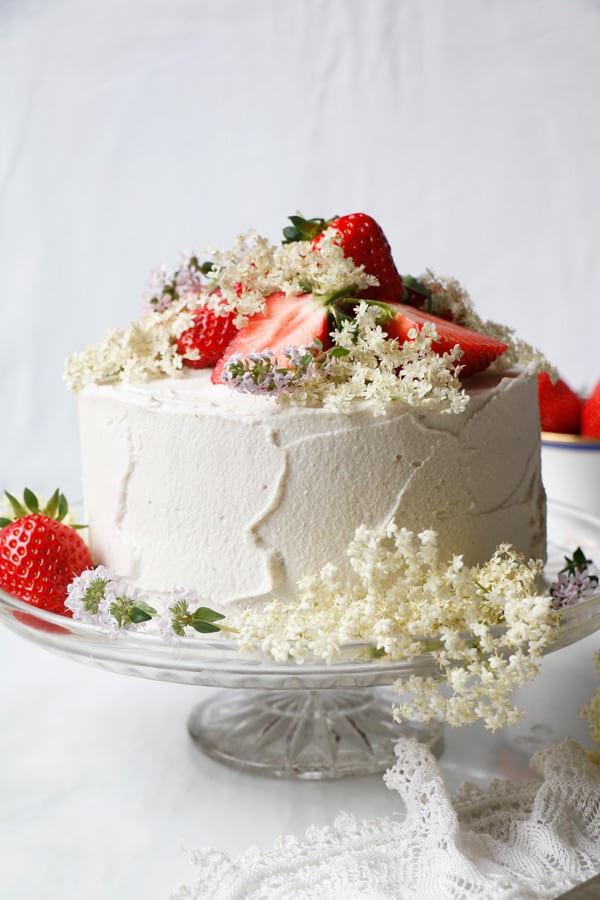 It even made it as a cover for my new E-book that I have put together for my new Patreon membership and if you haven't visited, please do stop by, I would so love you to join me there.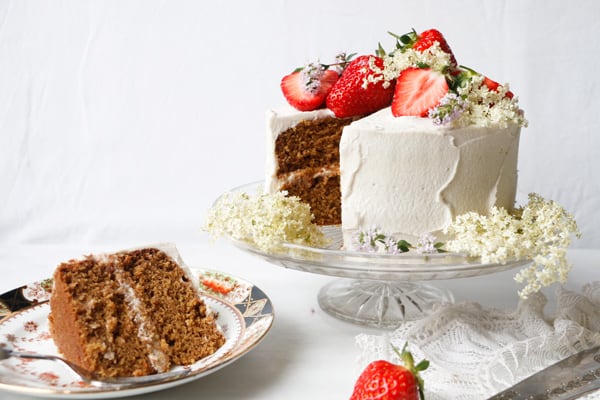 I was playing with the idea of using fresh elderflower heads in the recipe, but have opted for an elderflower cordial at the end, because of the ease. This way you can make the recipe throughout the summer as long as there are fresh seasonal strawberries and you don't have to worry about picking elderflowers in bloom unless you really love them for the decoration. I have to say they do make the cake look so much more magical.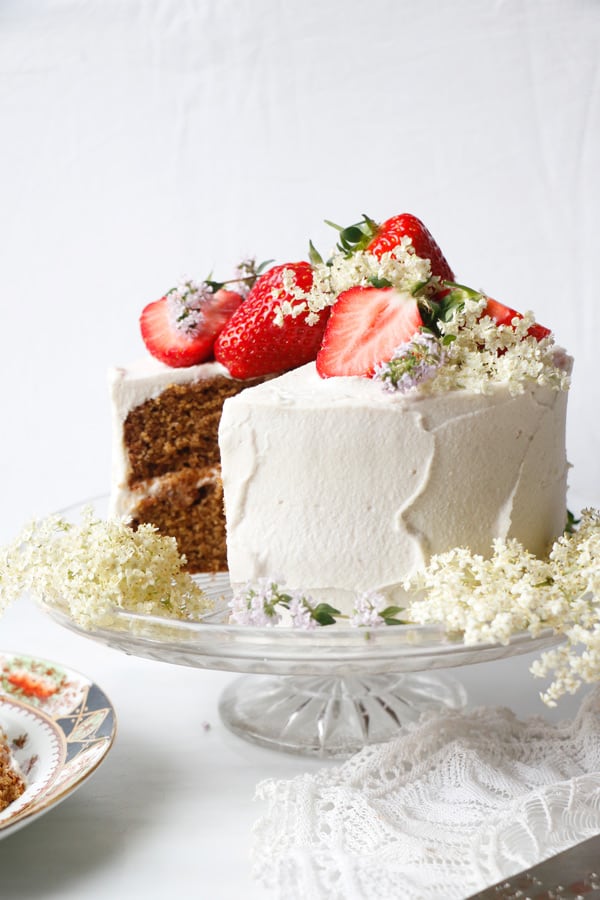 Yield: 6" two layer cake
Strawberry Elderflower Layer Cake (vegan & gluten-free)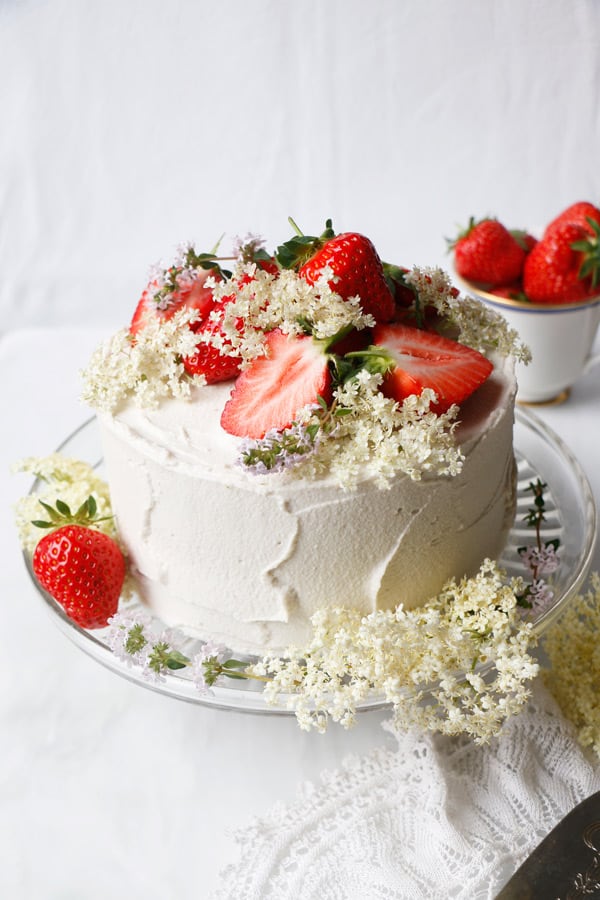 Ingredients
100g ground almonds (1 cup)
35g buckwheat flour (1/4 cup)
70g brown rice flour (1/2 cup)
30g tapioca flour (1/4 cup)
1tsp baking powder
1tsp bicarbonate of soda
pinch sea salt
100g rapadura sugar (3/4 cup)
1/2 lemon, zest
2tbsp ground flaxseed + 6tbsp water
80ml apple sauce (1/3 cup)
80ml olive oil (1/3 cup)
60ml elderflower cordial
2tbsp almond milk or as needed
2tsp lemon juice
1tsp vanilla
Elderflower frosting:
120g cashews, soaked for at least 4 hours or overnight (1 cup)
1x 400ml can full fat coconut milk, refrigerated overnight
3tbsp elderflower cordial
2tsp lemon juice
1tsp vanilla
80ml coconut oil (1/3 cup)
To assemble:
organic strawberry jam
fresh strawberries
elderflowers
fresh thyme sprigs
Instructions
Mix 2tbsp ground flaxseed with 6tbsp water and set aside to thicken.
Preheat the oven to 180°C (350F)
Grease and line the base and dust the sides of two 6" round cake baking tins.
In a large bowl whisk together ground almonds, buckwheat flour, brown rice flour, tapioca flour, baking powder, bicarbonate of soda, salt and sugar. Stir in lemon zest and set aside.
In a small bowl whisk together flax eggs, apple sauce, olive oil, elderflower cordial, almond milk, lemon juice and vanilla.
Add the wet mix to the dry mix and mix until well combined. You should have loose muffin consistency.
Spoon the mixture evenly into your prepared tins and level out the surface.
Bake for about 30-35 min or until a cocktail stick comes out clean.
Remove from the oven once ready and leave to cool down for 20 min before removing from the tin.
Cashew Frosting:
Place the can of full fat coconut milk (I've used 50% coconut) into a fridge, preferably overnight. Place the cashews into a bowl, cover with water and leave to soak for at least 4 hours or overnight.
Rinse the soaked cashews well under running water and place into high speed blender. Scoop the solid part only from the coconut milk can and place into the blender with the cashews. Add elderflower cordial, lemon juice and vanilla and blend until smooth. Stop and scoop the sides of the blender as needed. As the ingredients start to warm up, the mix will loosen and becomes easier to blend. Add the coconut oil and blend until incorporated.
Scoop the mix into a small bowl, cover and refrigerate overnight.
When you're ready to frost the cake, whip the mix for couple of minutes until fluffy. The texture will change as you whip into spreadable frosting.
Once the cakes are completely cool, you can frost the cake. Place the bottom layer onto a cake stand and spread with a layer of strawberry jam. Now using spatula spread generously with some frosting. Top with the second cake layer and frost the top and the sides of the cake.
Set in the fridge before decorating with fresh strawberries, elderflowers and thyme sprigs.
Store in fridge before serving.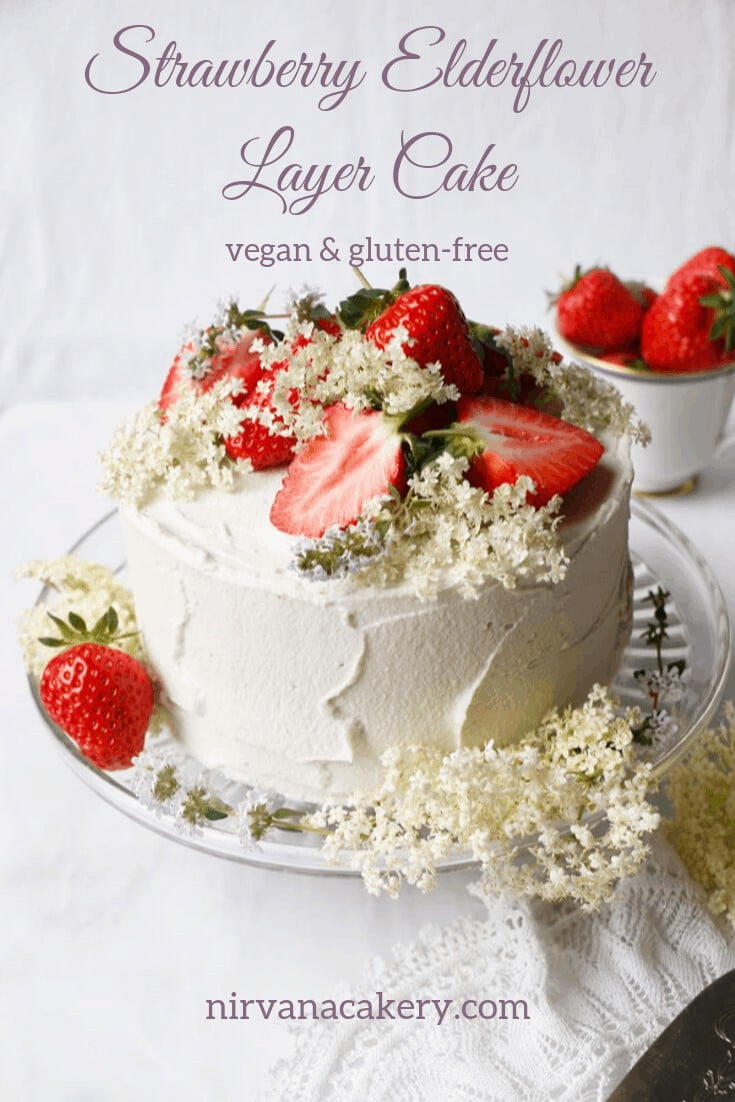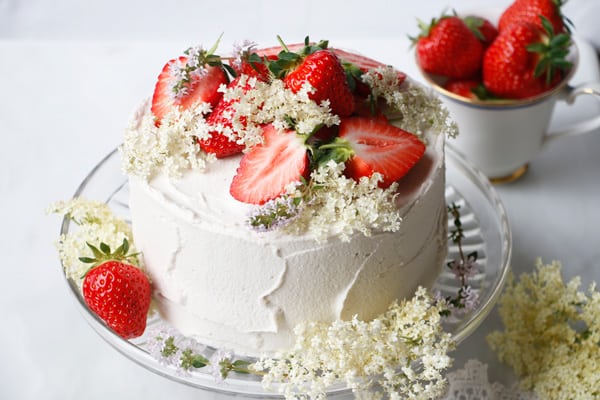 Similar Posts: