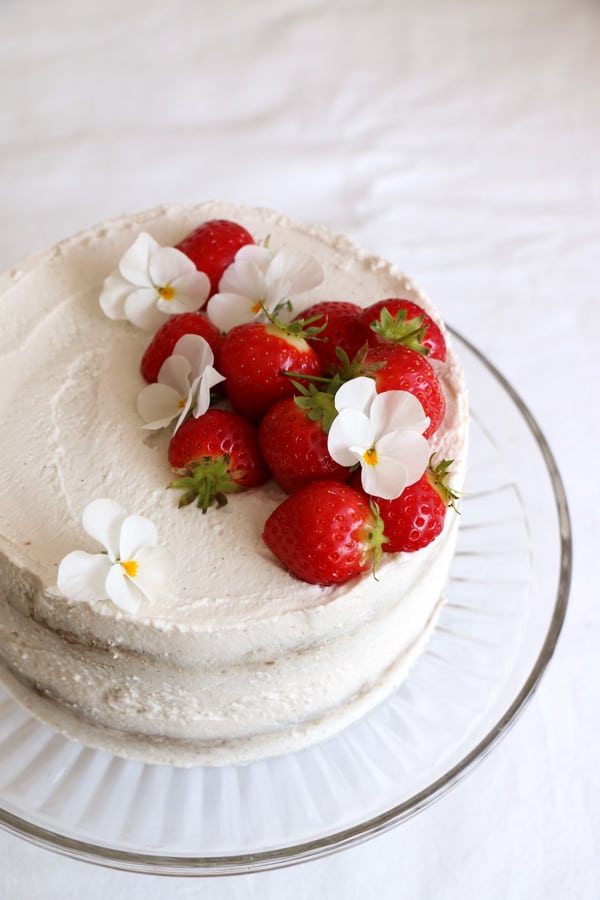 And so it's here, my 100th blog post. I can hardly believe I've written that many recipes and have taken so many pictures. It's been only just over a year when I started this online adventure that has become such an important part of my Life. Thank you from the bottom of my heart for your Love and support and for coming back to this little corner of my world.
And to celebrate all this joy I've got a lovely celebration cake for you covered with beautiful coconut frosting and topped with fresh strawberries. Hope that sounds good?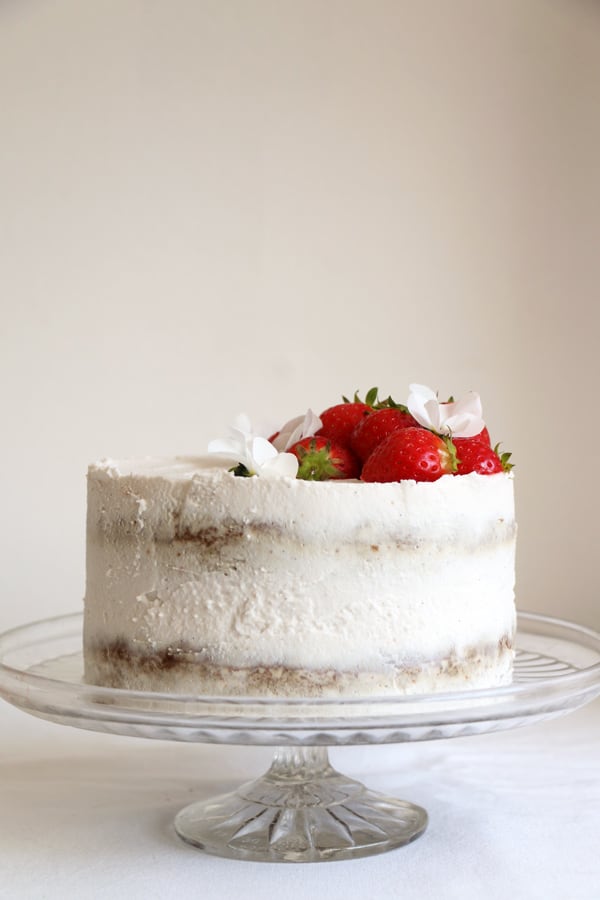 This strawberry coconut sponge cake is a 6″cake, which I think is just perfect for a little celebration. I've kept the flavours fairly simple with almonds, lemon zest, coconut frosting and strawberries.
I've made the sponge twice to get the right moist spongy cake I was hoping for. I've used almond, oat, buckwheat and arrowroot flour to get the right mix and flax eggs to bind the mix together. If you can't tolerate oats you could replace the oat flour with rice flour instead.
The frosting is super simple, easy and with no refined sugar tastes absolutely beautiful. I don't like coconut cream frosting on it's own and the addition of coconut yogurt completely transforms it into luscious delicious frosting. You can top the cake with any seasonal fruit, edible flowers, nuts, coconut flakes, anything you fancy. Enjoy:)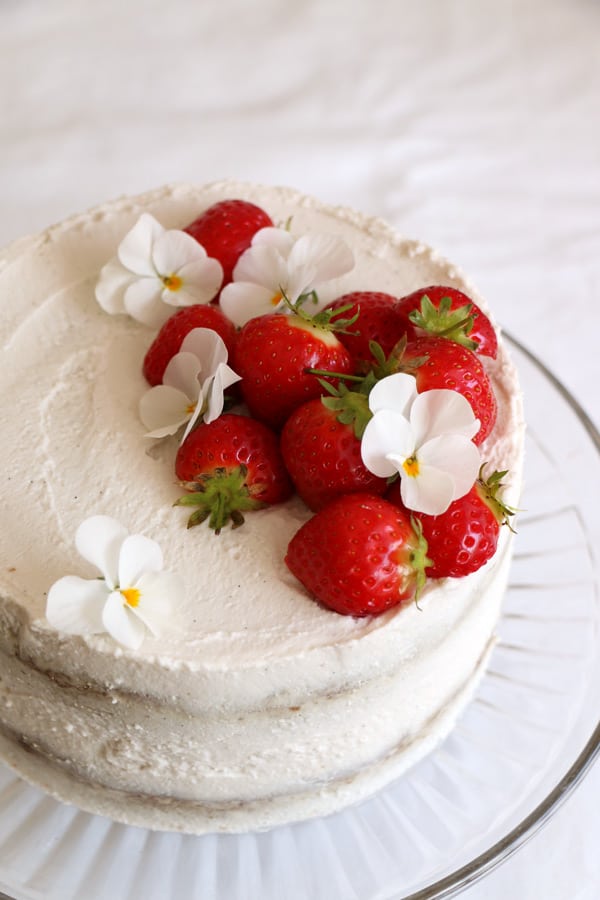 Yield: 6" cake
Strawberry Coconut Sponge Cake (gluten-free & vegan)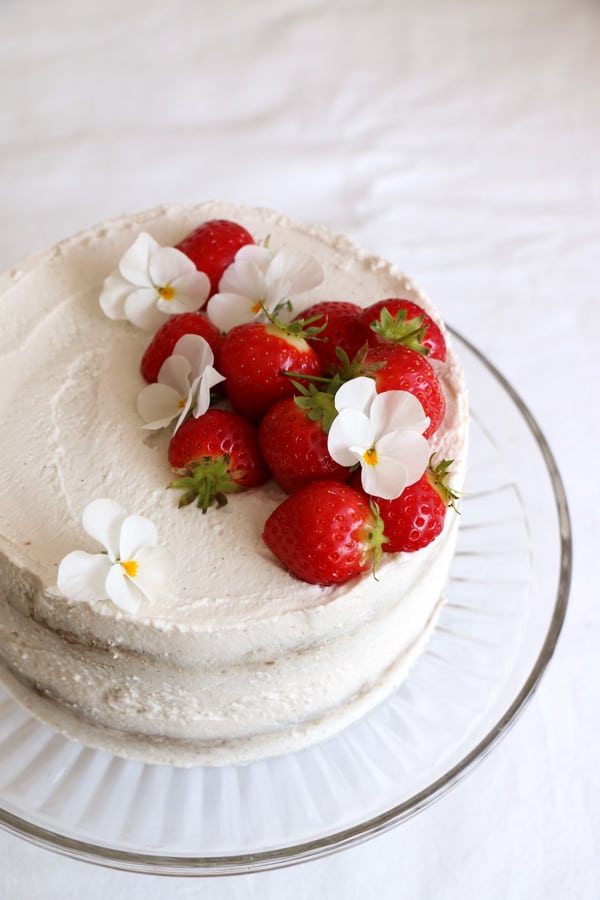 Ingredients
100g ground almonds (1 cup)
100g oat flour (1 cup)
35g buckwheat flour (1/4 cup)
30g arrowroot (1/4 cup)
100g coconut sugar (3/4 cup)
1tsp baking powder
1tsp bicarbonate of soda
pinch of sea salt
1 lemon, zest
2tbsp ground flaxseed+6tbsp water
80ml coconut oil, melted (1/3 cup)
120ml almond milk (1/2 cup)
1tbsp lemon juice
1tsp vanilla
Coconut frosting:
1x 400ml can full fat coconut milk
125g coconut yoghurt (1/2 cup)
2tsp maple syrup
250g strawberries (2 cups)
Instructions
Place the can of full fat coconut milk into a fridge, preferably overnight.
Mix 2tbsp ground flaxseed with 6tbsp water and leave aside to gel up to make flax eggs.
Preheat the oven to 180°C (160°C fan)
Grease and line 2 x 6" round cake baking tin.
In a large bowl whisk together ground almonds, oat flour, buckwheat flour, arrowroot, coconut sugar, baking powder, bicarbonate of soda and sea salt. Whisk in lemon zest and set aside.
In a small bowl whisk together flax eggs, coconut oil, almond milk, lemon juice and vanilla. Have the almond milk at room temperature so the coconut oil doesn't get solid once mixed together.
Add the wet mix to the dry mix and mix until well combined.
Evenly divide the mixture between the two cake tins and level out the surface.
Bake for about 25-30min or until a cocktail stick comes out clean.
Remove from the oven once ready and leave to cool down for 15 min before carefully moving onto a wire rack.
To make the frosting scoop the solid part of the coconut milk into a bowl, add coconut yoghurt and maple syrup and whip until smooth. Keep in a fridge until you're ready to frost the cake.
Once the cakes are completely cool, place one cake onto a cake stand and spread with some coconut frosting. Thinly slice few strawberries and arrange on top of the frosting. Place the second cake on the top and using spatula frost the top and the sides of the cake.
Finish the cake by arranging more strawberries on the top.
Store in a fridge and enjoy!
Notes
To make oat flour blend oats in high speed blender or food processor into flour like consistency.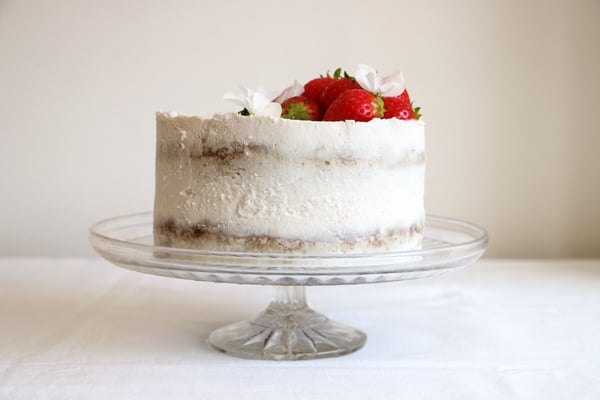 Similar Posts: