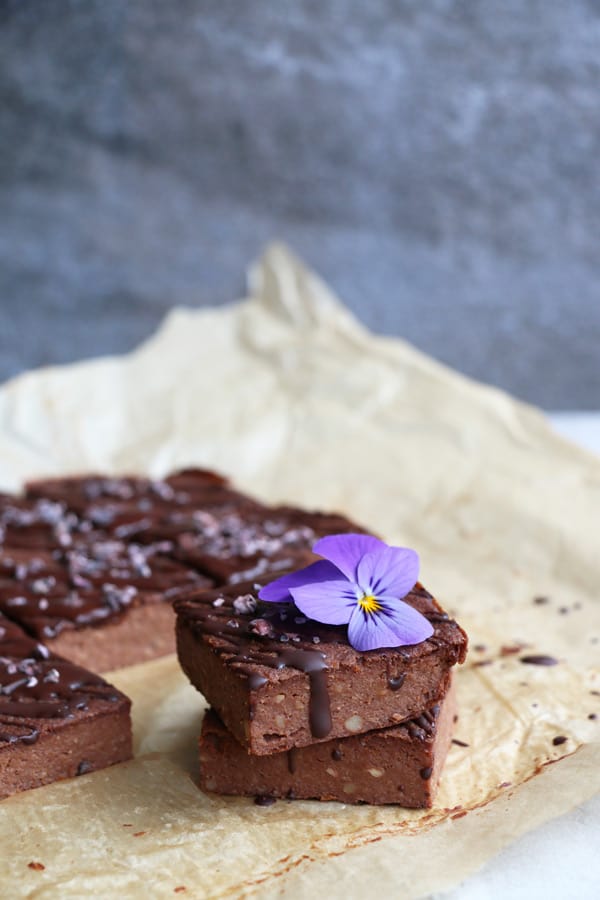 I love creating healthy and wholesome treats and because my most popular recipes on the blog are the sweet ones, I've got one more for you this week. At first I wasn't sure whether to share these Chocolate Cauliflower Bars with you, because I think they might not be everyone's cup of tea, but if you're a health conscious foodie like me, you might want to give these a try.
The cauliflower makes these bars creamy and gives them mousse like texture and bonus they taste like chocolate. You can have these in the fridge and snack on them when you feel like a little something sweet.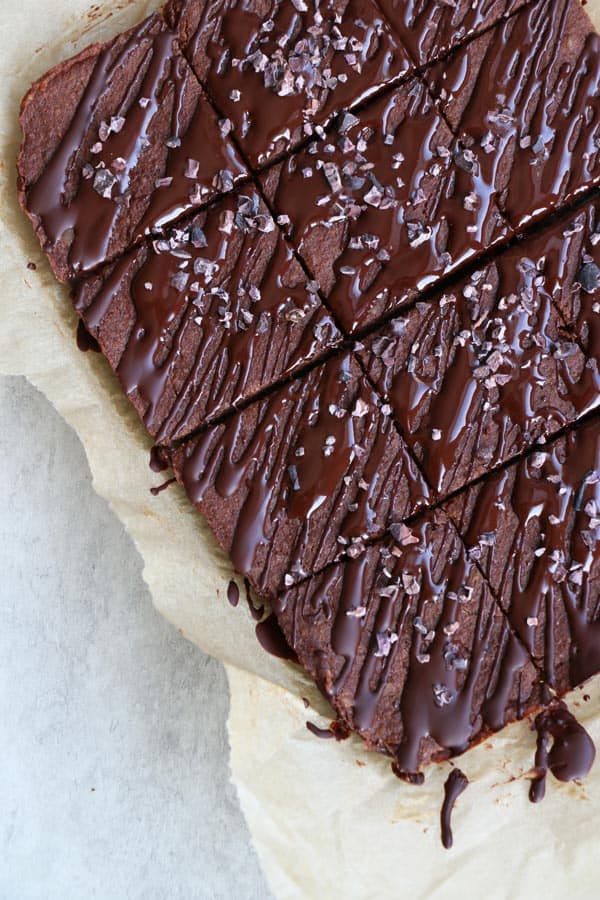 I cooked the cauliflower first until soft, blended it until smooth and then added some ground walnuts, buckwheat flour, raw cacao and coconut sugar to make the bars. They are packed with cauliflower, but you can't actually taste it.
I've decided to drizzle some melted dark chocolate over the top and sprinkle of raw cacao nibs to make them look a little more special, but you don't have to.  Alternatively you could stir some extra chocolate pieces into the mix before baking for even more chocolatey texture. Enjoy:)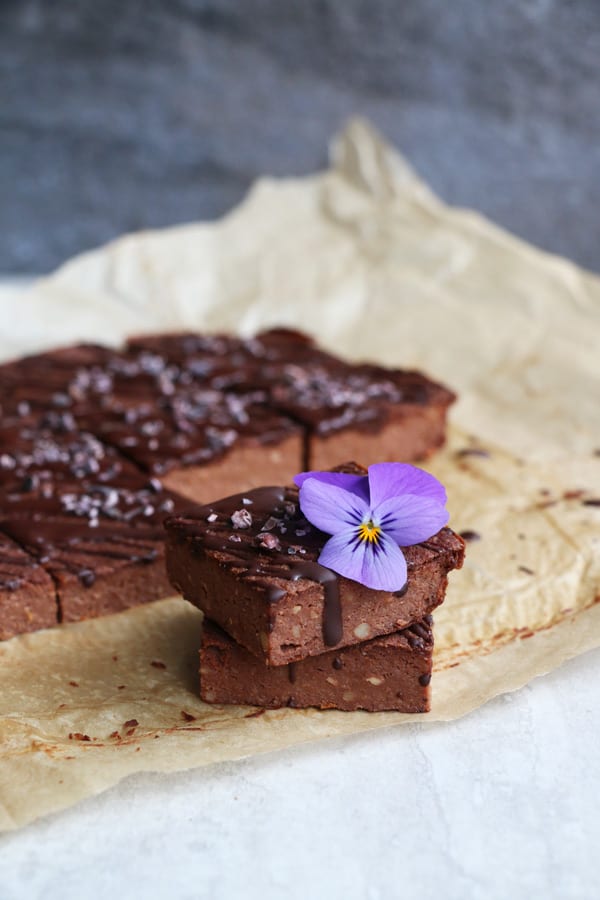 Yield: 16 bars
Chocolate Cauliflower Bars (gluten-free & vegan)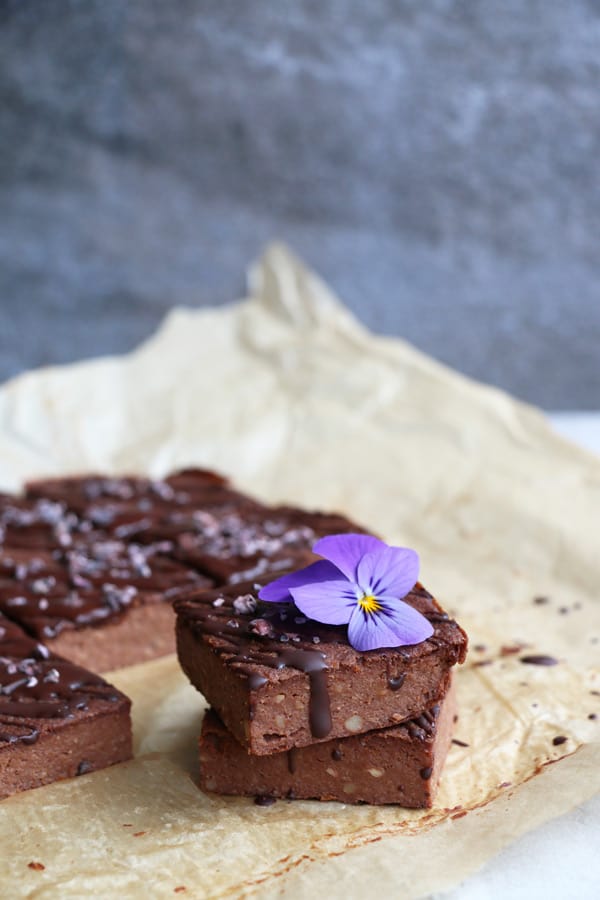 Ingredients
400g cauliflower florets (2 cups when blended)
2tbsp coconut oil
100g ground walnuts (1 cup)
70g buckwheat flour (1/2 cup)
30g raw cacao powder (1/4 cup)
1tbsp ground flaxseed
50g coconut sugar (1/3 cup)
1tsp cinnamon
pinch of sea salt
Optional topping:
50g dark chocolate
raw cacao nibs
Instructions
Boil or steam cauliflower until soft, drain well and blend until smooth. Stir in the coconut oil and set aside.
Preheat the oven to 180°C (160°C fan)
Line 9"x 9" square baking dish with baking paper.
In a large bowl whisk together ground walnuts, buckwheat flour, cacao powder, flaxseed, coconut sugar, cinnamon and sea salt.
Add the dry ingredients to the cauliflower and stir until combined.
Spoon the mixture into the baking dish and level the surface.
Place into the oven and bake for about 30 minutes until it feels firm in the middle.
Leave to cool down completely before cutting into 16 bars.
Melt the dark chocolate in double boiler and drizzle over the bars. Sprinkle with few raw cacao nibs.
Store in fridge in an airtight container.
Enjoy!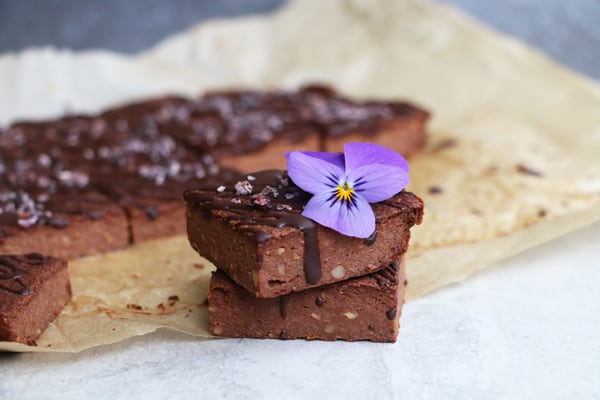 Similar Posts: