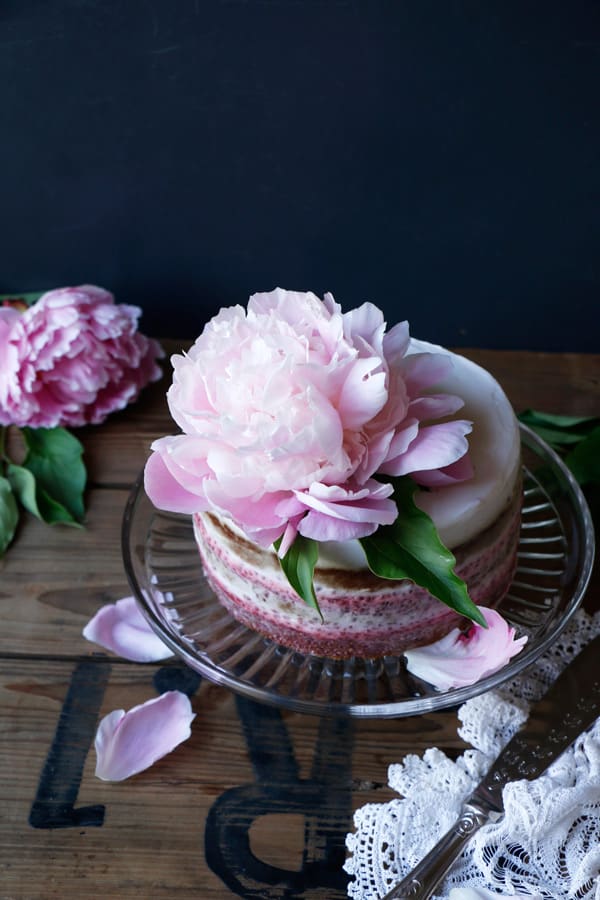 Special thank you to Daniel Wellington for sponsoring this post.
Today I have a gorgeous Strawberry Pistachio Layer Cake recipe that I've made for a collaboration with Daniel Wellington and their brand new vegan friendly watch collection Classic Petite.
It's the perfect gluten-free vegan summer cake with beautiful moist sponge, strawberry chia jam and coconut yogurt frosting.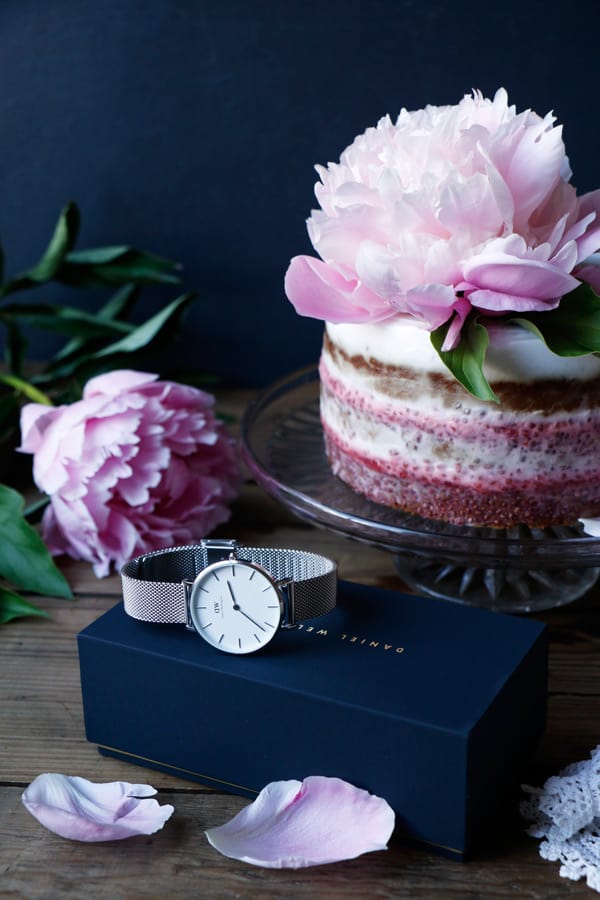 This recipe is a variation of my Raspberry Matcha Celebration Cake, but this time I'm not using an oat flour in the mix that some of you are intolerant to and so I hope you will find this recipe useful.
I had a frosting failure when assembling the cake, my coconut milk didn't get solid for some reason and so I only used coconut yogurt which worked out great for my frosting effect after all, although it didn't look like it at first! Because raw strawberry chia jam and coconut yogurt are both fairly runny, they will come out through the sides of the layers. I've used this to create the frosting effect, which I think looks quite different and effective. Failure into success :)
If you don't fancy using strawberry chia jam, just use coconut yogurt and freshly sliced strawberries between the layers and spread some coconut yogurt around the top and the sides of the cake. You could also make the frosting that I used for the Raspberry Matcha Celebration Cake which I originally planned to use. My decoration is very simple and I've used one large open pink peony, but you could also top the cake with strawberries, chopped pistachios and fresh edible flowers.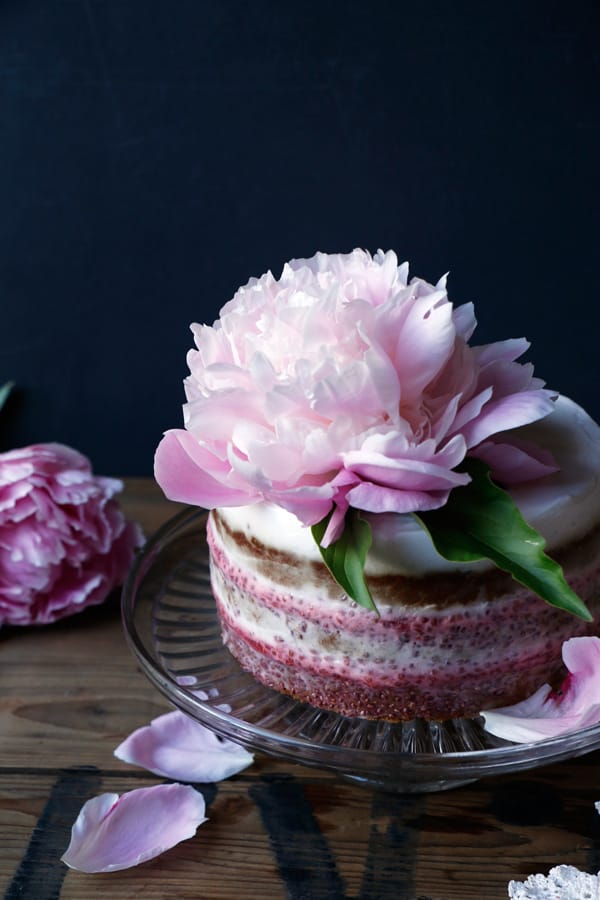 Yield: 6" three layer cake
Strawberry Pistachio Layer Cake (gluten-free & vegan)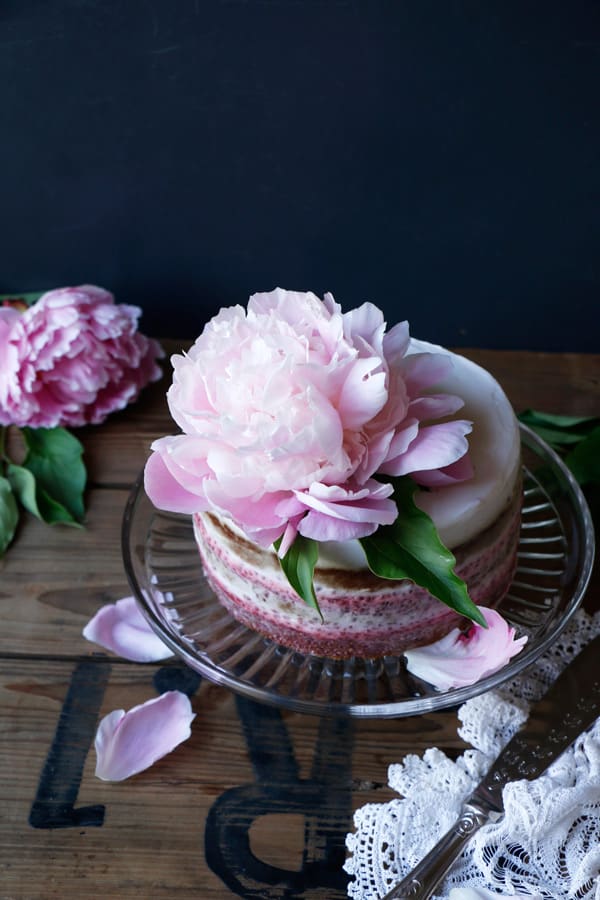 Ingredients
50g ground almonds (1/2 cup)
50g ground pistachios (1/2 cup)
70g brown rice flour (1/2 cup)
35g buckwheat flour (1/4 cup)
30g arrowroot (1/4 cup)
100g coconut sugar (3/4 cup)
1tsp baking powder
1tsp bicarbonate of soda
pinch of sea salt
½ lemon, zest
2tbsp ground flaxseed+6tbsp water
80ml olive oil (1/3 cup)
150ml almond milk (1/2 cup+2tbsp)
1tbsp apple cider vinegar
1tsp vanilla
Strawberry chia jam:
150g strawberries (1 cup, sliced)
1tsp lemon juice
1/2tbsp maple syrup
1 1/2tbsp chia seeds
Frosting:
350g coconut yoghurt (1 1/2cup)
Topping:
strawberries
chopped pistachios
fresh flowers
Instructions
Mix 2tbsp ground flaxseed with 6tbsp water and set aside to thicken.
Preheat the oven to 180°C (350F)
Grease and line 6" round cake baking tin.
In a large bowl whisk together ground almonds, ground pistachios, brown rice flour, buckwheat flour, arrowroot, sugar, baking powder, bicarbonate of soda and sea salt. Whisk in lemon zest and set aside.
In a small bowl whisk together flax eggs, olive oil, almond milk, apple cider vinegar and vanilla.
Add the wet mix to the dry mix and mix until well combined. You should have pourable muffin consistency.
Spoon the mixture into the cake tin and level out the surface.
Bake for about 45 minutes or until a cocktail stick comes out with just few crumbs left on.
Remove from the oven and leave to cool down for 20 minutes before carefully moving onto a wire rack.
To make the strawberry chia jam place strawberries, lemon juice and maple syrup into a blender and blend until smooth. Place into a glass jar, stir in chia seeds and place into a fridge to set.
Once the cake is completely cool, very carefully slice into three layers. I use a cake cutter. Be careful as gluten-free vegan cakes are more fragile. It's best to use something flat to transfer the individual layers.
Whisk the coconut yoghurt.
Place the bottom layer onto a cake stand, spread half strawberry chia jam on top and top with generous layer of coconut yoghurt. Repeat with the second layer. Place the last layer on top.
Using spatula frost the top of the cake. Once the strawberry jam and yoghurt run out the sides, use a spatula to smooth it around the sides. Add more coconut yoghurt where needed.
Just before serving decorate the cake with some fresh flowers or strawberries and chopped pistachios.
Enjoy!
Will keep in fridge for up to 3 days.
Notes
If you like to use coconut oil instead of olive oil, make sure the almond milk is at room temperature before whisking.
You can replace the buckwheat flour with 50g oat flour (1/2 cup).
I've used one 6" cake tin, but if you like you can use two and make a two layer cake or use three tins to save yourself cutting the cake. Adjust the baking time accordingly.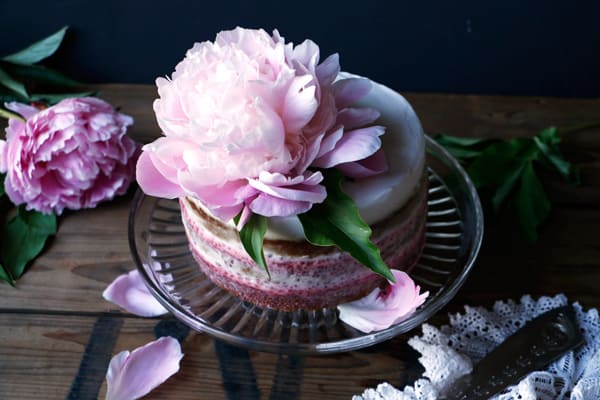 Similar Posts: