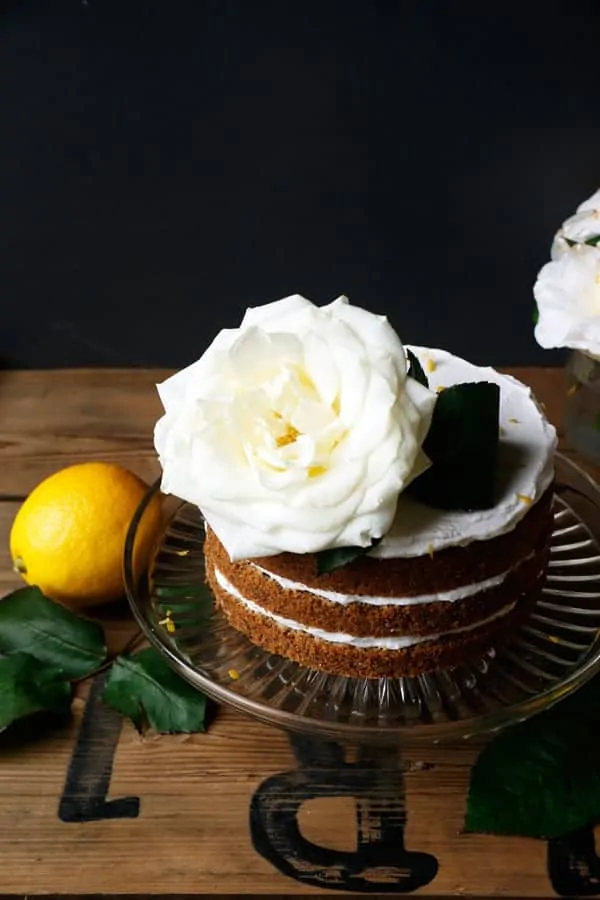 Happy Spring!!! Today I have a little Lemon Poppy Seed Cake for your Spring celebrations. Deliciously moist and zesty with poppy seed crunch this wholesome cake will rock your day! I'm absolutely in love with this cake and I hope you will too, it turned out just so wonderful.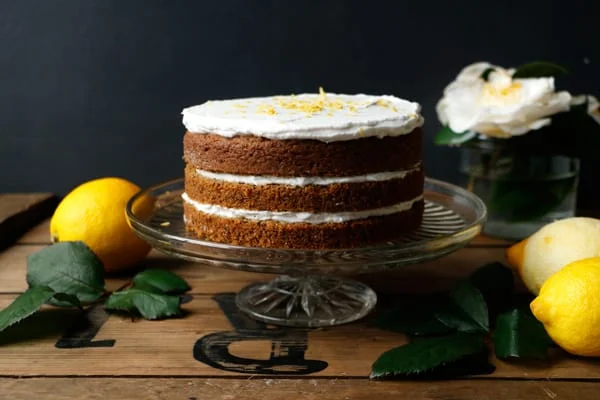 Lemon poppy seed cake is a classic and I've taken these traditional flavours and created a wholefood cake that is vegan and gluten-free. The recipe is an adaptation of my Strawberry Coconut Sponge Cake, another lovely cake for you to try :) Both of these are really moist and light, perfect for warmer months and lovely decorated with fresh fruit and flowers.
This time I've baked the cake in one tin only and then sliced it into three layers. It will take longer to bake, but it will be really moist. However if you prefer, you could bake it in two separate cake tins and make a two layer cake.
The coconut frosting is amazing on this cake and really compliments the flavours. I've chosen one large open cream rose to decorate the cake and some freshly grated lemon zest, which looked stunning. Happy baking :)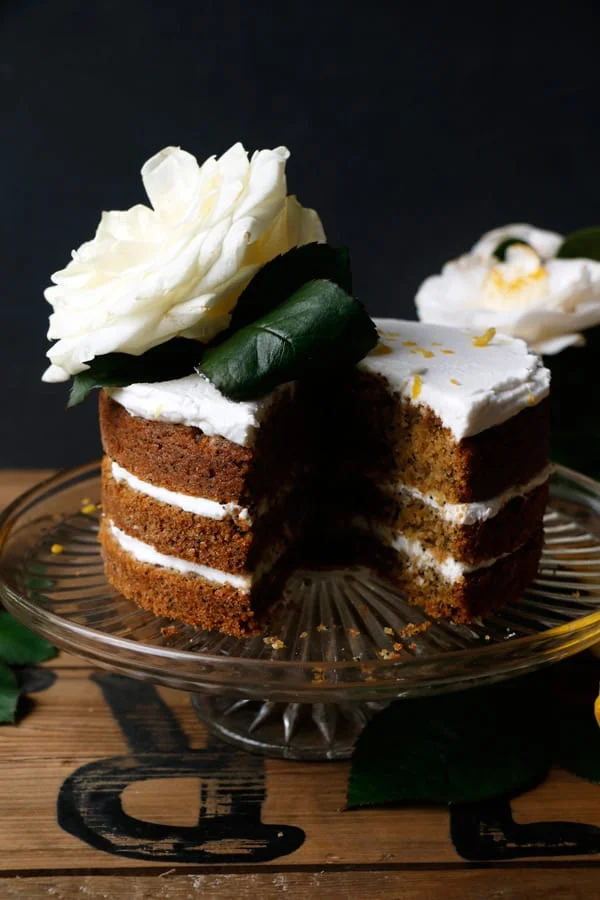 Yield: 6" layer cake
Lemon Poppy Seed Cake (gluten-free & vegan)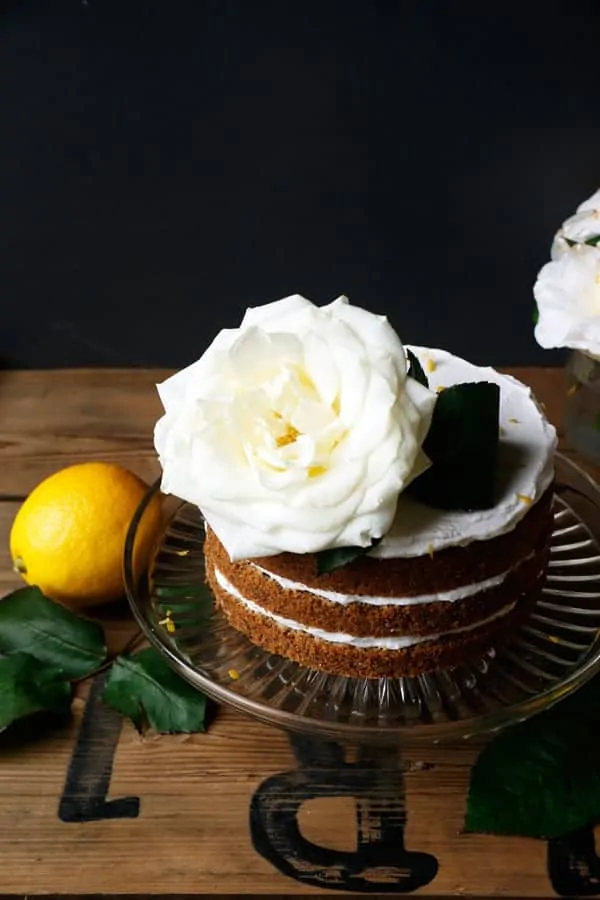 Ingredients
100g ground almonds (1 cup)
70g brown rice flour (1/2 cup)
50g oat flour (1/2 cup)
30g arrowroot (1/4 cup)
100g coconut sugar (3/4 cup)
1tsp baking powder
1tsp bicarbonate of soda
pinch of sea salt
2tbsp poppy seeds
1 lemon, zest
2tbsp ground flaxseed+6tbsp water
80ml olive oil (1/3 cup)
150ml almond milk (1/2 cup+2tbsp)
1tbsp lemon juice
1tsp vanilla
Coconut frosting:
1x 400ml can full fat coconut milk, refrigerated overnight
125g coconut yoghurt (1/2 cup)
2tsp maple syrup (optional)
lemon zest to decorate
Instructions
Place the can of full fat coconut milk into a fridge, preferably overnight.
Mix 2tbsp ground flaxseed with 6tbsp water and set aside to thicken.
Preheat the oven to 180°C (160°C fan)
Grease and line 6" round cake baking tin.
In a large bowl whisk together ground almonds, brown rice flour, oat flour, arrowroot, coconut sugar, baking powder, bicarbonate of soda and sea salt. Whisk in poppy seeds and lemon zest and set aside.
In a small bowl whisk together flax eggs, olive oil, almond milk, lemon juice and vanilla.
Add the wet mix to the dry mix and mix until well combined. You should have pourable muffin consistency.
Spoon the mixture into the cake tin and level out the surface.
Bake for about 45 minutes or until a cocktail stick comes out clean.
Remove from the oven and leave to cool down for 20 minutes before carefully moving onto a wire rack.
To make the frosting scoop the solid part of the coconut milk into a bowl, add coconut yoghurt and maple syrup and whip until smooth. It will thicken as you continue to whip. Place into a fridge until you're ready to frost the cake.
Once the cake is completely cool, very carefully slice into three layers. Be careful as gluten-free vegan cakes are more fragile.
Place the bottom layer onto a cake stand and spread with some coconut frosting. Repeat with the second and third layer. Using spatula frost the top of the cake.
Finish the cake with some grated lemon zest and fresh flowers.
Store in a fridge and enjoy!
Notes
To make oat flour blend oats in high speed blender or food processor into flour like consistency.
If you like to use coconut oil instead of olive oil, make sure the almond milk is at room temperature before whisking.
You can bake this cake in two 6" round cake tins for two layer cake or one 8" round cake tin for one layer cake.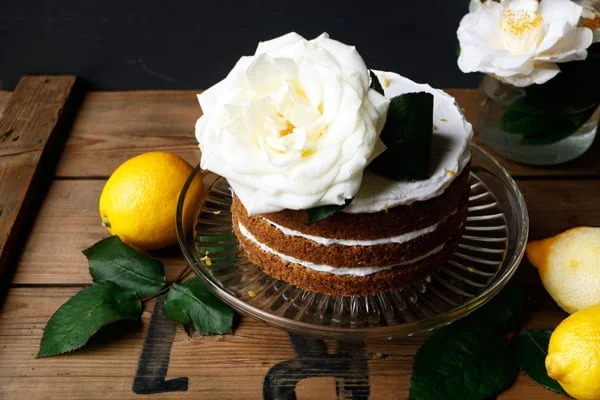 Similar Posts: