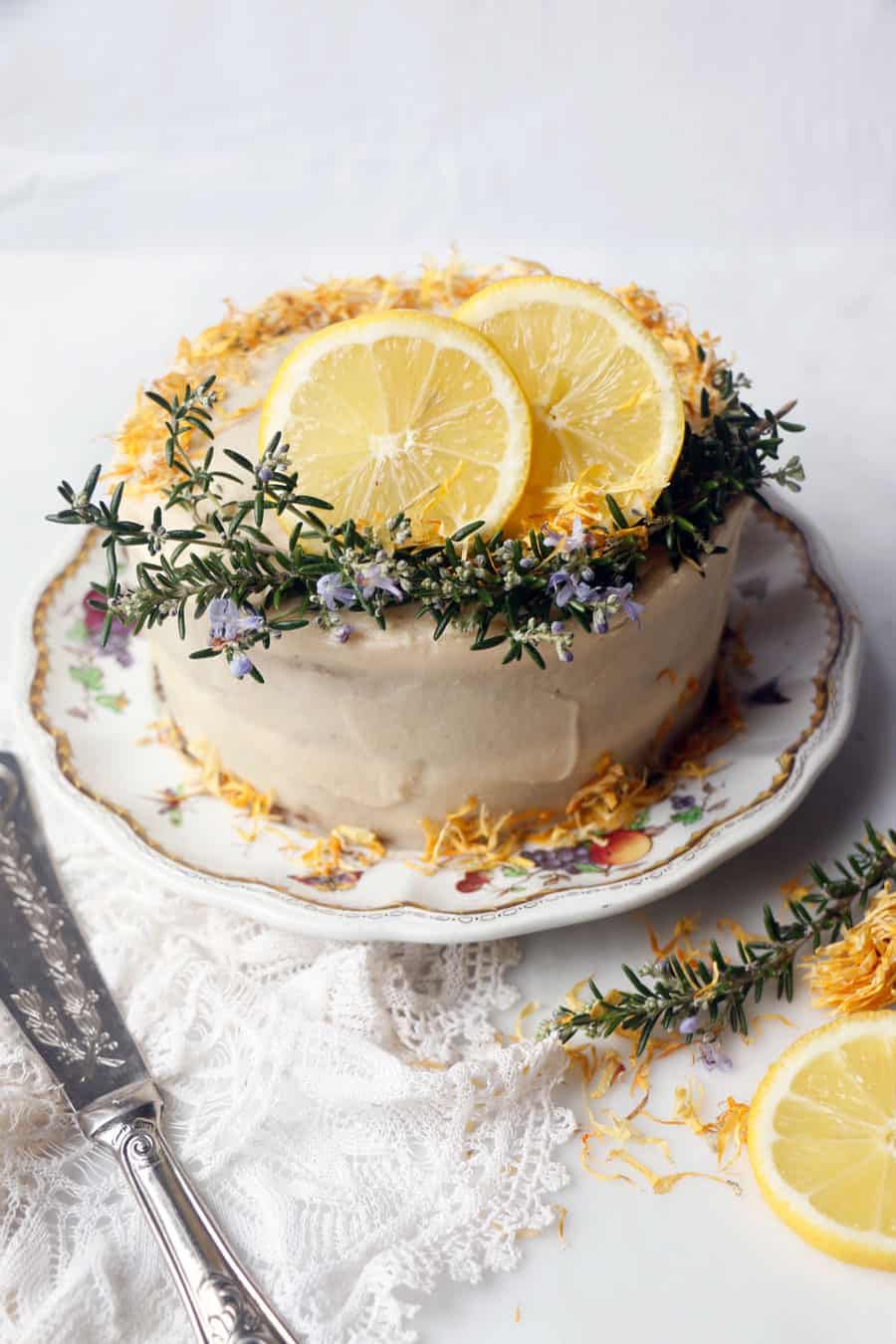 I had to wait all the way for Imbolc to create my first post of 2021! How are you all doing? With February and Spring on the way, nature gently awakening again I'm starting to feel a fresh energy pouring in and it feels inspiring and nourishing.
To celebrate Mother Earth awakening I've created a Rosemary Lemon Imbolc Cake to mark the occasion I hope you will enjoy. Two layers of moist gluten-free vegan sponge cake with light vanilla frosting and lemon curd, so yummy!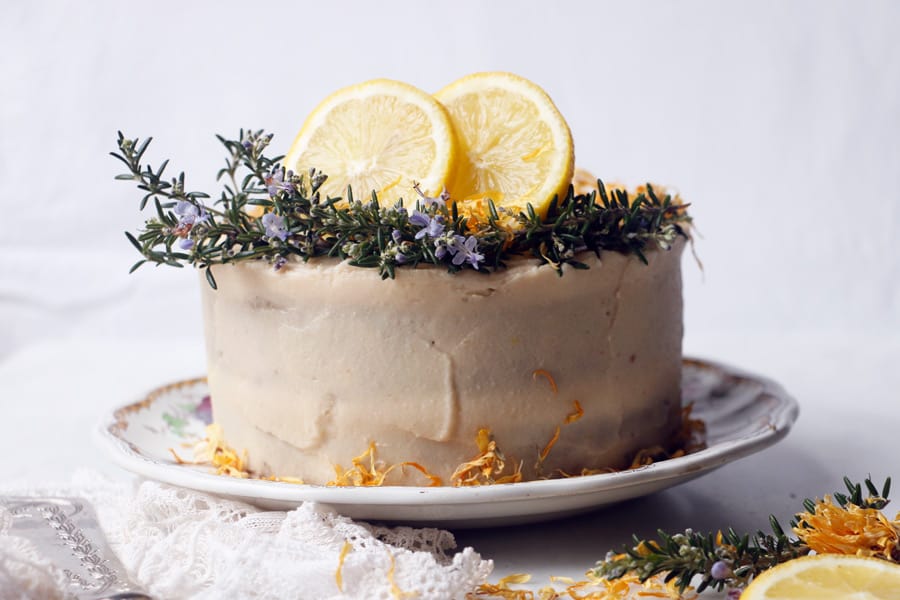 This gluten-free vegan layer cake is adapted from my Rosemary Blackberry Layer Cake I've created for Imbolc last year. It has a different twist and I have finally tested my agar frosting on a layer cake. It worked beautifully, it's really delicious and the flavour is somewhat delicate which compliments the flavours in the cake so well.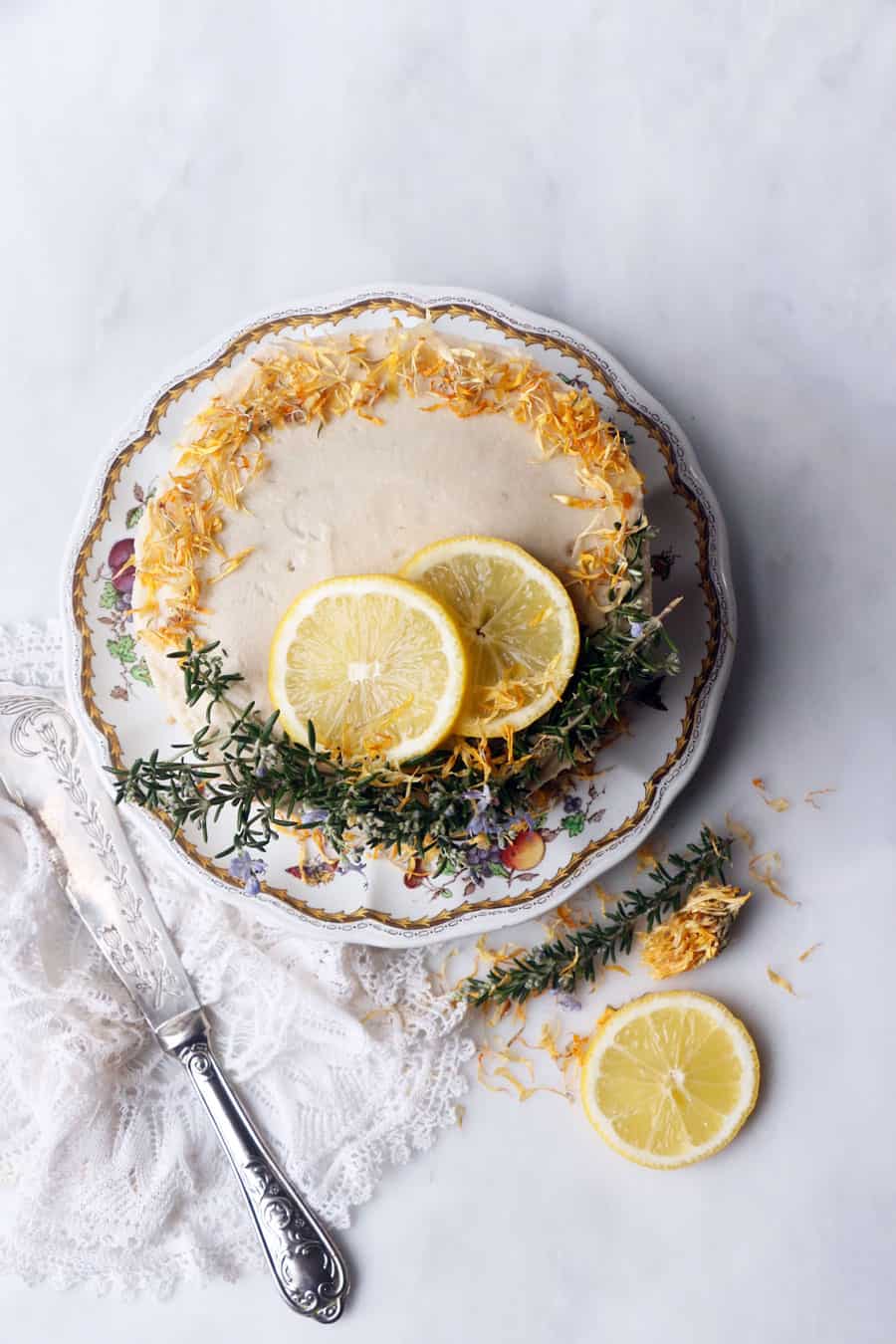 Aside from the vanilla frosting I have also made some lemon curd filling which ads extra loveliness. It's optional and you can leave it out if you don't fancy making two creams, but I do recommend it for the full flavour experience.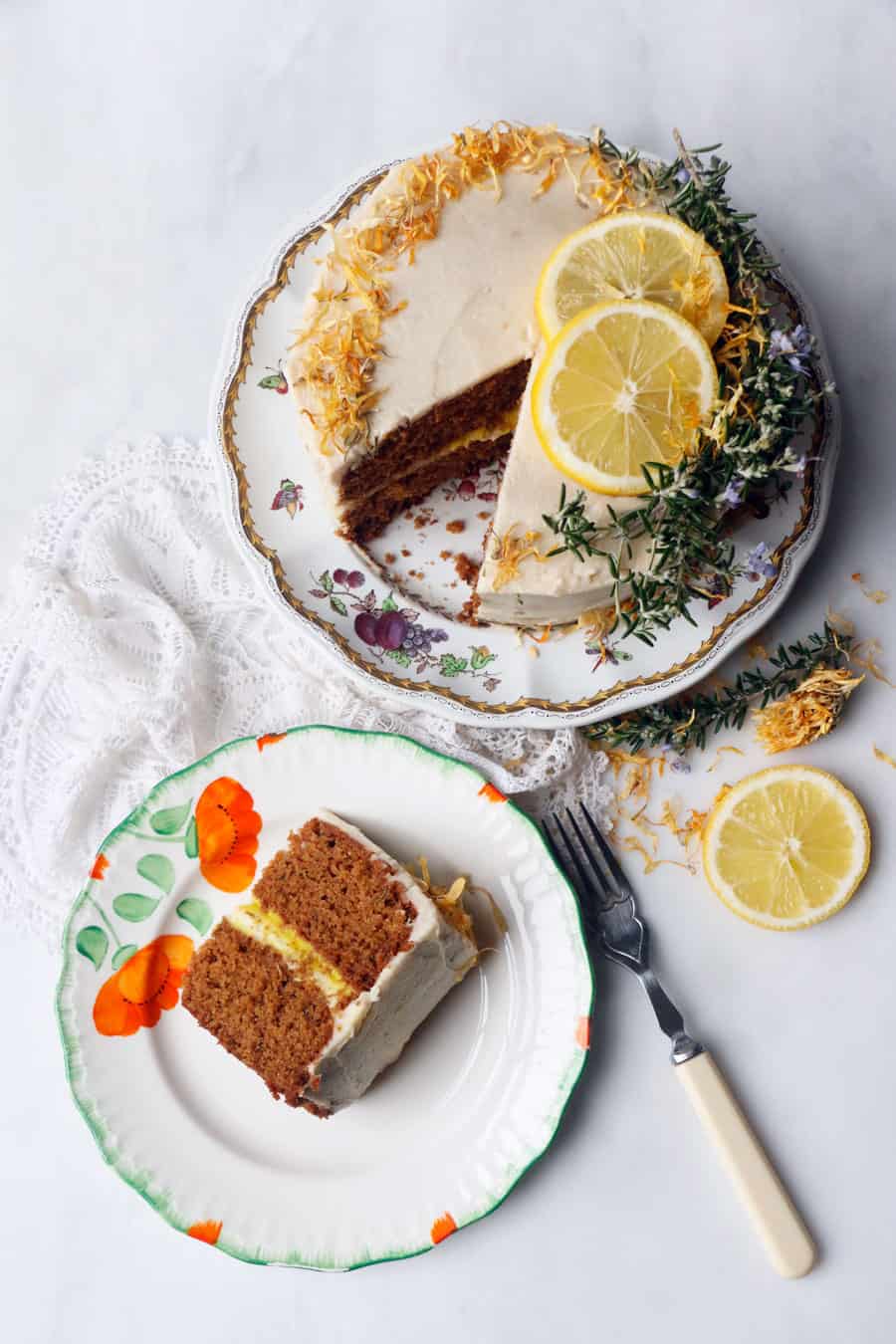 The sponge cake is moist, I've used a mix of sorghum flour, buckwheat flour, tapioca flour and ground almonds for my gluten-free mix and you can change this depending on what you have in your pantry.
And for the decoration fresh rosemary from my favourite rosemary, lemon slices and sprinkle of dried marigolds. Hope it will bring some sunshine and positive energy into your day!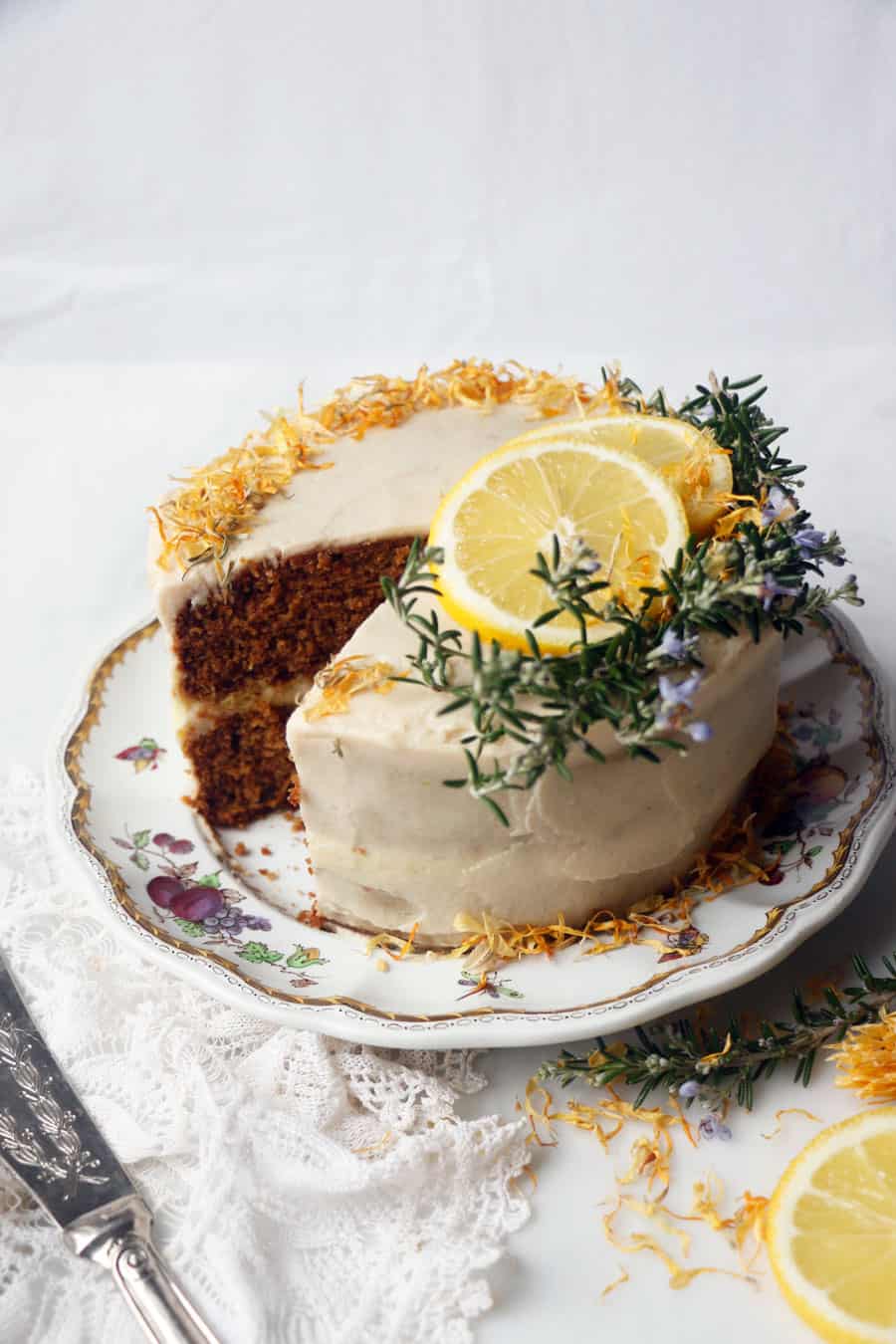 Yield: 6" layer cake
Rosemary Lemon Imbolc Cake (vegan & gluten-free)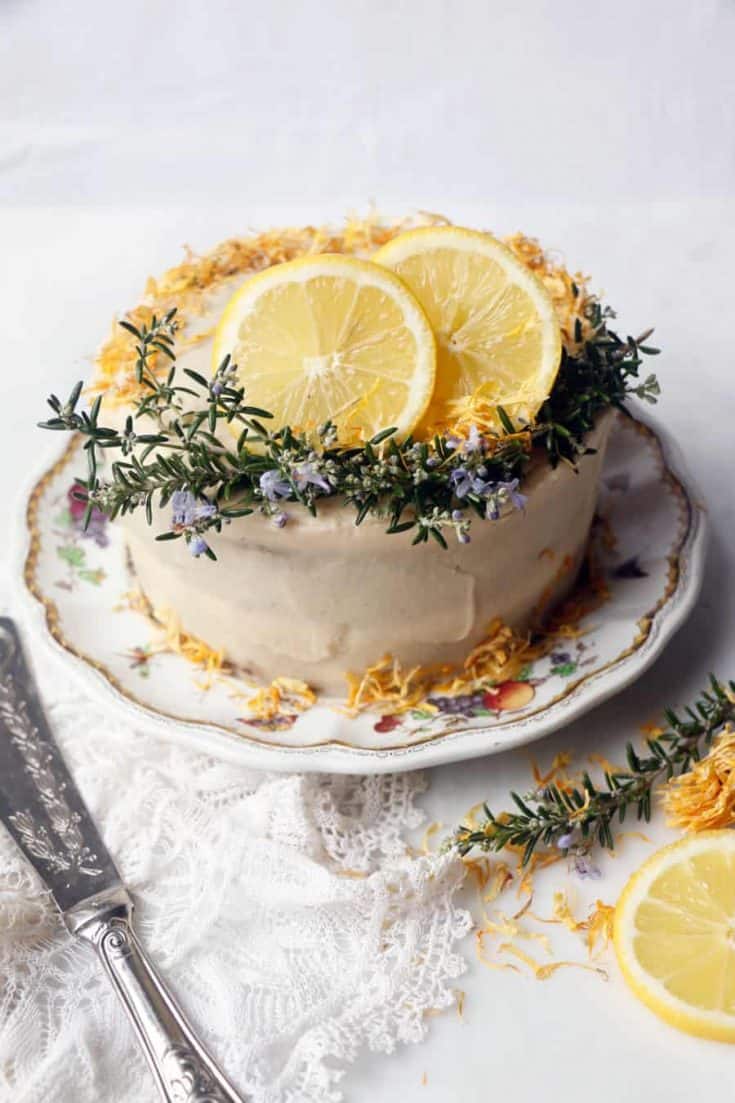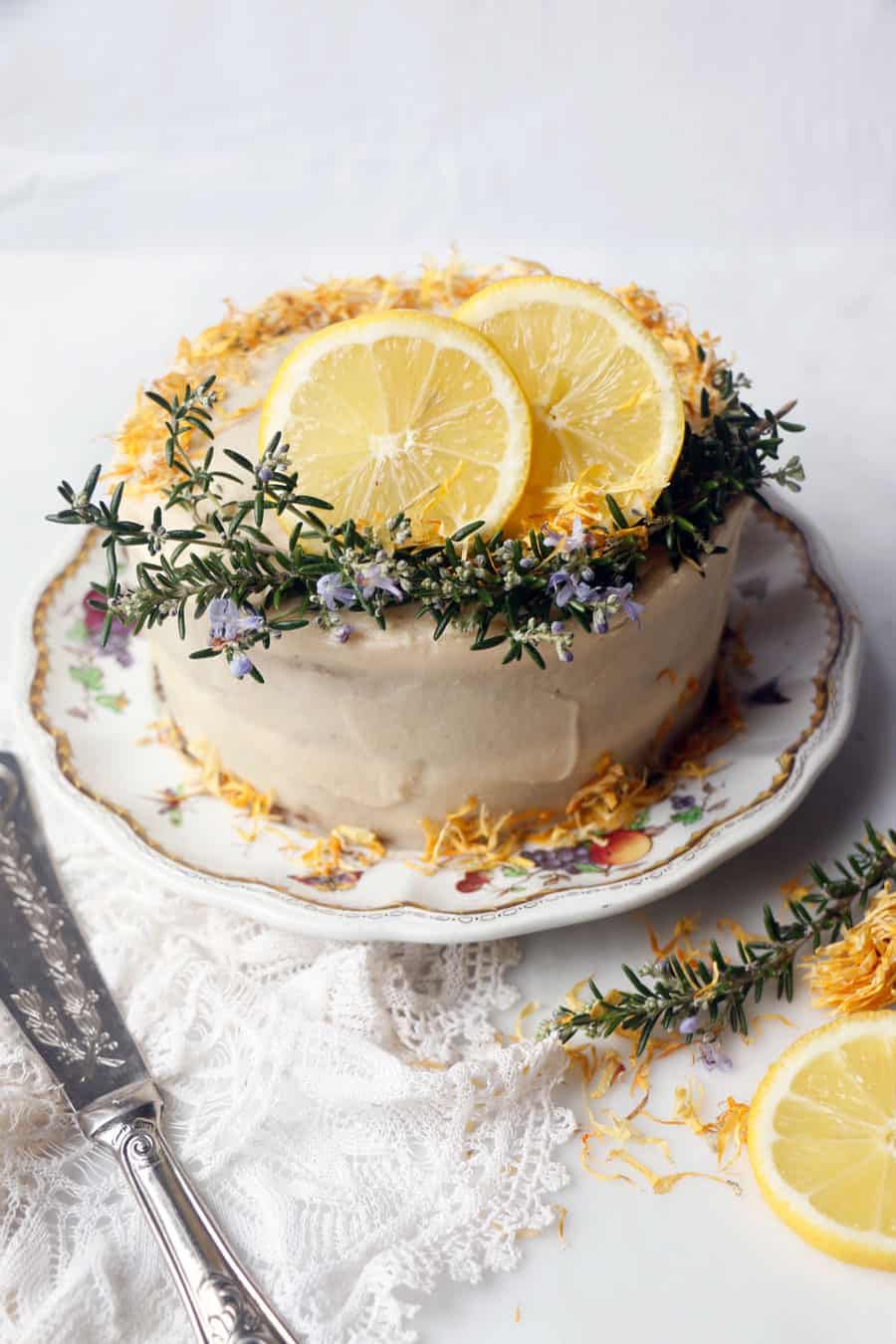 Ingredients
100g ground almonds (1 cup)
70g sorghum flour (1/2 cup)
35g buckwheat flour (1/4 cup)
30g tapioca flour (1/4 cup)
1tsp baking powder
1tsp bicarbonate of soda
pinch sea salt
100g rapadura sugar (3/4 cup)
1tbsp chopped fresh rosemary
zest of 1 lemon
2tbsp ground flaxseed + 6tbsp water
80ml apple sauce (1/3 cup)
80ml olive oil (1/3 cup)
60ml almond milk or as needed (1/4 cup)
1tbsp lemon juice
Vanilla frosting:
250ml plant-based cream (1cup)
1tbsp sugar
1tsp vanilla extract
1tsp agar powder
1tbsp cornflour
1tbsp coconut oil
Lemon curd:
zest of 2 lemons
juice of 2 lemons
120ml plant-based milk (1/2 cup)
2tbsp white sugar
1tsp vanilla extract
2tbsp cornflour
pinch of turmeric powder
2tbsp vegan butter or coconut oil
Decoration:
fresh rosemary
lemon slices
dried marigold
Instructions
Mix 2tbsp ground flaxseed with 6tbsp water and set aside to thicken.
Preheat the oven to 180°C (350F)
Grease and line two 6" round cake baking tins with removable base.
In a large bowl whisk together ground almonds, sorghum flour, buckwheat flour, tapioca, baking powder, bicarbonate of soda and salt. Stir in sugar, rosemary and lemon zest and set aside.
In a small bowl whisk together gelled flax eggs, apple sauce, olive oil, almond milk and lemon juice.
Add the wet mix to the dry mix and mix until well combined. You should have loose pourable muffin consistency. Spoon the mixture evenly into your prepared tins and level out the surface. Bake for about 30 min or until a cocktail stick comes out clean. Remove from the oven once ready and leave to cool down for 20 min before removing from the tins.
Vanilla frosting:
Place cream, sugar and vanilla into medium pot. Whisk in agar powder and cornflour and bring to boil whisking continuously. Leave to simmer for 5 minutes whisking in between. Take off the heat and stir in the coconut oil. Leave to cool down for 15 minutes and then using electric whisk whisk the mix until smooth. Place into a fridge for about an hour whisking every 15 to 20 minutes until you have thick smooth cream. Store in fridge until needed.
Lemon curd:
In a small pot whisk together lemon juice, milk, sugar, vanilla, cornflour and turmeric and bring to boil while whisking continuously. Leave to cook for one minute and take off the heat. Stir in lemon zest and vegan butter or coconut oil and leave to cool down before transferring into fridge until ready to use.
Once the cakes are completely cool, you can frost the cake. Place the bottom layer onto a cake plate, spread with vanilla frosting and top with lemon curd. Top with the second cake layer and frost the top and the sides of the cake.
Decorate with fresh rosemary sprigs, lemon slices and dried marigolds.
Notes
You can use oat cream or coconut cream in the vanilla frosting. Using the coconut cream will give you thicker frosting.
I've used white sugar in the lemon curd to achieve bright yellow colour, you can replace it with your choice of sugar or maple syrup.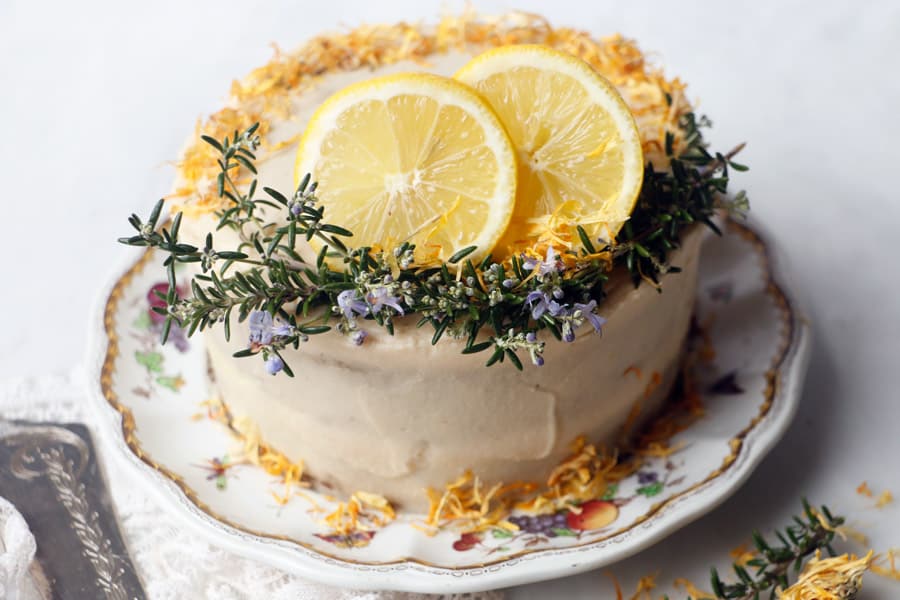 Similar Posts: