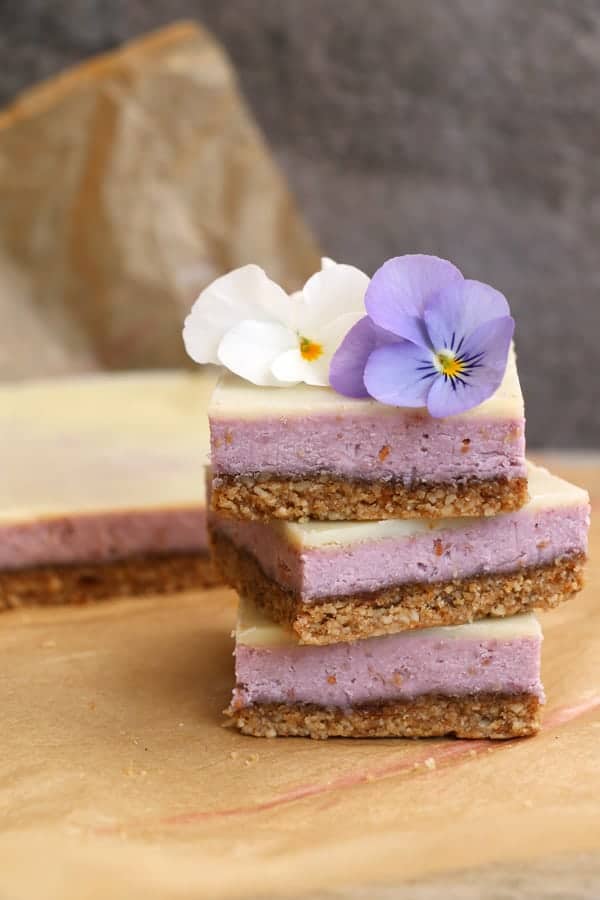 Believe it or not these Raspberry White Chocolate Bars were meant to be Sunflower Seed and Tahini Cookies, somehow that didn't happen. But can I just say OMG, because they are that good! I always knew raspberries and white chocolate go beautifully together, but this mixture of raspberries, coconut butter and raw cacao is taking it to the next level. They are raw, grain-free, vegan and nut-free, hopefully perfect to fit any diet. This recipe is a version of my Raw Coconut and Raspberry Bars, which are one of my most popular recipes and I hope you love them as much.
I've used fresh raspberries this time which makes a lovely pink colour once mixed with the coconut butter. The crust layer is a mix of sunflower seeds, medjool dates and tahini which makes a yummy nut-free crust. You want to have a nice sticky mixture so it doesn't get too crumbly once cut into bars. To make the white chocolate layer I've used raw cacao butter mixed with some more coconut butter and coconut oil. If you don't have cacao butter you could always replace it with coconut butter, but you will not get that lovely chocolatey flavour. I use raw cacao butter to make my own moisturizer and so luckily I always have some in my cupboard. I highly recommend making your own moisturizer if you don't already. I make mine with an equal mix of raw cacao butter and raw coconut oil with few drops of Frankinsense essential oil. It's beautifully moisturising and feels amazing on the skin. Enjoy the recipe:) x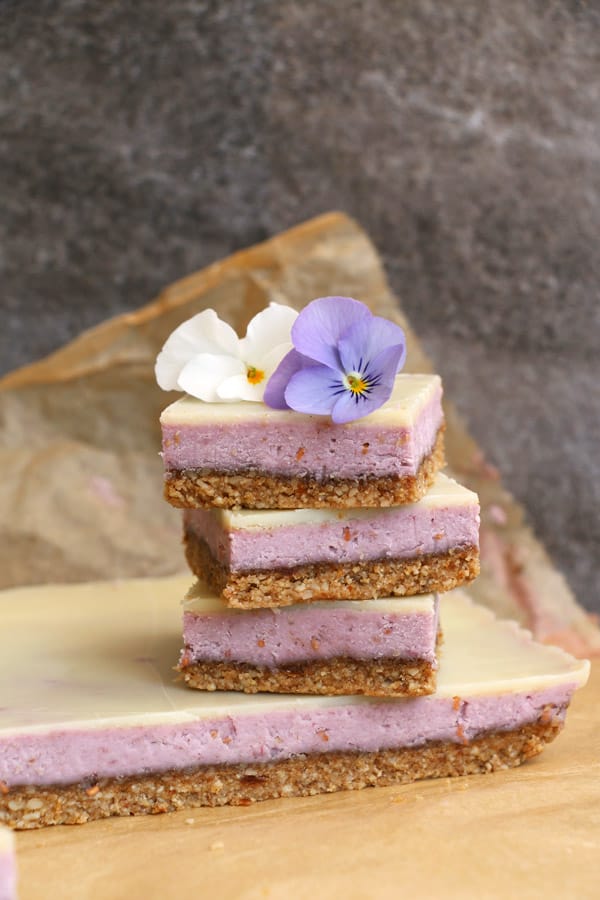 Yield: 16 bars
Raspberry White Chocolate Bars with Sunflower Seed and Tahini Crust (grain-free & vegan)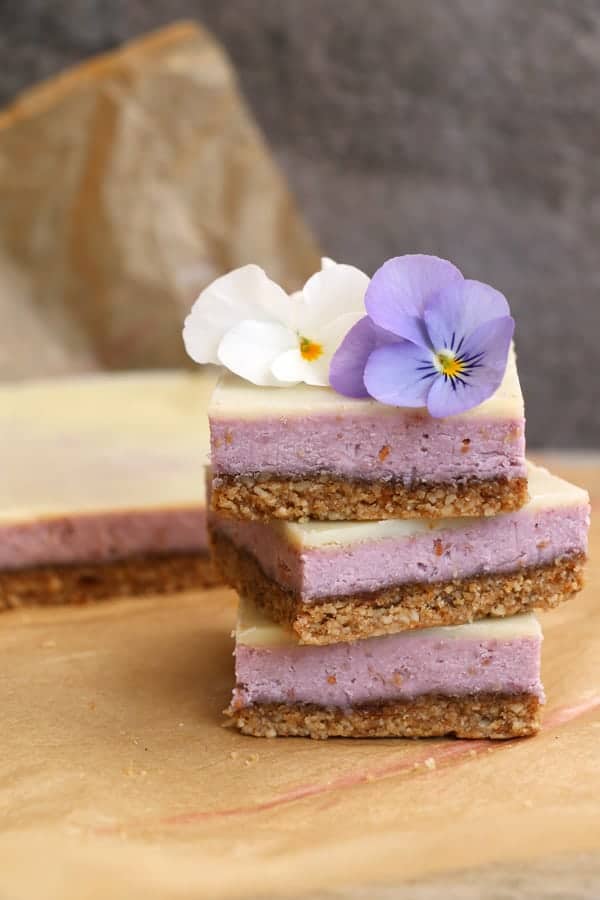 Ingredients
Crust layer:
180g sunflower seeds (1 1/2 cups)
6 medjool dates
4tbsp tahini
2tbsp coconut oil
1tsp cinnamon
pinch of sea salt
Raspberry layer:
200g coconut butter (1 cup)
2tbsp maple syrup
1tbsp lemon juice
150g raspberries (1 cup)
White chocolate layer:
3tbsp raw cacao butter
3tbsp coconut butter
2tbsp coconut oil
2tsp maple syrup
Instructions
Line 7"square dish with parchment paper.
Place sunflower seeds into a food processor or high speed blender and pulse few times until coarsely ground. Add the rest of the ingredients and blend until the mixture comes together. Spoon the mix into the dish, spread evenly onto the base and press tightly down. Set aside.
In a double boiler gently melt coconut butter and set aside.
Blend raspberries until smooth and stir into the melted coconut butter together with maple syrup and lemon juice. Spoon onto the crust layer and smooth out evenly. Place into a fridge for about 30 min to set.
In a double boiler gently melt raw cacao butter, coconut butter and coconut oil. Stir in maple syrup. Once the raspberry layer feels firm, pour onto the top.
Place into the fridge for about 10 minutes only until set. If you leave it too long the top might crack.
Cut with a sharp knife into 16 squares.
Store in a fridge in an airtight container or freezer.
Enjoy!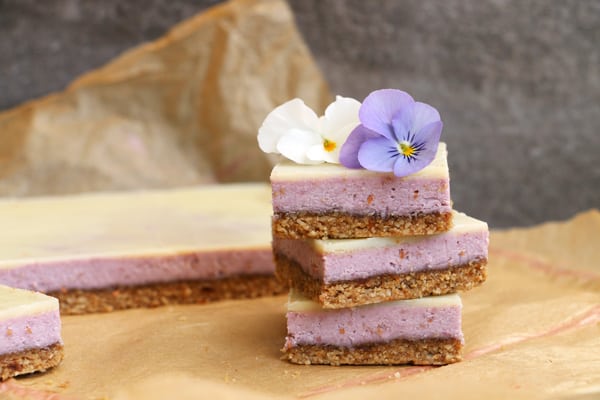 Similar Posts: