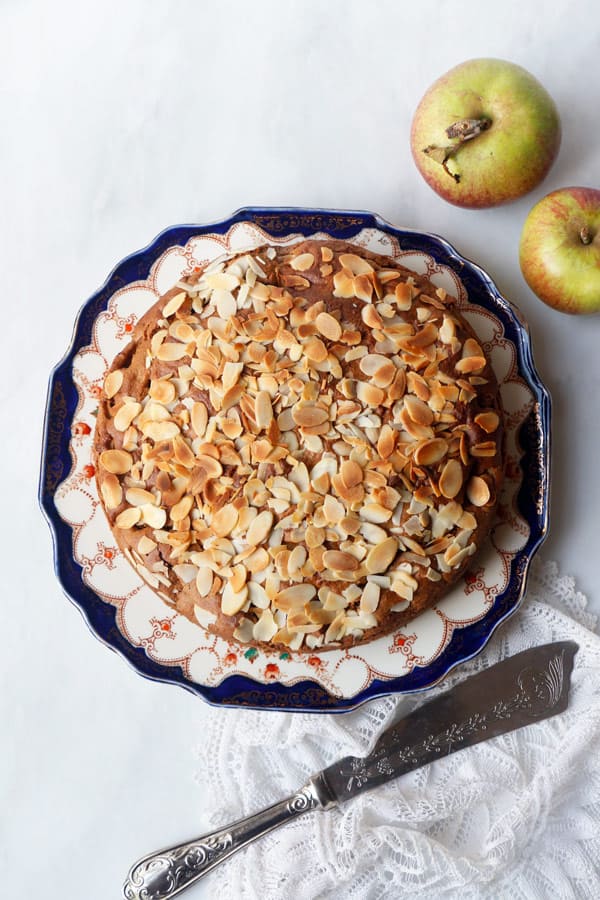 Today I have a couple of lovely autumnal recipes for you, one sweet and one savory. I've made this simple Spiced Apple Cake couple of weeks ago and because apples are in season now, a good old apple cake is the best thing to bake now.
The recipe is a variation of my other apple cake recipes, but you can never have enough in your collection.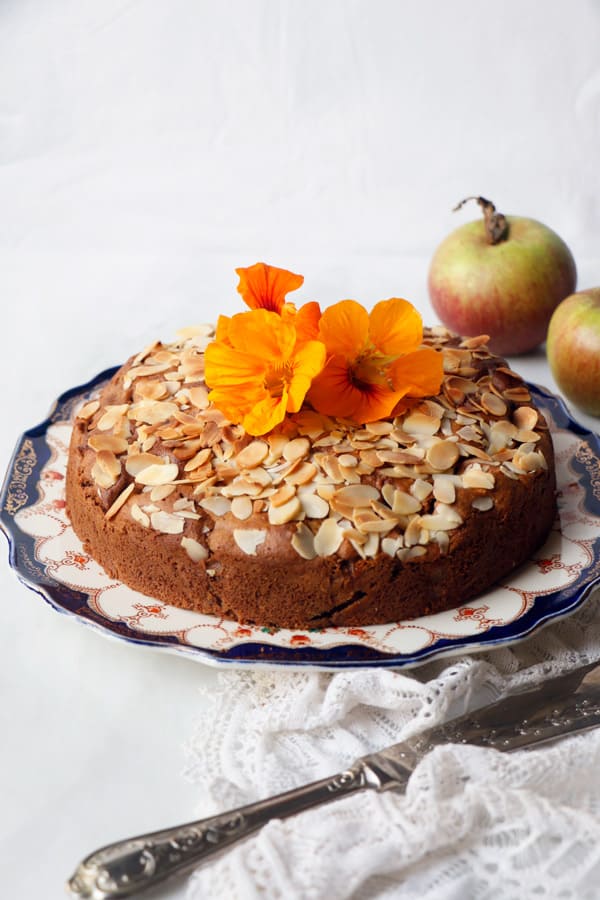 This time I've used oat flour and opted out from using starch in my gluten-free mix. I know that some of you love using oat flour and some of you can't tolerate it. I try to use it sparingly, but if that is the case please follow this recipe for my Vegan Apple Cake. It gives you another gluten-free mix option. You can replace the teff flour with buckwheat flour.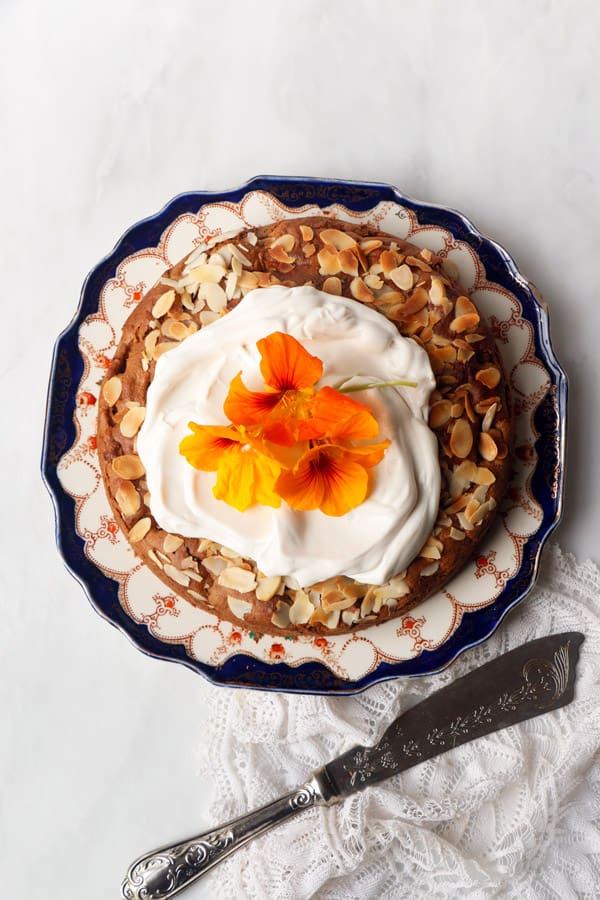 I've used about 3 small apples, you can use more if you like the cake to be really apple rich. It's also lovely topped with a generous amount of flaked almonds. I've served mine with some vegan creme fraiche for extra indulgence and it was delicious.
Hope you love it!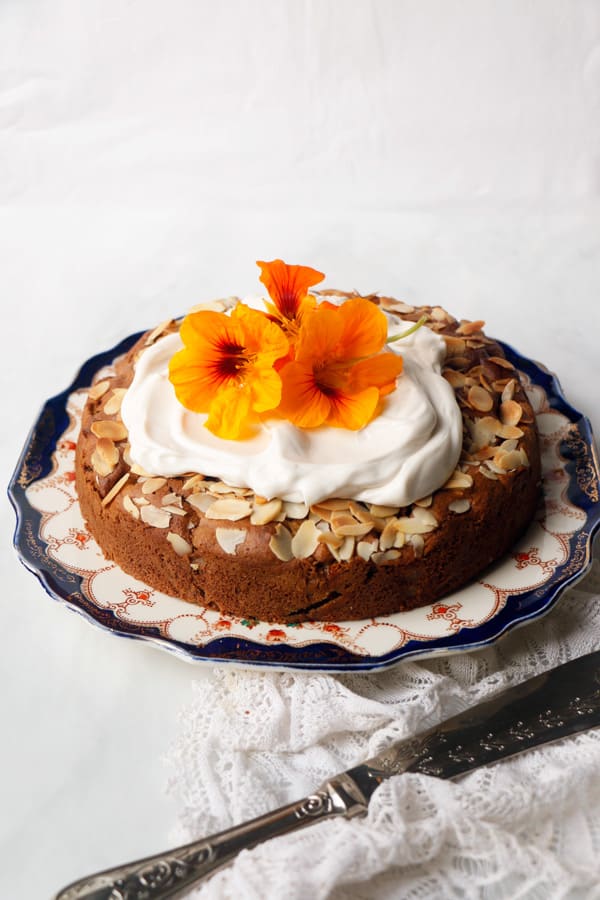 Yield: 8" cake
Spiced Apple Cake (vegan & gluten-free)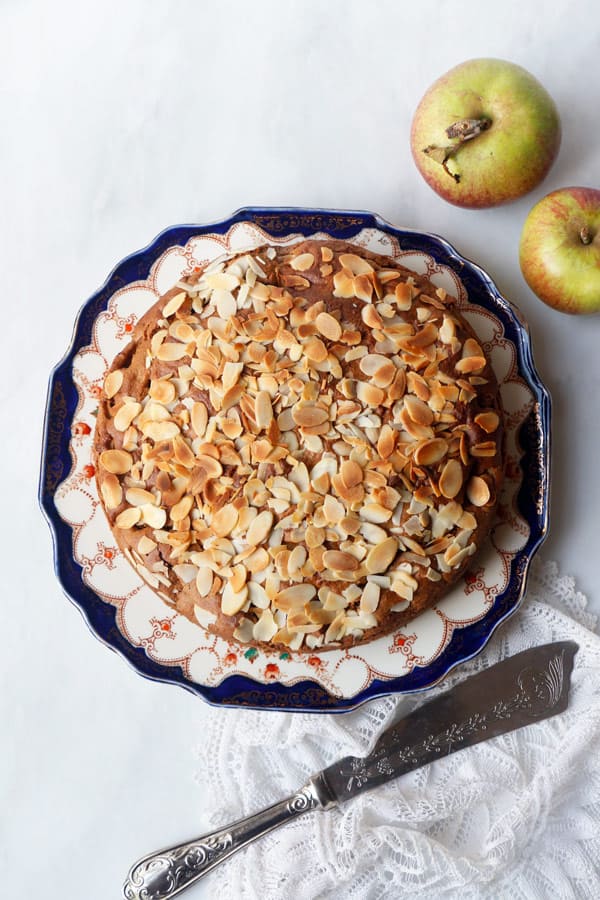 Ingredients
2 to 3 apples
100g ground almonds (1 cup)
100g oats, blended into flour consistency (1 cup)
70g brown rice or buckwheat flour (1/2 cup)
1tsp baking powder
1tsp bicarbonate of soda
1tsp ground cinnamon
1tsp ground ginger
1/4tsp ground cloves
1/8tsp ground nutmeg
pinch sea salt
100g coconut sugar (3/4 cup)
2tbsp ground flaxseed + 6tbsp water
80ml apple sauce (1/3 cup)
80ml olive oil (1/3 cup)
80ml almond milk (1/3 cup)
2tsp apple cider vinegar
30g flaked almonds (1/4 cup)
Instructions
Mix 2tbsp ground flaxseed with 6tbsp water and set aside to thicken.
Quarter, core apples and cut into smaller pieces. I kept the skin on. Set aside.
Preheat the oven to 180°C (350F)
Grease and line one 8" round cake baking tin.
In a large bowl whisk together ground almonds, oat flour, buckwheat flour, baking powder, bicarbonate of soda, cinnamon, ginger, cloves, nutmeg, salt and sugar and set aside.
In a small bowl whisk together gelled flax eggs, apple sauce, olive oil, almond milk and apple cider vinegar.
Add the wet mix to the dry mix and mix until well combined. You should have muffin consistency. Fold in sliced apples.
Spoon the mixture into your prepared tin and level out the surface.
Top with flaked almonds.
Bake for about 45 minutes or until a cocktail stick comes out clean.
Remove from the oven once ready and leave to cool down for 20 minutes before removing from the tin.
Enjoy!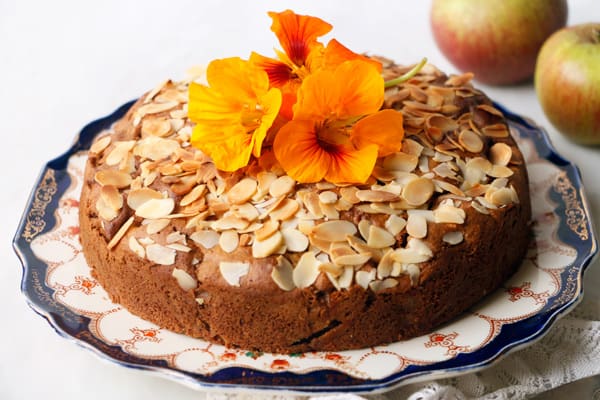 Similar Posts: