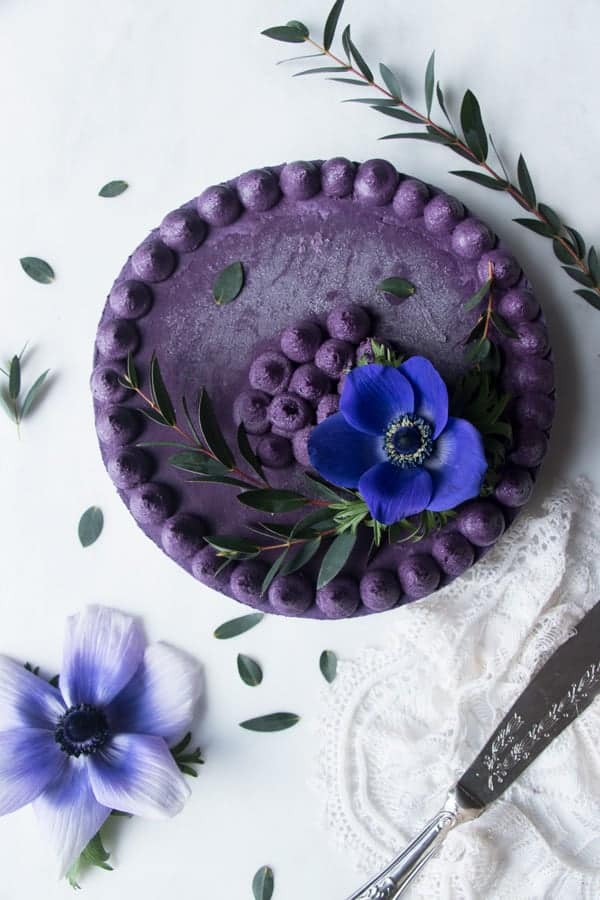 It's been 3 years since I've started my blog and I always make myself a little cake to celebrate. This year is no different and I've created the most beautifully coloured Wild Blueberry Vegan Cheesecake.
Wild blueberries have always been my absolute favourite fruit and when I was little, each year we used to forage them in local forests. My mum would then make the most amazing blueberry tarts I remember ever eaten and they will always remain my most cherished foodie memory.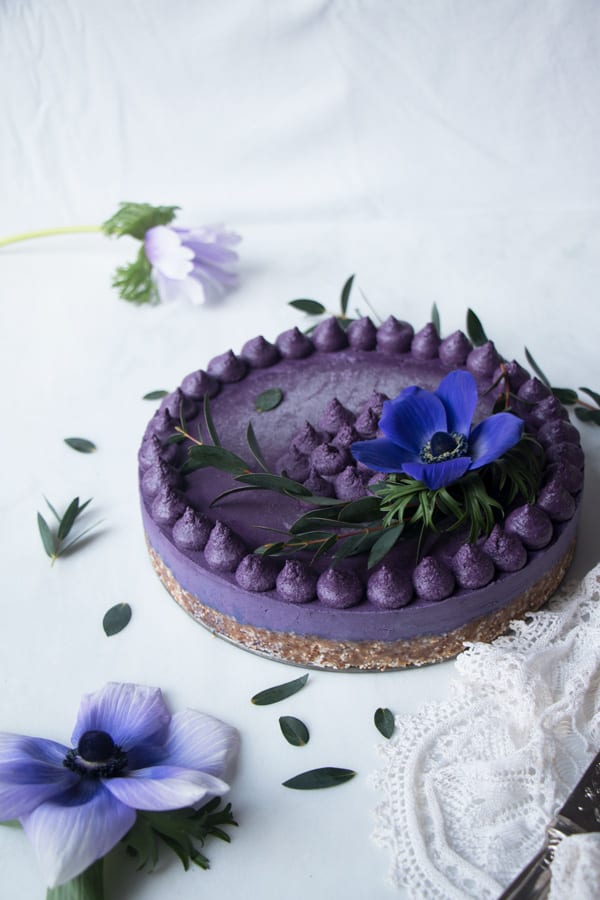 Wild blueberries are not easily available unless you're lucky to live by forrest where you can pick them, but you can find frozen ones in health food shops. This gorgeous colour will only happen if you use wild blueberries, the pigment is so much stronger than of the cultivated ones.
Today is an Earth Day and I would love to take this opportunity to express my gratitude to Mother Earth, for all that it provides us, for the never-ending beauty, the love.
Now it is up to us to connect to her energy and listen to what we're here to do, what is needed. I've heard a very clear message few years back in my meditation, just before starting my blog and it's been a beautiful journey that is constantly evolving.
And so please ask your questions in moments of silence as the Life is not just about us, but about all of us as a whole as we all are one collective energy. Life flows through us and we are the vessels of it's expression.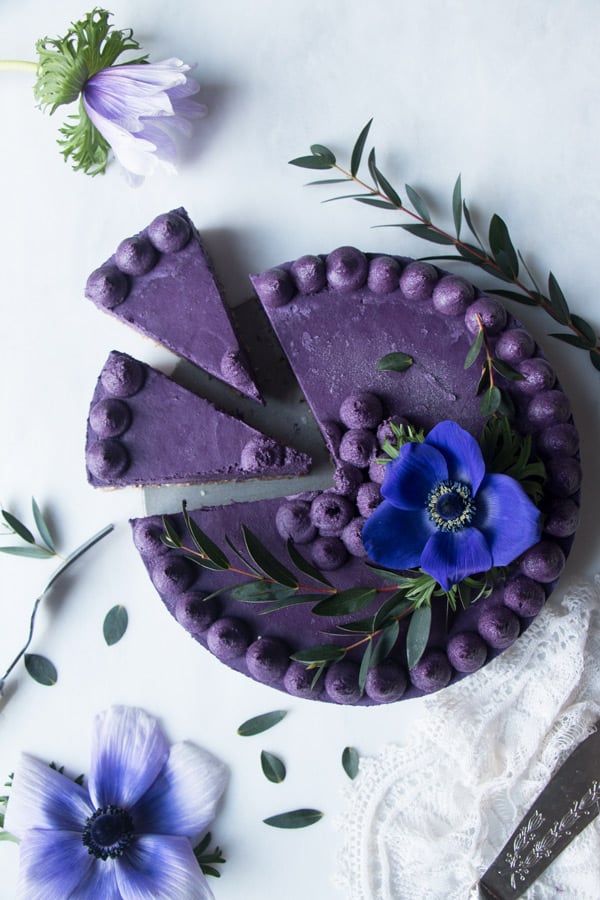 Yield: 8" cheesecake
Wild Blueberry Vegan Cheesecake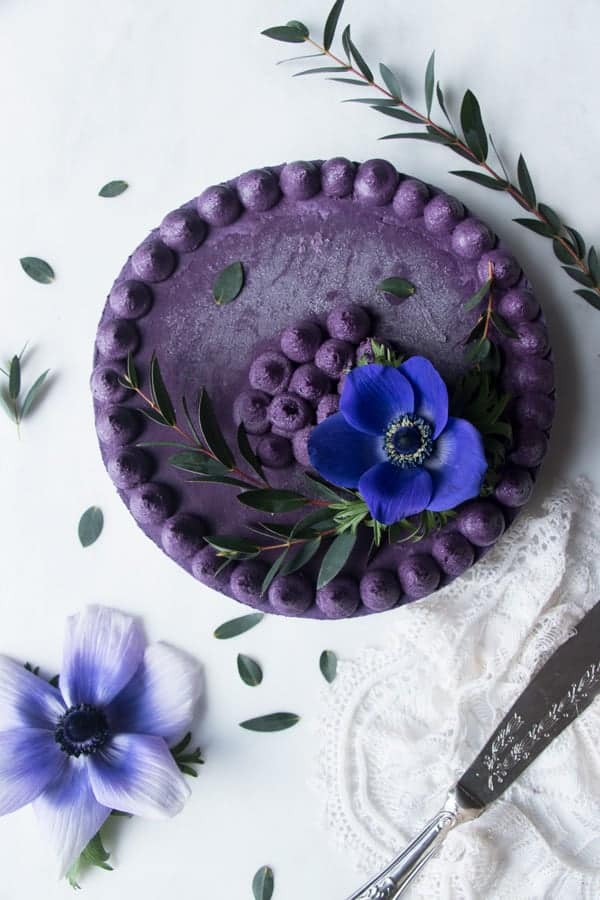 Ingredients
Crust layer:
90g almonds (3/4 cup)
50g desiccated coconut (1/2 cup)
1/2tsp cinnamon
pinch pink salt
6-7 medjool dates, pitted
2tbsp tahini
10g puffed amaranth (1/3 cup), optional
Blueberry layer:
200g frozen wild blueberries, slightly thawed (2 cups)
240g cashews, soaked overnight (2 cups)
1/2 lemon, zest
1/2 lemon, juice
80ml maple syrup (1/3 cup)
1tsp vanilla
60ml almond milk (1/4 cup)
100g coconut butter (1/2 cup)
60ml coconut oil (1/4 cup)
Instructions
Prepare 8" round cake tin with removable base.
Place almonds into a food processor and pulse few times until coarsely ground. Add desiccated coconut, cinnamon, salt, pitted dates and tahini and blend until the mixture comes together. Finally blend in the puffed amaranth just until incorporated.
Spoon the crust mix into the tin, spread evenly onto the base and press tightly down. Place into a fridge.
In a double boiler gently melt coconut butter with coconut oil and set aside.
Rinse the soaked cashews under running water and place into blender. Add blueberries, lemon zest, juice, maple syrup, vanilla and almond milk and blend until smooth. Slowly add melted coconut butter and blend until incorporated. Make sure the mixture is at room temperature before adding the coconut butter.
Measure 120ml (1/2 cup) of the mix for piping on top. Blend in another 1tbsp of melted coconut oil and place into fridge to set. (if you don't want to do any piping on top just use the whole mix for the cake)
Spoon the rest of the mixture onto the crust layer and smooth out the top.
Place into a freezer for few hours or overnight to set.
Once set carefully remove from the tin and place onto a serving dish.
Spoon the leftover mix into a piping bag with large round nozzle and decorate the cake.
Leave to thaw before serving.
Store in a fridge or freezer.
Enjoy!
Notes
To make puffed amaranth is super simple and you can follow the instruction in this recipe.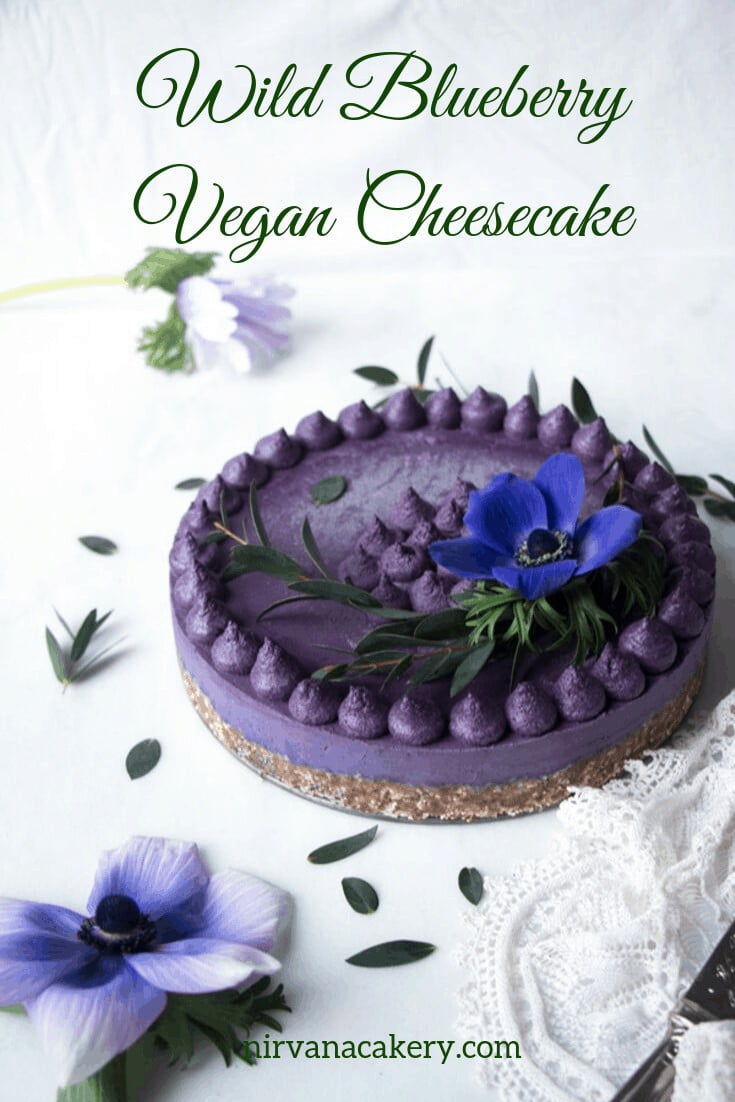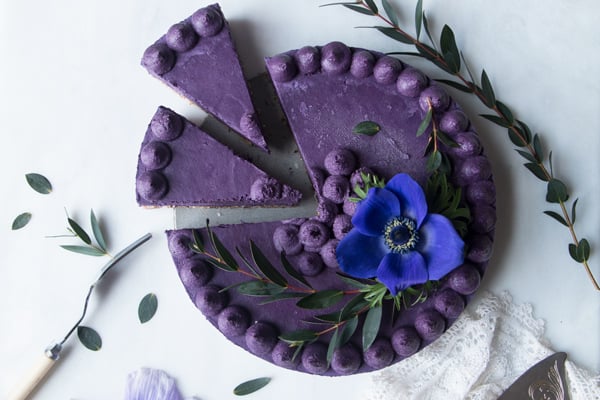 Similar Posts: