Raw vegan grain-free healthy summer fruit cheesecake with delicious almond, sunflower seeds, cinnamon and cardamom crust.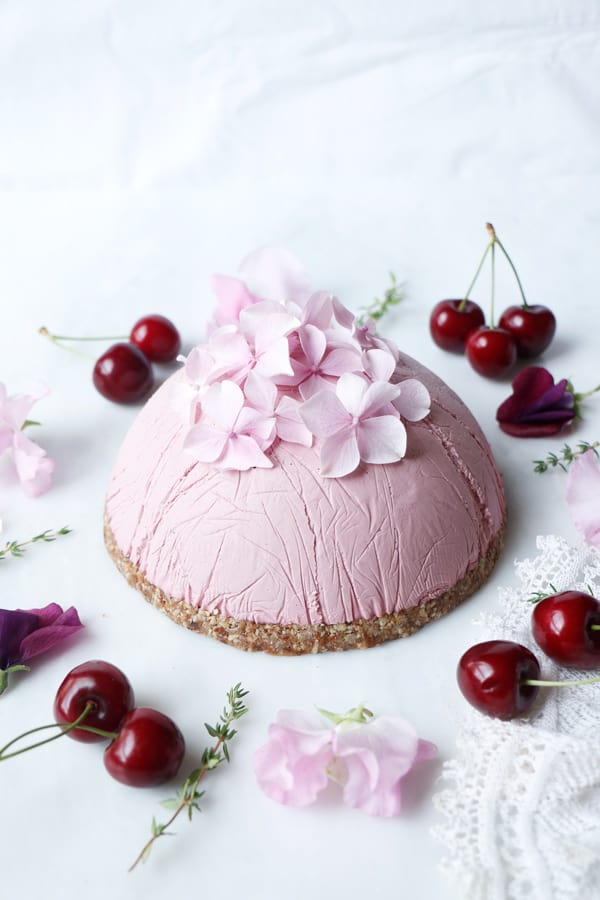 I can't stop making cheesecakes at the moment and so another cheesecake flavor coming today, hope you're not getting bored yet! This time I wanted to make something little different and fun and so I've created a domed Peach Cherry Cheesecake for you.
Peach and cherries make an amazing summer flavor combination and together with almond, sunflower seed, cinnamon and cardamom crust you have fabulous cake for summer parties or just a treat for you.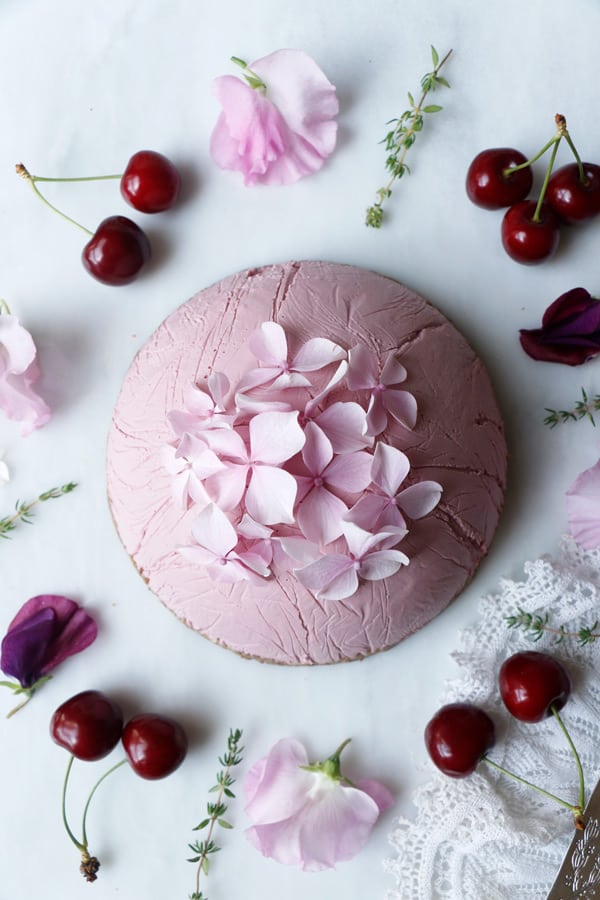 To make this cake I've used 900ml volume ceramic bowl, but I have to confess I didn't have the easiest time removing it from the bowl. I've lined the bowl with cling film, but it wasn't strong enough to pull the cake out so I've used a knife that I pierced into the center which helped me to pop the cake out.
Ideal would be to use a silicone mold, but it's perfectly doable in a simple bowl too if you like to try. I'm thinking that it would be better using cling film and baking paper to create stronger lining for the cake to come out more easily. Alternatively you can always use a 6″ springform cake tin and make it as a classic cake. It just looks so cute so it's definitely worth to try. Please do let me know your thoughts.
Put your own spin on this recipe and use your favorite summer fruit combination and play around with the crust. Looking forward to see your gorgeous creations :)
Recipe adapted from my Strawberry Basil Vegan Cheesecake.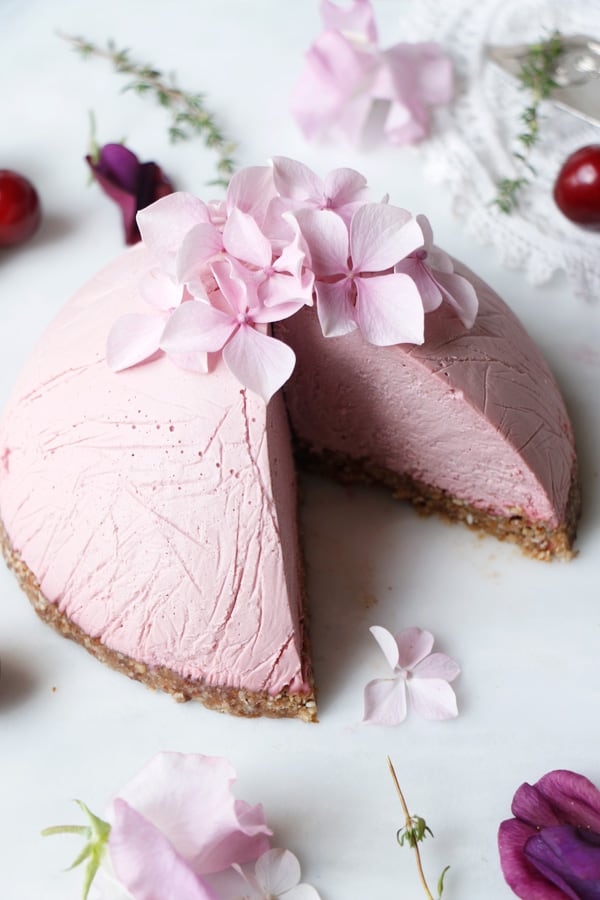 Yield: 6" domed cake
Peach Cherry Cheesecake (raw, vegan, grain-free)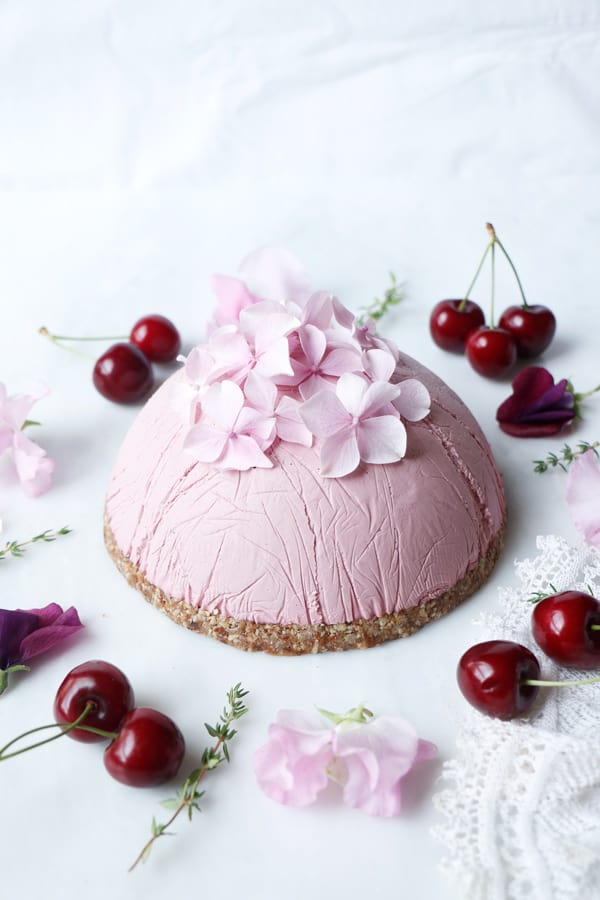 Raw vegan grain-free healthy summer fruit cheesecake with delicious almond, sunflower seeds, cinnamon and cardamom crust.
Ingredients
Peach cherry layer:
1 peach or nectarine
1 cup cherries (150 grams)
120g 1 cup cashews, soaked for 4 hours or overnight (120 grams)
1/2 lemon, zest
1/2 lemon, juice
1/4 cup maple syrup (60 ml)
1 teaspoon vanilla
1/2 cup coconut butter (100 grams)
2 tablespoons coconut oil
Crust layer:
1/2 cup almonds (60 grams)
1/2 cup sunflower seeds (70 grams)
1/4 teaspoon cinnamon
1/4 teaspoon cardamom
pinch sea salt
5 medjool dates, pitted
Instructions
I've used 900ml volume medium bowl to make this cake, about 6 1/4" (16cm) across the top. The best would be to use a silicone form which makes it easier to remove the cake. Alternatively use 6" round cake tin and make it with the crust layer at the bottom.
Peach cherry layer:
In a double boiler gently melt coconut butter with coconut oil and set aside.
Rinse the soaked cashews under running water and place into high speed blender. Add sliced peach, pitted cherries, lemon zest, juice, maple syrup and vanilla and blend until smooth. Slowly add melted coconut butter and blend until incorporated. Make sure the mixture is at room temperature before adding the coconut butter.
Line your bowl with some baking paper and or cling film and pour the mixture in. Tap it couple of times on the counter to level the surface. Place into a freezer for about 2 hours or until set enough for the crust layer.
Crust layer:
Place almonds and sunflower seeds into a food processor and pulse few times until coarsely ground. Add cinnamon, cardamom, salt and pitted medjool dates and blend until the mixture comes together. You should have a sticky mix when pressed together.
Spoon the crust mix onto the frozen peach cherry layer, spread evenly and press tightly down. Place back into freezer to set.
Once set carefully remove from the bowl and place onto a serving dish. If you have problems removing it, leave it for little while on the counter top and then very carefully poke a sharp object into the center to help to pop the cake out.
Leave to slightly thaw before serving.
Store in a fridge or freezer.
Nutrition Information:
Yield:
8
Serving Size:
1
Amount Per Serving:
Calories:

390
Total Fat:

27g
Saturated Fat:

12g
Trans Fat:

0g
Unsaturated Fat:

13g
Cholesterol:

0mg
Sodium:

682mg
Carbohydrates:

36g
Fiber:

6g
Sugar:

24g
Protein:

7g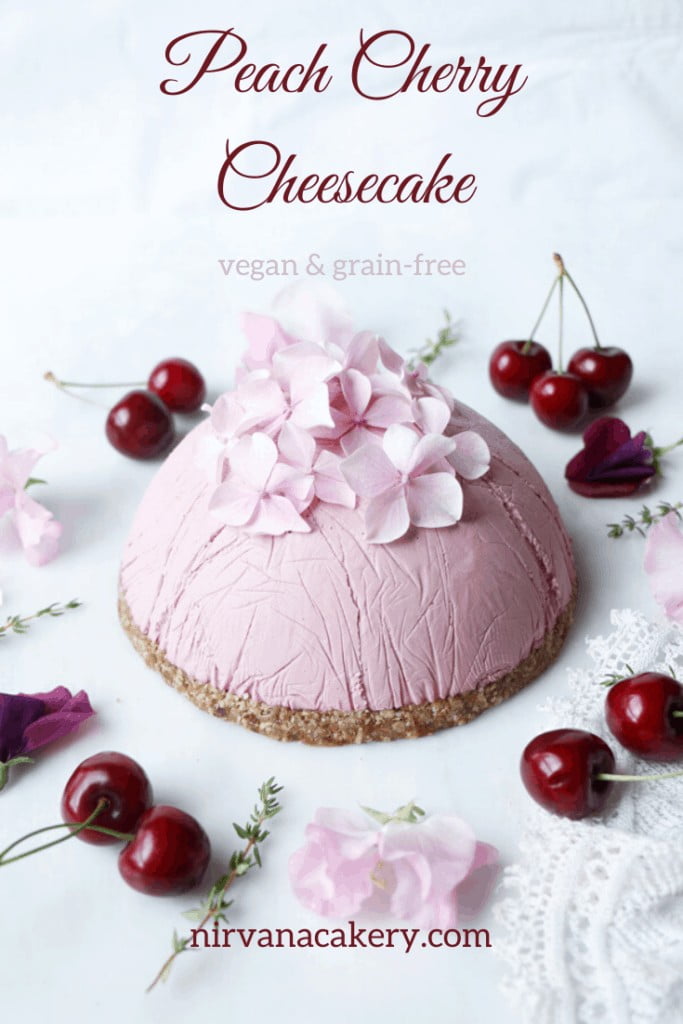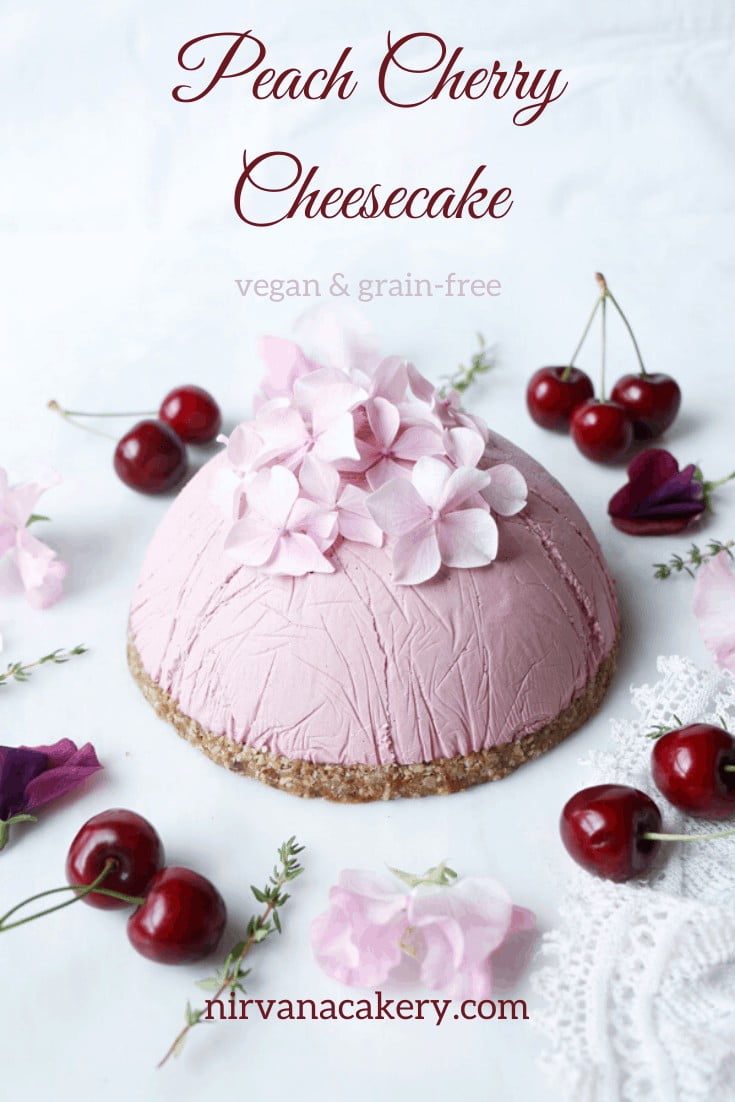 Similar Posts: