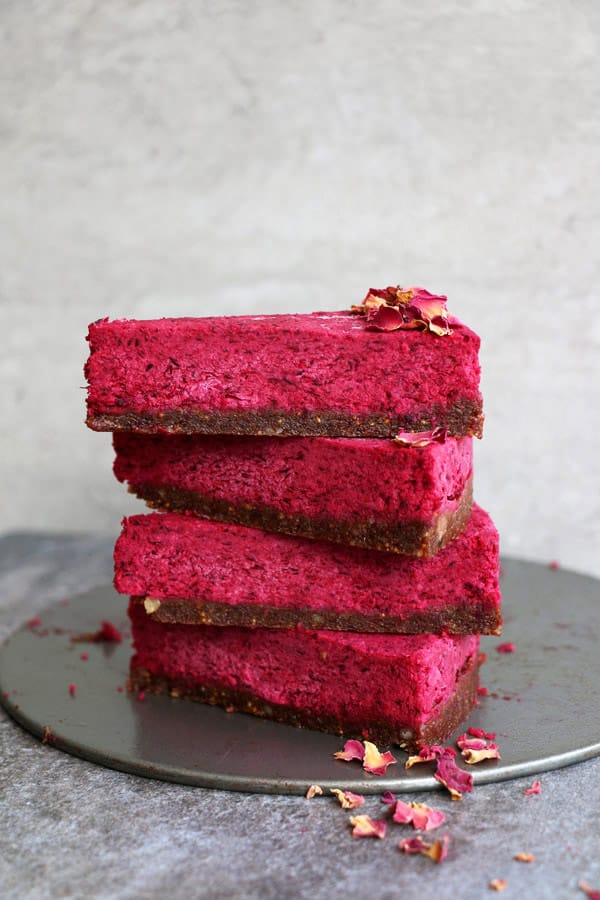 This gorgeous Raw Beetroot Cake tastes as amazing as it looks, it's earthy, rich, wholesome and utterly delicious. This is a cake for all of you who can eat beetroot in any shape and form and loving it!
The base layer is made with a mix of walnuts, dried figs and raw cacao and the luscious beetroot layer is a mix of raw beetroot with coconut butter. Just a little cake with a difference.
Raw cakes are simple to make, but you do need to use food processor or high speed blender. To make the crust I've used some soft dried figs, if your figs are little dry, soak them in some hot water for about 20 minutes. Coarsely blend the walnuts, add the rest of the ingredients and blend until you have a sticky mixture.
To make the beetroot layer I've grated my beets fairly fine and then blended them with melted coconut butter, coconut oil and maple syrup. The mix is fairly thick and I've added couple of tablespoons of almond milk to make it easier to blend.
Spoon the mix onto the base layer, smooth out the top and pop it into freezer to set. It should take just over an hour. You can decorate your cake with some raw cacao nibs, flaked coconut, edible flowers or drizzle some melted chocolate over. I've decorated mine with some dried rose petals. Enjoy:)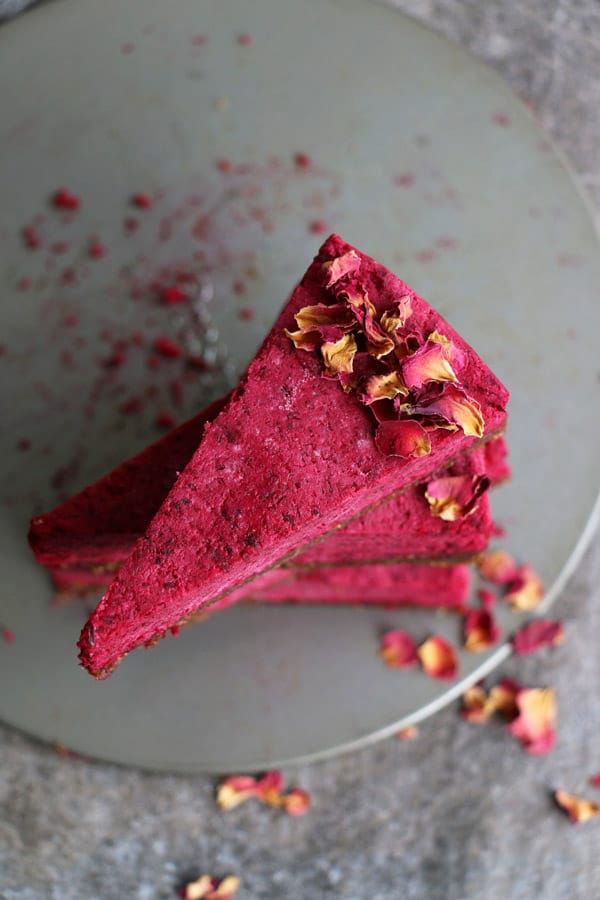 Yield: 8" cake
Raw Beetroot Cake with Walnut and Fig Crust (grain-free & vegan)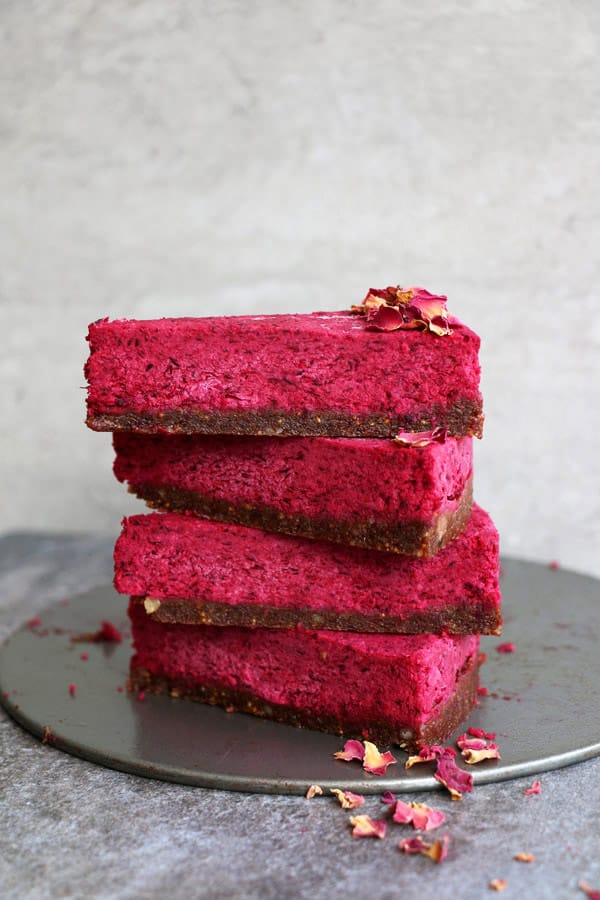 Ingredients
Crust layer:
150g walnuts (1 1/2 cups)
8 dried figs
2tbsp raw cacao
1/2tsp cinnamon
pinch of sea salt
zest of 1/2 orange (optional)
Beetroot layer:
300g raw beetroot, peeled and finely grated (2 cups)
zest of 1/2 orange (optional)
200g coconut butter or creamed coconut (1 cup)
2tbsp coconut oil
2tbsp almond milk
2tbsp maple syrup
Instructions
Prepare 8" spring form round cake tin.
Peel and finely grate beetroot and set aside.
Place the walnuts into food processor, pulse few times until they broken down. Add figs, cacao, cinnamon, sea salt and orange zest and blend until the mixture comes together. Spoon the mix into the cake tin, spread evenly onto the base and press tightly down. Place into a fridge.
In a double boiler gently melt coconut butter with coconut oil. Add beetroot, orange zest, almond milk and maple syrup and blend until smooth. It will be a thick mix.
Spoon onto the crust layer and smooth out the top.
Place into a freezer for at least 1 hour to set.
Once set, gently remove from the tin and place onto a serving dish.
Decorate with your choice of toppings and serve.
Slice the leftover cake and store in freezer. It's easier to slice the cake when slightly frozen.
Enjoy!
Notes
If the figs are too dry, soak them in some hot water for about 20 minutes to soften and drain well.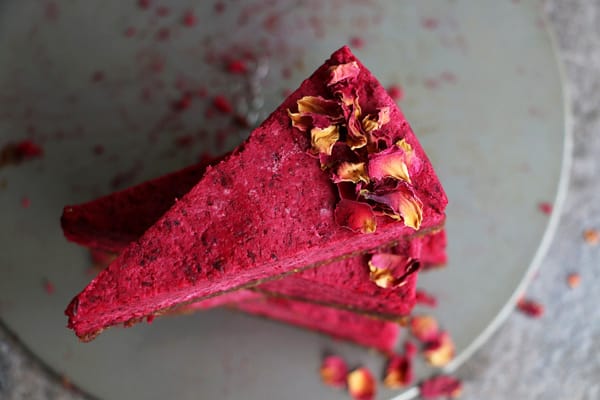 Similar Posts: