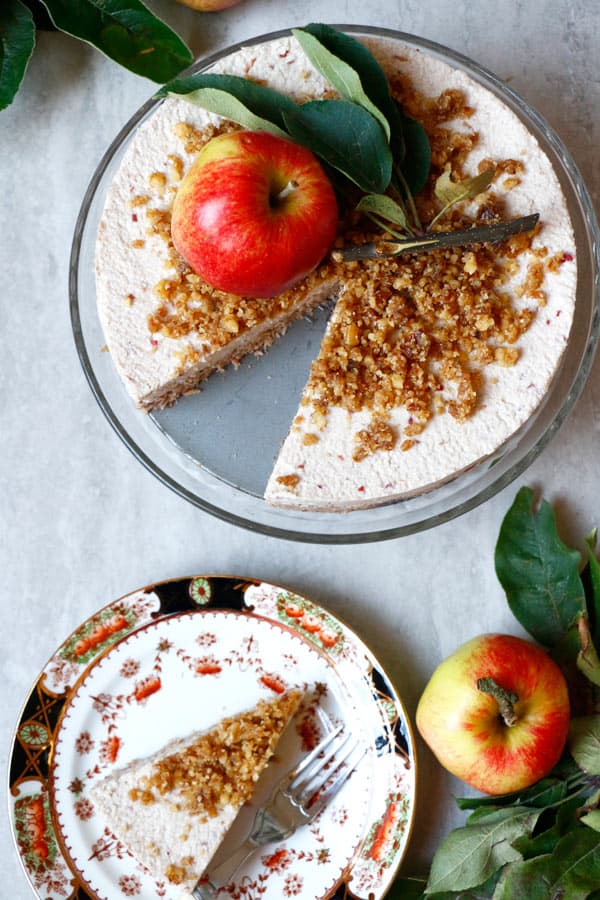 I had some gorgeous apples leftover from making my Chocolate Apple Cake and all of these lovely apples leaves from my friend's garden that were really calling for another recipe.
I have an ever-expanding list with recipe ideas that are waiting for me to come alive and here's a Raw Apple Cake making it to your screen today, yay! The recipe is a variation of my Raw Carrot Cake, it's a rich cake with walnuts, coconut and apples with a lovely subtle flavour that develops over time.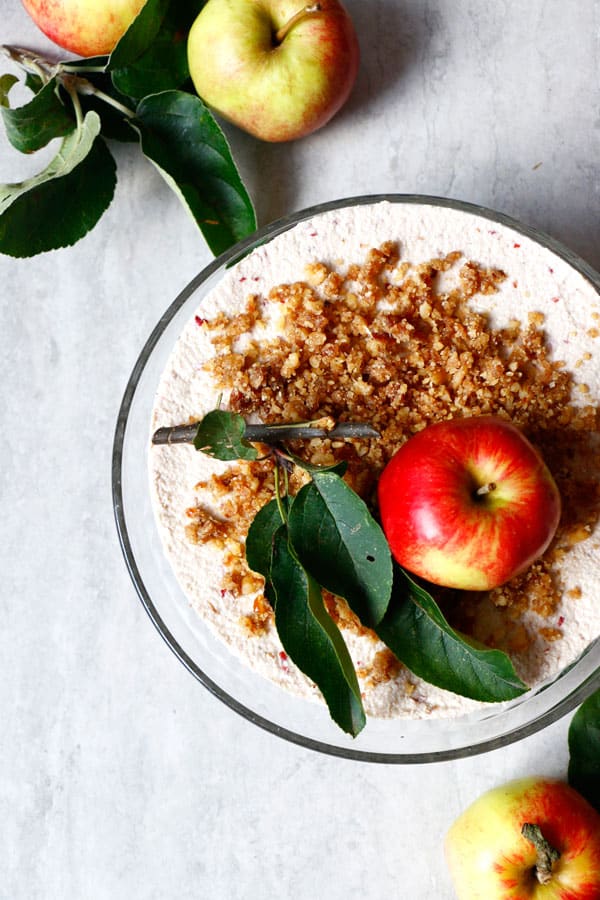 I have to say I wasn't sure about the cake at first, the flavour is very gentle, but it has really grown on me and I found the cake tasting even better the next day. Recipes are so individual as are we, and there's nothing that is for everyone, which only creates more variety and excitement in the world. And this apple cake is like that.
I've used apples in each of the layers in different ways. The crust is a mix of walnuts, desiccated coconut, medjool dates, grated apples and cinnamon. The top creamy layer is a blend of coconut butter and pureed apples topped with walnut date crumble. I've been pondering of a raw apple crumble instead of a cake and so I've used an element from a crumble in here. Enjoy & thank you for being you!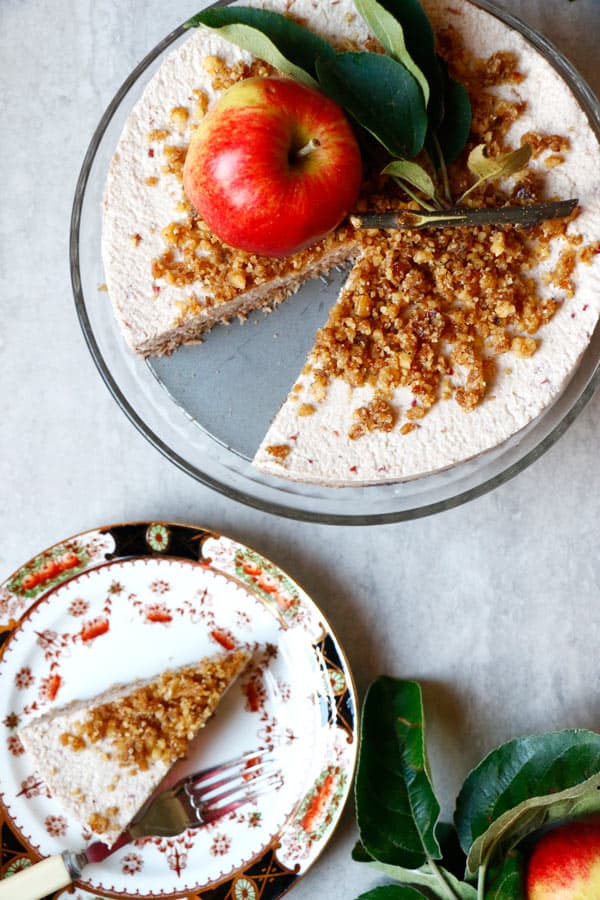 Yield: 8" cake
Raw Apple Cake (grain-free & vegan)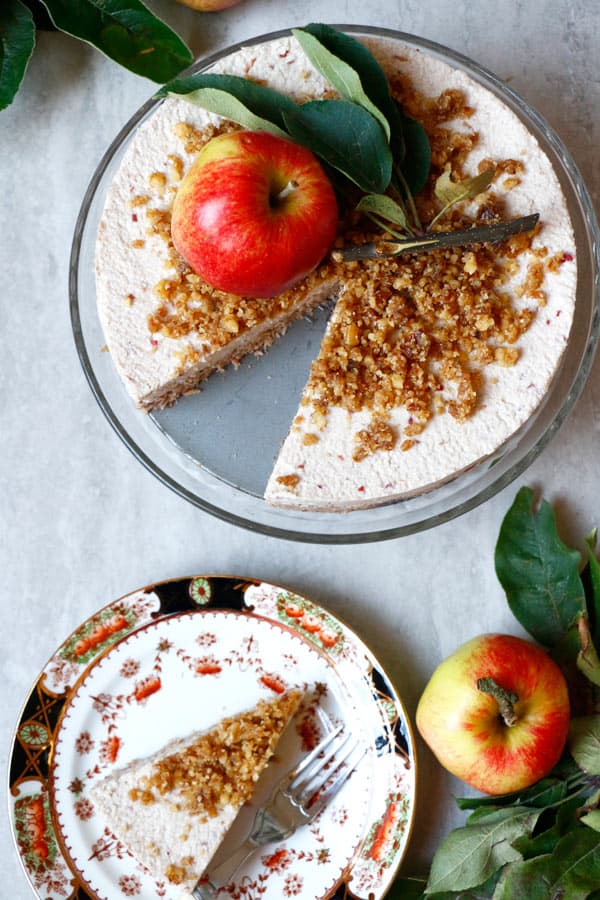 Ingredients
Crust layer:
2 apples, grated
1tsp lemon juice
100g ground walnuts (1 cup)
100g desiccated coconut (1 cup)
6 medjool dates, pitted
1tsp cinnamon
pinch sea salt
Creamed layer:
200g coconut butter (1 cup)
1tbsp maple syrup
1tsp vanilla
1/2tsp cinnamon
2 apples
1tsp lemon juice
Walnut crumble:
50g walnuts (1/2 cup)
2 medjool dates, pitted
1/2tsp cinnamon
pinch sea salt
Instructions
You will need 8" round cake tin with removable base.
To make the crust place ground walnuts, desiccated coconut, pitted medjool dates, cinnamon and sea salt into a food processor and pulse until the mixture comes together. Scoop the mix into a bowl. Roughly grate the apples keeping the skin on, squeeze lemon juice over and stir into the mix. Spoon the mix into the tin, spread evenly onto the base and press down. Place into a fridge.
In a double boiler gently melt coconut butter, leave to cool down. Stir in maple syrup, vanilla and cinnamon. Quarter and core the apples, place into blender or food processor with lemon juice and blend until smooth. Stir into the coconut butter mix and spoon onto the crust layer.
Place into a freezer for about 1 hour to set, just enough so it's easy to remove from the tin. You can also leave it to set in fridge for at least 2 hours.
To make the walnut crumble, simply add all of the ingredients into food processor or blender and blitz few times until you've achieved crumbly consistency.
Once the cake is set, remove from the tin, place onto a cake stand and top with walnut crumble.
Store in a fridge.
Enjoy!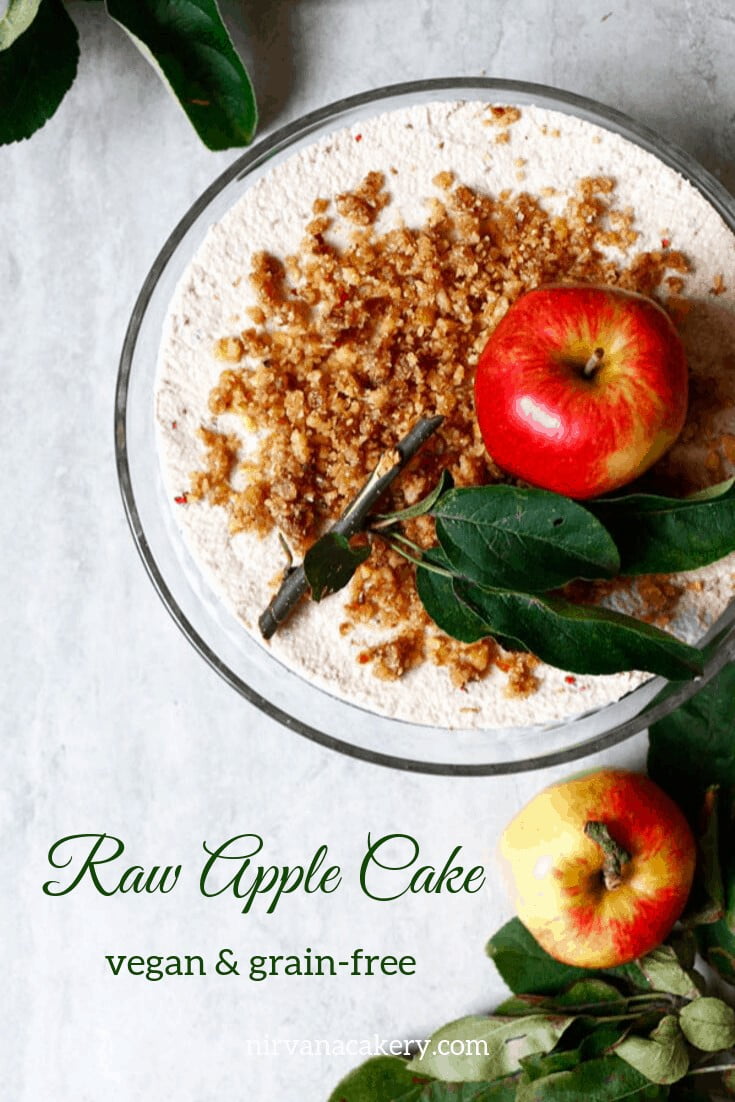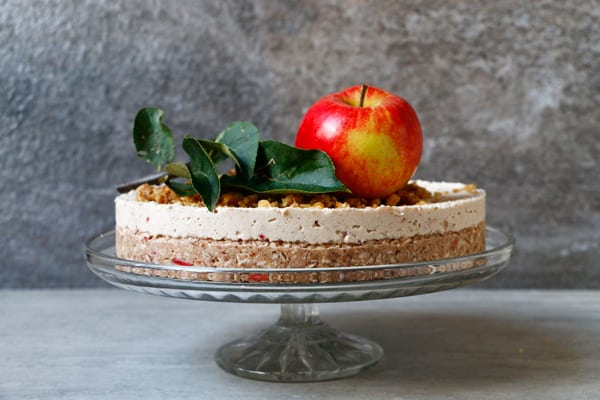 Similar Posts: