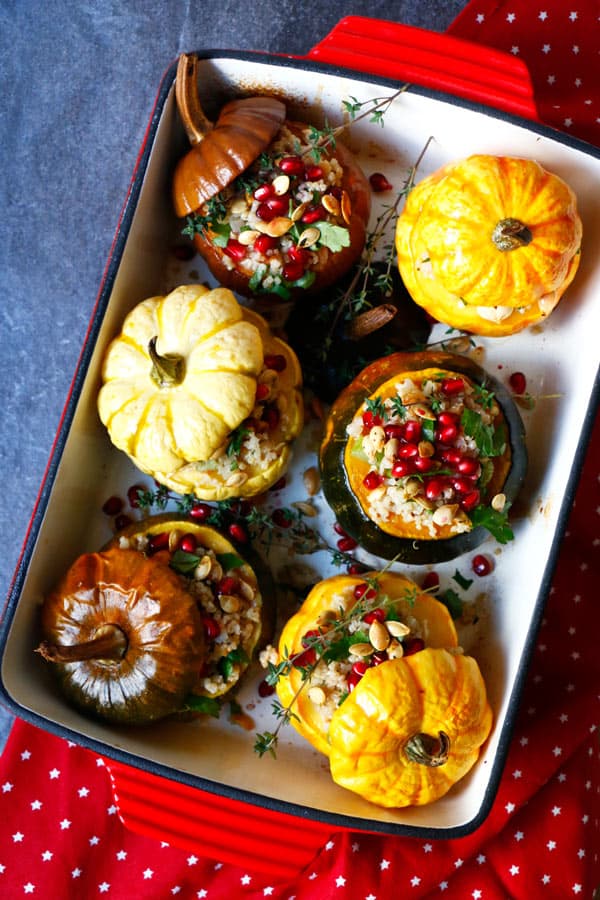 We've got two months left in the year with Thanksgiving and Christmas around the corner and so I'm getting all festive on the blog today with this Quinoa Stuffed Squash with Walnuts and Pomegranate.
I got a lovely winter squash selection from the Farmers Market today from one of my favourite organic producers, just perfect to create a special plantbased, seasonal and super wholesome meal that's perfect for the upcoming holiday season.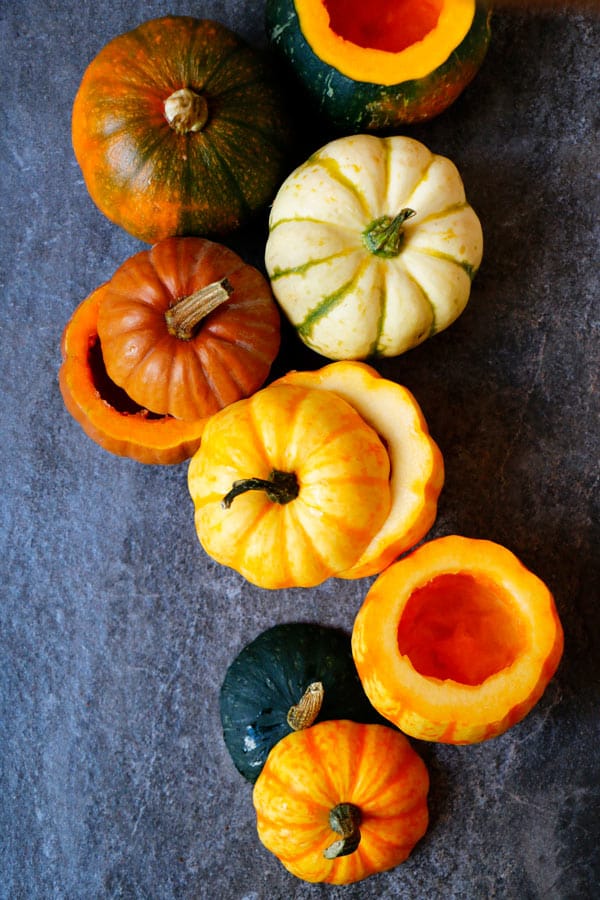 In this recipe I've used six small winter squashes in different varieties, they all have slightly different flavours which I think make the meal more fun. You can use any type of squash or pumpkin that you like in this recipe. I've also roasted the squash seeds and used them for topping. It is fiddly, but so worth it and they add lovely crispiness. If you don't fancy roasting them, just use pumpkin seeds instead.
I've added the pomegranate for the gorgeous red colour and the festive feel. Cranberries would also work well. I've tried to keep the ingredients simple and not over-complicating the recipe, I've added the aduki beans in case you'd like extra protein. You can experiment with adding different nuts, seeds, leafy greens, mushrooms… whatever you fancy. Enjoy:)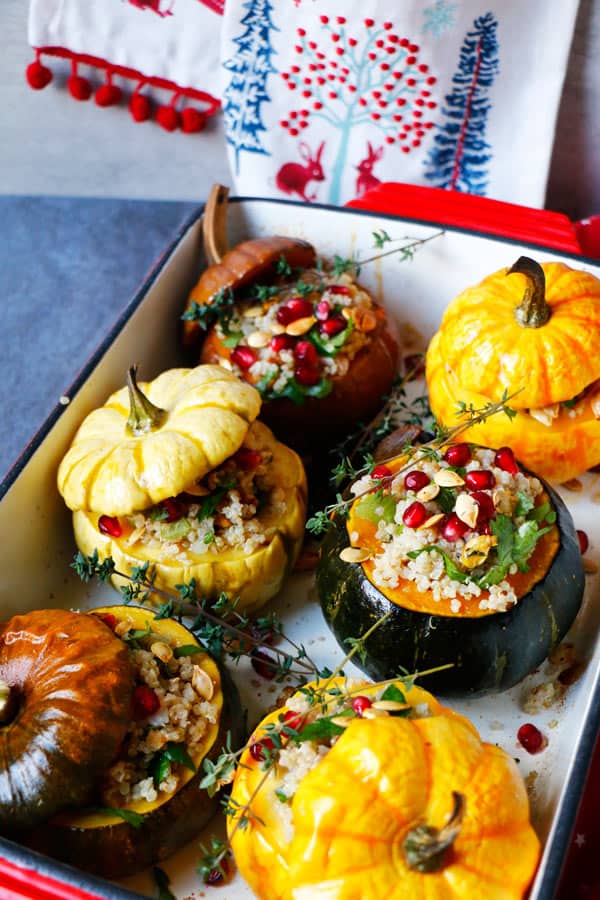 Yield: 6 servings
Quinoa Stuffed Squash with Walnuts and Pomegranate (gluten-free & vegan)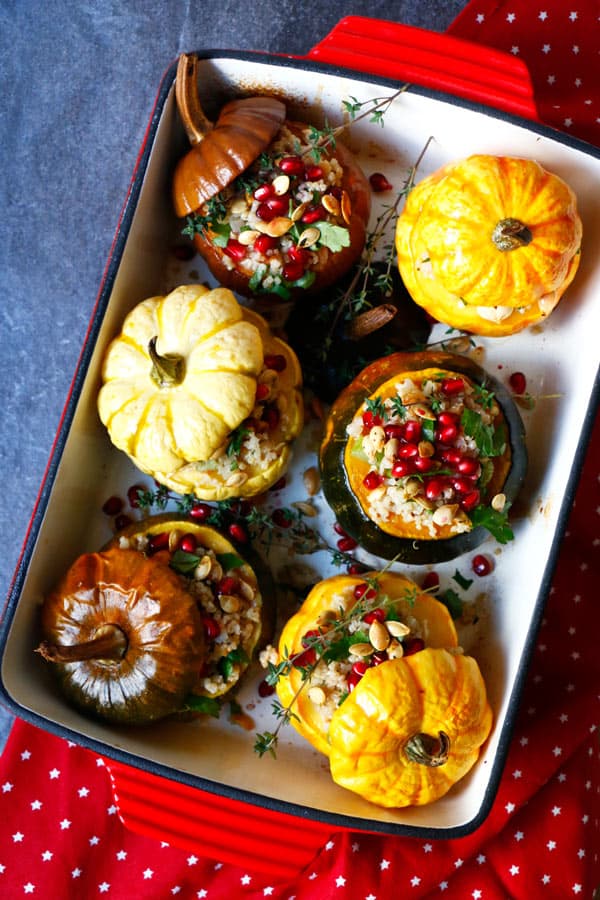 Ingredients
6 mini winter squashes
250g quinoa ( 1½ cups)
1 onion, chopped
2 celery sticks, chopped
2 garlic cloves, chopped
5 thyme sprigs
1/2tsp oregano
sea salt & pepper
240g cooked adzuki beans, optional (1 1/2 cup)
75g walnuts, toasted (2/3 cup)
small bunch fresh parsley, chopped
pomegranate seeds to serve
For the squash seeds:
thyme & oregano
sea salt
paprika or cayenne pepper (optional)
olive oil
Instructions
Preheat the oven to 200°C (400F)
Wash the squash and cut about 1/4 to 1/3 from the top to make a lid. Scoop out all of the seeds and save to use later. Rub the outside and the inside with little olive or coconut oil and season with sea salt. Place onto a baking tray with the lids on and bake for 40-45 minutes until soft when pierced with a fork.
Separate the seeds from the fleshy part (very fiddly) and rinse in warm water. Pat dry and place onto a baking tray. Toss with little olive or coconut oil, thyme, oregano, sea salt and pepper and roast for about 20-25 minutes until slightly brown and crispy.
Roast the walnuts for about 10 minutes until fragrant.
Measure 1 1/2 cup of quinoa, place into a mesh strainer and rinse under running water. Place into medium pot and cover with 2 1/4 cup water. (1 1/2 times the volume of quinoa) Bring to boil, cover with lid and simmer on a low heat until all of the water has been absorbed. Leave to stand for 10 minutes covered and fluff up with fork.
In a medium pan heat 2tbsp of olive or coconut oil, add chopped onion and celery and saute for about 5 minutes, add garlic, thyme and oregano and cook for 5 more minutes. Stir in aduki beans if using and season with sea salt and black pepper.
Stir the mixture into the cooked quinoa, add roughly chopped walnuts, chopped fresh parsley and season to taste.
Stuff each of the squash with the mixture and place back into the oven for 10 more minutes to warm through before serving.
Top with pomegranate, fresh parsley, thyme and freshly roasted squash seeds.
Enjoy!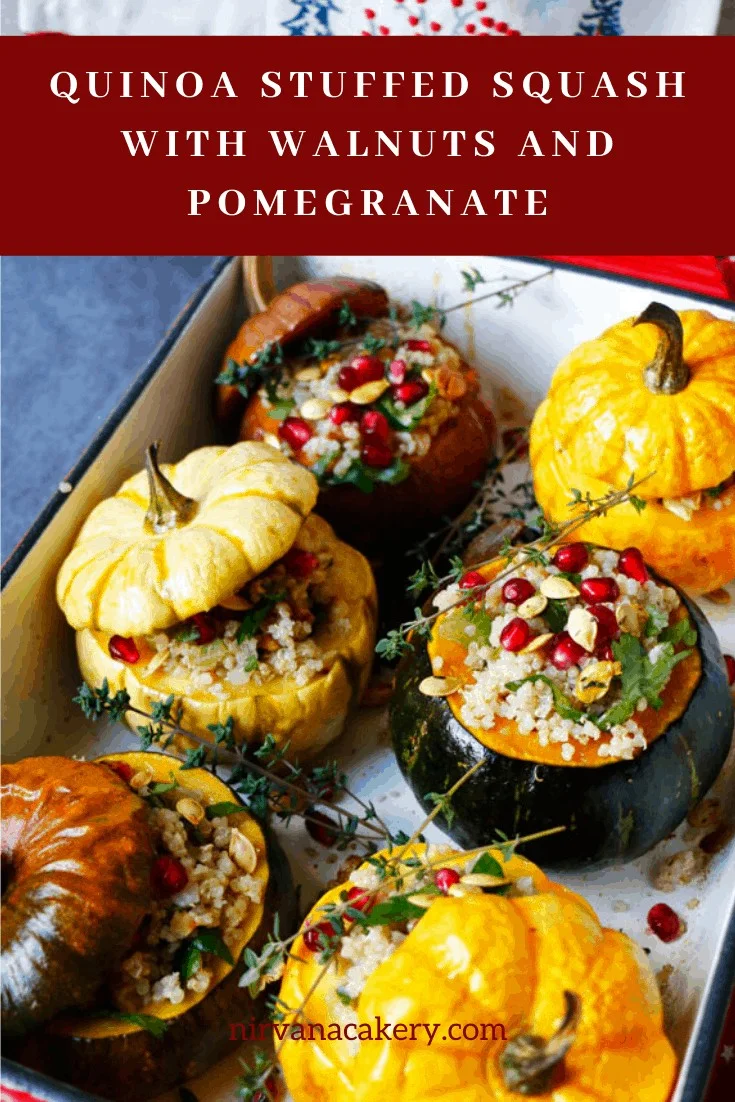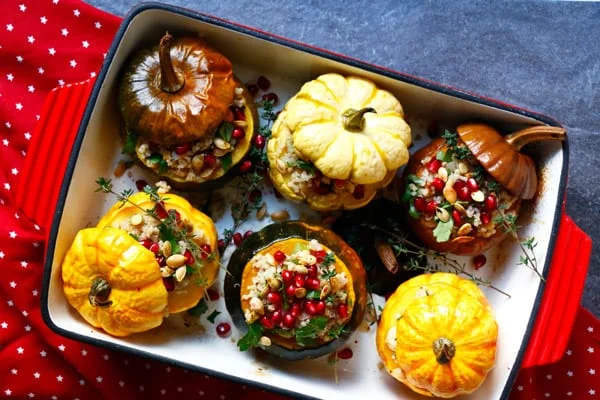 Similar Posts: