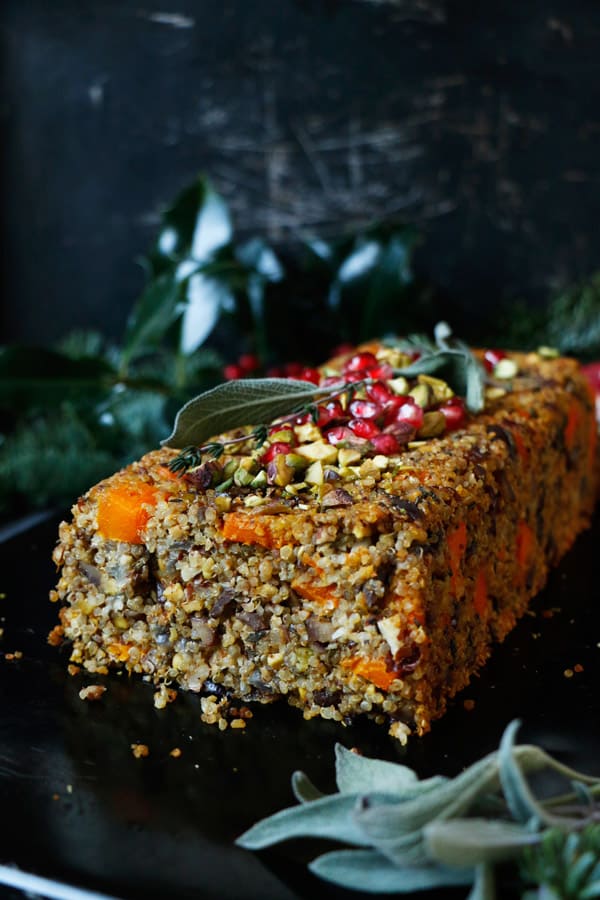 I am a complete newbie when it comes to making nut roast and this Quinoa Squash Nut Roast is my first one.
I've kept the core ingredients, but changed the seasoning and added some of my favorite herbs. And oh my, it's so not disappointing, the flavors are amazing, all of the ingredients are so festive and it looks fabulous topped with some pistachios and pomegranate.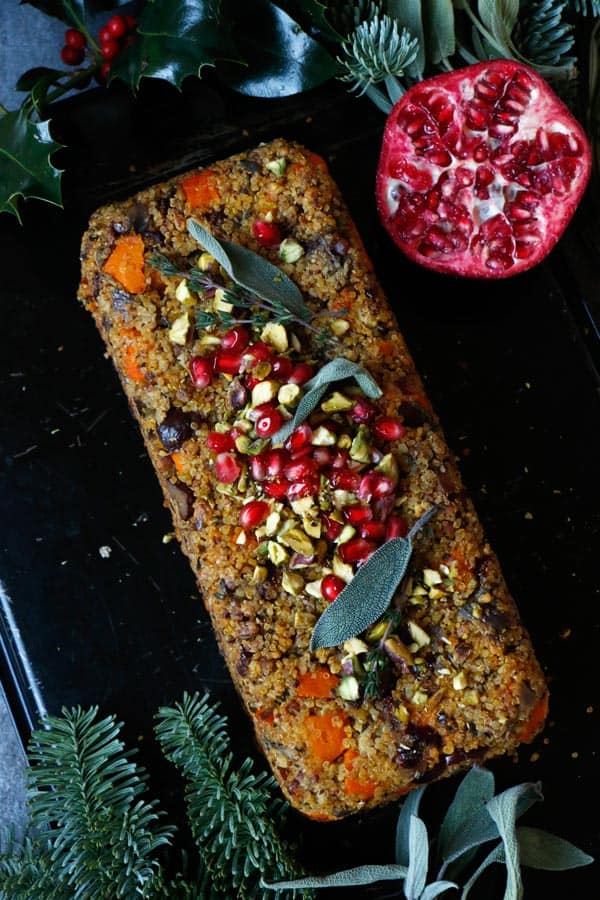 The nut roast does take a good couple of hours to make, but it's not at all difficult. Once you prepare all of the ingredients, it's a matter of mixing everything together and popping it into the oven for about 45 minutes. This recipe fits perfectly into 10″ x 4½" loaf tin, try to get one close to this size if possible, so it's easy to flip over once baked.
One thing that I'm changing about my original recipe is cooking quinoa slightly more. I've made really fluffy quinoa, but I think more sticky quinoa would work better in this recipe to ensure it holds well together when being sliced. If you don't like chestnuts, I think they could be easily replaced by mushrooms if you prefer. I've used one small Hokkaido squash in this recipe, because of the flavour and rich orange color that comes through really nicely. Hope you like it:)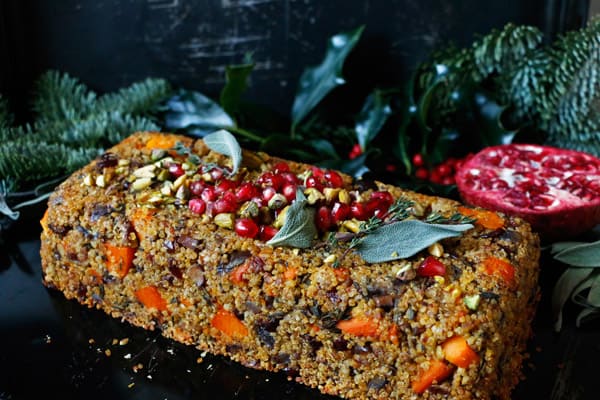 Yield: 6 servings
Quinoa Squash Nut Roast (gluten-free & vegan)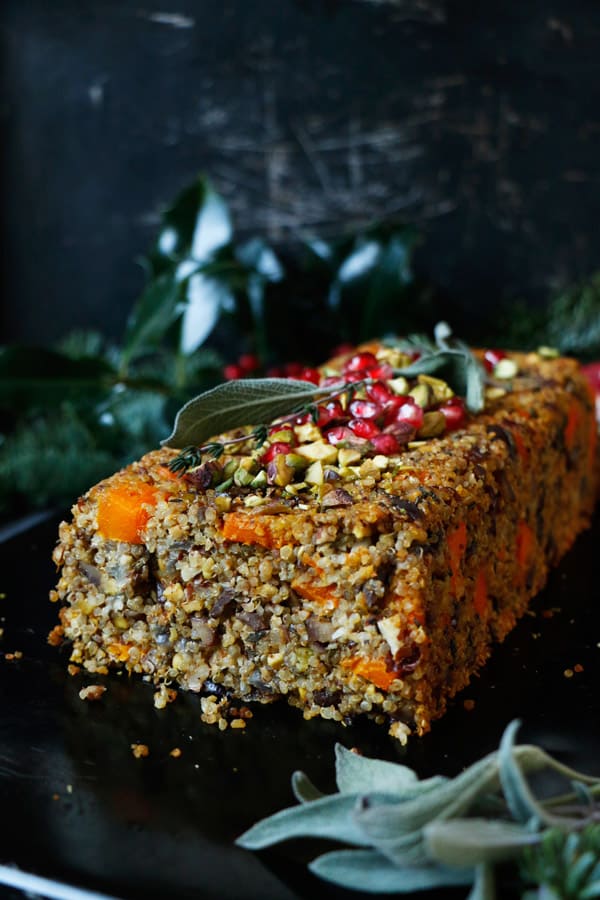 Ingredients
400g squash, chopped into small pieces (3 cups)
150g quinoa (3/4 cup)
1 large red onion, chopped
2 garlic cloves, finely chopped
120g almonds (1 cup)
80g pistachios (1/2 cup)
40g dried cranberries (1/3 cup)
100g cooked peeled chestnuts (1/2 cup)
3 sage sprigs
3 rosemary sprigs
5 thyme sprigs
1/2 lemon, zest
1/4tsp cayenne
sea salt & pepper to taste
3tbsp ground flaxseed + 6tbsp water
Topping:
chopped pistachios
pomegranate
Instructions
Grease 10" x 4½" loaf tin and line with baking paper. Use two long rectangles that you cross in the middle. Set aside.
Preheat the oven to 200°C (390F)
Peel the squash, scrape out the seeds and chop into small pieces. Place onto a baking tray, drizzle with olive oil, season with sea salt, add couple of sprigs of thyme and roast for about 30 minutes until soft.
Measure 3/4 cup of quinoa, rinse under running water and place into medium pot. Add 1 1/2 cup of water and bring to boil. Leave to simmer for about 15-20 minutes until all of the water has been absorbed. It's best if the quinoa is slightly overcooked. Leave to stand for 5 minutes and fluff up with a fork.
Drizzle little olive oil onto frying pan, add chopped red onions and cook for about 10 minutes until soften. Finely chop the garlic and add to the onions and leave to cook for another couple of minutes. Take off the heat and leave to cool down.
Mix 3tbsp of ground flaxseed with 6tbsp of water and set aside to thicken.
Place almonds and pistachios into food processor or blender and blitz few times until broken down and coarsely ground. Scoop into a large mixing bowl.
Roughly chop cranberries and add to the nuts.
Chop chestnuts into small pieces and add to the nut mixture.
Pick and roughly chop the sage leaves. Finely chop rosemary. Pick the thyme leaves. Add all to the nut mix. Add lemon zest, cayenne, sea salt, black pepper and mix to combine.
Now stir in quinoa, red onion and flax eggs. Taste for seasoning and finally fold in squash.
Lower the oven to 180°C (350F)
Spoon the mixture into prepared tin, level the top and press tightly down. The mix should come all the way to the top.
Bake for about 45 minutes until set and toasted on top.
Remove from the oven and leave to cool down for 10 minutes.
Place serving dish on top and carefully flip over to release from the tin.
Decorate with some chopped pistachios and pomegranate kernels.
Enjoy!
Notes
I've used Hokkaido squash in this recipe, butternut squash would work well too.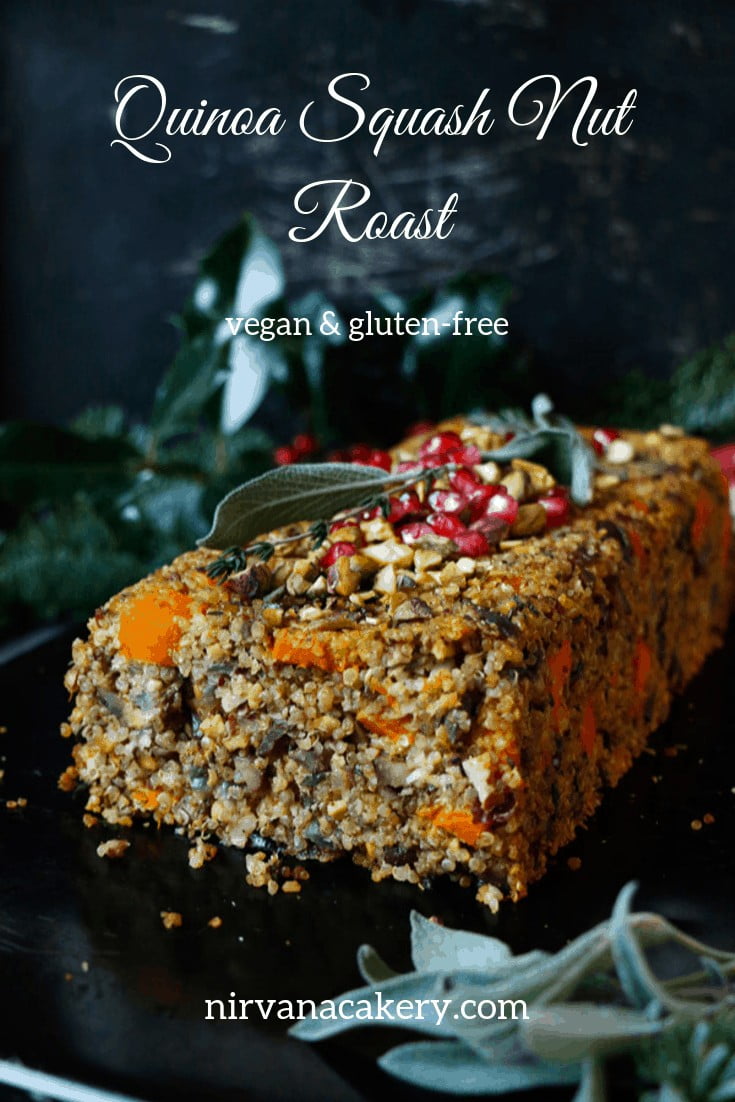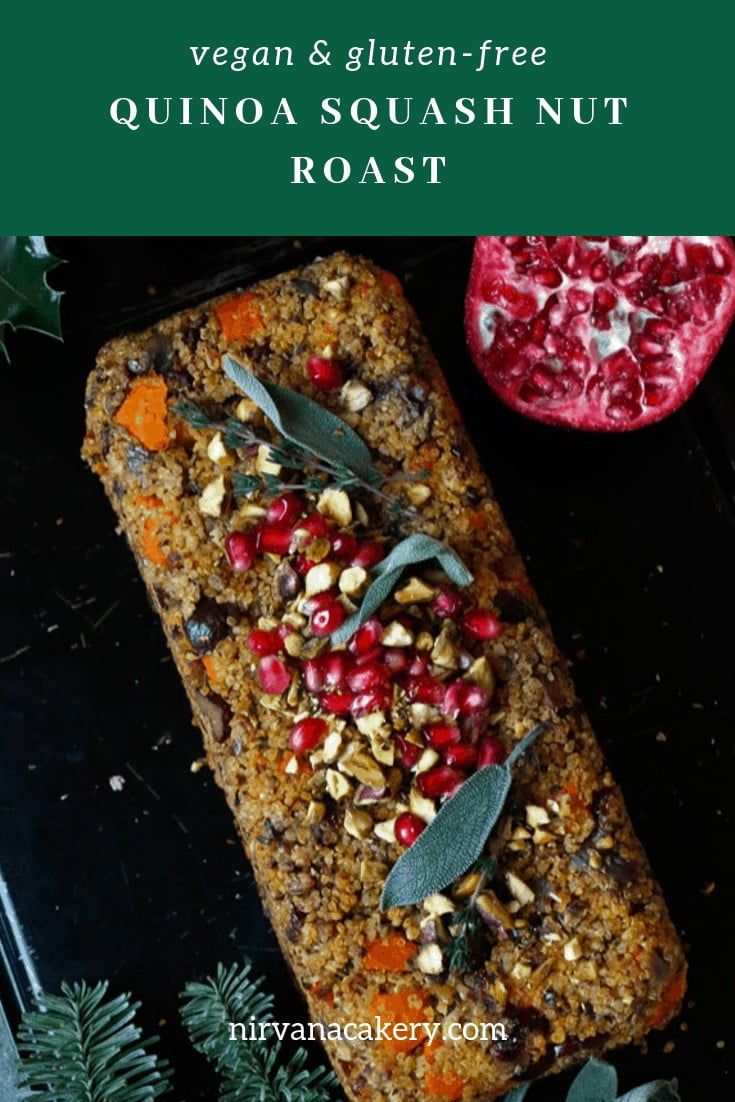 Similar Posts: