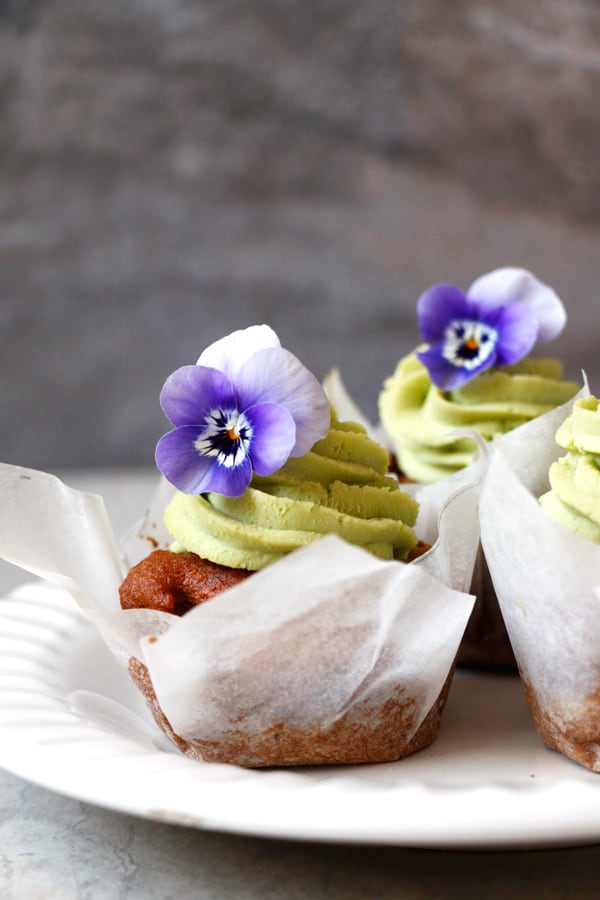 I know what you're thinking, Pear Muffins with Avocado Frosting? I have to say that sometimes I surprise myself with the recipe ideas I have. But I went to design school and I often approach my recipes as design projects and sometimes they might be a little different. And so Pear Muffins with Avocado Frosting it is today:)
This post has been created in partnership with Debenhams who sent me a set of their lovely Tala baking accessories to try. Looking at their retro style range I wanted to create something girly and colourful and of course keeping it seasonal at the same time. I also wanted to test their Icing Bag Set that comes in a super cute pink box and have decided that pale green natural frosting would look perfect. And that's how I ended up with this funky flavour combination.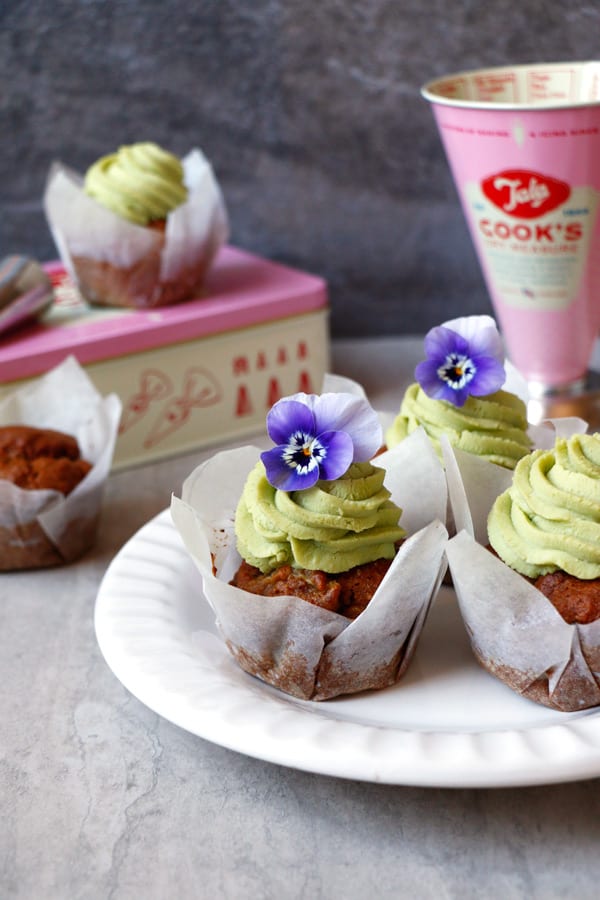 The pear muffins are beautifully moist and sweet, baked with a mix of ground almonds, oat flour, buckwheat and a generous amount of pear. You can stop right here and just enjoy the muffins as they are or continue with the frosting. The frosting is super simple mix of avocado and coconut butter with a little lemon and maple syrup. It works beautifully, but has a sweet spot when frosting the muffins. Also it's best to be eaten the same day, although the flavour is great the next day, the colour doesn't keep so bright. I've only made half of the amount with one avocado, because I already knew that my husband and son won't like the frosting. And if you just want to try, making only half a batch is a great option. Adding few flaked almonds on top would look lovely too. Enjoy:) x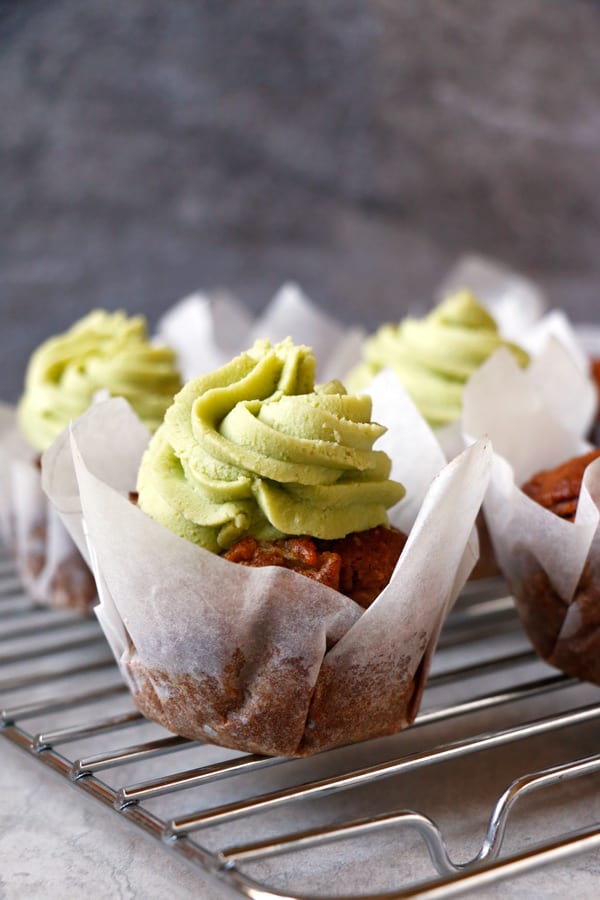 Special thank you to Debenhams for sponsoring this post.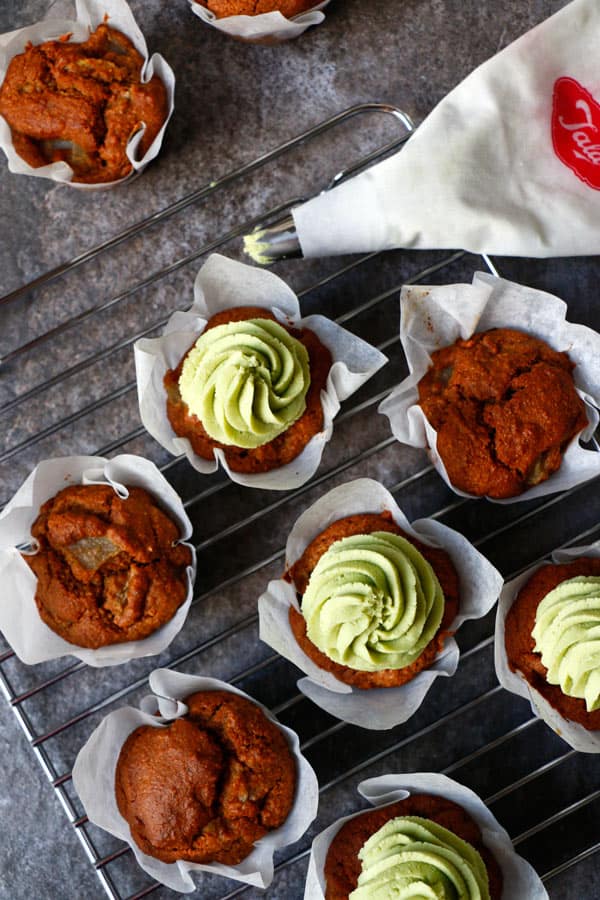 Yield: 12 muffins
Pear Muffins with Avocado Frosting (gluten-free & vegan)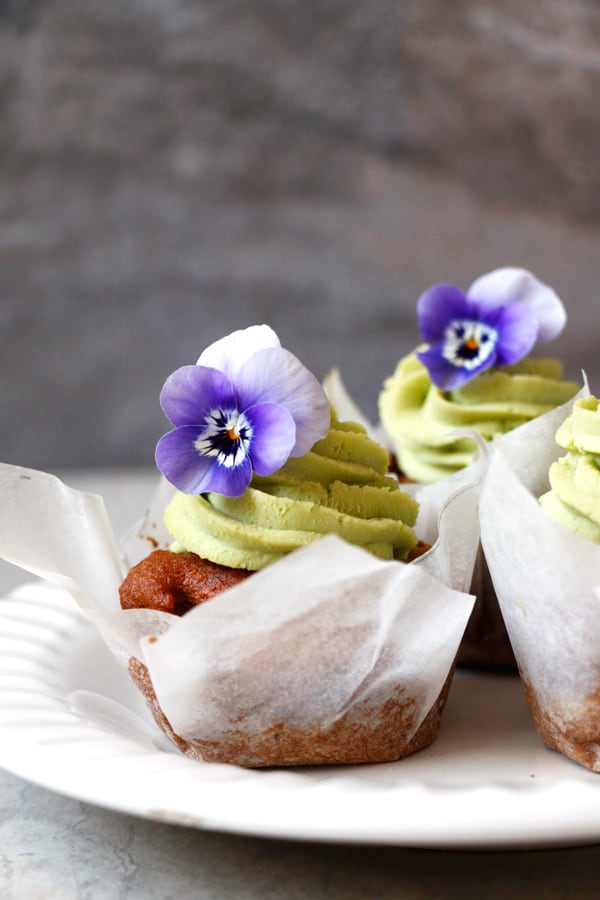 Ingredients
Pear muffins:
2-3 pears (250g chopped)
100g ground almonds (1 cup)
100g oat flour (1 cup)
35g buckwheat flour (1/4 cup)
30g arrowroot (1/4 cup)
75g coconut sugar (1/2 cup)
1tsp baking powder
1tsp bicarbonate of soda
1tsp cinnamon
pinch of sea salt
1 banana, mashed
80ml olive oil (1/3 cup)
120ml almond milk (1/2 cup)
2tsp apple cider vinegar
1tsp vanilla
Avocado frosting:
2 avocados
200g coconut butter (1 cup)
1tbsp lemon juice
2tbsp maple syrup
Instructions
Preheat the oven to 180°C (160°C fan)
Prepare 12 hole cupcake size tin with cases.
Peel, core and chop the pears into small pieces and set aside.
In a large bowl whisk together ground almonds, oat flour, buckwheat flour, arrowroot, coconut sugar, baking powder, bicarbonate of soda, cinnamon and salt. Set aside.
In a small bowl whisk together olive oil, almond milk, apple cider vinegar and vanilla.
Add the wet mix and the mashed banana to the dry mix and mix until well combined. Gently fold in pears.
Spoon the mixture into the prepared cases distributing evenly.
Bake for about 30 minutes or until a cocktail stick comes out clean.
Remove from the oven once ready and leave to cool down for 10 min before moving onto a wire rack.
To make the avocado frosting gently melt the coconut butter in double boiler and leave to cool down. Blend avocados with lemon juice until smooth. Once the coconut butter is cooled add the avocados and stir well until blended, add maple syrup to taste and put into fridge or freezer to set until the right consistency to frost the muffins. It takes about 10 minutes in freezer and a little longer in fridge. If it gets too hard, just leave it at room temperature. Give the frosting a good stir, spoon into a piping bag with a large nozzle and frost the muffins.
Store in fridge.
Enjoy!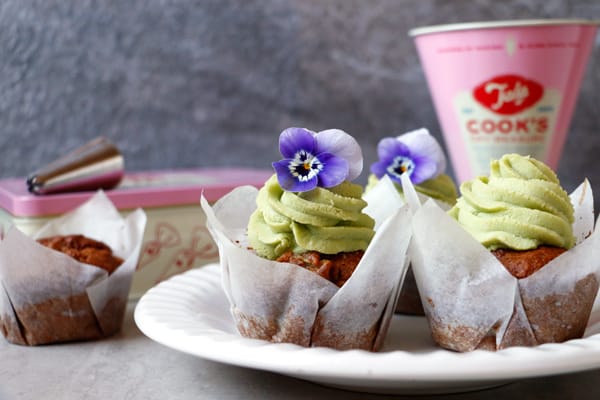 Similar Posts: