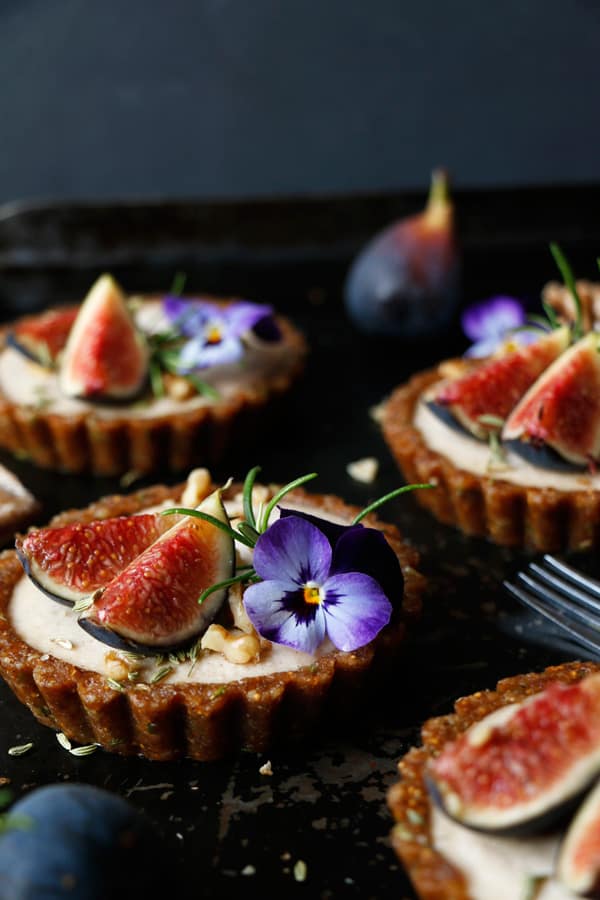 Few weeks ago I've baked the most amazing fennel walnut and cardamom cookies that inspired these Raw Fig Walnut Cardamom Tarts. I will share the recipe for the cookies with you later on, I still would like to have another go at them, but right now you absolutely have to try making these tarts while figs are still in season.
Autumn calls for some warming spices and in this recipe I'm using my favourite spice cardamom together with fragrant fennel seeds, cinnamon and ginger, perfect for beginning of a new cooler season.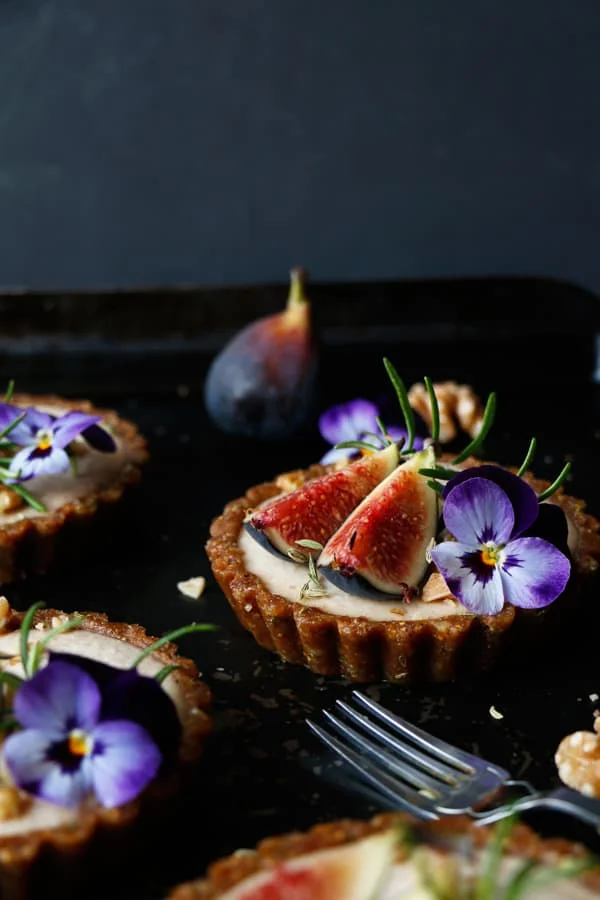 I'm absolutely in love with these tarts, they are rich, full of flavours and have all of my favourite ingredients. It's a simple recipe to whizz up, they just need time to set. I've used 4 small 10cm tart tins in this recipe. You could use different size tins or even make a 6″ cake if you prefer. I'm into making tarts at the moment and there are few more recipes on the way :)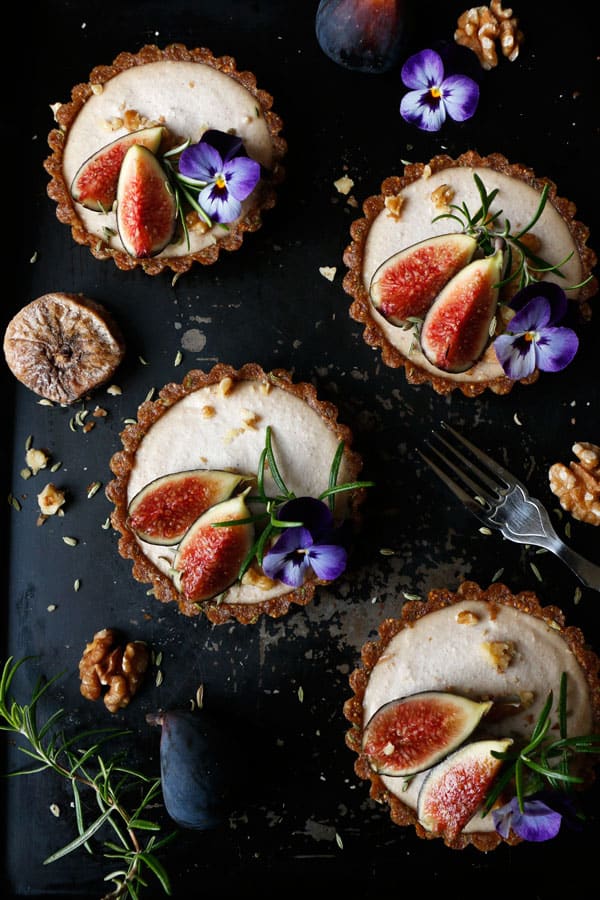 The crust is a blend of walnuts, dried figs and spices. I've used four large figs that I soaked in some warm water to soften. Depending on the size of your figs you might need more. The cashew cardamom cream is a blend of cashews, coconut butter, maple syrup, almond milk and spices. You could even blend in couple of fresh figs if you like, it would be delicious too.
I also have some exciting news today! I'm joining my friend Cristina on a New Moon Gathering & Celebration of Light yoga retreat in beautiful Cotswolds this October. Cristina is a dear friend of mine, we've done our yoga teacher training together in Kerala back in 2005. She's been teaching yoga ever since in Cotswolds and I'm so happy to join her and her partner Jo in their new Prana Adventures. They've put together an amazing retreat starting with new moon fire ceremony and kirtan, yoga, meditation and silent walks. I will be cooking hearty seasonal plant-based meals on Friday and Saturday of the retreat. You can find all of the details on Prana Adventures website if you might be interested.
Yield: 4 tarts
Raw Fig Walnut Cardamom Tarts (grain-free & vegan)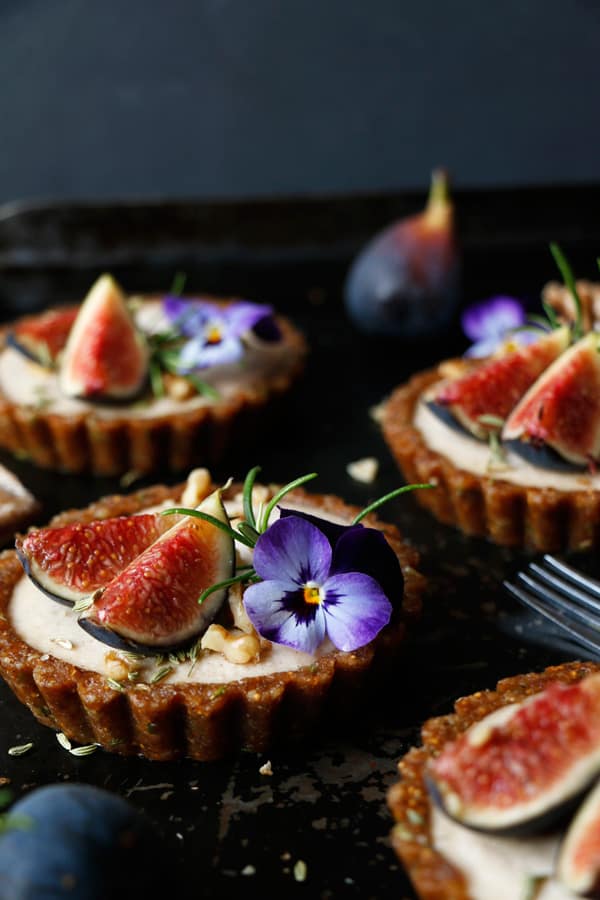 Ingredients
Crust layer:
100g walnuts (1 cup)
70g dried figs (4 large figs)
2tsp fennel seeds
1tsp cinnamon
1/2tsp cardamom
1/4tsp ginger
pinch pink Himalayan salt
1tsp maple syrup
Cashew Cardamom Cream:
120g cashews (1 cup) soaked for 4 hours or overnight
1/2tsp cinnamon
1/4tsp cardamom
pinch pink Himalayan salt
60ml maple syrup (1/4 cup)
60ml almond milk (1/4 cup)
1tbsp lemon juice
1/2tsp vanilla
100g coconut butter (1/2 cup)
Topping:
fresh figs
walnuts
rosemary sprigs
edible flowers
Instructions
Soak dried figs for about 20 minutes in warm water and drain. Set aside.
Place walnuts into food processor and pulse few times until they are coarsely ground. Add figs, fennel seeds, cinnamon, cardamom, ginger and salt and blend until the mixture starts coming together. Add maple syrup and blend until the mixture sticks together.
Spoon the mix evenly into the four tart tins. Press tightly onto the base and the sides to form a crust. Place into a fridge.
In a double boiler gently melt coconut butter and set aside.
Rinse the soaked cashews under running water and place into blender. Add cinnamon, cardamom, salt, maple syrup, almond milk, lemon juice and vanilla and blend until smooth. If necessary add little more almond milk. Slowly add melted coconut butter and blend until incorporated. It should be fairly thick creamy consistency.
Pour or spoon evenly onto the crust layer of each tart and smooth out the top.
Place into a freezer to set. You can also set them in fridge overnight.
Once set carefully remove from the tins and leave to thaw before decorating.
Top with sliced fresh figs, chopped walnuts, rosemary sprigs and edible flowers.
Store in a fridge or freezer.
Enjoy!
Notes
I've used 4 small 10cm tart tins with removable base in this recipe.
You can line the tins with some cling film if you prefer, but I don't tend to do that, because once they are frozen you can easily push them out of the tins if the base is removable.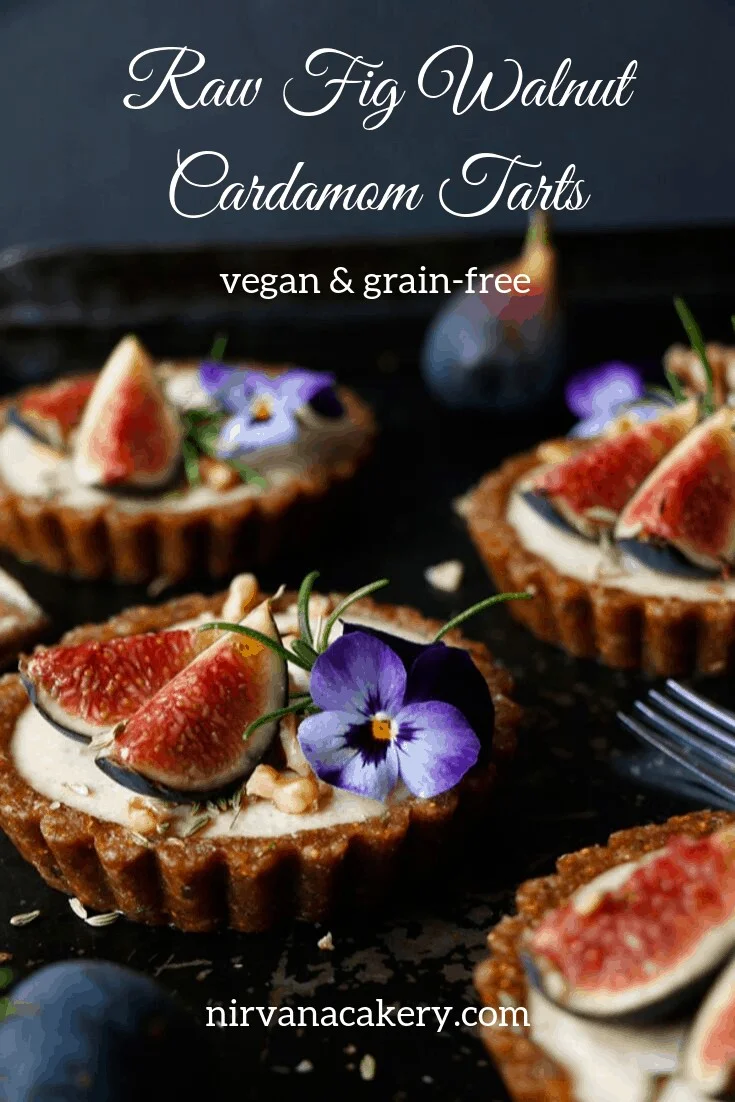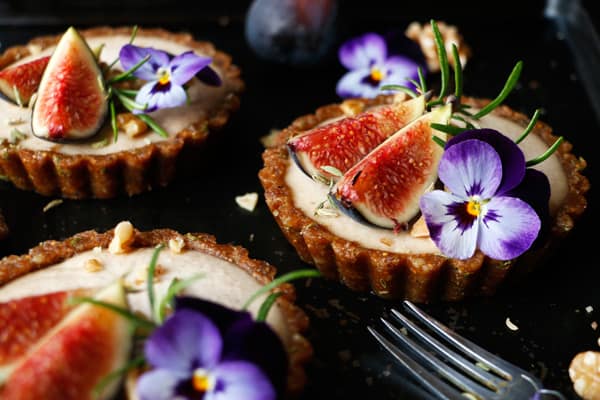 Similar Posts: