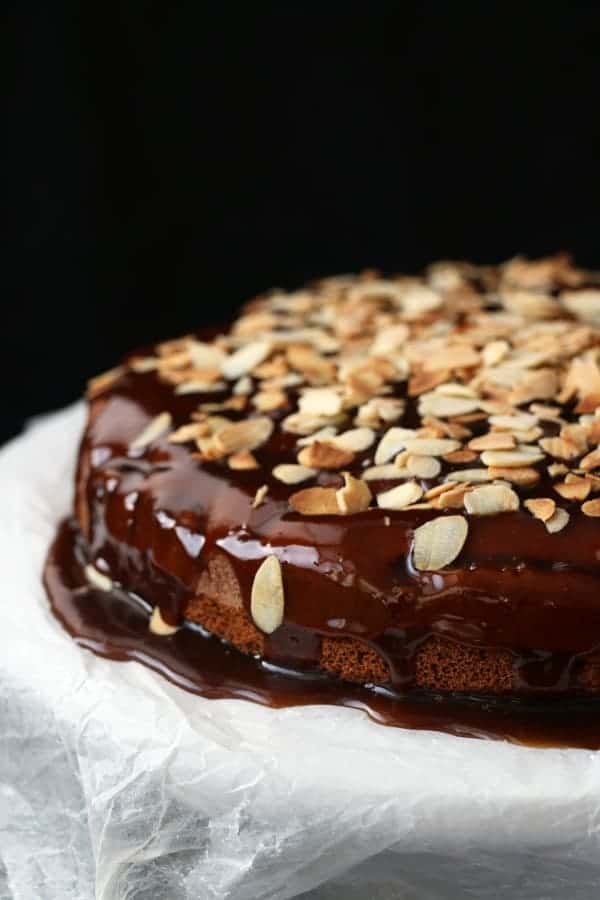 Today I wanted to post a more festive recipe and this is for all of you lovely beautiful people who are in need of more sweetness in Life. For sure I am!
I've made this cake yesterday and I've shared it with many people, my family, friends and my neighbours and it fell wonderful, just a simple act of giving and sharing something that I love to do. Isn't that the reason why we make cakes, to share and celebrate with people we love.
Food is that one common subject that we all have together and that can bring us together or apart. I see so much judgment out there at the moment about people's diets and different choices and I just wanted to address that. It seems that people are not only judging each other on what they own, how they dress, now it's also on what they eat. Where is all this judgment coming from? Everyone is different, everyone has different requirements, we all make different choices according to where we are in our lives.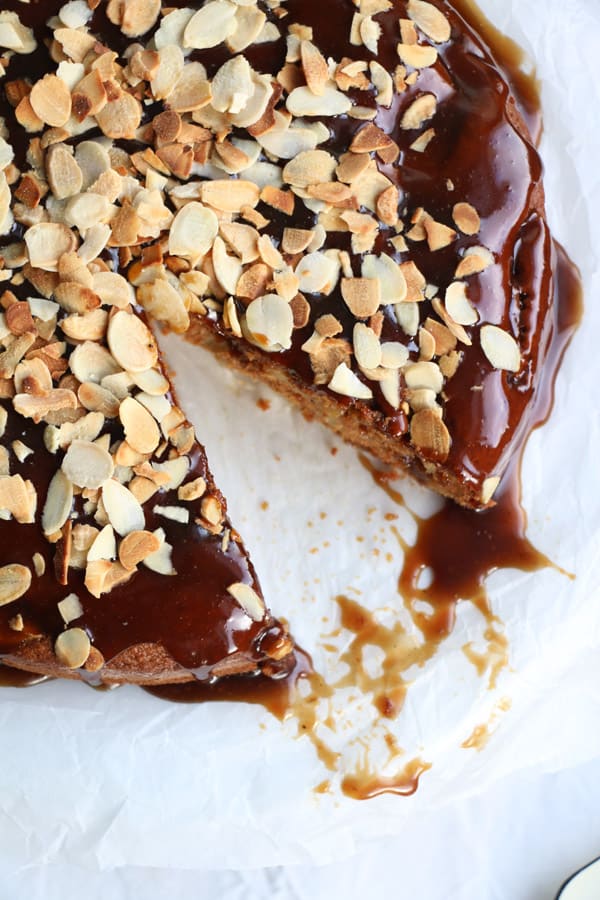 So today's cake has way more sugar than my other cake recipes and it's flipping awesome! I did make it gluten-free and wholesome as it's my choice at the moment and you can adapt it any way you like to suit yours. It's just a simple apple cake that has suddenly become more meaningful to me.
Apple cake is such an amazing cake on its own, but together with salted caramel and those toasted almonds on top, it's such a treat. I've never even made a salted caramel before, this is the first time. I've more less used this recipe if you like to check it out. Here's to our awesome choices and sweet Life! Enjoy!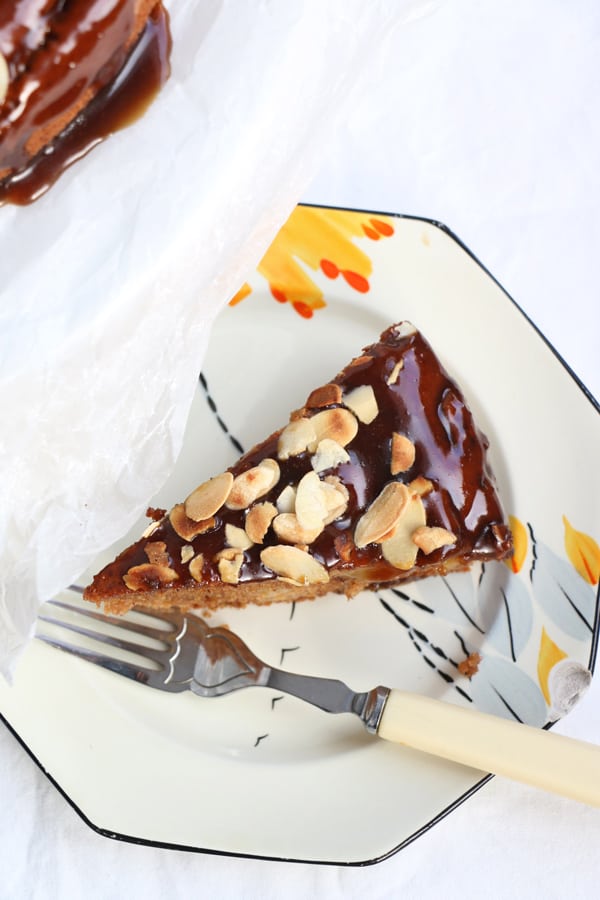 Yield: 9" round cake
Gluten-Free Apple Cake With Salted Caramel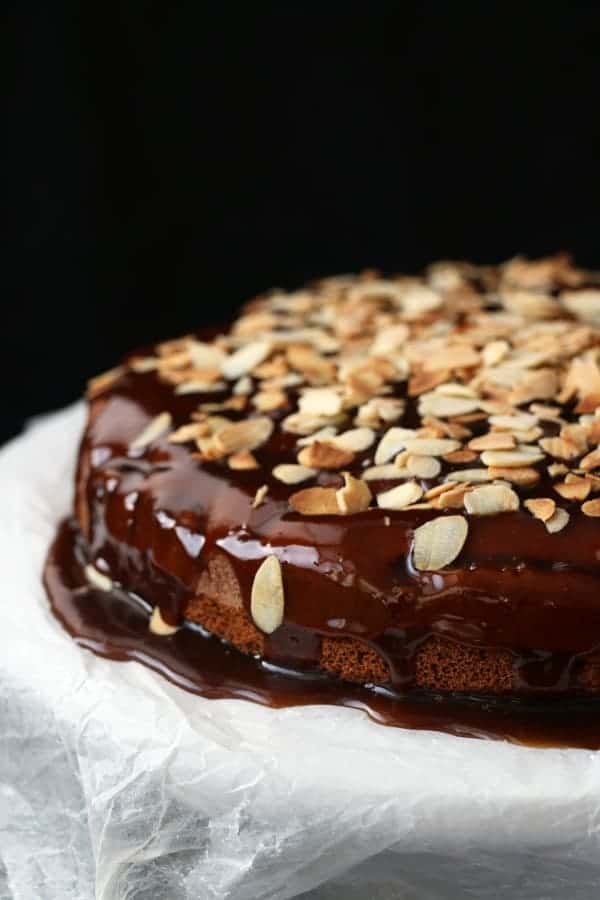 Ingredients
3 apples
100g gluten-free oat flour (1 cup)
35g buckwheat flour (1/4 cup)
100g ground almonds (1 cup)
1tsp baking powder
1tsp bicarbonate of soda
1tsp cinnamon
1/4tsp ground ginger
1/8tsp ground cloves
pinch of sea salt
100g coconut sugar (3/4 cup)
3 eggs
80ml olive oil (1/3 cup)
1tsp vanilla
Salted caramel:
300ml full fat coconut milk (1 1/4 cup)
75g coconut sugar (1/2 cup)
1/2tsp sea salt
2tbsp coconut oil
Topping:
50g toasted flaked almonds (1/2 cup)
Instructions
Preheat the oven to 180°C (160°C fan)
Grease and line 9" round spring form cake baking tin.
Peel and quarter apples and cut into smaller pieces. Set aside.
In a bowl whisk together oat flour, buckwheat flour, ground almonds, baking powder, bicarbonate of soda, cinnamon, ginger, cloves and salt and set aside.
In a electric hand or stand up mixer whisk eggs and sugar for about 5 min, add olive oil and vanilla and mix for 2 more min.
Slowly add dry mix to the wet mix and mix until just combined.
Fold in sliced apples.
Spoon the mixture into your prepared tin and level the surface.
Bake for about 30-35 min or until a cocktail stick comes out clean.
Remove from the oven once ready and leave to cool down for 20 min before removing from the tin.
While the cake is baking prepare the salted caramel.
Place coconut milk, coconut sugar and sea salt into a small pot and bring to a boil. Leave to simmer for about 40 minutes until it thickens and looks darker in colour.
Remove from heat, stir in coconut oil and leave to cool down.
To assemble the cake, place the cake onto a serving platter, pour cooled salted caramel on top and generously sprinkle with toasted flaked almonds.
Notes
To make oat flour blend oats until you have flour like consistency.
To make toasted flaked almonds toss them on a dry pan on a medium heat until they are lightly toasted.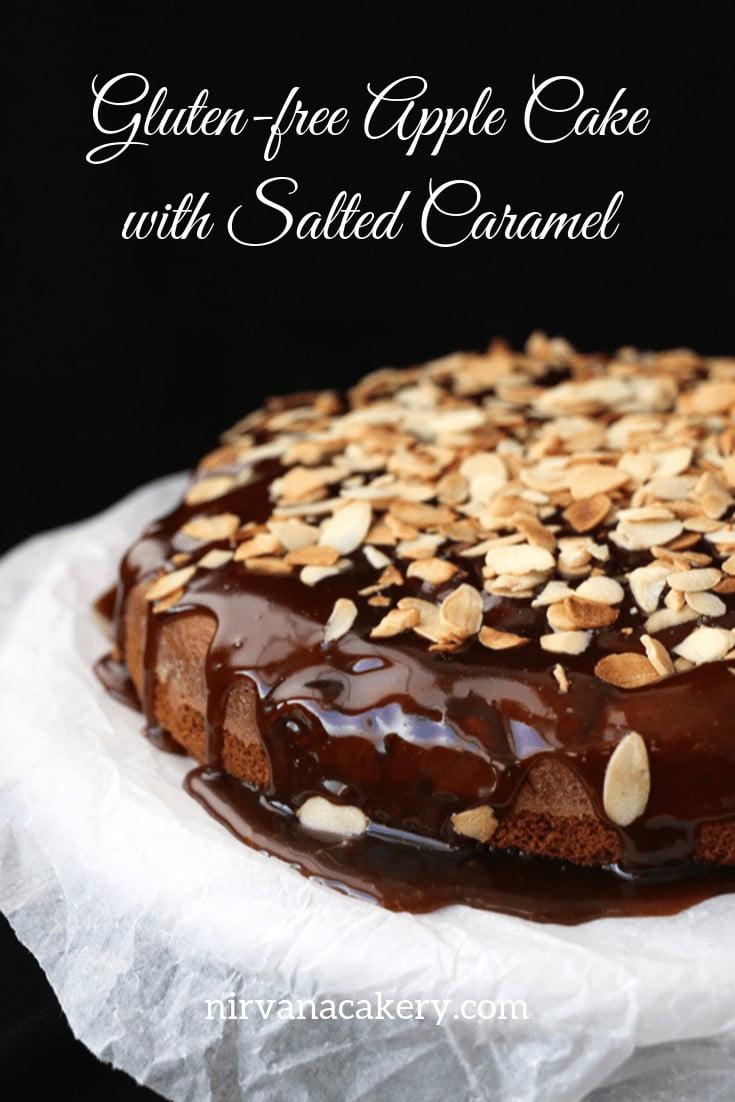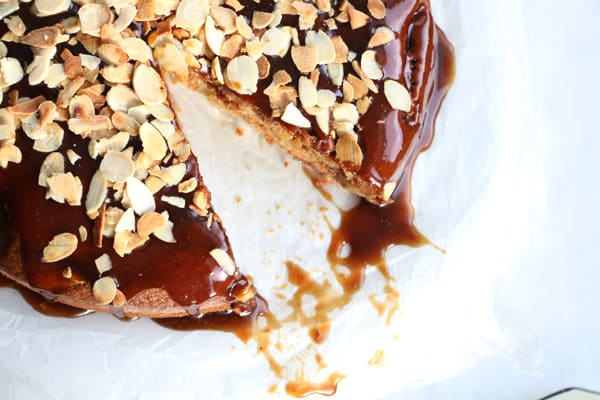 Similar Posts: