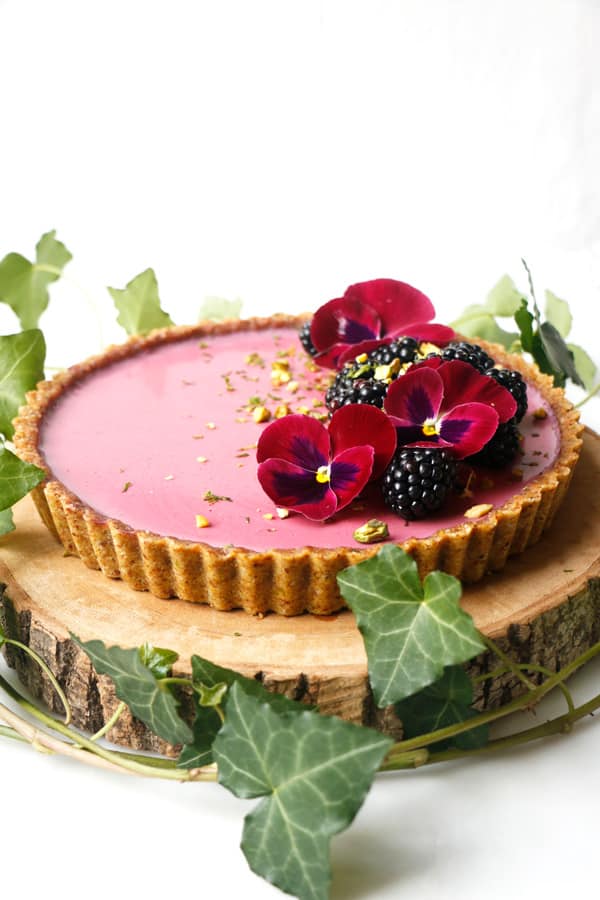 My first October recipe, yay! It's my birthday month, I'm a Libra and this month is one of my favourite months of the year. I love everything about it, the colours, the abundant produce, the feel in the air, the new possibilities, the magick.
I'm sure you've guessed by now that I love making tarts! I just have so much fun decorating them so today I've got a lovely Pistachio Blackberry Tart to inspire your weekend. It's a simple autumnal dessert recipe that would be really lovely for a dinner party to impress your guests because of the beautiful wow colour it has.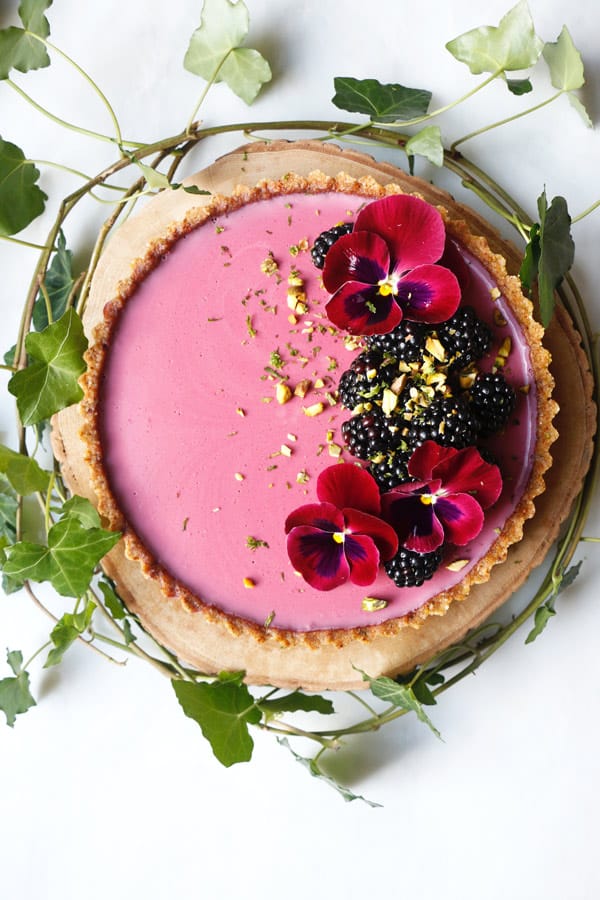 I've included some of my favourite ingredients in here including almonds, pistachios and cardamom to make the crust and blackberries, coconut cream and agar in the filling.
This recipe is inspired by my Beetroot Hibiscus Tart that has been so popular and I feel inspired over and over to make few different flavour alternatives for you.
I've used a mix of almonds and pistachios in here because they complement each other so well and using pistachios on their own can also be quite pricey. The crust is lightly baked but you could also use it raw and just chill it before adding the filling. The tart is fairly quick to make and you can easily make it on the day as it only needs about an hour to set in the fridge. I find that the agar desserts don't freeze so well so I recommend storing them in the fridge and eating within 3 days.
The flowers I've used on top are not edible, only for the decoration.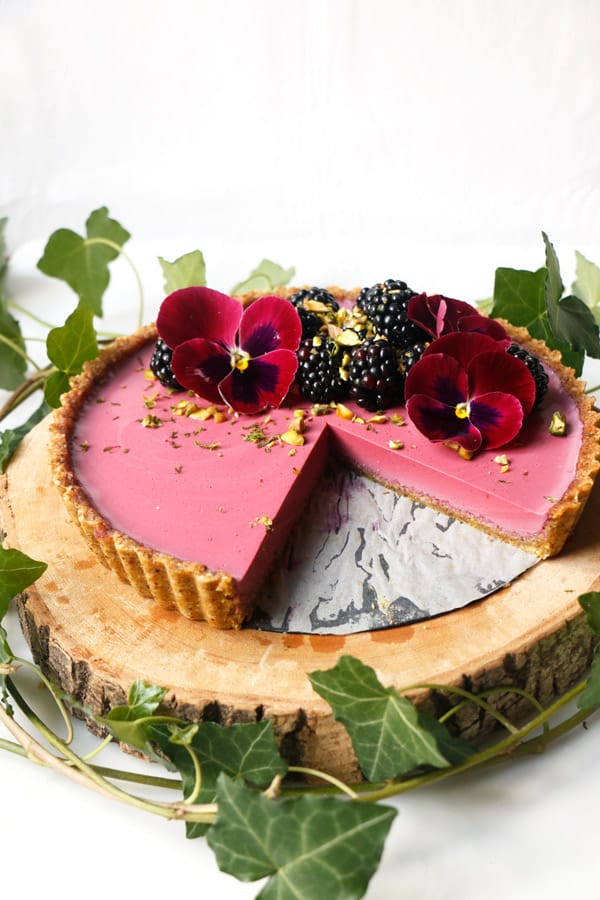 Yield: 9" tart
Pistachio Blackberry Tart (vegan & grain-free)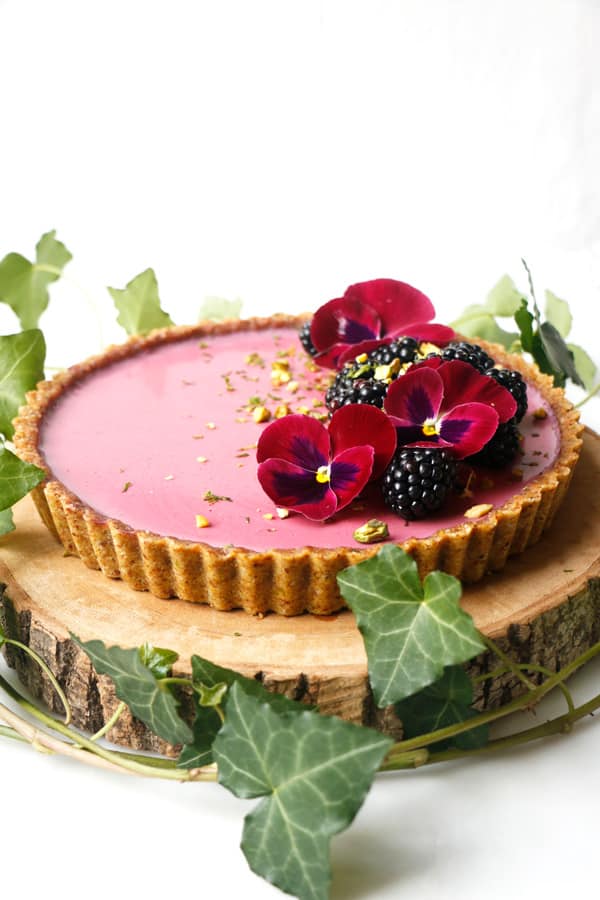 Ingredients
Tart crust:
180g almonds (1½ cups)
65g shelled pistachios (1/2 cup)
pinch sea salt
½tsp cardamom
1 lime, zest (optional)
1tbsp maple syrup
2tbsp coconut oil
Blackberry filling:
250g blackberries (2 cups)
2tbsp maple syrup
1 lime, juice
240ml water (1 cup)
240ml coconut cream (1cup)
1tsp vanilla extract
3tbsp agar flakes
Topping:
blackberries
crushed pistachios
lime zest
Instructions
Grease 9" tart tin with removable base with little coconut oil and line the base with baking paper.
Preheat the oven to 170°C (340F)
Place almonds and pistachios into a food processor and blend until ground. Add salt, cardamom, lime zest, maple syrup and coconut oil and blend until the mixture comes together. You should have a sticky mix when pressed together.
Spoon the crust mix into the tart tin, spread evenly onto the base and around the edges to create the crust. Don't go all the way up, about ¾ high. The crust edge on mine was about ¾" tall.
Place into the oven and bake for about 10 minutes just until set. Remove from the oven and leave to cool down.
Place blackberries into a medium pot, add maple syrup, lime juice and water and bring to a boil. Gently simmer for 5 to 10 minutes until broken down and mushy. Now press the mixture through a mesh sieve. You should have about 2 cups (480ml) of liquid, add little water if needed. Pour it back into the pot. Whisk in coconut cream and vanilla followed by agar flakes. Bring the mix to a boil and leave to simmer for about 10 minutes stirring frequently until the flakes have dissolved.
Leave to cool down slightly, and pour onto the crust.
Place into a fridge for about an hour to set.
Before serving top with few blackberries, crushed pistachios and lime zest.
Enjoy!
Notes
If you're using agar powder, 1tbsp of agar flakes equals to 1tsp of agar powder.
If you find that the coconut cream splits little and not completely blends in, just blend it with stick blender for few seconds.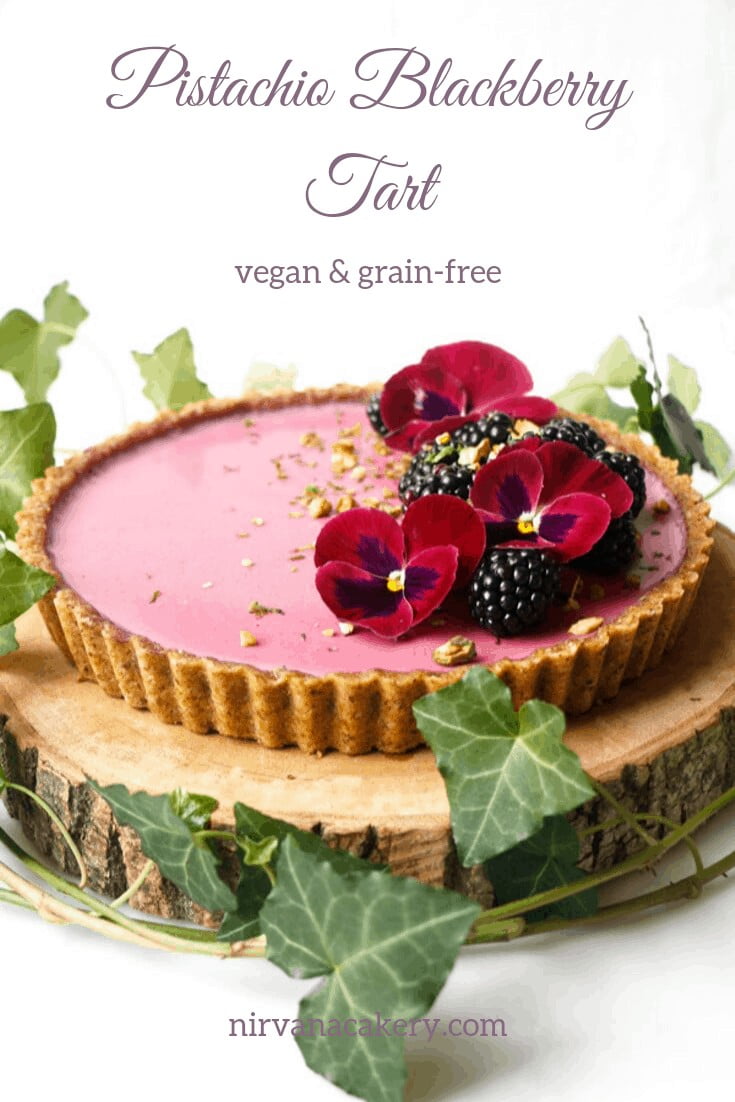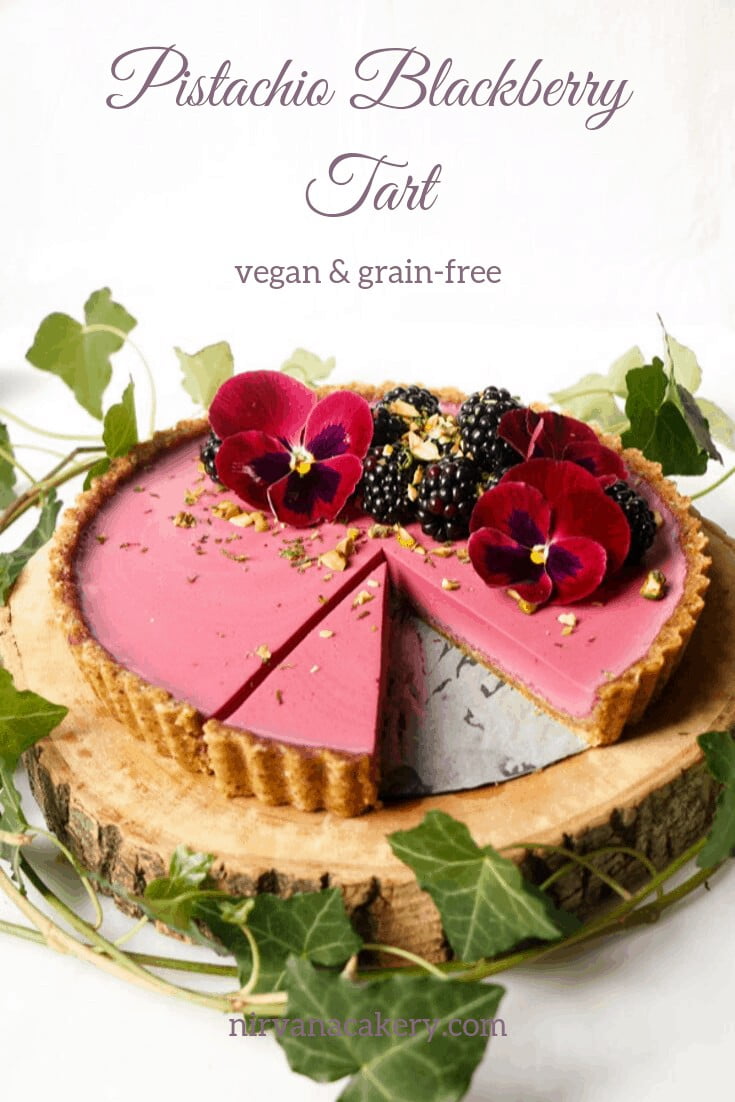 Similar Posts: