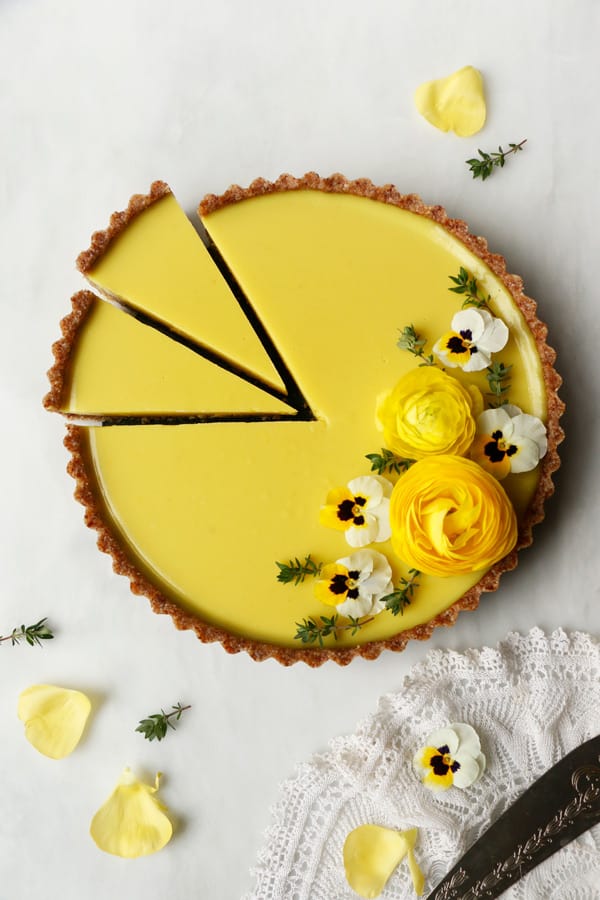 Dedicated to our beautiful sun 'Solaris' this Pineapple Lime Coconut Tart is a joyous recipe to warm your hearts and call in the sunshine. It's a really lovely zingy recipe with raw almond brazil nut coconut date crust and luscious pineapple lime coconut cream filling set with agar flakes.
I've almost waited to post this tart closer to Summer but decided to share it with you now, because it would make a lovely Easter dessert too.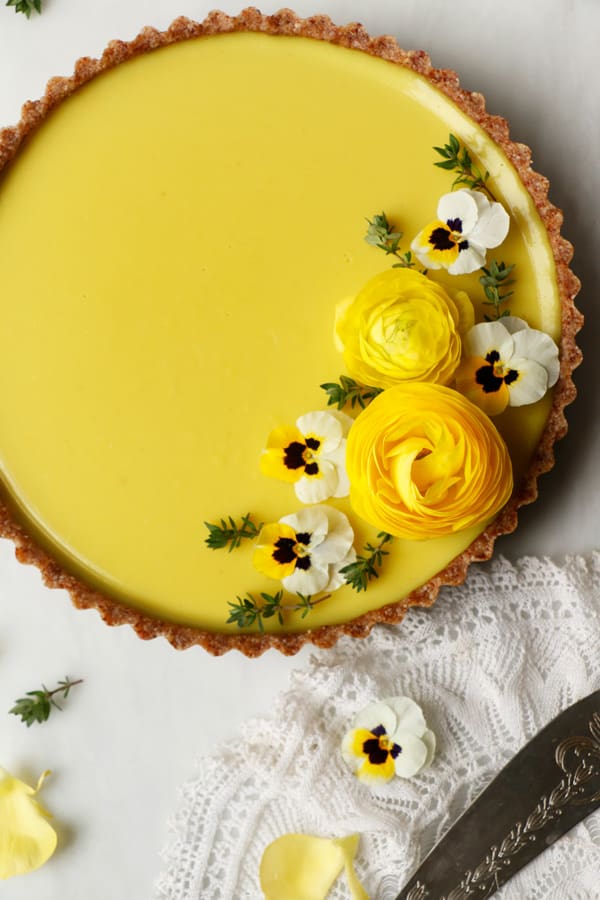 I've used a raw crust which works really well in this tart, the filling sets well and slices beautifully. Originally I wanted to make some dehydrated pineapple flowers to decorate this tart, but then I just fell in love with these yellow ranunculuses and used these with some pansies and thyme sprigs instead. I couldn't help myself but to add few forget-me-nots too, my childhood favourite flowers. If you fancy making some pineapple flowers it would look beautiful. I will perhaps use them in another recipe this Summer.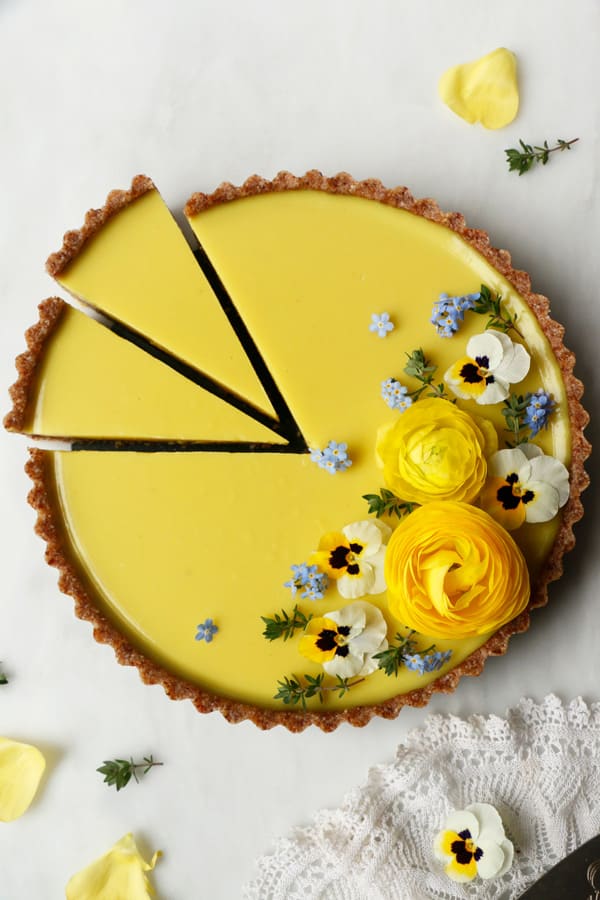 Just to note that if you're using agar powder you will need less amount, use the amount to set about 3½ cups of liquid. Sometimes with citrus fruit you need little extra, but this tart set really well. It only needs up to an hour in fridge to set so you could even make it on the day.
I really hope you do enjoy this tart, looking forward to hearing your thoughts!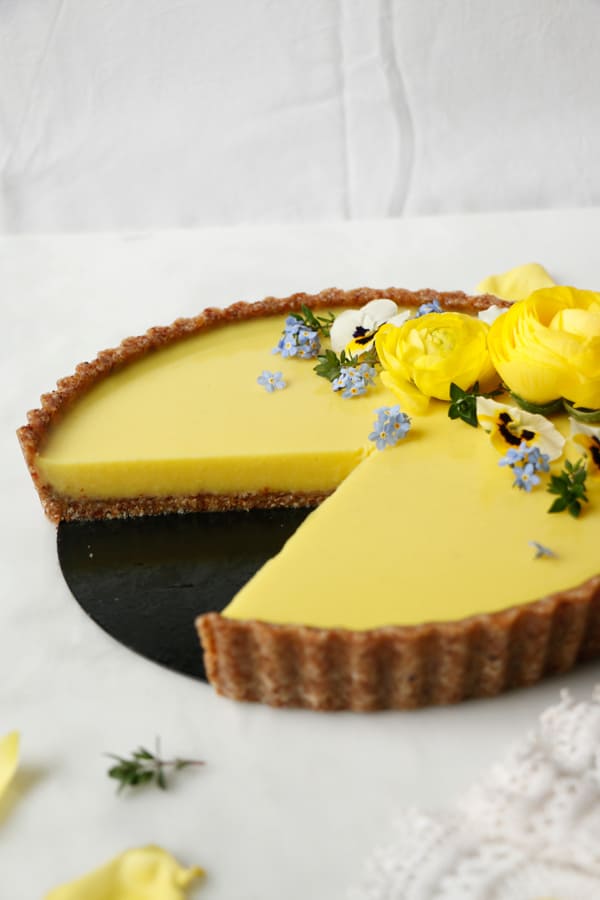 Yield: 9" tart
Pineapple Lime Coconut Tart (vegan & grain-free)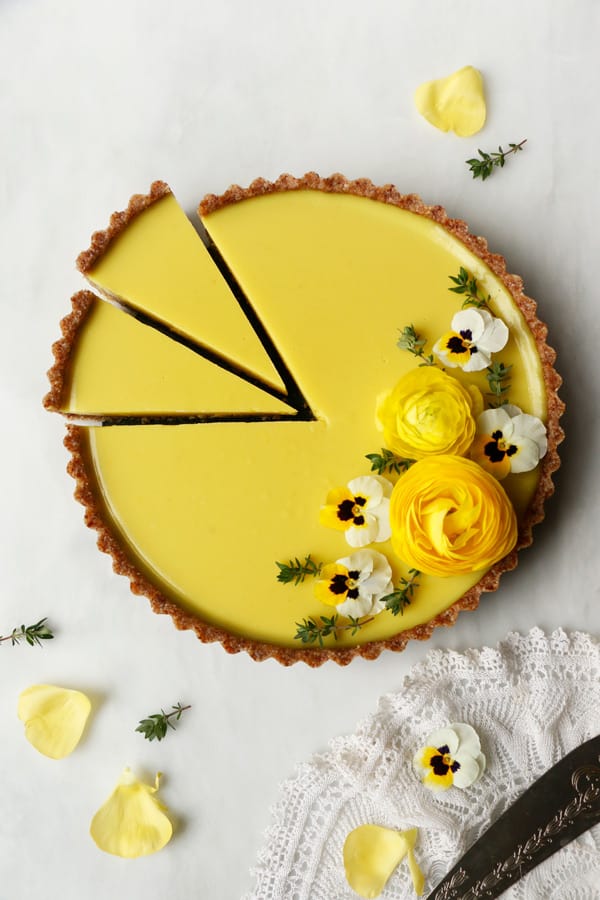 Ingredients
Tart crust:
180g mix of almonds and brazil nuts (1½ cups)
50g desiccated coconut (1/2 cup)
8 medjool dates, pitted
pinch sea salt
½tsp cinnamon
2tsp coconut oil
1tsp maple syrup
Pineapple lime filling:
1 medium pineapple, peeled and cut into chunks
1 lime, juice
2tbsp maple syrup
1tsp vanilla extract
pinch turmeric (optional)
240ml coconut cream (1 cup)
3 1/2tbsp agar flakes
Instructions
Prepare 9"tart tin with removable base.
Place almonds, brazil nuts and desiccated coconut into food processor and pulse few times until ground. Add pitted medjool dates, salt, cinnamon and blend until the mixture starts to come together. Add coconut oil and blend again, you should have a sticky mix when pressed together. If not, add 1tsp of maple syrup to help.
Spoon the crust mix into the tart tin, spread evenly onto the base and around the edges to create the crust. Place into the fridge.
Place the pineapple chunks into blender and blend until completely smooth. Measure 480ml (2 cups) and pour it back into blender. Add lime juice, maple syrup, vanilla extract, little pinch of turmeric if using and coconut cream and blend until just incorporated.
Pour the mixture into a medium pot and stir in the agar flakes. Bring the mix to a boil and leave to simmer for about 10 to 15 minutes stirring frequently until the flakes have dissolved.
Once ready leave to cool down slightly, and pour onto the crust.
Place into a fridge for about an hour to set.
Before serving top with your choice of decoration, I've used yellow flowers and thyme sprigs. Dehydrated pineapple slices would be beautiful too.
Enjoy!
Notes
Please note that if you're using agar powder you will need less amount. Use the amount to set 3 1/2 cups of liquid.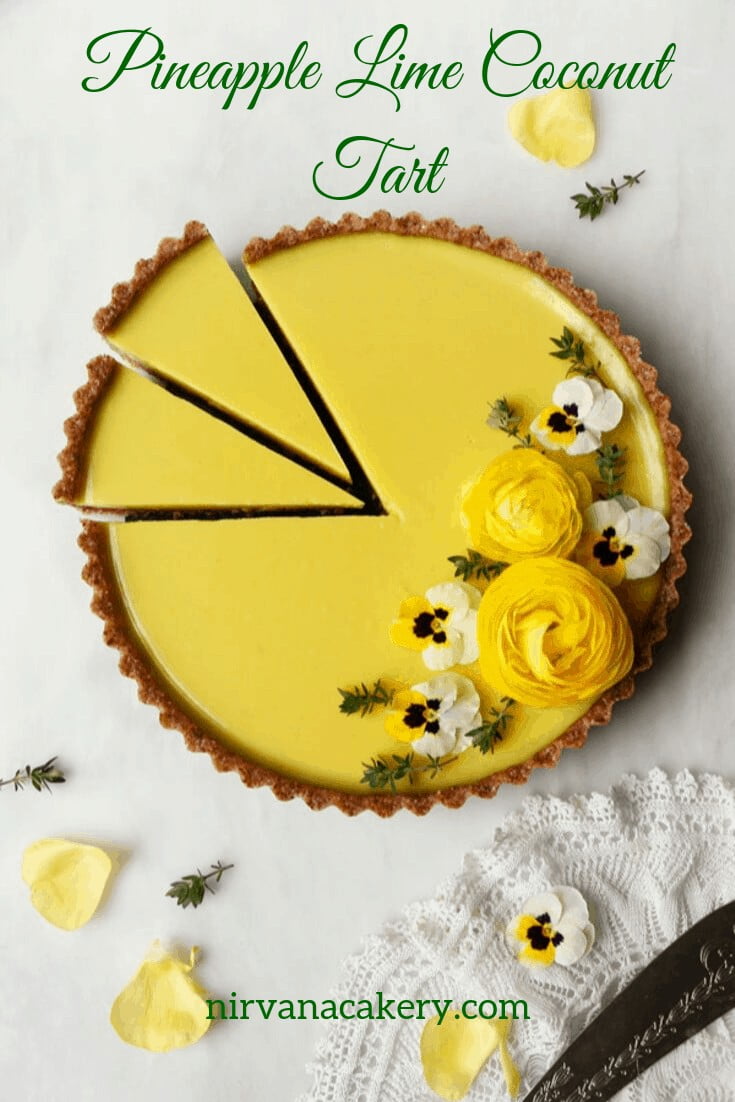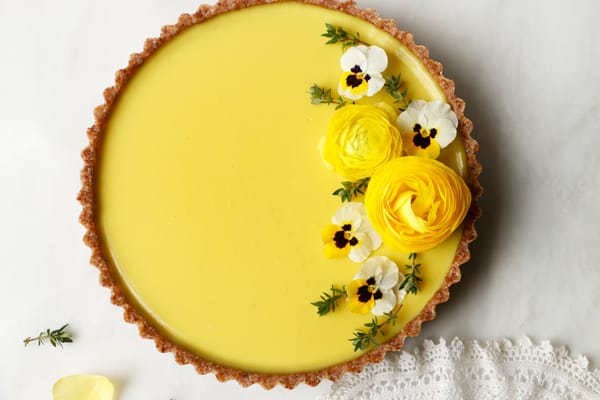 Similar Posts: