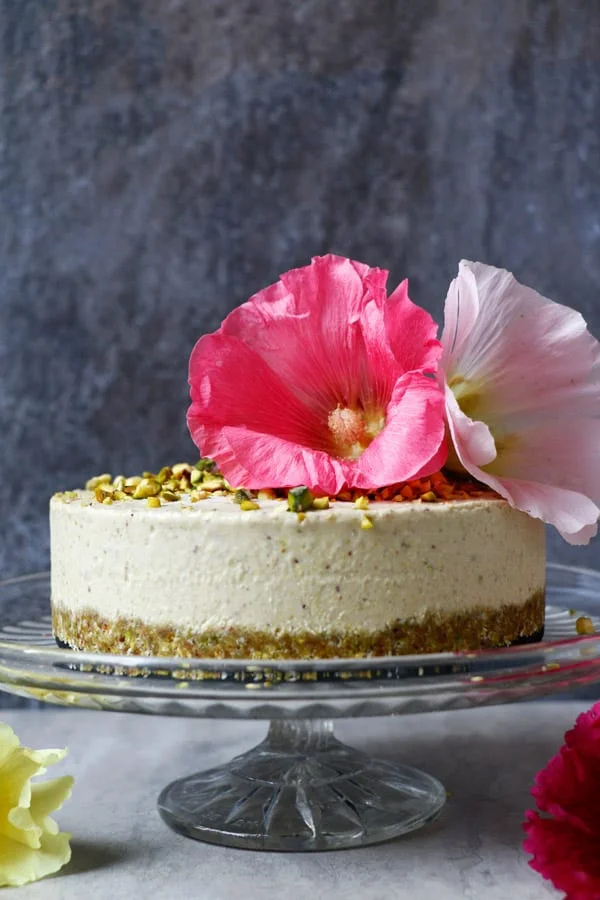 I'm writing to you from sunny Portugal today enjoying some gorgeous hot days and the most juiciest peaches and local fruit. You just can't get peaches like these in London. Saying that today post is all about this Pistachio Ice Cream Cake that I've made for you last week. I hopefully get to the peaches another day:)
Now I'm not a huge ice cream fan, but there is one ice cream flavour that I adore and that is pistachio. Pistachio ice cream has been my favourite ice cream since being little and you all know that I love a piece of cake. And so I've fused the two together and created this little number, just because it's summer.
I kept the recipe simple, easy and raw. The basis of this ice cream is banana ice cream mixed with coconut cream and pistachios to get nice creamy consistency. I've used frozen bananas and chilled coconut cream scooped from 1 can of coconut milk refrigerated overnight.
Bananas make this ice cream fairly sweet and I don't think it needs much extra sweetener, but you can always add some more if you like more sweetness. The base is made simply with pistachios, coconut and medjool dates and it's a really lovely addition to the creamy ice cream layer. Here's to the summer and ice cream!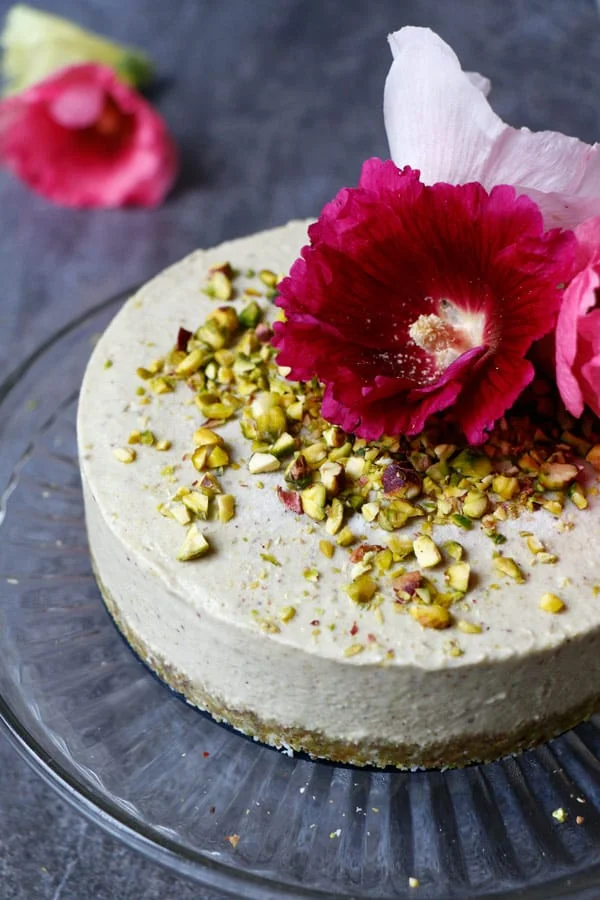 Yield: 6" cake
Pistachio Ice Cream Cake (grain-free & vegan)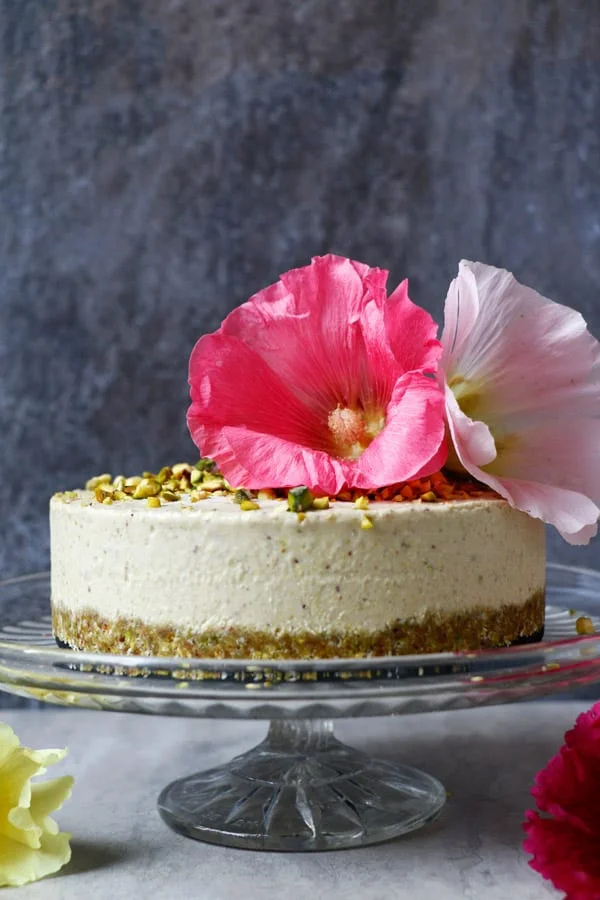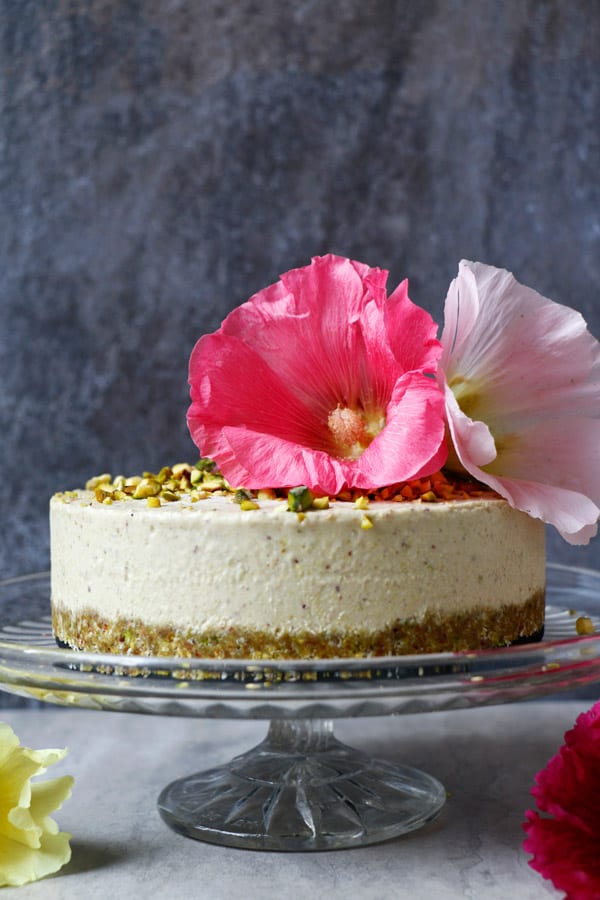 Ingredients
Crust:
40g shelled pistachios (1/4 cup)
25g desiccated coconut (1/4 cup)
pinch sea salt
2 medjool dates, pitted
Ice cream layer:
90g shelled pistachios (3/4 cup)
3 bananas, frozen
1 can full fat coconut milk, refrigerated overnight
1tbsp maple syrup
1/2tsp vanilla
1/2tsp cardamom
Instructions
Place the can of full fat coconut milk into a fridge, preferably overnight. Chop or break bananas into smaller chunks and freeze overnight.
Have 6" round cake tin ready.
To make the crust place pistachios into a food processor and blend until coarsely ground. Add desiccated coconut, sea salt and pitted medjool dates, and blend until the mixture comes together. Spoon the mix into the tin, spread evenly onto the base and press tightly down. Place into a fridge.
To make the ice cream layer blend the pistachios until ground, scoop out and set side. Place frozen banana pieces into high speed blender. Scoop the solid part of the coconut milk and add to the bananas together with maple syrup, vanilla and cardamom. Blend until smooth. Pause the blender and stir if needed. Add the pistachios and blend again.
Scoop out onto the crust layer and smooth out the top.
Cover with parchment paper and plastic wrap and place into a freezer until set, at least 4 hours.
Once set carefully remove from the tin.
Place onto a cake stand and decorate with some more chopped pistachios if you like. Leave to thaw slightly before serving.
Store in freezer.
Enjoy!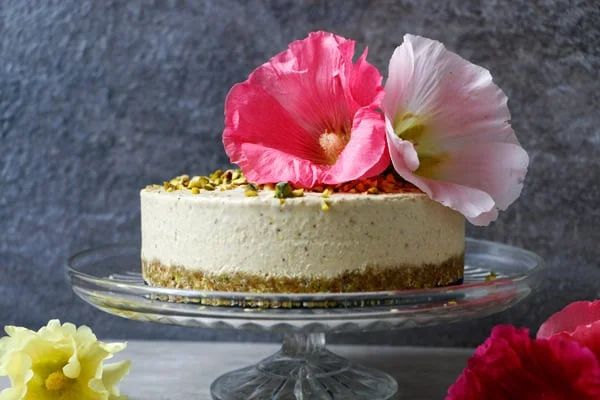 Similar Posts: