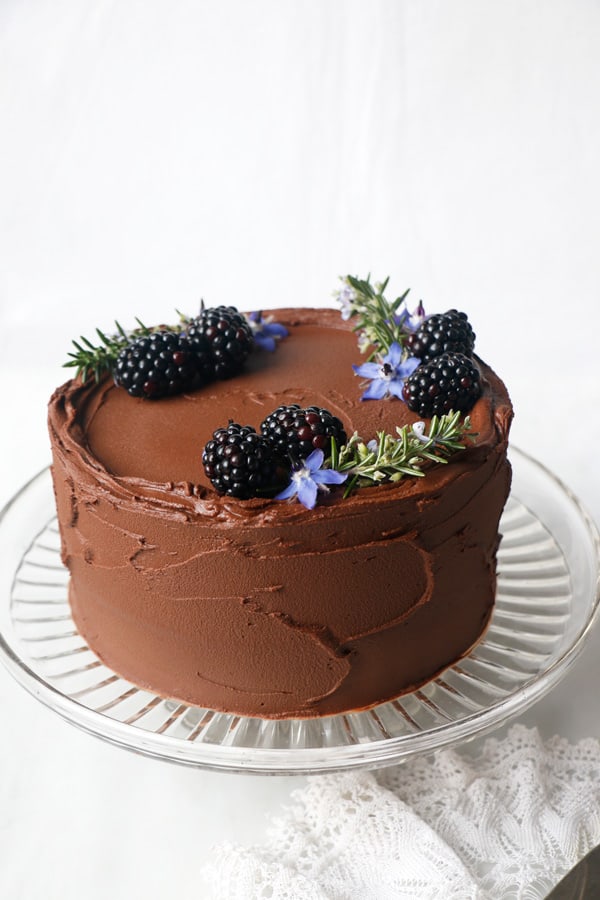 Special thank you to Amore di Mona for sponsoring this post.
With the weather turning cold I've been feeling really inspired to make lots of new recipes and have written a long list of everything that I would love to create. I do it every year, but hardly find time to get through them all so some will make it to the next year some will stay on my ever-expanding lists maybe making it into a cookbook one day.
Today I have this lovely Chocolate Beet Layer Cake recipe to share with you. I think it's the perfect Autumnal recipe that I hope you will love.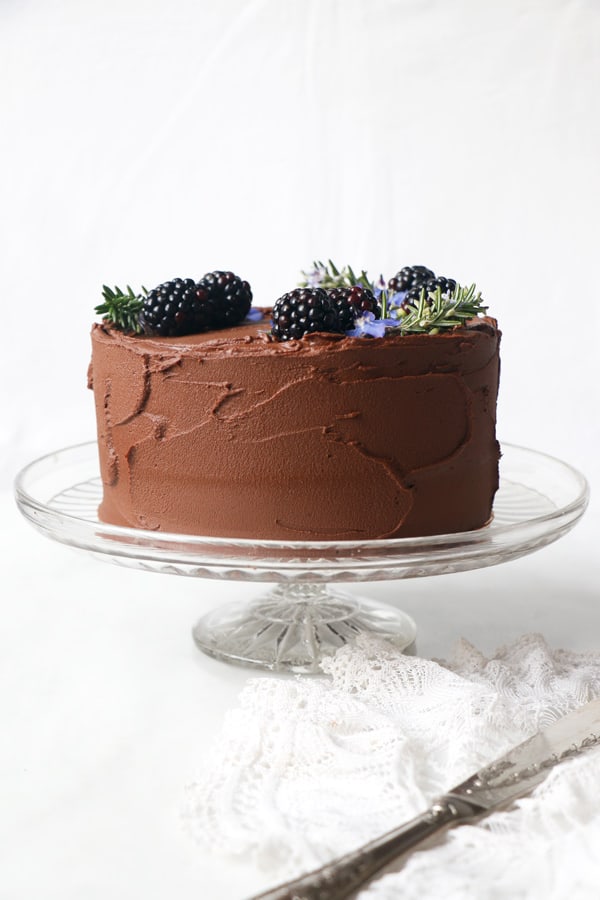 I've made the recipe as wholesome as possible and have used some lovely warming spices and orange that works really well with beetroot and chocolate. It's a nut-free recipe and I've used some ground sunflower seeds in my gluten-free mix which adds more lightness, moisture and extra flavour. Now if you can tolerate nuts then ground walnuts would work really well here too.
I've roasted my beets to make the puree, you could also boil or steam them which is usually faster if you first cut them into quarters. I fancied some roast sweet potatoes for dinner and so I've roasted whole sweet potatoes and the beets altogether to save time and energy. I also had some puree leftover and made some lovely walnut beetroot dip.
I still found some gorgeous rosemary sprigs in bloom and borage flowers which together with few blackberries made a lovely topping. Very simple yet so feminine and pretty. And then I've realized I needed something burgundy since it's a beetroot cake so I've added a pansy too :) Just that one flower has created a very different more Autumnal mood I think. Enjoy the recipe.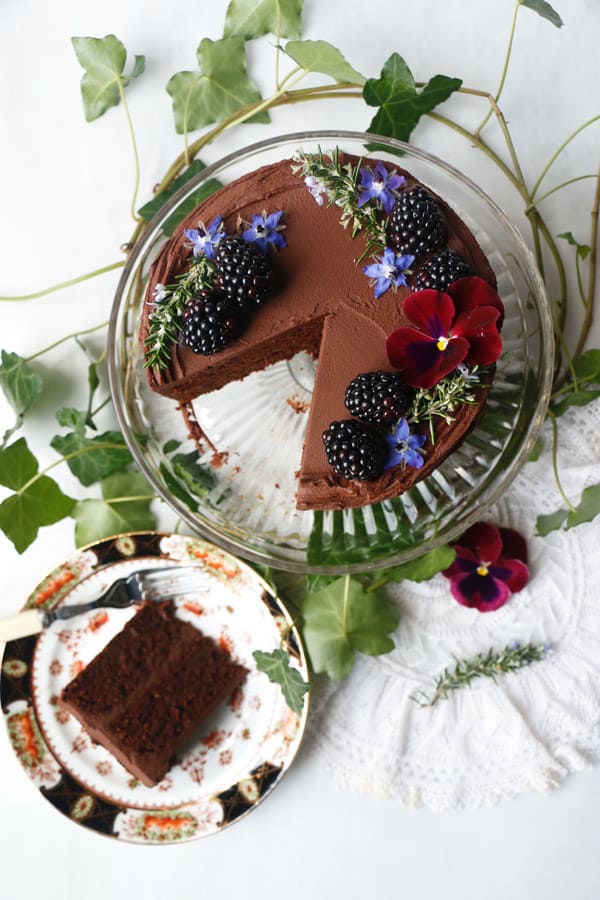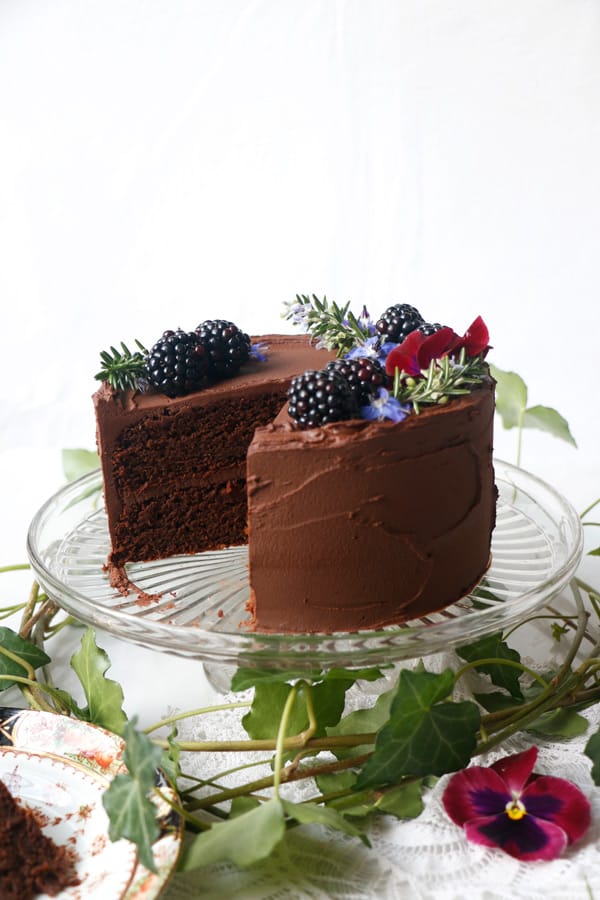 Yield: 6" layer cake
Chocolate Beet Layer Cake (vegan & gluten-free)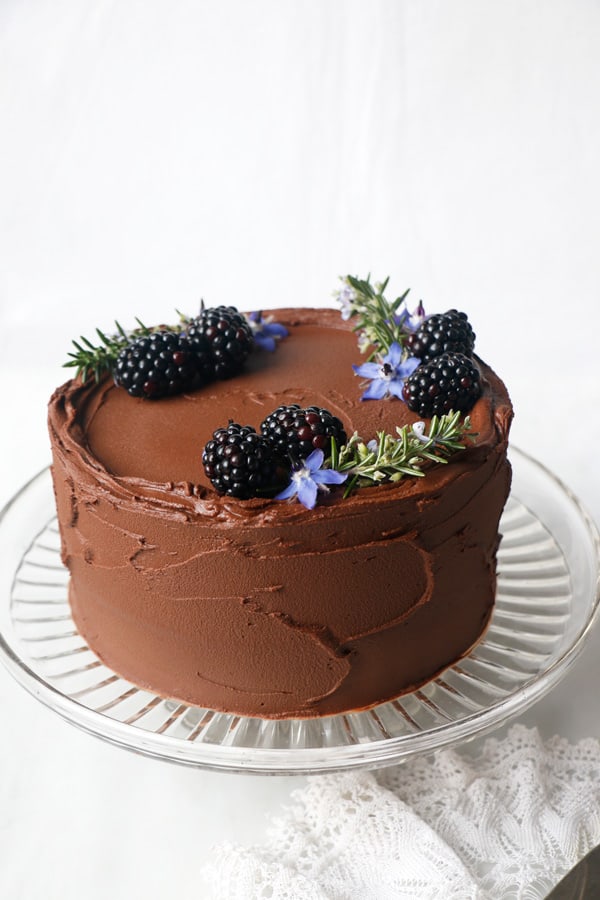 Ingredients
Layer cake:
95g brown rice flour (3/4 cup)
35g buckwheat flour (1/4 cup)
70g sunflower seeds, ground into flour consistency (1/2 cup)
30g tapioca flour (1/4 cup)
30g cacao powder (1/4 cup)
1tsp baking powder
1tsp bicarbonate of soda
2tsp cinnamon
1tsp ground ginger
1/2tsp ground cardamom
¼tsp ground cloves
pinch sea salt
100g rapadura sugar (3/4 cup)
1 orange, zest
2tbsp ground flaxseed + 6tbsp water
240ml beet puree (1 cup)
80ml olive oil (1/3 cup)
80ml orange juice (1/3 cup) +more as needed
2tsp apple cider vinegar
1tsp vanilla
Chocolate ganache: make the night before
200g dark vegan chocolate (7oz)
240ml oat cream (1 cup)
1tbsp maple syrup (optional)
Instructions
Preheat the oven to 180°C (350F)
Grease and line the base and dust the sides of two 6" round cake baking tins.
Mix 2tbsp ground flaxseed with 6tbsp water and set aside to thicken.
In a large bowl whisk together brown rice flour, buckwheat flour, ground sunflower seeds, tapioca flour, cacao powder, baking powder, bicarbonate of soda, cinnamon, ginger, cardamom, cloves, salt and sugar. Add zest of 1 orange and set aside.
In a small bowl whisk together flax eggs, beet puree, olive oil, orange juice, apple cider vinegar and vanilla.
Add the wet mix to the dry mix and mix until well combined. You should have thicker muffin consistency. Add more orange juice if needed.
Spoon the mixture evenly into your prepared tins and level out the surface.
Bake for about 35 to 40 minutes or until a cocktail stick comes out clean, it might still be little sticky.
Remove from the oven once ready and leave to cool down for 20 min before removing from the tins.
Roughly chop the chocolate for the chocolate ganache and place into a medium bowl. Place the oat cream and maple syrup into a small pot and gently heat until boiling point. Pour over the chopped chocolate and stir until completely melted and smooth. Leave to cool down before placing into a fridge to set overnight into a spreadable consistency.
Once the cakes are completely cool, you can assemble the cake. Place the bottom layer onto a cake stand and using spatula spread with some chocolate ganache. Top with the second cake layer and frost the sides and top of the cake.
Decorate your cake to your liking with fresh seasonal fruit and flowers.
Notes
To make beet puree you can either roast, boil or steam 2 medium beets until soft and then blend into a smooth puree.
You can replace oat cream with another vegan cream.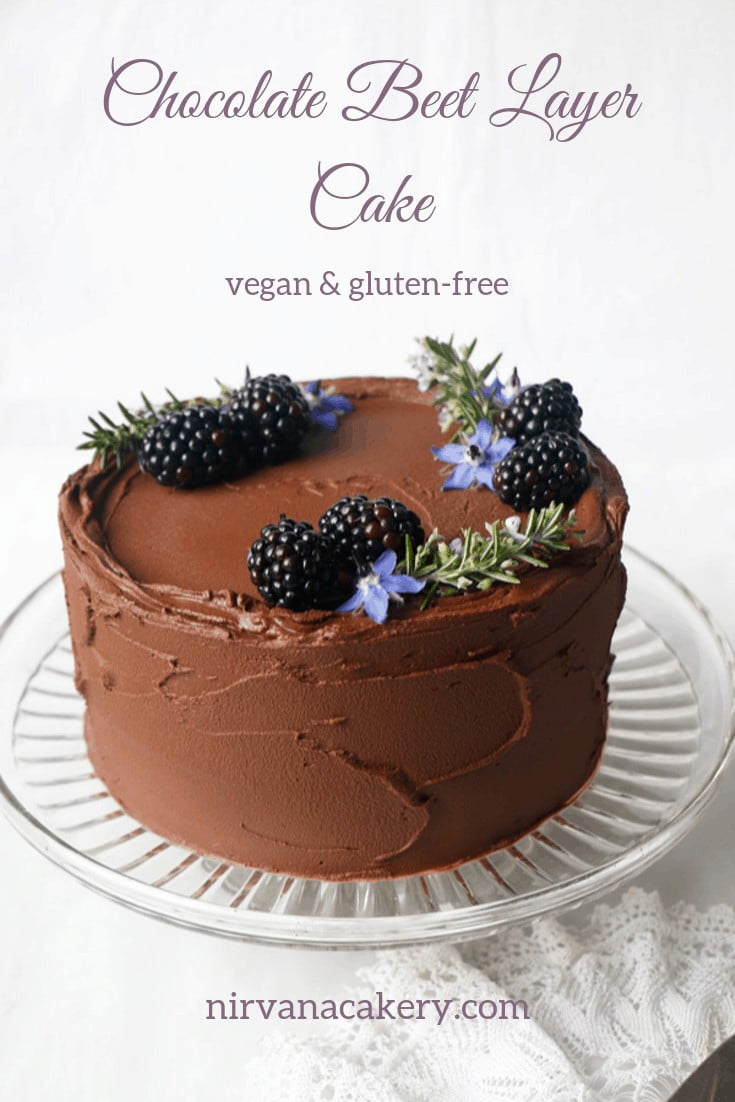 Similar Posts: