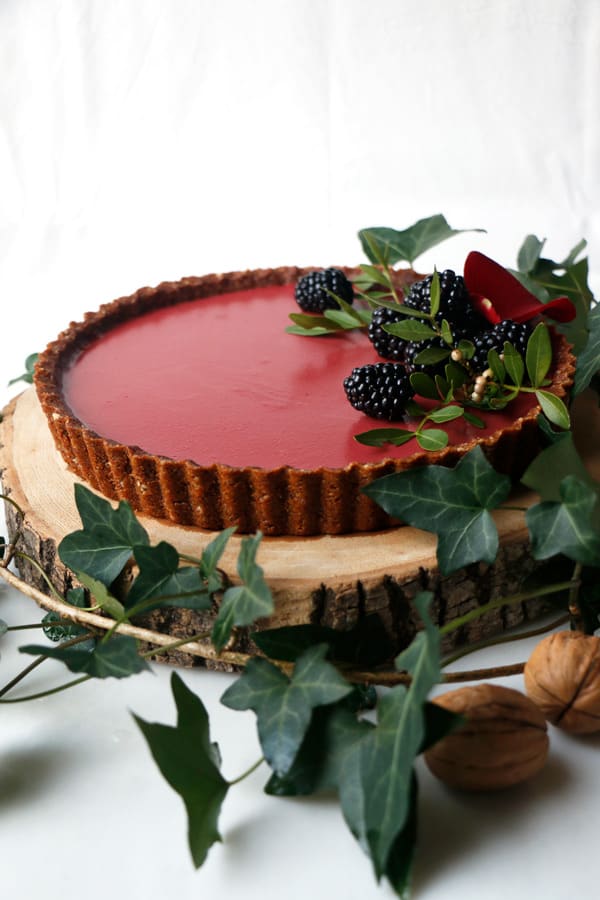 Continuing the red colour theme today I have the promised Beetroot Hibiscus Tart recipe for you. I have been refining the filling to add more flavour so have been taking little longer to bring this to you.
Just look at this gorgeous colour, it's making me happy just looking at it and it has certainly brightened my January. The photos in this post are of my first version, the colour later developed into deeper burgundy. My second tart had more pink tone and the colour only deepened. From my experience making beetroot desserts, the colour often changes after a while so expect possibly a range of colours depending on your beets pigment.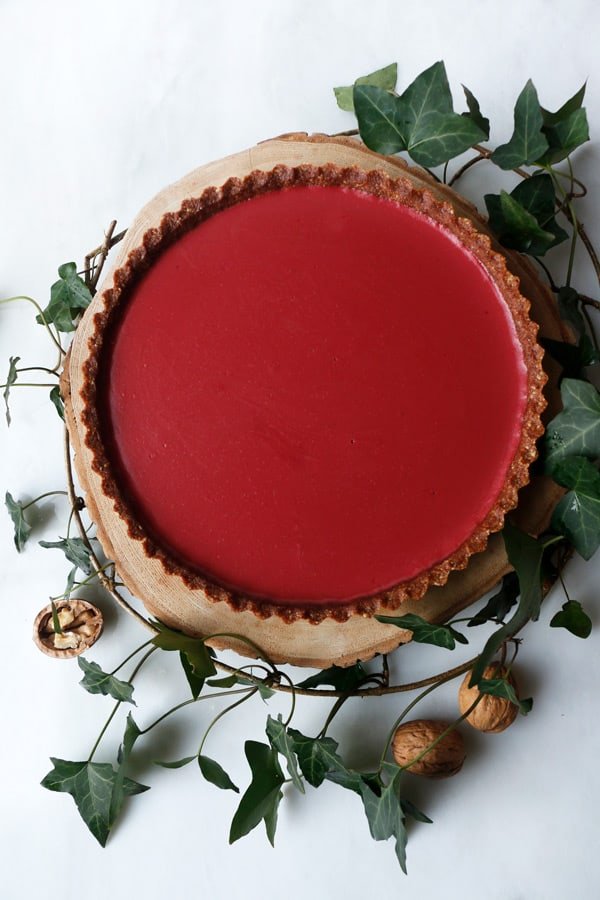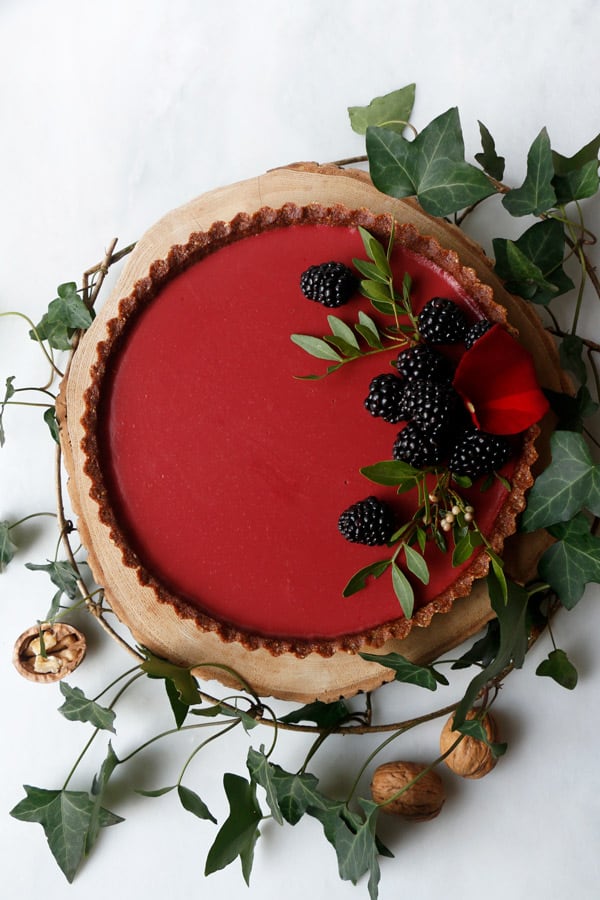 This recipe is adapted from my Pear Hazelnut Tart recipe, but this time I've baked the crust and it's absolutely yummy. The base made of walnuts and sunflower seeds reminds me of a dessert my granny used to make. One of those recipes that I would love to make my own sometimes soon too :)
The filling is made of cooked beetroot, hibiscus tea, orange zest, oat cream to add creaminess and agar flakes to set. This tart has a very little sweetener, I've used 2tbsp date syrup each in the base and in the filling. There is enough sweetness coming from the beets, vanilla, cinnamon and the cream and not necessary to be adding much more. I've added the orange juice and zest in my second version as I felt it needed just little more flavour. Orange compliments the beets beautifully and ads another layer to this interesting dessert.
I've decided to decorate my tart with few blackberries, pistachio sprig and rose petals to give it dreamy nature-inspired feel.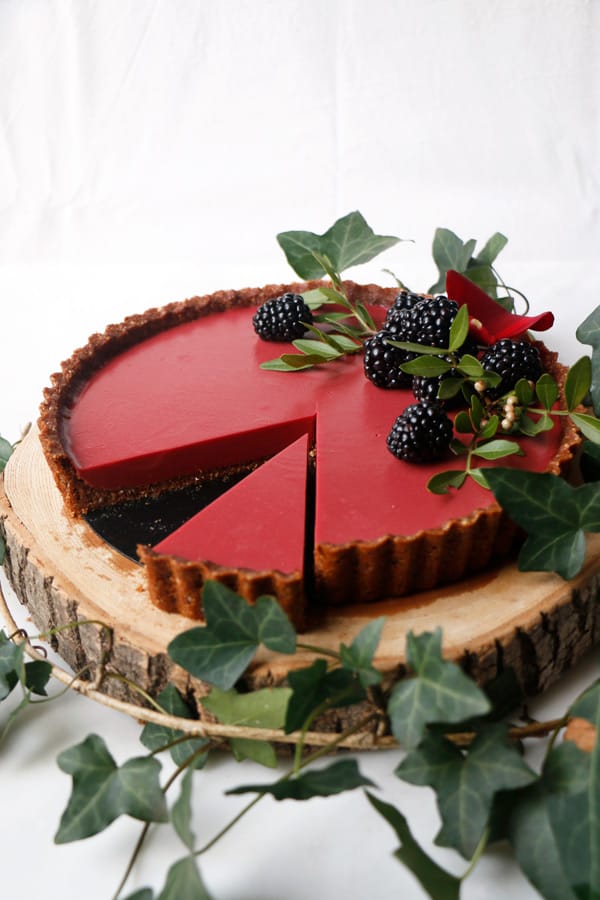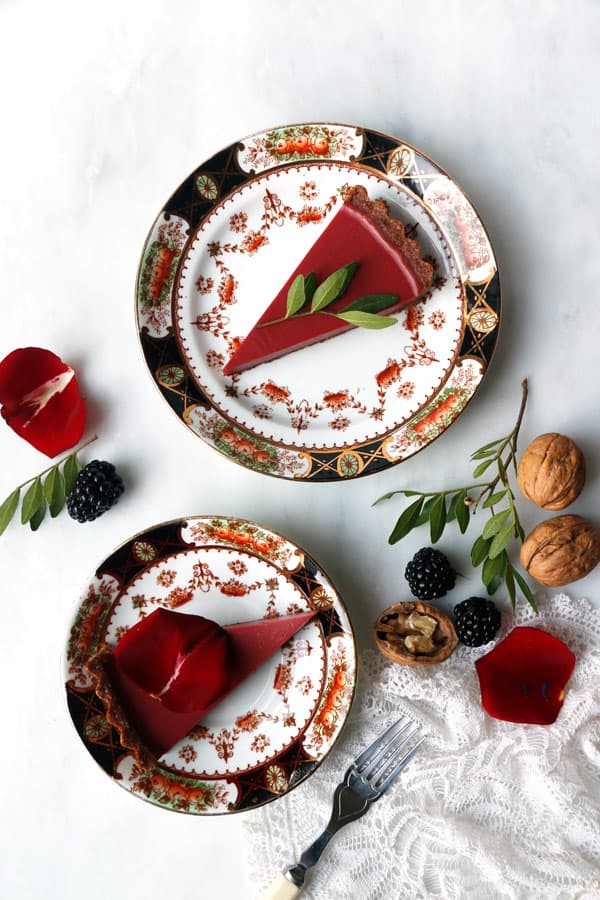 Yield: 9" Tart
Beetroot Hibiscus Tart (vegan & grain-free)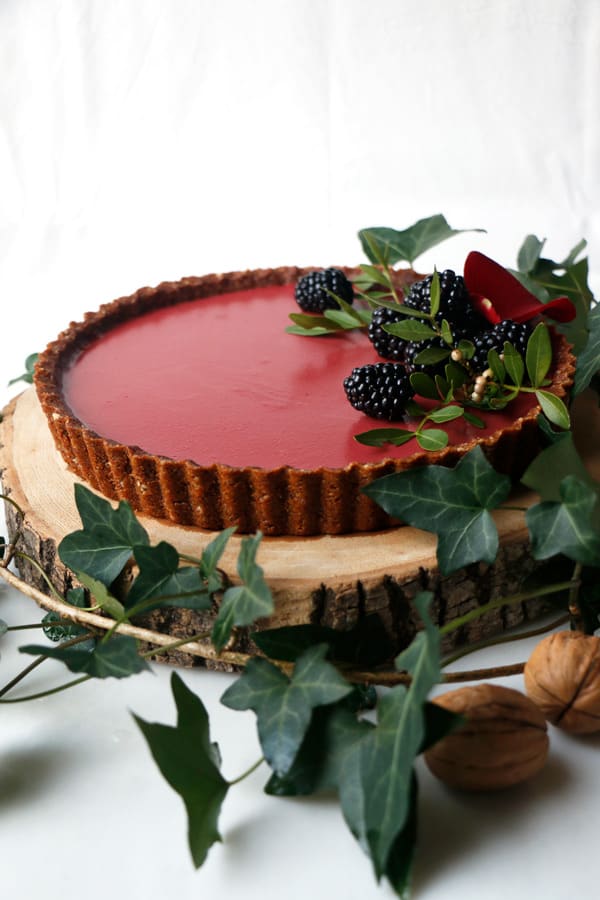 Ingredients
Tart crust:
150g walnuts (1 1/2 cups)
70g sunflower seeds (1/2 cup)
pinch sea salt
1/2tsp cinnamon
2tbsp date or maple syrup
1tbsp coconut oil
Beetroot hibiscus filling:
200g beetroot, peeled and quartered (about 2 medium beets)
2 hibiscus tea bags or 2tbsp dried hibiscus flowers
360ml oat cream (1½ cups)
2tbsp maple or date syrup
1tsp vanilla extract
1/2 orange, zest
2tbsp orange juice
1/2tsp cinnamon
3tbsp agar flakes
Topping:
Instructions
Greese 9"tart tin with removable base with little coconut oil and line the base with baking paper.
Place the peeled and quartered beetroot into a small pot, cover with water and leave to cook covered for about 30 minutes until soft. Turn off the heat and place your hibiscus tea bags or flowers into the pot, cover and leave to infuse for at least 20 minutes. You will need 60ml (1/4 cup) of the infused water in the recipe. You can enjoy the rest.
Preheat the oven to 170°C (340F)
Place walnuts and sunflower seeds into a food processor and blend until ground. Add salt, cinnamon, syrup and coconut oil and blend until the mixture comes together. You should have a sticky mix when pressed together.
Spoon the crust mix into the tart tin, spread evenly onto the base and around the edges to create the crust. Don't go all the way up, about 3/4 high. The crust edge on mine was about 3/4" tall.
Place into the oven and bake for about 10 to 12 minutes until lightly golden. Remove from the oven and leave to cool down.
Place cooked beets into a high speed blender, add 60ml (1/4 cup) of the hibiscus infused beet water and blend until smooth. Add oat cream, maple syrup, vanilla, orange zest, juice and cinnamon and blend again until incorporated.
Pour everything into a medium pot, stir in agar flakes and bring the mix to a boil. Leave to simmer for about 10 to 15 minutes stirring frequently until the flakes have dissolved.
Once ready leave to cool down slightly, and pour onto the crust.
Place into a fridge for about half an hour to set.
Before serving top with few blackberries and your choice of foliage.
Notes
If you're using agar powder instead of flakes, 1tbsp agar flakes = 1tsp agar powder
I recommend lining the base, I find it sticks little otherwise.
I use oat cream from a brand called Oatly. If you can't find it, you can use another vegan cream of single cream consistency or coconut cream.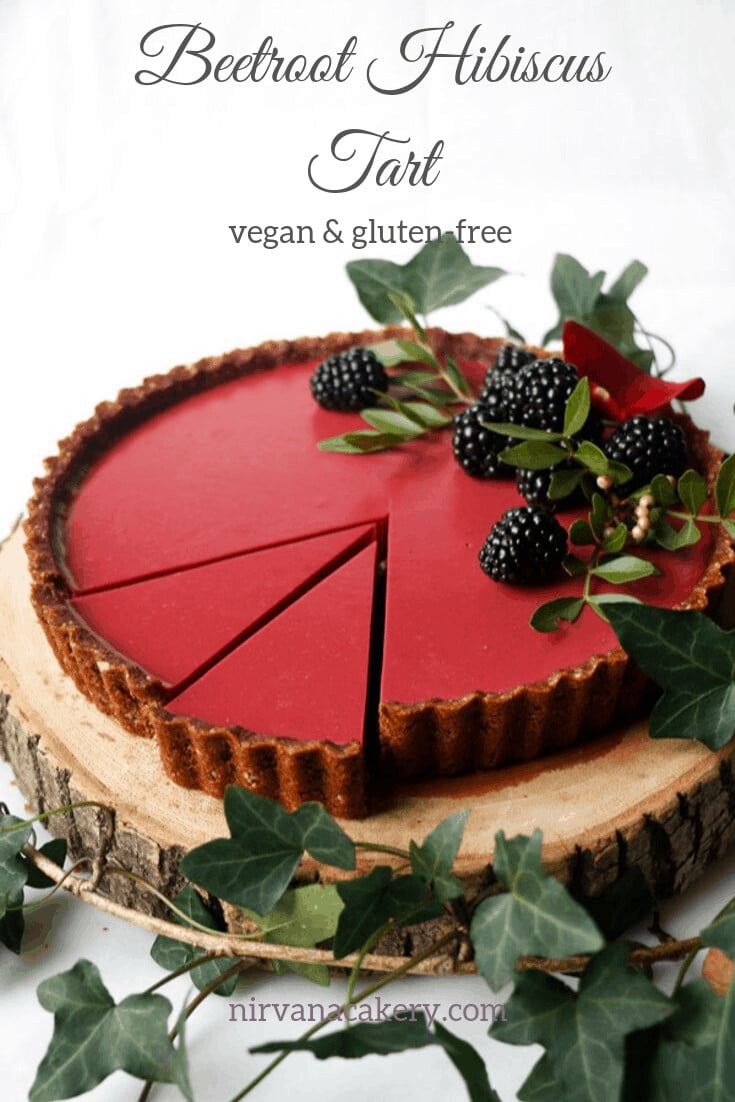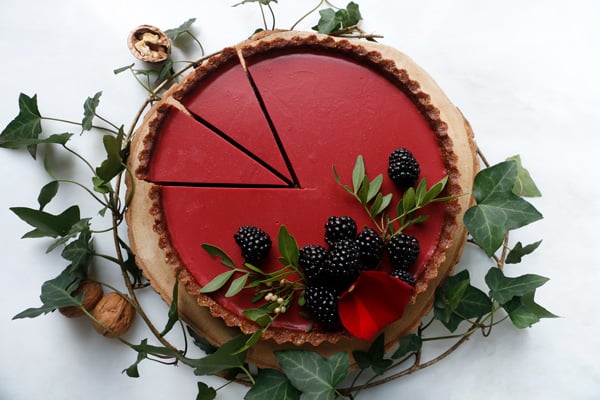 Similar Posts: