A lovely wholesome vegan grain-free tart with roasted hazelnut crust filled with delicious spiced pear and coconut cream.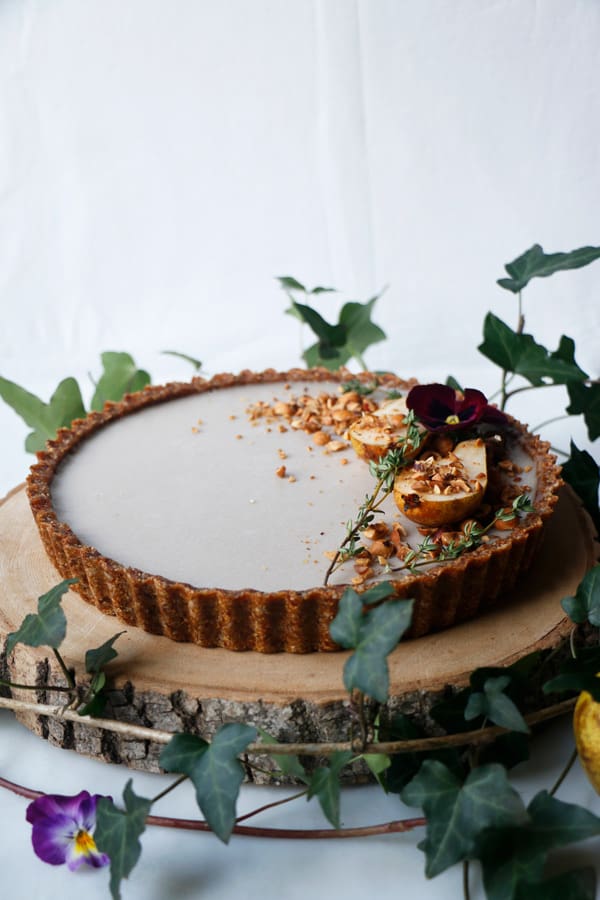 Autumn is slowly changing into winter, all of the leaves are almost gone and before I start sharing all of the Christmas recipes that I have planned for you, I have the last Autumn recipe today. This Pear Hazelnut Tart is a lovely light tart with the yummiest roasted hazelnut crust filled with deliciously fragrant spiced pear and coconut cream.
The tart looks almost little melancholic to me the way I styled it, a little reflection of me at this moment as I am shedding the past, letting go of what no longer serves me, surrendering and preparing to welcome the new. Just like the trees…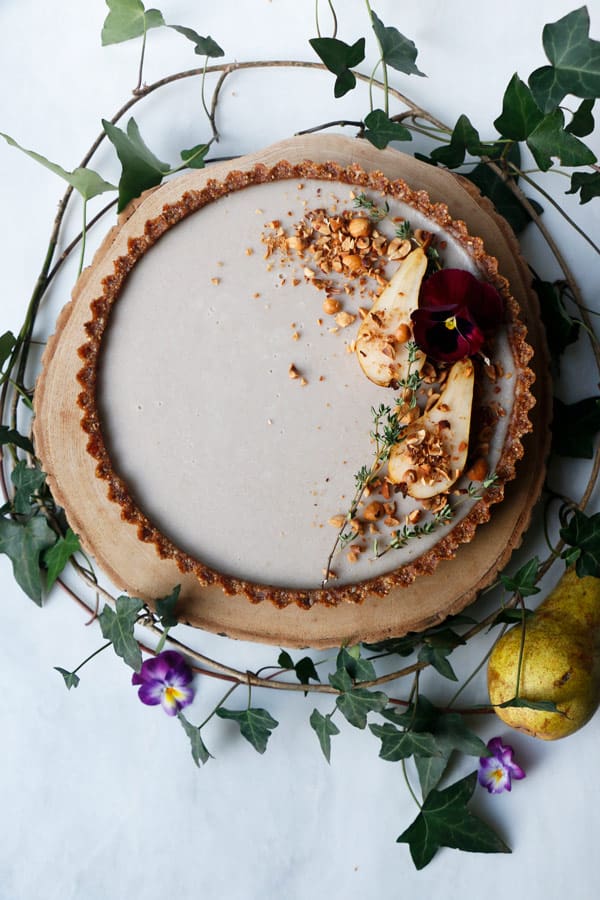 Making this tart is fairly simple. First, start by roasting your hazelnuts and rub the skins off, you could even slightly roast the sunflower seeds if you like. Place them into a food processor with the medjool dates to create a sticky mixture to form the crust.
For the filling make a simple pear sauce by peeling and quartering two large pears and lightly cooking until soft. Place the pear sauce with the coconut cream, spices and agar flakes into a small pot and simmer until agar flakes have dissolved. Cool slightly and pour onto the tart crust, refrigerate for about one hour until set.
Top with some more chopped roasted hazelnuts, sliced pear, thyme sprigs and a little flower if you like. Enjoy and do let me know if you make it!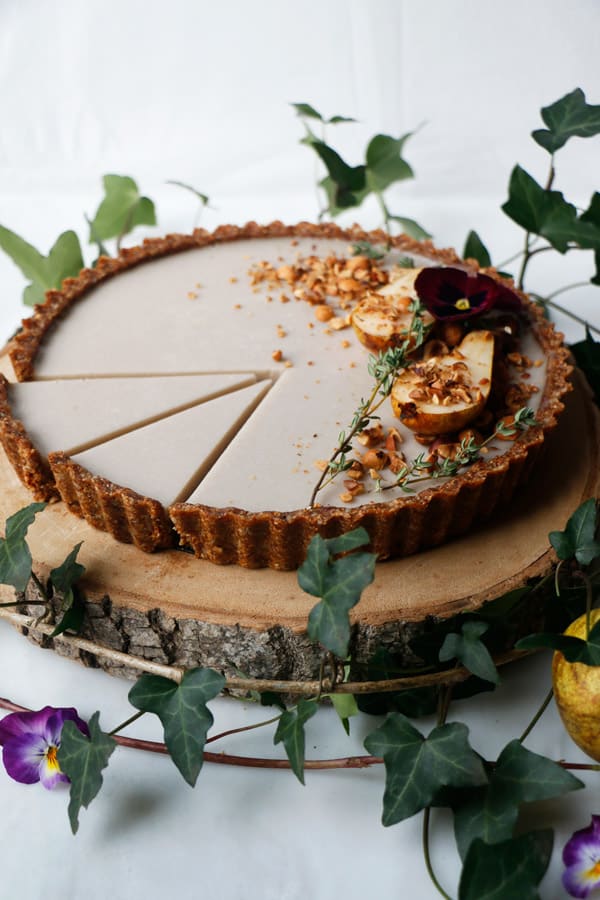 Yield: 9" tart
Pear Hazelnut Tart (vegan & grain-free)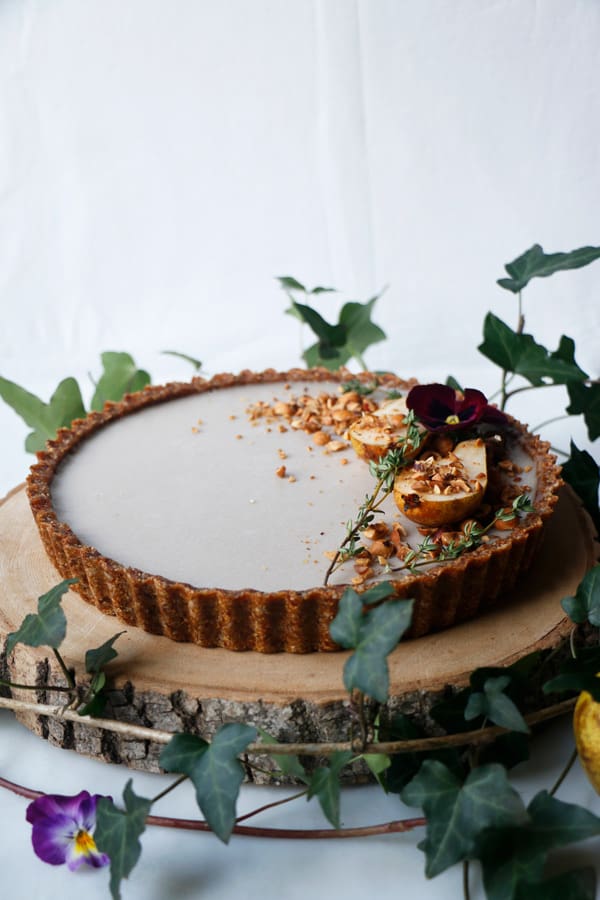 A lovely wholesome vegan grain-free tart with roasted hazelnut crust filled with delicious spiced pear and coconut cream.
Ingredients
Tart crust:
1 1/4 cups roasted hazelnuts (150 grams)
1/2 cup sunflower seeds (70 grams)
7-8 medjool dates, pitted
pinch sea salt
1/2 teaspoon cinnamon
2 teaspoons coconut oil
Pear filling:
Pear sauce from 2 large pears (see notes)
1 1/2 cups coconut cream (360 ml)
2 tablespoons maple syrup
1 cinnamon stick
5 cardamom pods
3 cloves
2 tablespoons agar flakes
Topping:
Pears
Roasted hazelnuts
Thyme sprigs
Instructions
Prepare 9" tart tin with removable base.
Place hazelnuts and sunflower seeds into a food processor and pulse few times until coarsely ground. Add pitted medjool dates, salt, cinnamon and coconut oil and blend until the mixture comes together. You should have a sticky mix when pressed together.
Spoon the crust mix into the tart tin, spread evenly onto the base and around the edges to create the crust. Don't go all the way up, about 3/4 high. The crust edge on mine was about
3/4" tall. Place into the fridge.
Place pear sauce, coconut cream and maple syrup into a small pot and mix well. Add cinnamon stick, cardamom pods, cloves and agar flakes and bring the mix to a boil. Leave to simmer for about 10 to 15 minutes stirring frequently until the flakes have dissolved.
Once ready leave to cool down slightly, remove the spices and pour onto the crust.
Place into a fridge for about an hour to set.
Before serving top with chopped roasted hazelnuts, sliced pear and thyme sprigs.
Enjoy!
Notes
To make the pear sauce, peel, quarter and core two large pears and place into small pot with little water. Cover and leave to cook until soft. Strain and blend until smooth.
To roast hazelnuts preheat the oven to 350 °F (180 °C). Place the hazelnuts on a baking sheet and roast for 10-15 min stirring in between until the skin looks cracked. Remove from the oven and place hazelnuts onto a cotton towel and leave to cool. Bunch the towel and rub the hazelnuts inside the towel until the skin comes off.
Nutrition Information:
Yield:
8
Serving Size:
1
Amount Per Serving:
Calories:

555
Total Fat:

29g
Saturated Fat:

11g
Trans Fat:

0g
Unsaturated Fat:

17g
Cholesterol:

0mg
Sodium:

567mg
Carbohydrates:

75g
Fiber:

8g
Sugar:

62g
Protein:

7g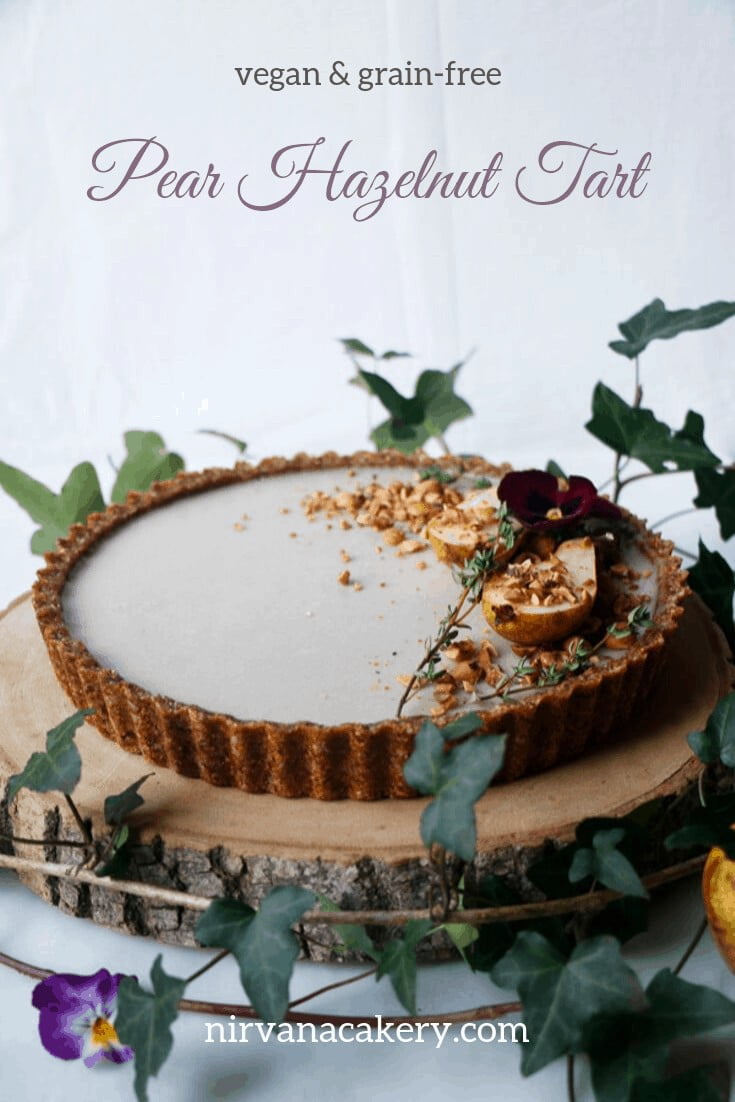 Similar Posts: