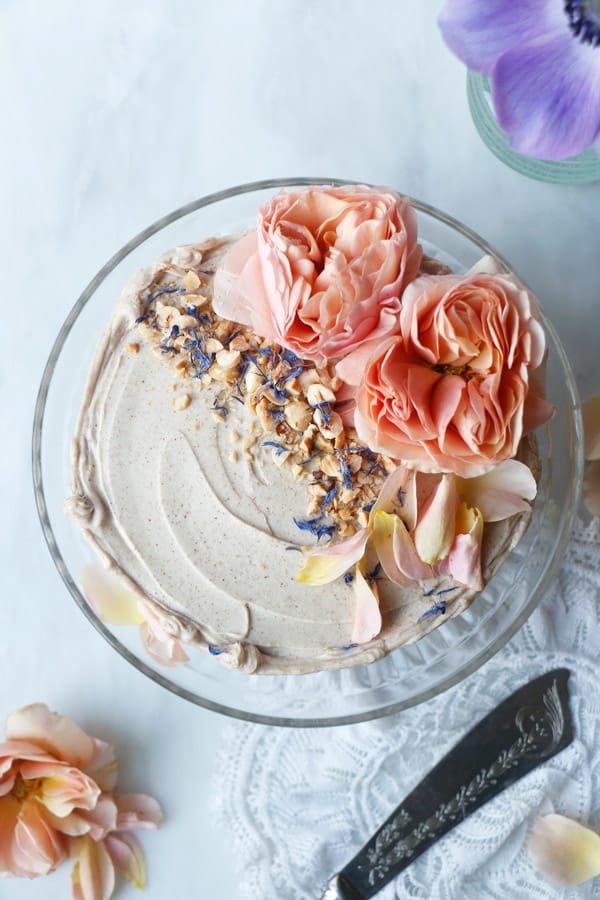 Special thank you to Indigo Herbs for sponsoring this recipe.
Today I have a really special cake recipe for you, this dreamy Hazelnut Layer Cake is such a lovely moist wholesome cake with wonderful hazelnut flavour. Frosted with luscious vegan hazelnut frosting it's an indulgent treat fit for a celebration.
Natural health products company Indigo Herbs have asked me to create a recipe using their hazelnut flour and I really wanted to create a cake highlighting the wonderful hazelnut flavour. Often hazelnut cake recipes are paired with chocolate but not this one, my cake is a celebration of the hazelnut and it comes through beautifully.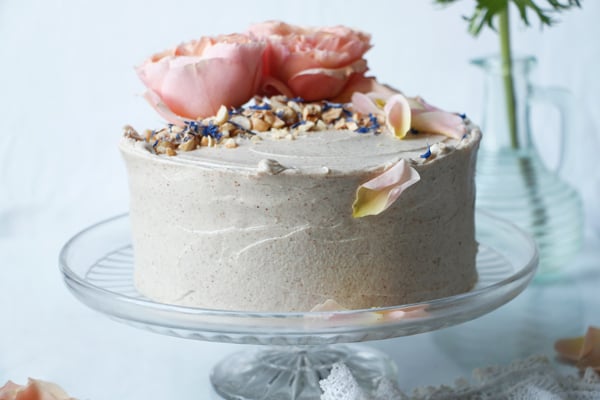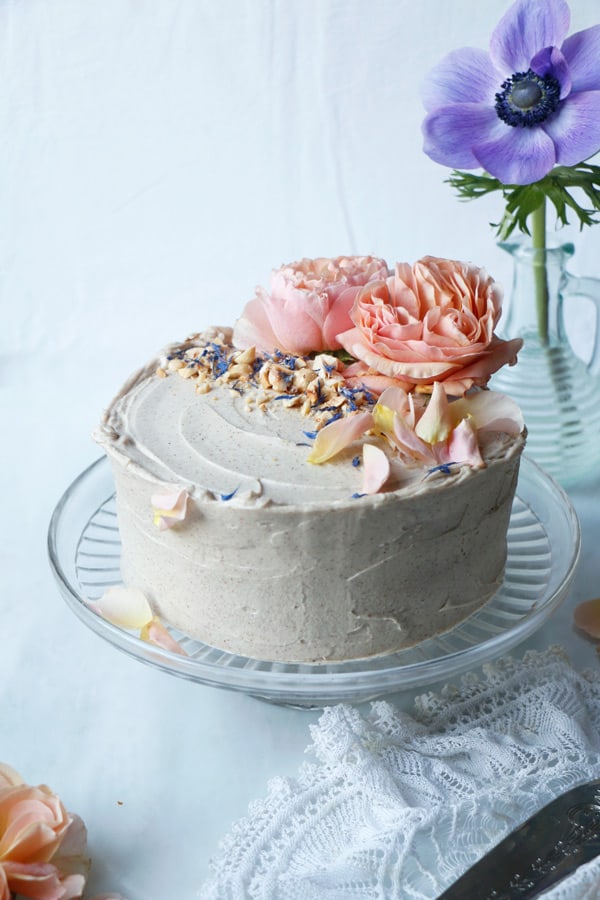 I've been a customer of Indigo Herbs for years and can honestly recommend their quality natural health products. In this recipe, I've used their hazelnut flour, buckwheat flour and hazelnut butter.
In the sponge cake I've used a generous amount of the hazelnut flour together with a combination of buckwheat and tapioca flours. To make it light and moist I've used flax eggs, a small amount of mashed banana and coconut oil. I've added little lemon zest as well, I find that it masks the banana coming through too strongly, but it's optional.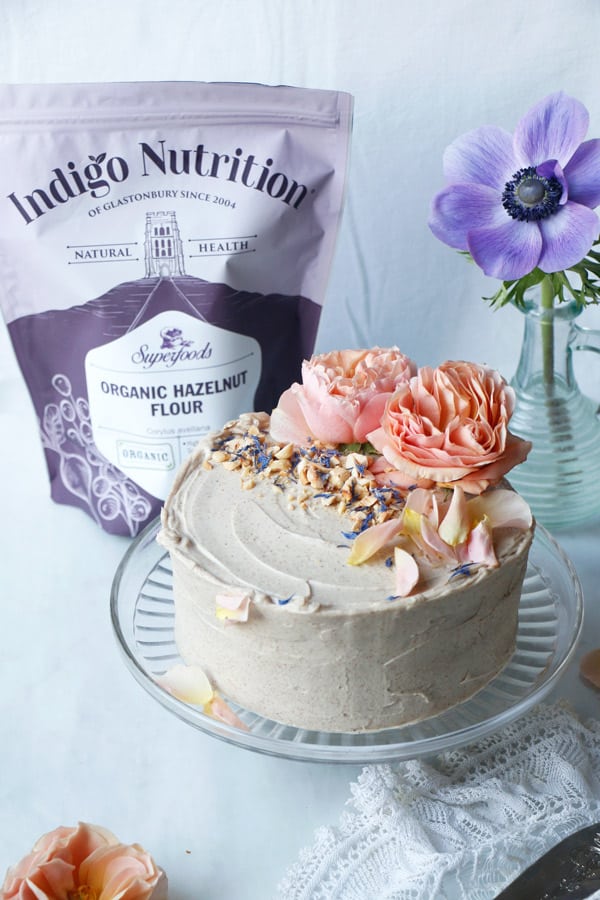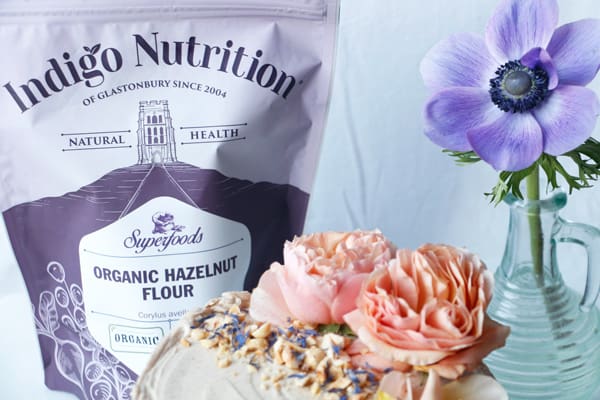 For the wonderful vegan hazelnut frosting, I've adapted my cashew frosting with the addition of hazelnut butter and it works beautifully. It's light, fluffy, lightly sweetened with maple syrup and really complements the flavours in the cake.
For the topping, I've roasted some hazelnuts and scattered them across the top with little dried cornflowers to add a touch of colour. For the photoshoot, I've used a couple of roses as well and I think it makes it look rather romantic, what do you think?
It's been such pleasure creating this cake, I hope you love the recipe!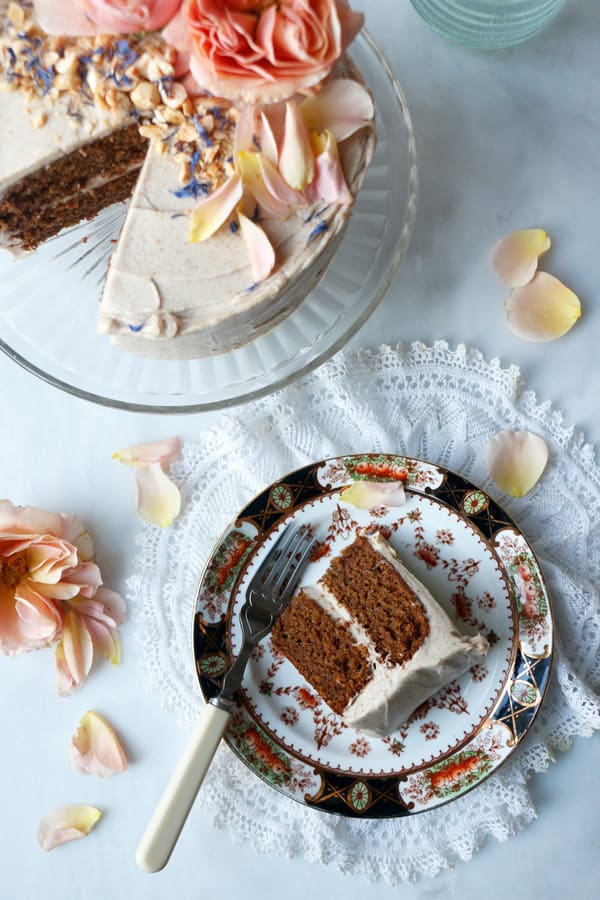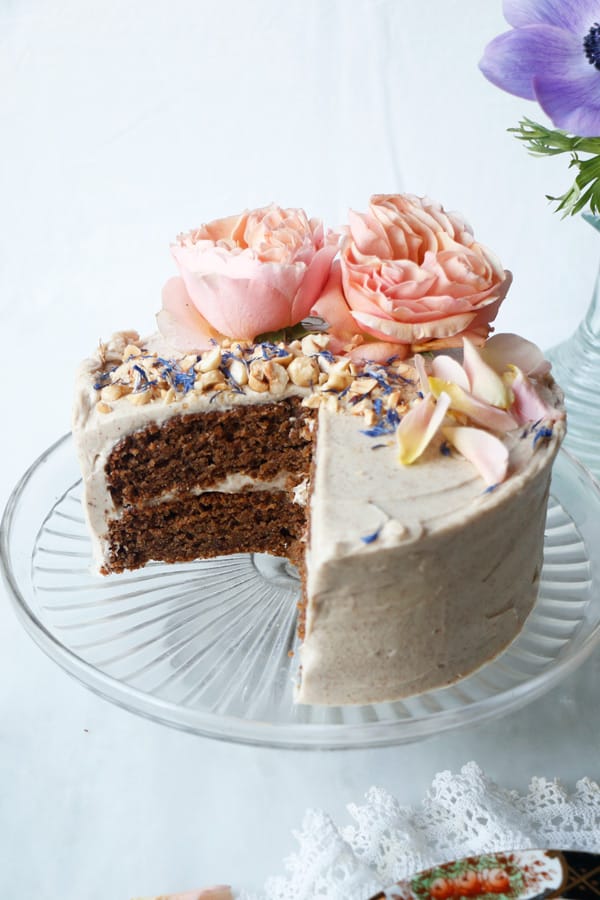 Yield: 6" layer cake
Hazelnut Layer Cake (vegan & gluten-free)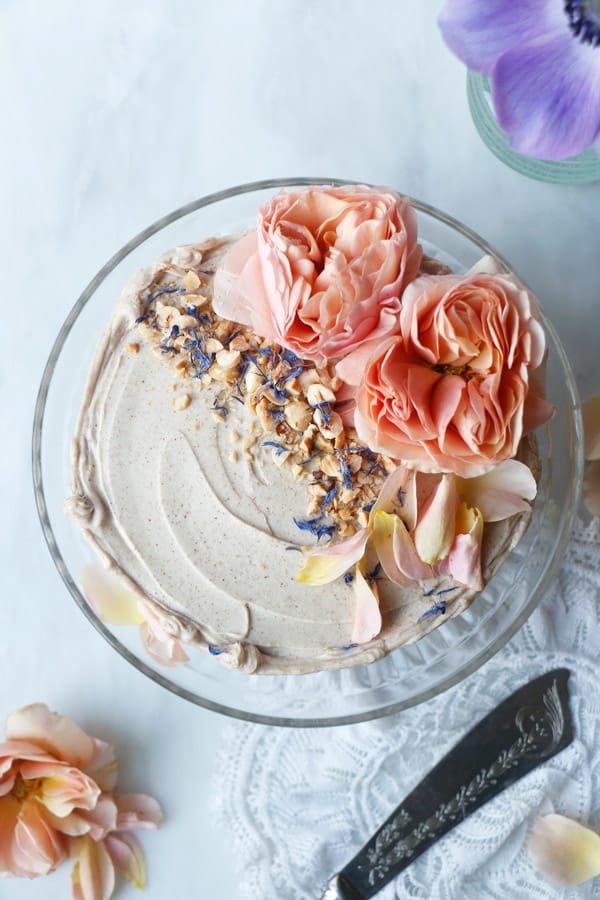 Ingredients
150g hazelnut flour (1 1/2 cups)
70g buckwheat flour (1/2 cup)
30g tapioca flour (1/4 cup)
1tsp baking powder
1tsp bicarbonate of soda
1tsp cinnamon
pinch sea salt
100g coconut sugar (3/4 cup)
½ lemon, zest (optional)
2tbsp ground flaxseed + 6tbsp water
80ml mashed banana (1/3 cup)
80ml melted coconut oil (1/3 cup)
60ml almond milk (1/4 cup)
2tsp apple cider vinegar
1tsp vanilla extract
Hazelnut frosting:
200g cashew nuts, soaked for at least 4 hours (1½ cups)
180ml coconut cream (3/4 cup)
2tbsp maple syrup
2tsp lemon juice
1tsp vanilla extract
pinch sea salt
1/4tsp cinnamon
80ml melted coconut oil (1/3 cup)
4tbsp hazelnut butter
Topping:
roasted hazelnuts
dried cornflowers
Instructions
Mix 2tbsp ground flaxseed with 6tbsp water and set aside to thicken.
Preheat the oven to 180°C (350F)
Grease and line the base and dust the sides of two 6" round cake baking tins.
In a large bowl whisk together hazelnut flour, buckwheat flour, tapioca, baking powder, bicarbonate of soda, cinnamon and salt. Stir in sugar and lemon zest and set aside.
In a small bowl whisk together gelled flax eggs, mashed banana, melted coconut oil, almond milk (at room temperature) apple cider vinegar and vanilla.
Add the wet mix to the dry mix and mix until well combined. You should have muffin consistency. Add little more milk if needed. Spoon the mixture evenly into your prepared tins and level out the surface. Bake for about 35 minutes or until a cocktail stick comes out clean. Remove from the oven once ready and leave to cool down for 20 minutes before removing from the tins.
Once the cakes are completely cool, you can frost the cake. Place the bottom layer onto a cake stand and spread with hazelnut frosting. Top with the second cake layer and frost the top and the sides of the cake.
Decorate with chopped roasted hazelnuts and dried cornflowers.
Hazelnut frosting:
Rinse the soaked cashews well under running water and place into high speed blender. Add coconut cream, maple syrup, lemon juice, vanilla, pinch of salt and cinnamon and blend until smooth. Stop and scoop the sides of the blender as needed. As the ingredients start to warm up, the mix will loosen and becomes easier to blend. Add the melted coconut oil and hazelnut butter and blend until incorporated.
Scoop the mix into a small bowl and refrigerate overnight.
When you're ready to frost the cake, whip the mix for couple of minutes until fluffy. The texture will change as you whip. If the frosting doesn't get thick enough, place it into the freezer for 15 minutes and whisk again, repeat until you have desired consistency.
Enjoy!
Notes
You can replace coconut oil with olive oil.
For the coconut cream use the thick part from the full fat coconut milk can refrigerated overnight. Sometimes you can also buy thick coconut cream or coconut cream for whipping.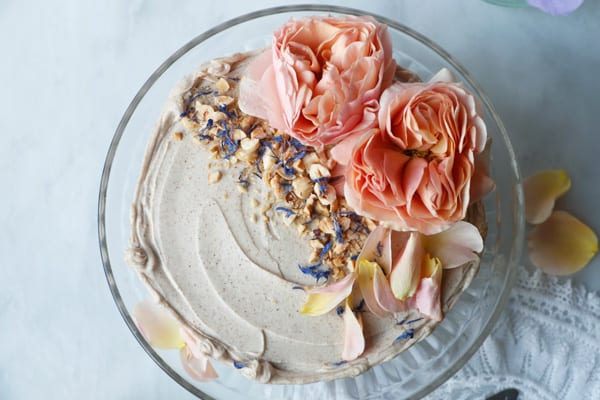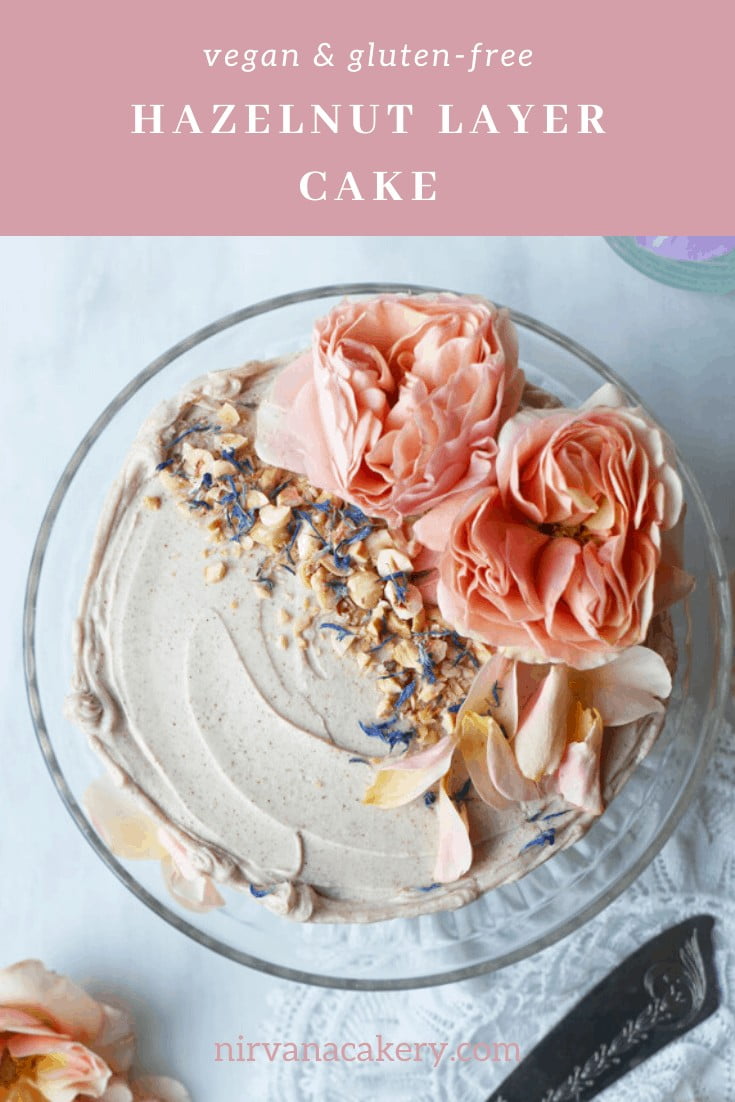 Similar Posts: