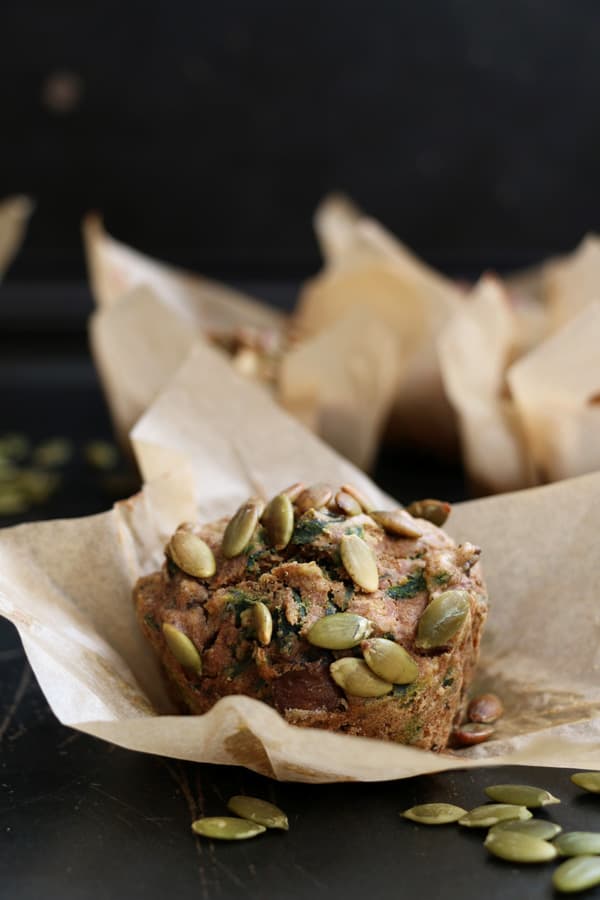 After all the Easter chocolate extravaganza I thought you might be craving something savory, I know I am. I've been meaning to make a new savory muffins recipe for a while now and yesterday I came up with these Mushroom, Kale and Buckwheat Muffins. They're a little bit of extra work because you need to prepare the veggies first, but make a lovely healthy bread alternative. They are wholesome, tasty and full of flavours that are coming through from the mix of mushrooms, kale, thyme, oregano and buckwheat flour.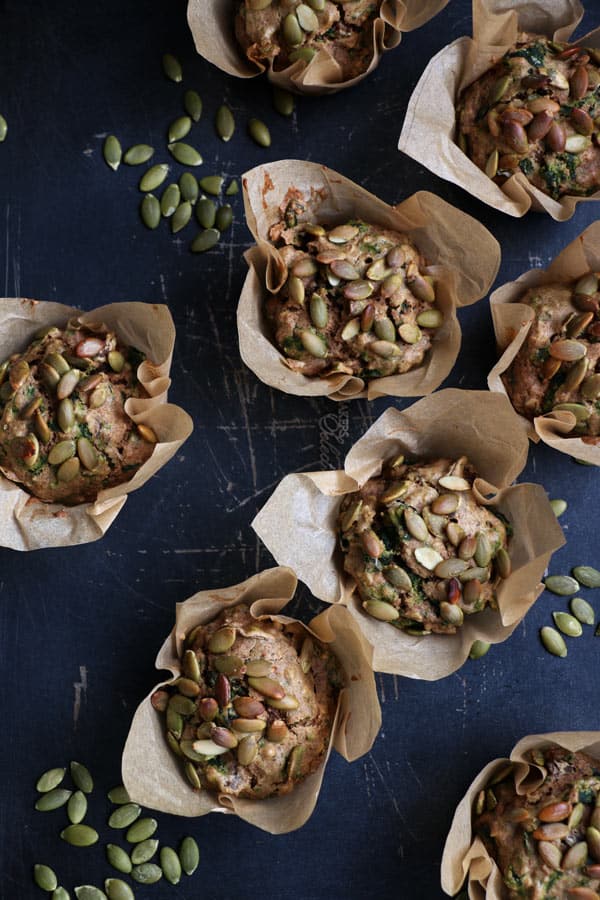 There aren't many savory muffin recipes out there that are gluten-free and vegan and so I really quite fancied the challenge to come up with one. And I have to say they are pretty good considering my first go at these, they rised well, they are moist and have a lovely flavor. I've used mainly buckwheat flour and if you're new to buckwheat the taste can be quite assertive and you could mix some other gluten-free flour with it if you prefer. If you don't need these to be gluten-free, spelt flour would be perfect.
Enjoy and let me know how you like them:)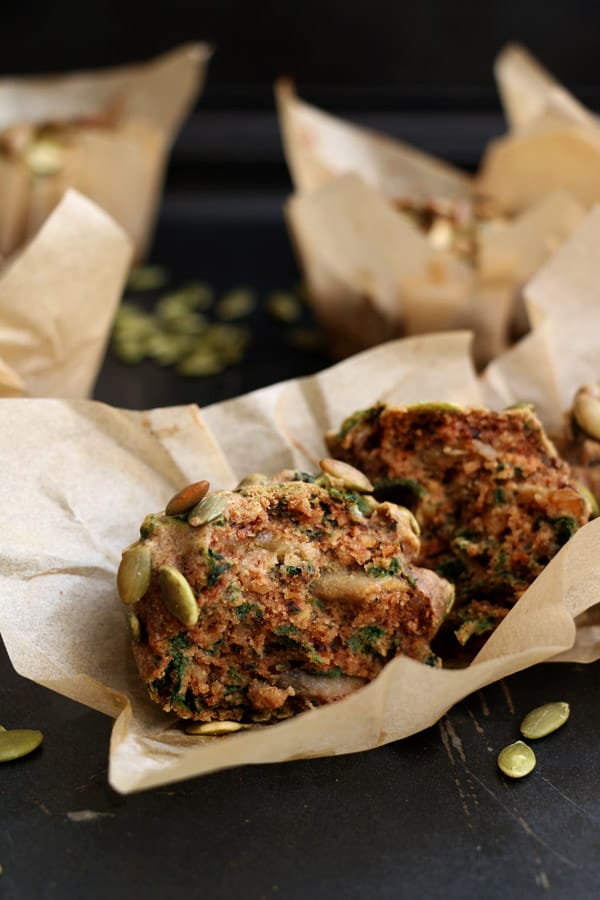 Yield: 10 muffins
Mushroom, Kale and Buckwheat Muffins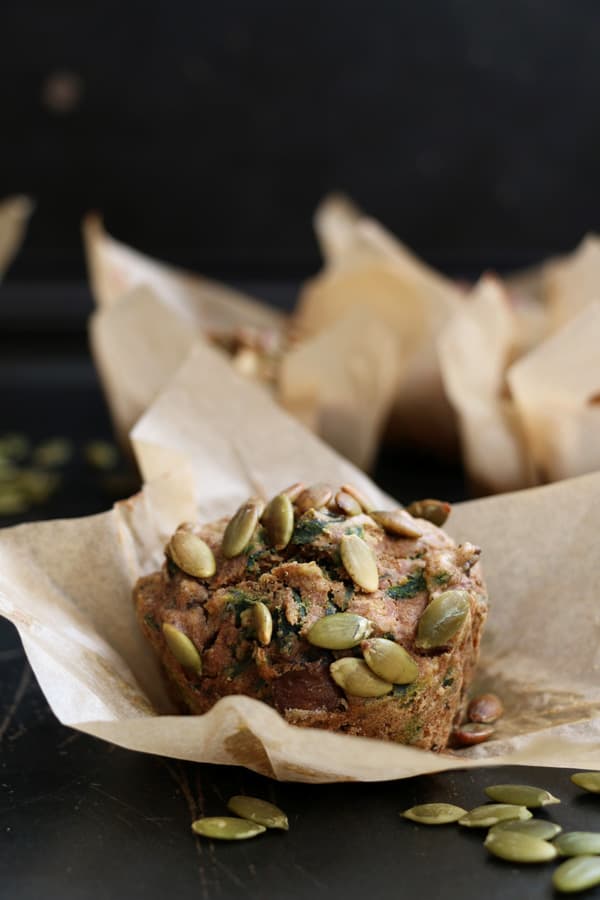 Ingredients
150g white mushrooms, sliced (2 cups)
100g curly kale, chopped (2 cups tightly packed)
1 garlic clove, finely sliced
1tbsp fresh thyme
2tbsp ground flaxseed mixed with 6tbsp water
140g buckwheat flour (1 cup)
50g oats (gluten-free) (1/2 cup)
1tsp baking powder
1tsp bicarbonate of soda
1tsp sea salt
1tsp dried oregano
80ml olive oil (1/3 cup)
120ml almond milk (1/2 cup)
1tbsp apple cider vinegar
pumpkin seeds for topping
Instructions
Preheat the oven to 200°C (180°C fan)
Line 12 hole cupcake tin with 10 cupcake size cases. I have used 5" squares cut from baking paper.
Heat a little olive oil in a pan, add sliced mushrooms, garlic and thyme and saute for about 5 minutes until the water from the mushrooms has evaporated. Stir in the chopped kale and leave to cook for about 2 minutes just until wilted. Take off the heat and leave to cool down.
In a small bowl mix 2tbsp of flaxseed with 6tbsp of water and set aside.
In a large bowl whisk together buckwheat flour, oats, baking powder, bicarbonate of soda, sea salt and oregano. Set aside.
In a small bowl whisk together olive oil, almond milk and apple cider vinegar. Add to the dry mix together with the flax egg and stir until just combined. You should have a fairly thick muffin consistency.
Finally fold in mushrooms and kale.
Spoon the mixture into your prepared cases and sprinkle with pumpkin seeds.
Bake for about 35 min or until a cocktail stick comes out clean.
Remove from the oven once ready, leave to cool down for 10 min before moving onto a wire rack.
Enjoy!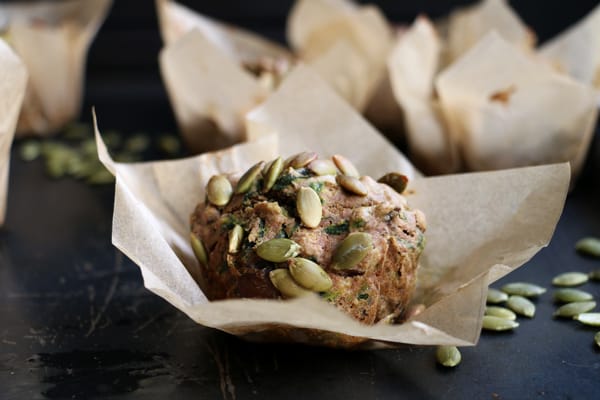 Similar Posts: