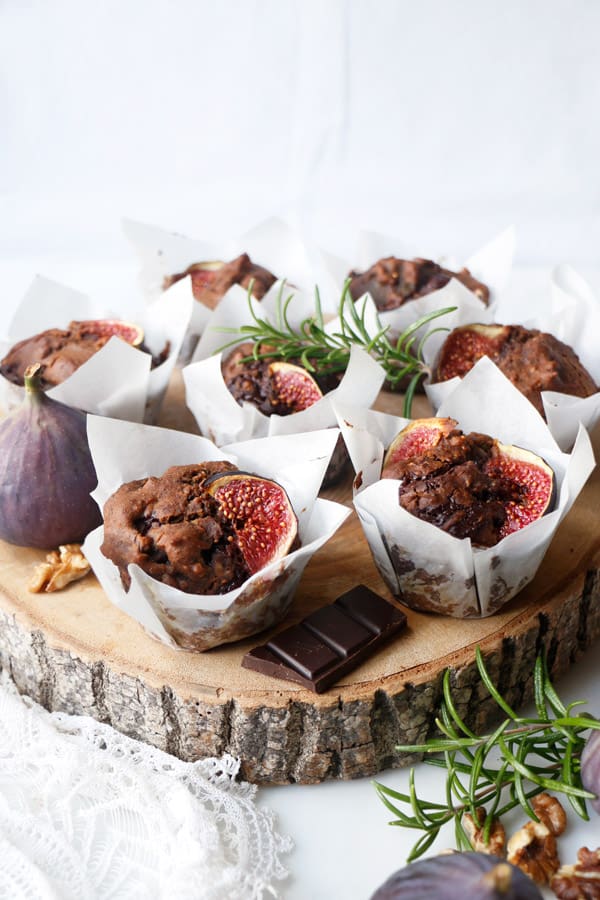 These Fig Walnut Teff Muffins are a variation of an old recipe from 4 years ago for Fig Walnut Chocolate Muffins made with spelt flour. It feels like a very long time ago now, I'm in my fifth year of blogging! I've always wanted to make them gluten-free and update the recipe, but I've decided to keep the original recipe on the blog for you who love them and I'm posting this one as a brand new one.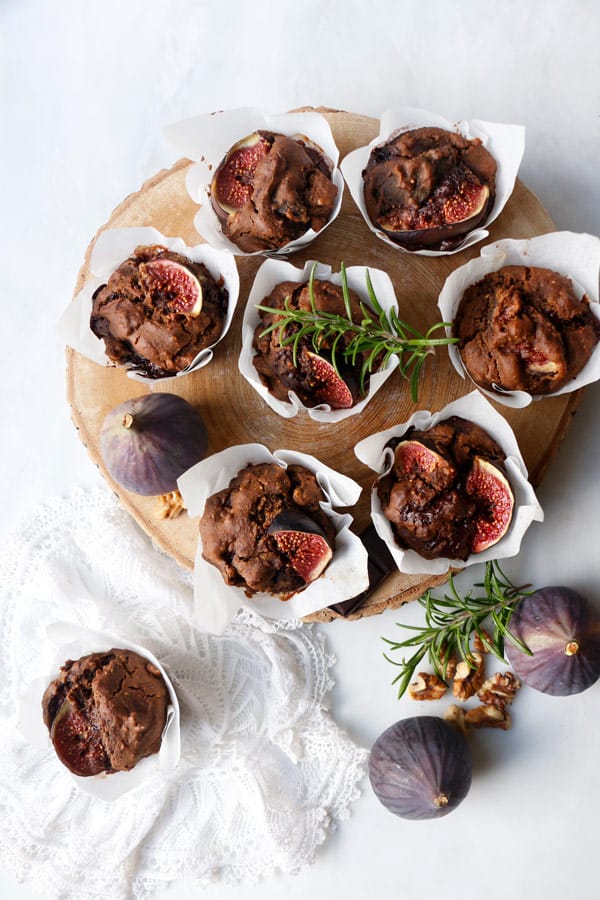 They are very wholesome but taste very indulgent at the same time! I've opted for a mix of ground walnuts, brown rice flour,  teff flour and tapioca flour for my gluten-free mix, which you can adapt to your taste. I've added extra chopped walnuts, dark chocolate and lovely fresh figs and you have the most delicious muffins. Maybe not the prettiest looking ones but taste amazing nevertheless.
I'm thinking the chopped walnuts could also be sprinkled on top rather than in the mix but I leave that up to you. I've saved some fig slices for the top as well as they look lovely like that. Enjoy the recipe!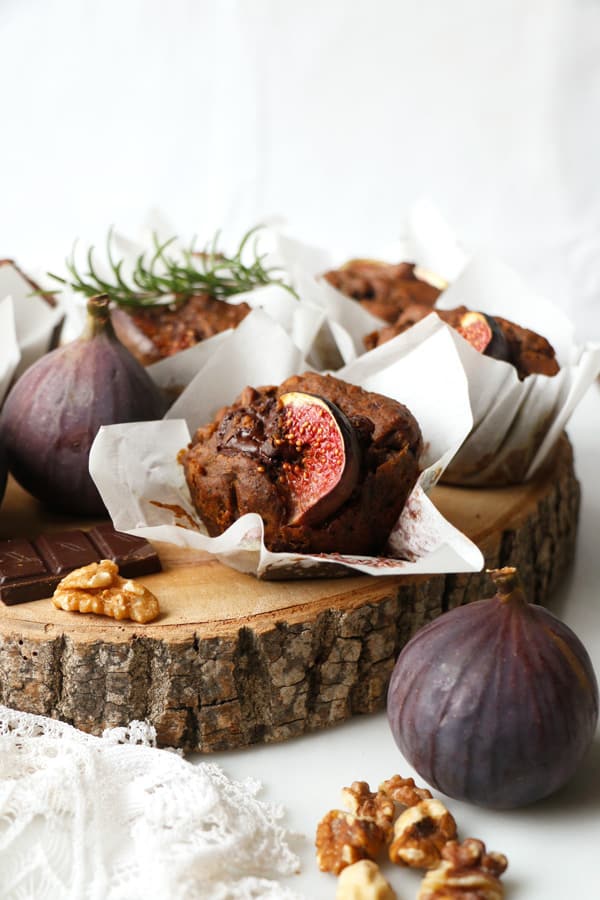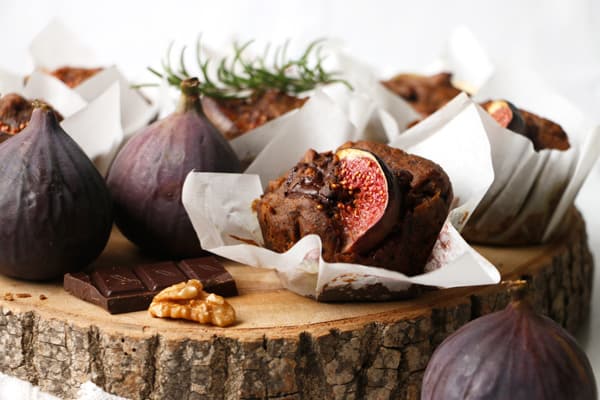 Yield: 12 muffins
Fig Walnut Teff Muffins (vegan & gluten-free)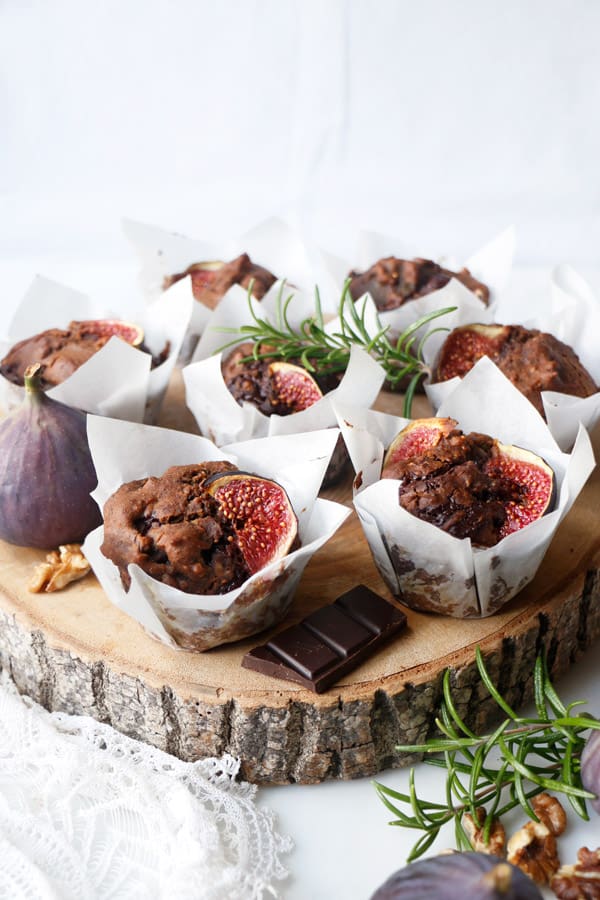 Ingredients
100g ground walnuts (1 cup)
95g brown rice flour (3/4 cup)
70g teff flour (1/2 cup)
30g tapioca flour (1/4 cup)
75g coconut sugar (1/2 cup)
1tsp baking powder
1tsp bicarbonate of soda
1tsp cinnamon
pinch of sea salt
1/2 orange, zest
2tbsp ground flaxseed + 6tbsp water
80ml olive oil (1/3 cup)
120ml almond milk (1/2 cup)
2tsp apple cider vinegar
50g walnuts, chopped (1/2 cup)
50g dark chocolate, chopped (1/2 cup)
4-6 fresh figs
Instructions
Preheat the oven to 180°C (350F)
Line 12 hole cupcake size tin. I have used 5" squares cut from baking paper.
Mix 2tbsp of ground flaxseed with water and set aside to thicken.
Slice the figs into 4 or 8 depending on size of your figs, chop the walnuts and the chocolate. Set aside.
In a large bowl whisk together ground walnuts, brown rice flour, teff flour, tapioca, coconut sugar, baking powder, bicarbonate of soda, cinnamon and salt. Whisk in orange zest and set aside.
In a small bowl whisk together olive oil, almond milk, apple cider vinegar and flax eggs.
Add the wet mix to the dry mix and mix until well combined. You should have thick muffin consistency.
Fold in chopped walnuts and chocolate and finally sliced figs keeping few to put on top.
Spoon the mixture into the prepared cases distributing evenly. Top with remaining fig slices.
Bake for about 30 minutes or until a cocktail stick comes out clean.
Remove from the oven once ready and leave to cool down for 10 min before moving onto a wire rack.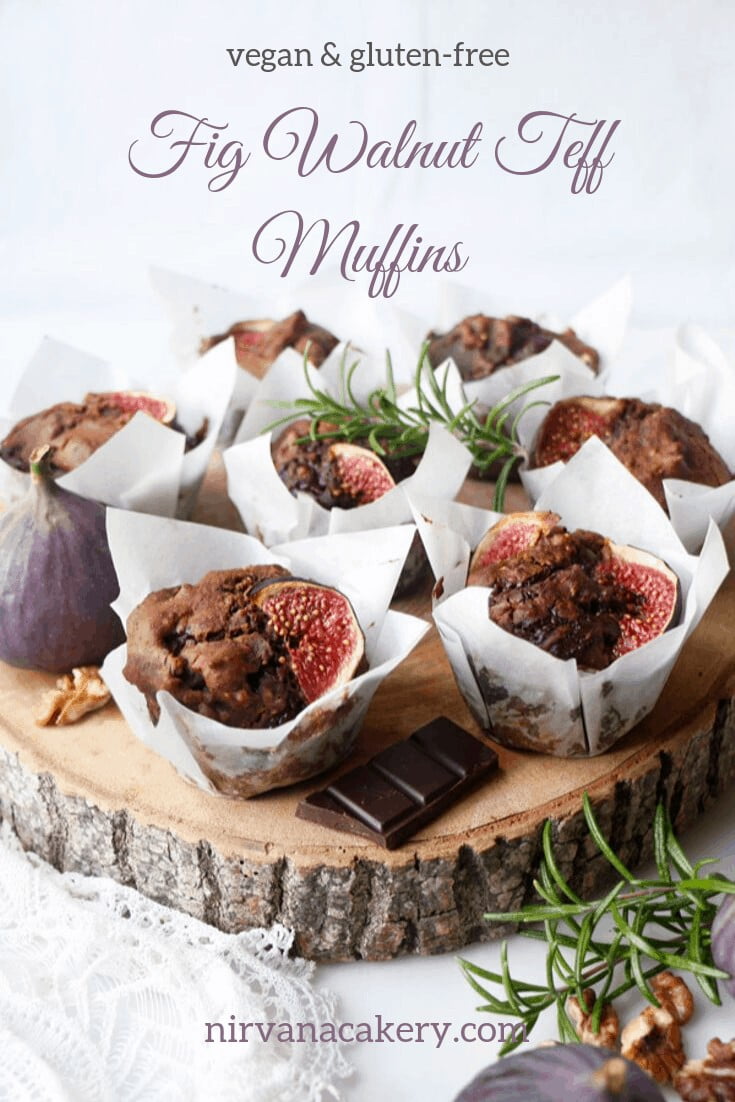 Similar Posts: