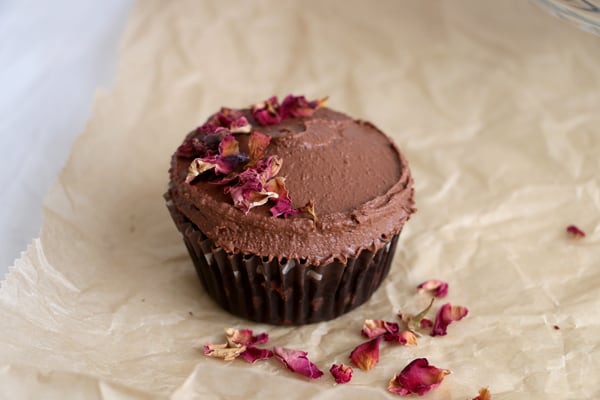 It's just over a year ago that I started experimenting with gluten free and vegan baking in my kitchen. It was a bit scary at first, but once I tried few recipes I was hooked. Once you get your head around the different ingredients it's actually easier. You don't even need an electric mixer most of the times and you can whisk a cake by hand in no time. Sometimes it doesn't work, but most of the time it does! There are so many combinations, different flours and flavours to try, and exciting new ways to bake! No need for fancy techniques, mainly just your creativity, experimentation and some keen tasters.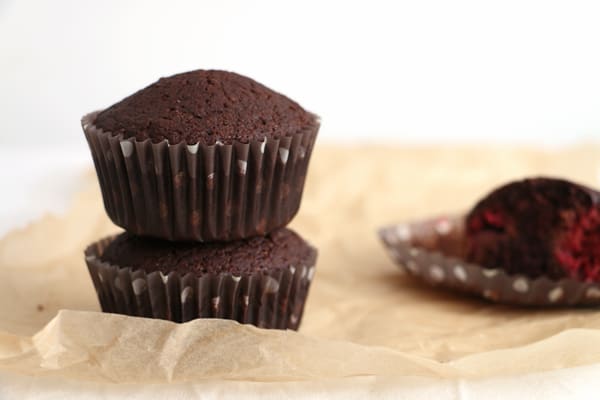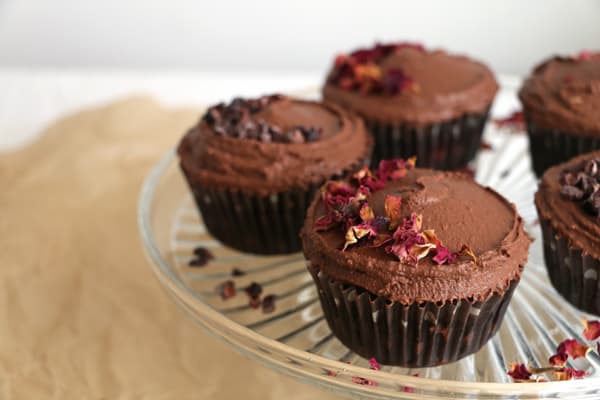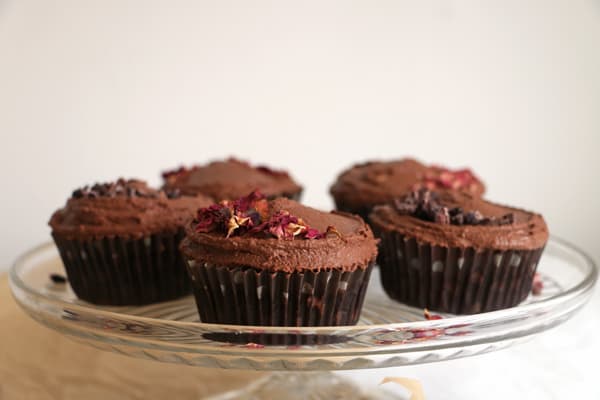 These chocolate and raspberry cupcakes are gluten free and vegan and the recipe calls for a mix of buckwheat flour and ground almonds. Buckwheat might not be a flour to everyone's taste, but I love baking with it and like the flavour it has. It's a wonderful flour to use if you are following a gluten free diet or just would love to cut down on gluten containing goods. This recipe is not very sweet as I always try to use a minimal amount of sweetener. I think just perfect so you feel like having a treat, but it's a definitely a guilt free one.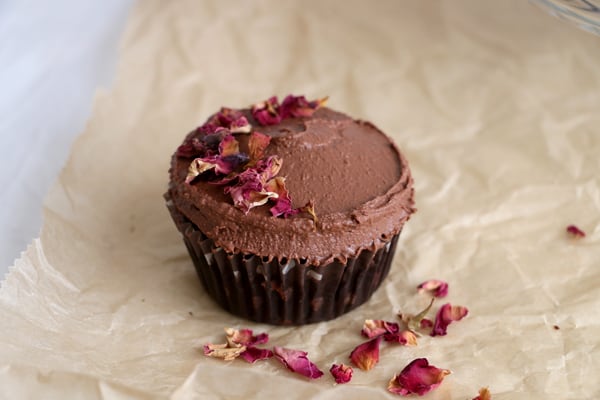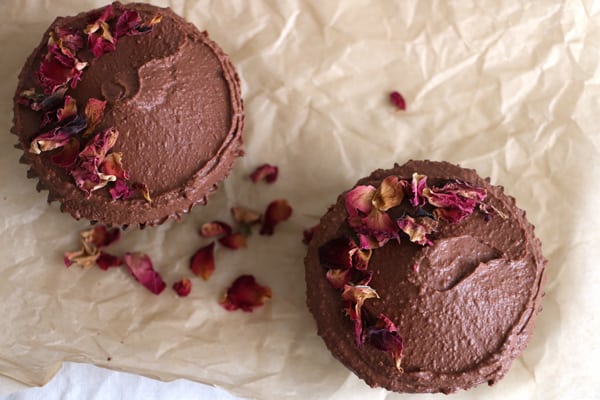 Yield: 12 cupcakes
Chocolate and Raspberry Cupcakes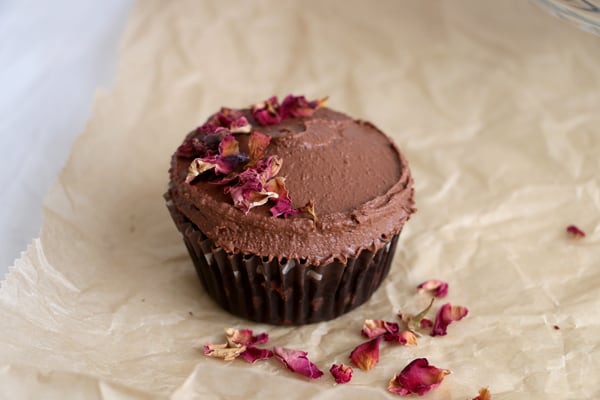 Ingredients
Cupcakes:
140g buckwheat flour (1 cup)
50g ground almonds (1/2 cup)
30g raw cacao powder (1/4 cup)
3/4 tsp bicarbonate of soda
pinch of sea salt
80ml coconut oil, melted and cooled (1/3 cup)
120ml maple syrup (1/2 cup)
180ml coconut milk (3/4 cup)
2 tsp apple cider vinegar
1tsp vanilla
75g raspberries (1/2 cup)
Chocolate and coconut frosting:
240ml coconut cream (1 cup)
2 tbsp coconut flour
1 tbsp maple syrup
100g dark chocolate
Topping:
dried rose petals
fresh raspberries
freeze dried raspberries
raw cacao nibs
Instructions
Prepare the chocolate and coconut frosting first as it takes time to set. If you can, prepare the day before and leave in the fridge overnight.
Chop the dark chocolate and put into a small bowl.
In a pan mix the coconut cream with coconut flour and heat on a low fire until it comes to a boiling point.
Pour the mixture over the chopped chocolate and stir until all melted.
Add the maple syrup and leave to cool down a bit. Transfer to a fridge to set into a spreadable consistency. It will take at least 3 hours to set to spread over cupcakes.
Preheat the oven to 190°C (170°C fan)
Line 12 hole cupcake tin with cupcake cases.
In a bowl whisk together buckwheat flour, ground almonds, cacao powder, bicarbonate of soda and salt. Set aside.
In a different bowl whisk together melted coconut oil, maple syrup, coconut milk, apple cider vinegar and vanilla. Add to the dry mix and stir together until well combined.
Finally fold in raspberries.
Spoon the mixture into your prepared cupcake cases and bake for about 25 min or until a cocktail stick comes out clean.
Remove from the oven once ready and leave to cool for 15 min before moving onto a wire rack leaving to cool down completely.
Frost with the chocolate and coconut frosting and sprinkle with your choice of toppings.
Store in a fridge for 2-3 days.
Enjoy!
Notes
You can replace coconut oil with olive oil, coconut milk with almond milk and use cocoa powder instead of raw cacao if you wish.
Don't use frozen raspberries in a batter on this occasion as it would make the batter very thick, because of the coconut oil (I've done that already, so you don't have to:)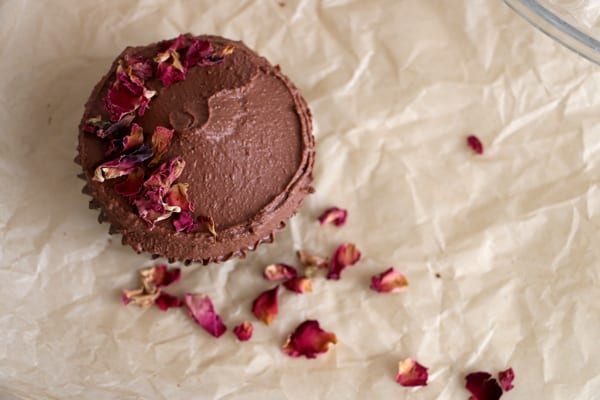 Similar Posts: