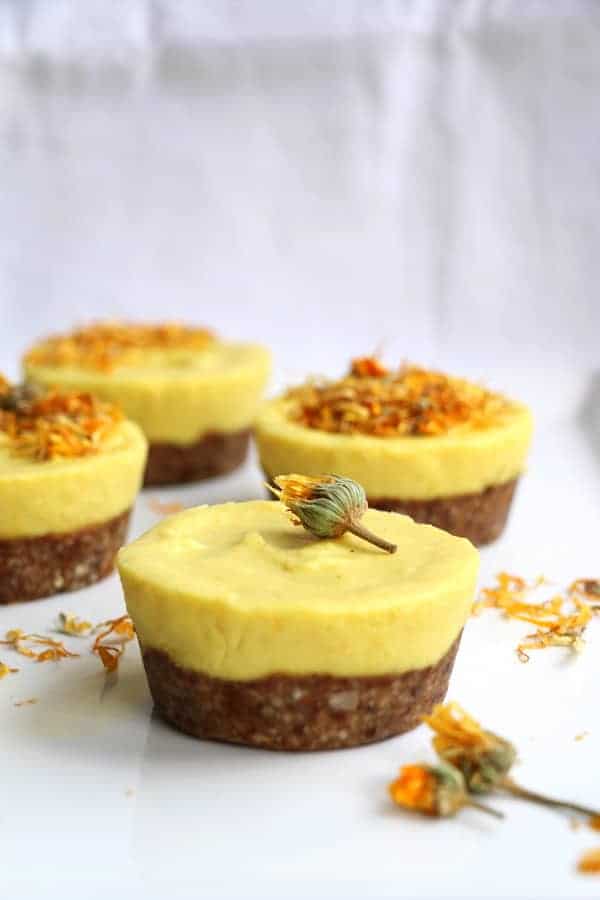 Today I'm bringing a little bit of sunshine to your screen, Spring has arrived and sunshine, blue skies and warm weather are around the corner. Easter is this week and I wanted to make something bright, healthy and beautiful to fit the occasion.
So you could say this Mango and Turmeric Raw Cupcakes recipe is my little contribution to Easter and to Spring and to all the good to come in the upcoming months.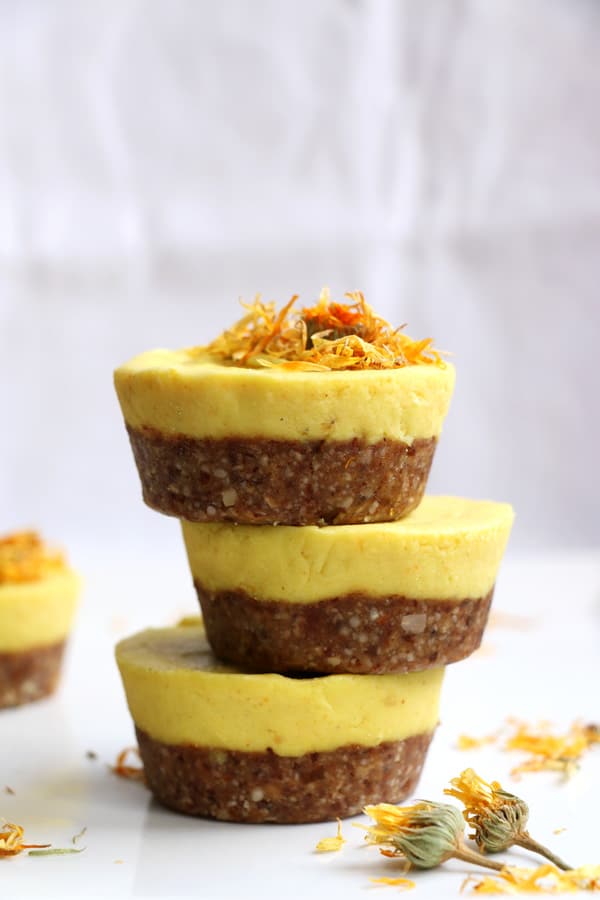 The recipe is pretty much straight forward, the crust is a mix of almonds, sunflower seeds and medjool dates. The mango and turmeric filling is a mix of mango, fresh turmeric, fresh ginger, lime and creamed coconut and it's absolutely divine.
I've used some dried marigolds for the decoration, you could also use some fresh mango, flaked coconut or edible flowers of your choice. If your mango is very sweet you can omit the maple syrup if you like as it'll be sweet enough.
I've also made this recipe as a 6″cake for my friend's birthday with a great success. Even my 7 year old son and his friend enjoyed it, with the turmeric!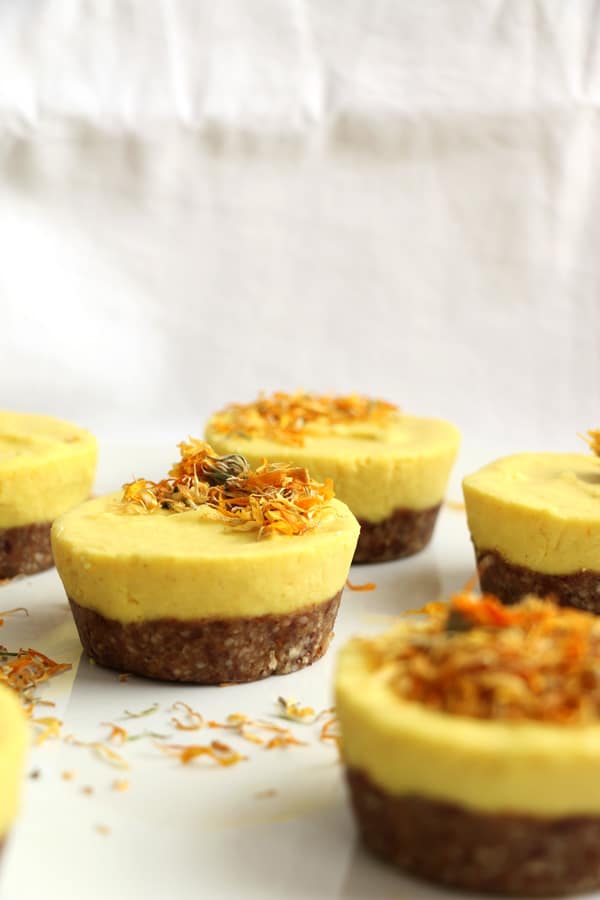 Yield: 8 cupcakes
Mango and Turmeric Raw Cupcakes (grain-free & vegan)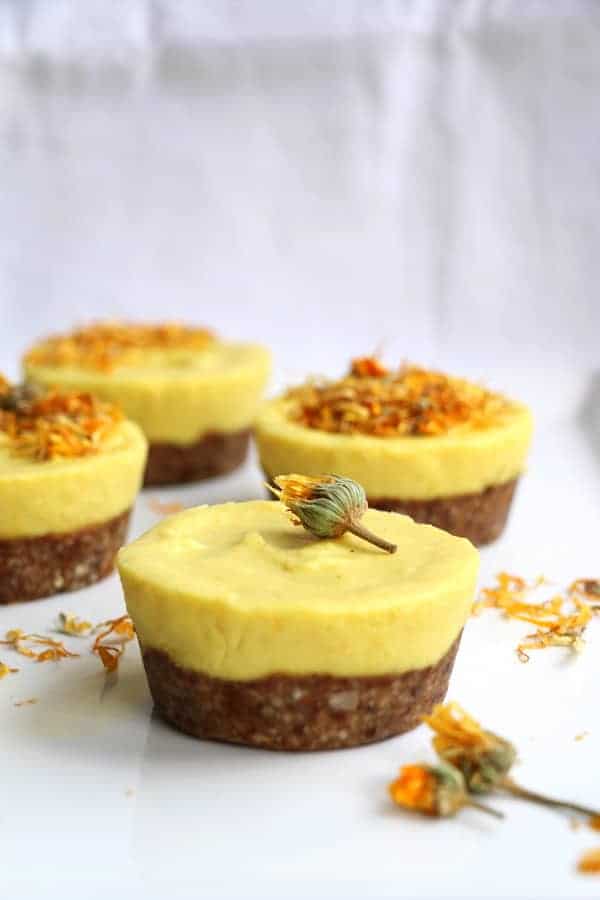 Ingredients
Crust layer:
80g almonds (1/2 cup)
70g sunflower seeds (1/2 cup)
6 medjool dates, pitted
1tbsp coconut oil
1/2tsp cinnamon
pinch Pink Himalayan Salt
Mango turmeric layer:
200g creamed coconut/coconut butter (1 cup)
2tbsp coconut oil
2tbsp maple syrup (optional)
1 large mango (about 1 cup pureed)
2tsp fresh turmeric
1tsp fresh ginger
1tbsp lime juice
1/4tsp cinnamon
Instructions
Place almonds and sunflower seeds into a food processor or high speed blender and pulse few times until they have broken down into a coarse texture. Add the rest of the ingredients and blend until the mixture comes together.
Divide the mix evenly into 8 cupcake holes, spread onto the base and press tightly down. Set aside.
In a small pot gently melt coconut butter, coconut oil and maple syrup stirring frequently. Set aside and leave to cool down for a bit while preparing the mango.
Peel mango, turmeric and ginger and place into a blender with lime juice and cinnamon. Blend until smooth. Stir into the melted slightly cooled coconut butter and mix well. Spoon the mixture onto the crust layer and smooth out evenly.
Place into a freezer until set and the top feels firm.
Once set leave on the counter for a bit and then run sharp knife carefully around the edges to release the cupcakes from the tin.
Store in a fridge or freezer in an airtight container.
Enjoy!
Notes
I haven't used anything to line the cupcake holes, but if you prefer you can use some cling film or baking paper which would make it easier to remove the cakes from the tin. Even better use a silicone mould.
If you can't find fresh turmeric, you can replace it with up to 1tsp dried turmeric.
*Creamed coconut and coconut butter are the same thing, made from dried coconut into creamy butter which sets solid at cool temperature. Please don't confuse it with coconut cream. For alternative please follow the instructions for mango layer in this recipe.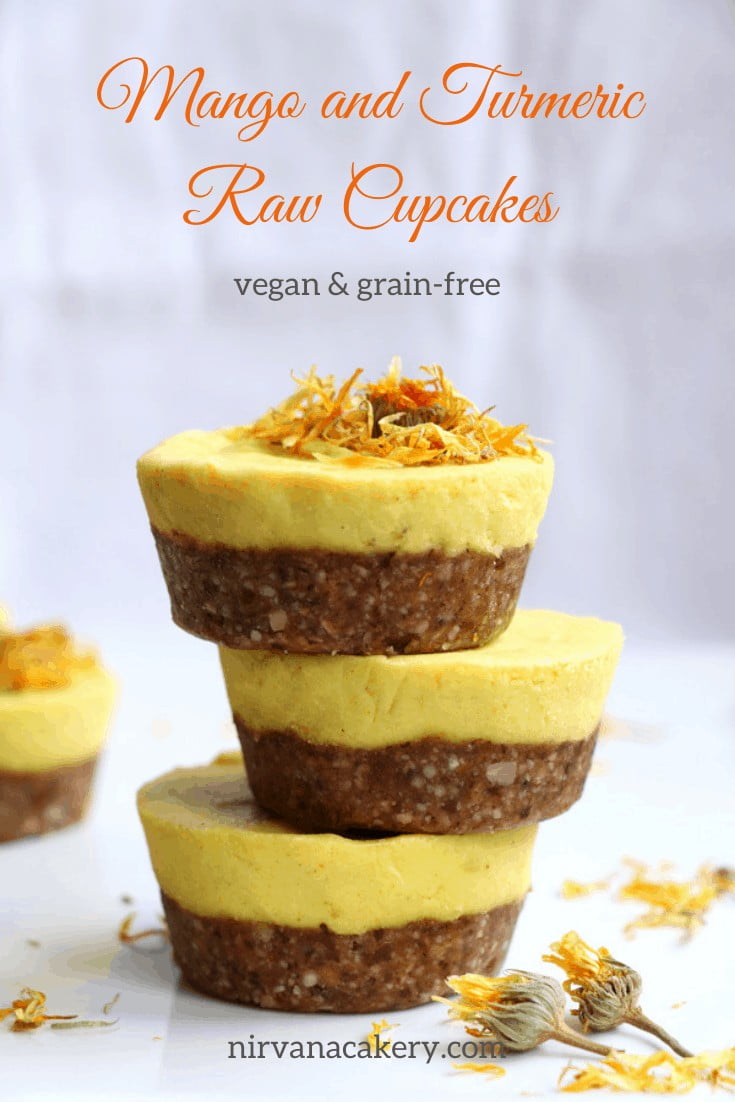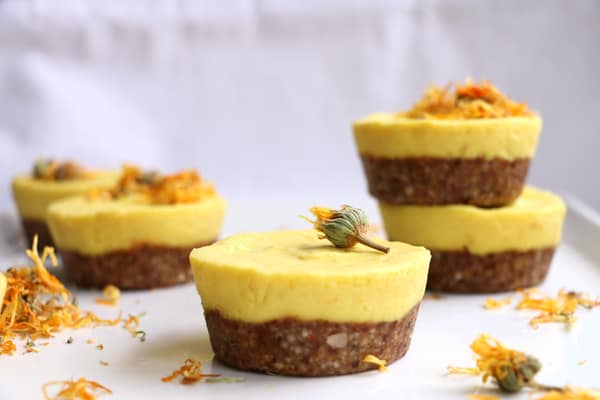 Similar Posts: