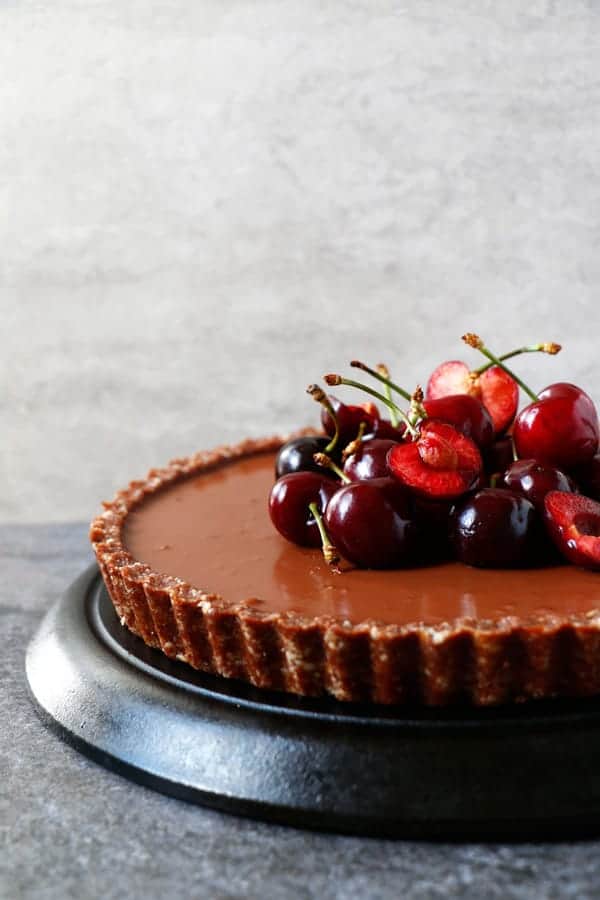 This Cherry Chocolate Tart has been on my mind for a while now and with cherries finally in season and a new tart tin I just got myself this week, I had to have a go.
I love cherries, especially eating them right of the tree, and I love cherries in cakes, but I have to say I have never been a fan of cherry chocolate desserts. So this is my first time combining the two and either my taste has changed or this is one heck of an awesome tart!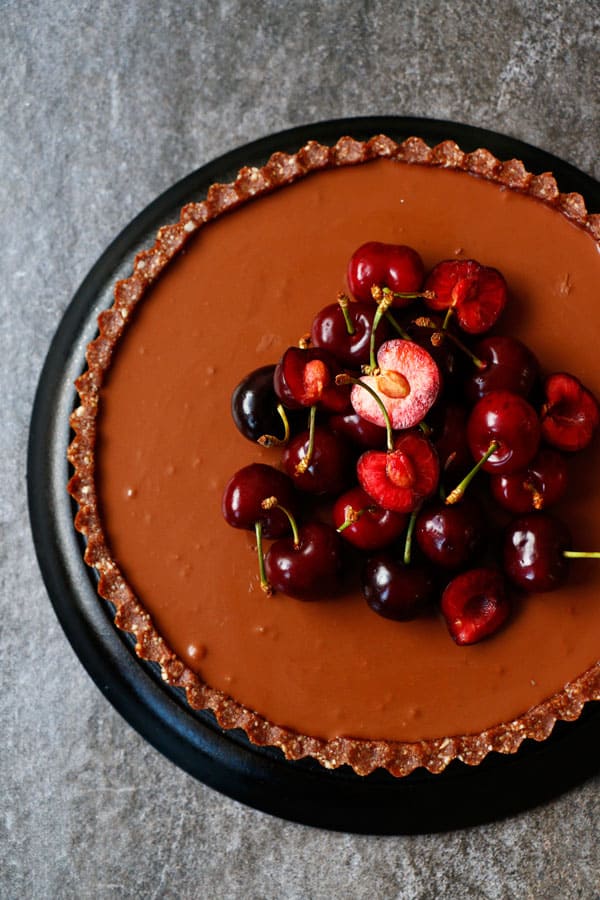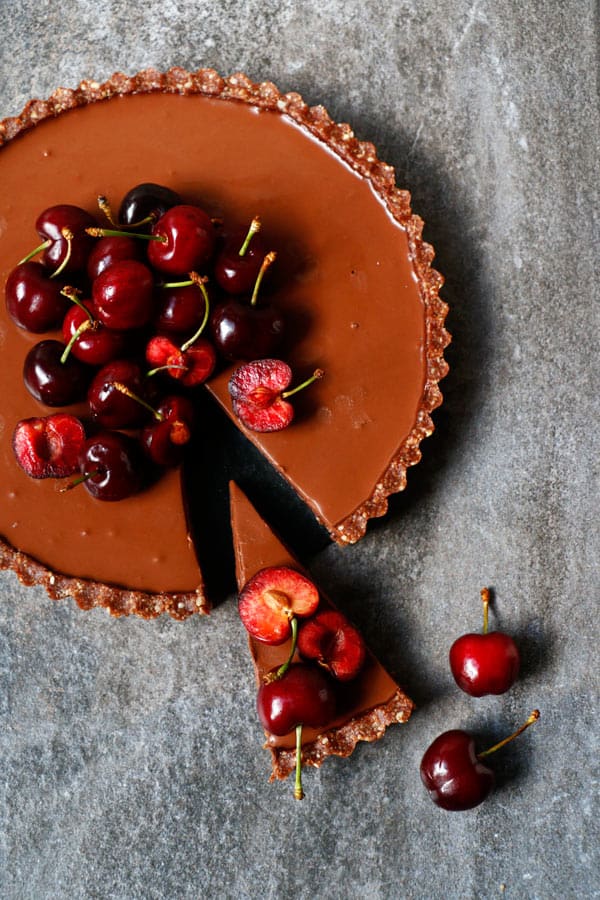 This yummy tart is a no bake vegan and grain-free tart with a raw crust made with almonds, sunflower seeds, raw cacao and medjool dates. I've made a quick cherry chia jam that I've used at the base of the tart to give it a bit more zing.
And it's topped with gorgeous dark chocolate and coconut cream mousse. More cherries on top and voila, delicious summer tart ready in no time and just in time for the cherry season! Hope you like it:) x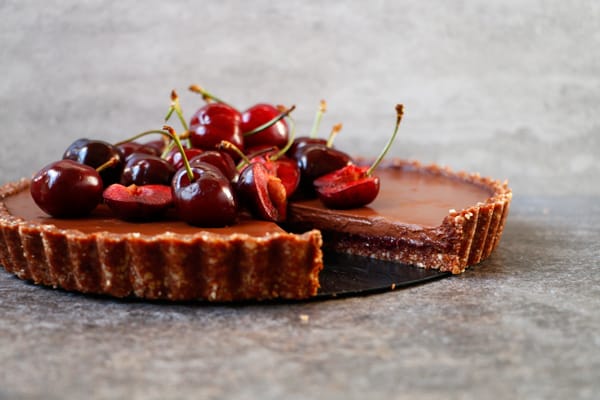 Yield: 9"tart
Cherry Chocolate Tart (grain-free & vegan)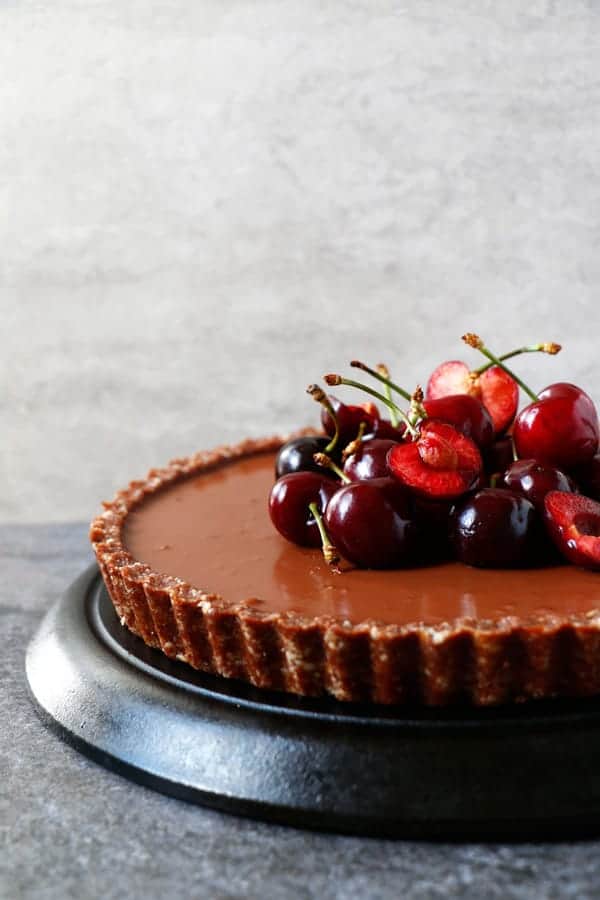 Ingredients
Crust:
140g almonds (1 cup)
70g sunflower seeds (1/2 cup)
2tbsp raw cacao powder
6 medjool dates, pitted
1tbsp coconut oil
pinch sea salt
Cherry jam:
140g cherries (1 cup)
1tbsp chia seeds
Chocolate filling:
100g dark chocolate (3.5oz)
240ml coconut cream (1 cup)
1tbsp maple syrup
Topping:
Instructions
Chocolate filling:
Chop the dark chocolate and put into a small bowl. In a pan heat coconut cream on a low fire until it comes to a boiling point. Pour over the chopped chocolate and stir until all melted. Stir in the maple syrup and set aside to cool down.
Cherry jam:
Pit the cherries, place into the blender with chia seeds and blend until smooth. Scoop into a small bowl and place into the fridge to thicken.
Crust:
Have 9"tart tin with removable base ready.
Place almonds and sunflower seeds into a food processor or high speed blender and blend until almost ground. Add the rest of the ingredients and blend until the mixture comes together.
Scoop the mix into the tart tin and with your fingers press tightly down the base and around the edges to create the crust. Don't go all the way up, about 3/4 high. The crust edge on mine was about 3/4" tall.
Spread the cherry chia jam evenly onto the base. Pour the chocolate filling on top and smooth out.
Place into a freezer for about an hour to firm up. You can also leave it in the fridge overnight to set.
Once firm carefully remove the side of the tin and top with some more cherries.
Serve right away.
Notes
I've used about 78% coconut solids coconut cream, alternatively you can use the solid part from a refrigerated full fat coconut milk can.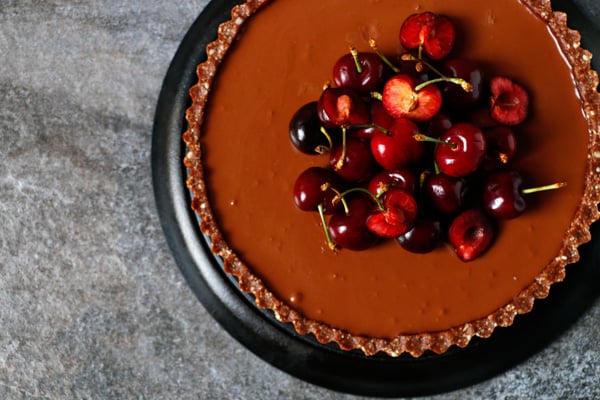 Similar Posts: