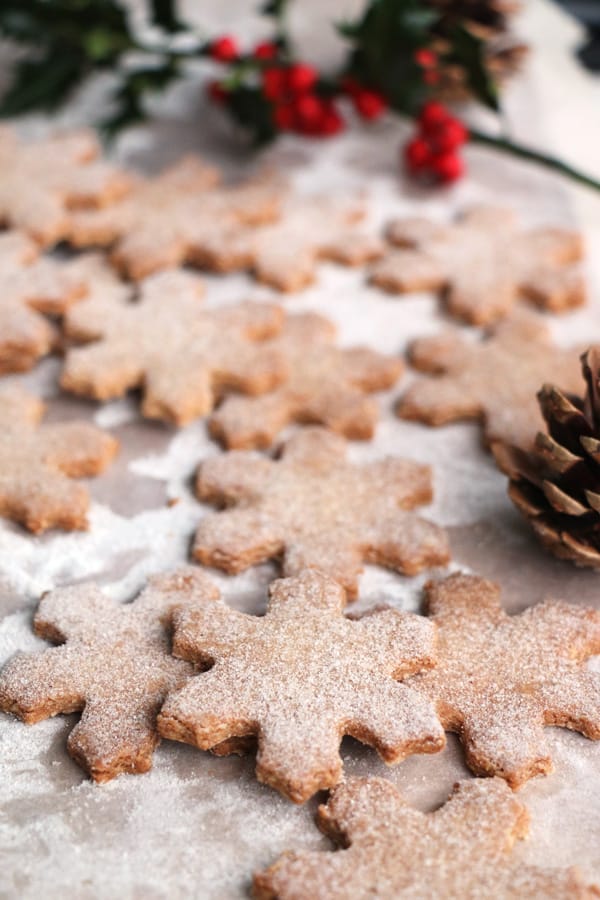 Today I have a lovely Hazelnut and Buckwheat Christmas Cookies recipe for you. My Almond, Buckwheat and Cardamom Cookies have been my top viewed post every single day for a while now and so I gathered there are many of you looking for recipes using buckwheat.
It's not surprising, it's a great gluten-free seed, full of nutrients. I don't like baking with rice flour and have started using buckwheat in my gluten-free baking about a year ago and now love using it. Although the taste can sometimes be overpowering in baked goods when mixed with nut flours, coconut, arrowroot, other gluten-free flours, fruit or vegetables it becomes more subtle.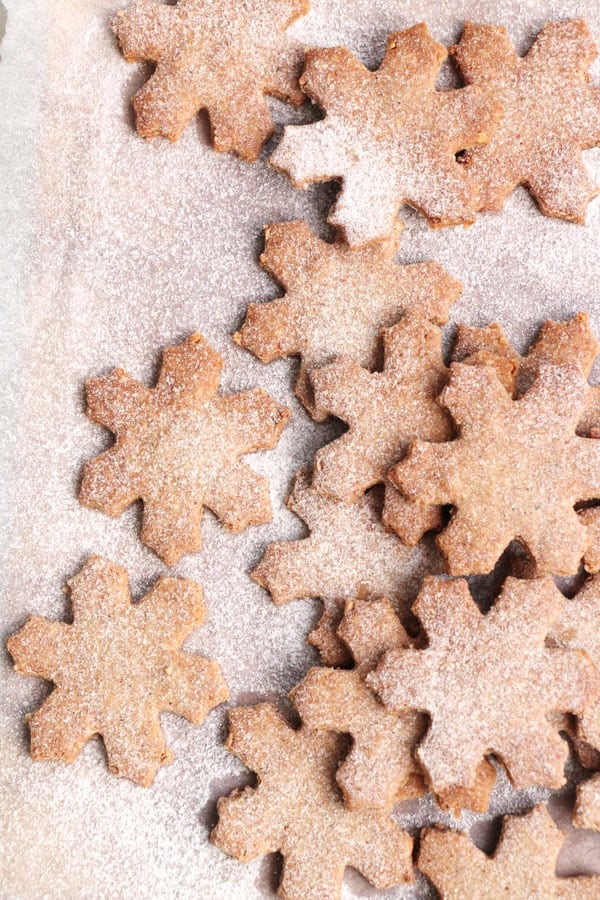 In this recipe I've mixed buckwheat flour with ground hazelnuts, cinnamon, maple syrup and coconut oil and it makes a lovely gluten-free cookie mix. I've struggled a little with the dough at the beginning and at the end added egg white to bind it together so it's easy to roll out and cut out shapes.
I am working on a vegan version as well and will post the recipe later. Hope you'll like it and if you improve this recipe I would love to hear:)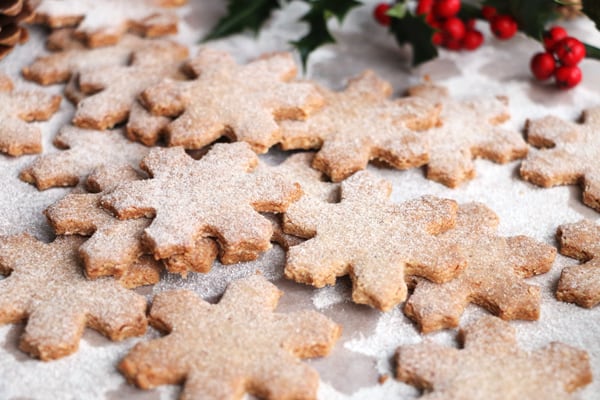 Yield: 3 baking trays of cookies
Hazelnut and Buckwheat Christmas Cookies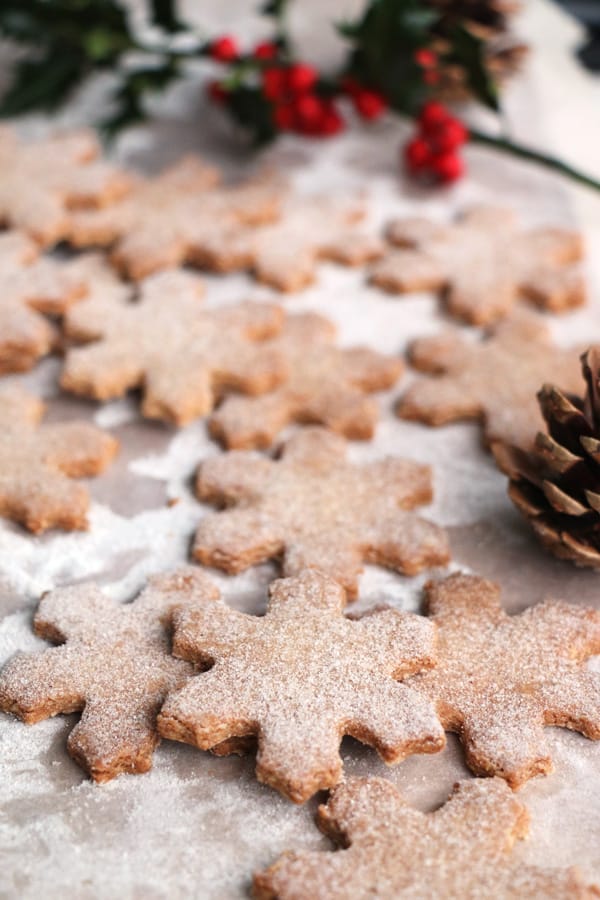 Ingredients
200g ground hazelnuts (2 cups)
210g buckwheat flour (1 1/2 cups)
1/2tsp baking powder
1tsp cinnamon
1/2 lemon, zest
80ml coconut oil, melted (1/3 cup)
80ml maple syrup (1/3 cup)
1tsp vanilla
1 egg white
Instructions
In a large bowl whisk together ground hazelnuts, buckwheat flour, baking powder, cinnamon and lemon zest.
In a small bowl whisk cooled melted coconut oil with maple syrup, vanilla and egg white and add to the dry ingredients. Mix until it comes together into a dough.
Separate the dough into 2 balls and flatten gently, wrap each into a cling film and refrigerate for an hour.
Preheat the oven to 180°C (160°C fan)
Line 3 baking sheets with baking paper.
Place one piece of dough between 2 sheets of greaseproof baking paper and roll out until about 4 mm thickness. Remove the top layer and cut out shapes, not too large as they would break, I've used about 2" snowflake cutters.
Transfer cut out shapes on lined baking sheet using palette knife.
Re-roll the dough, cut out more shapes and repeat with the rest of the dough in the fridge.
Bake for about 12 minutes until light golden brown around the edges.
Dust with some unrefined icing sugar if you like.
Enjoy!
Notes
It's best to use hazelnuts without the skin.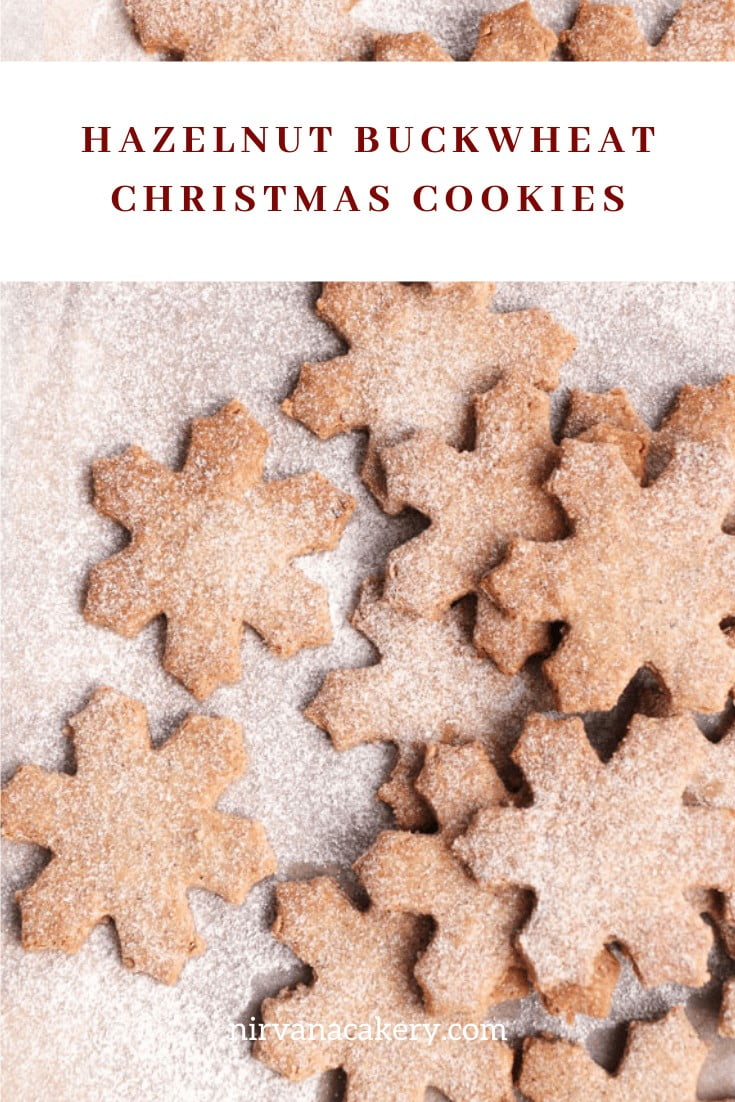 Similar Posts: