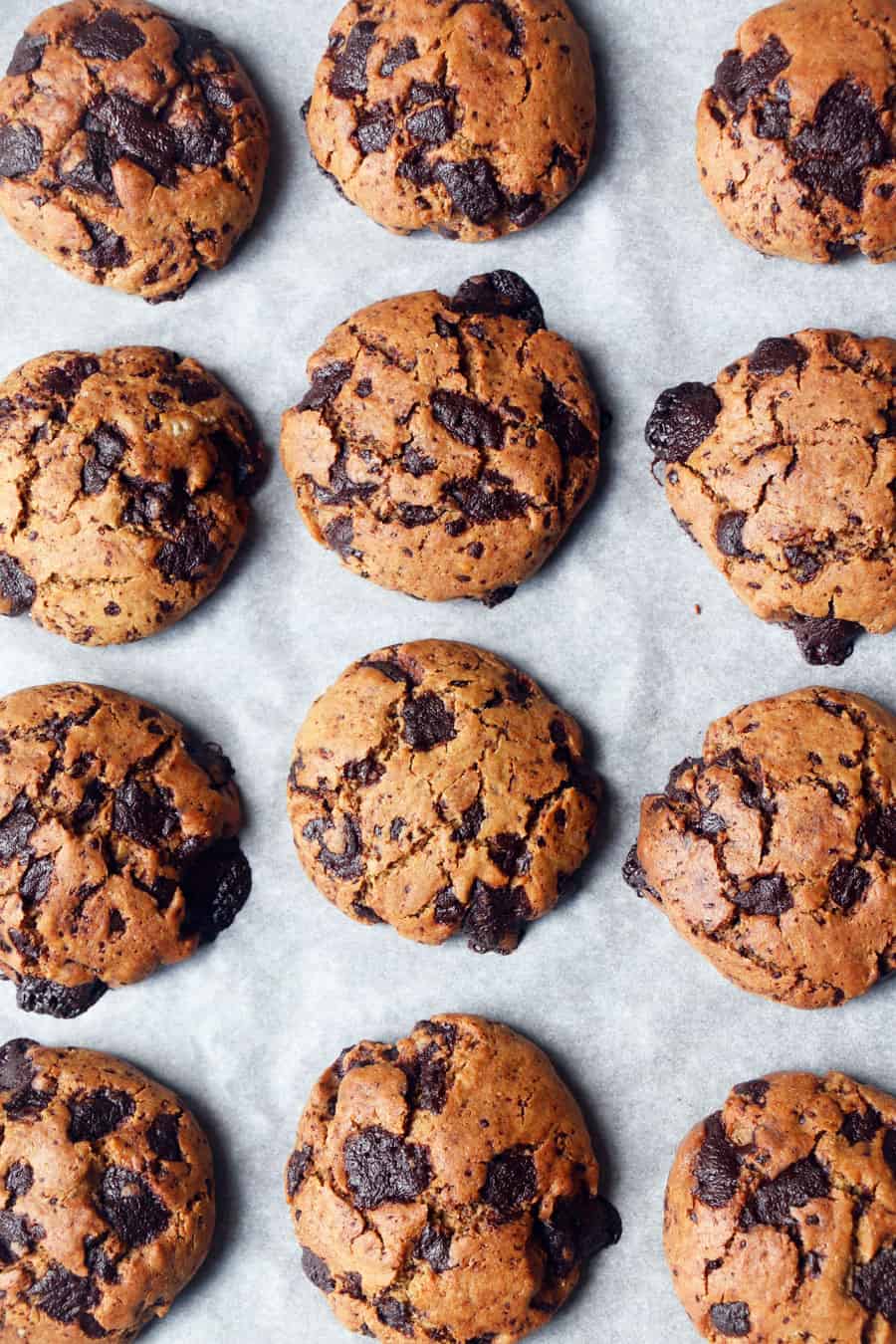 Special thank you to Amore di Mona for sponsoring this post.
You've been asking me for Chocolate Chip Cookies recipe for a while and finally here it is! I can't believe that I don't have one yet in six years of blogging.
But it was worth the wait because these are amazing! One of the best cookies I've ever had if I might say so. And I really do hope you love them too.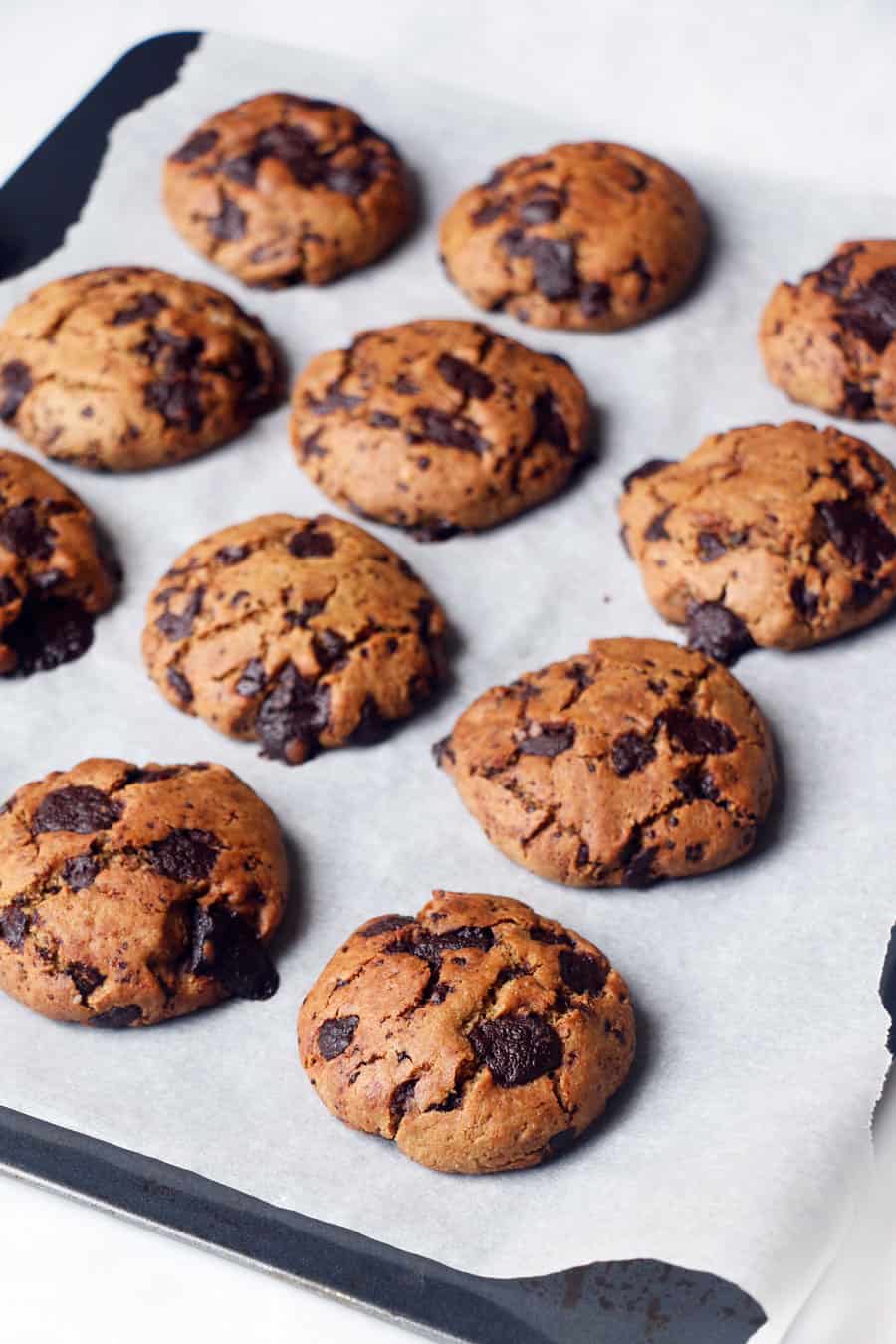 For my gluten-free mix I've used a mix of brown rice flour, buckwheat flour, ground sunflower seeds and tapioca flour. You can replace one of the gluten-free flours with sorghum flour or oat flour as another option. And if you like to replace sunflower seeds you can use ground almonds or nuts instead.
I kept the sugar low in the recipe, chocolate chip cookies are often way too sweet for my taste. Rapadura sugar can also be replaced with coconut sugar or other sugar of your choice.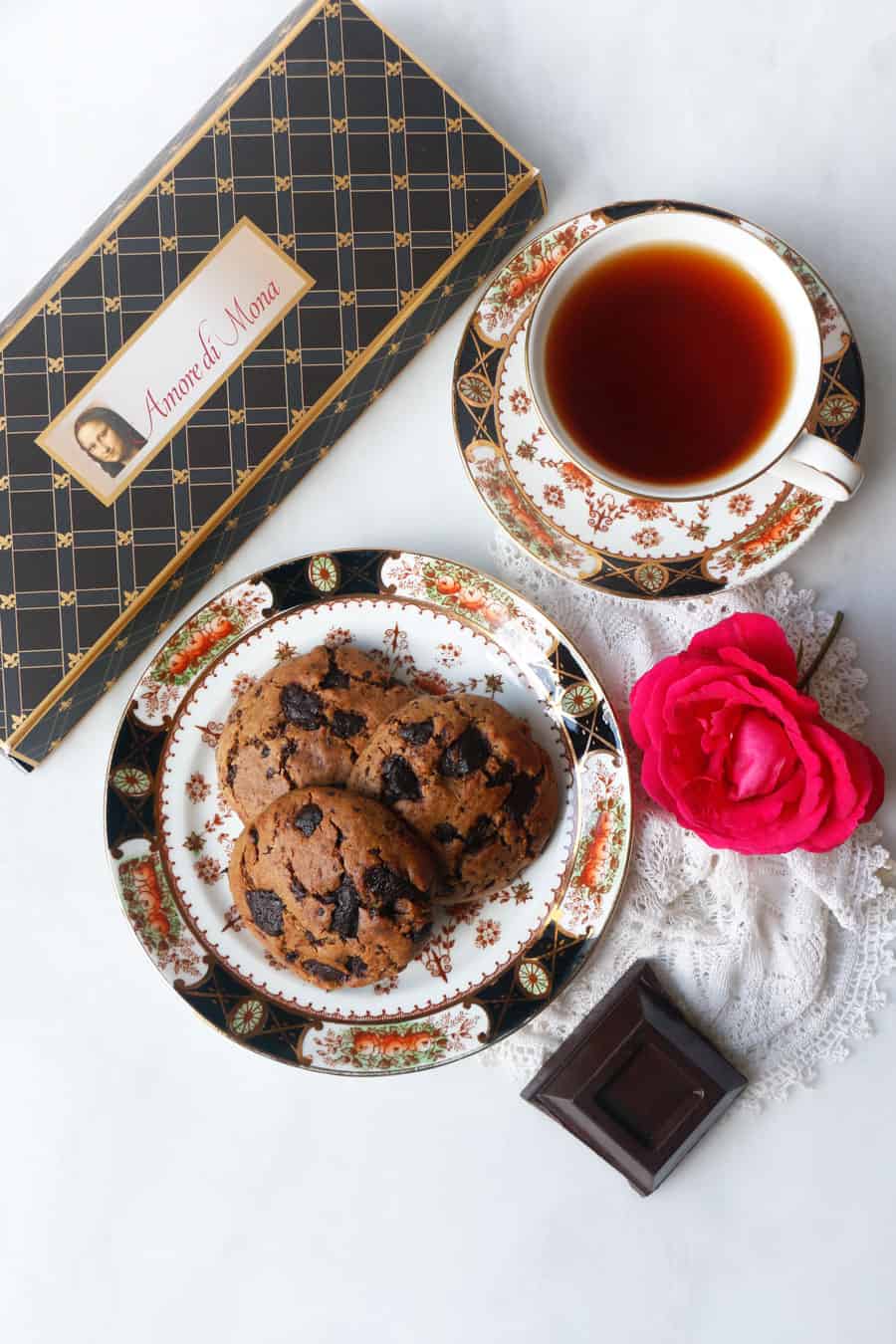 I've used olive oil to keep the cookies coconut free and surprisingly it worked really well in this recipe. If you prefer you can happily replace it with melted coconut oil or another oil of your choice.
I've added quite a generous amount of chocolate and it makes them lovely and chocolate rich and really indulgent. So happy how they turned out.
Enjoy the recipe!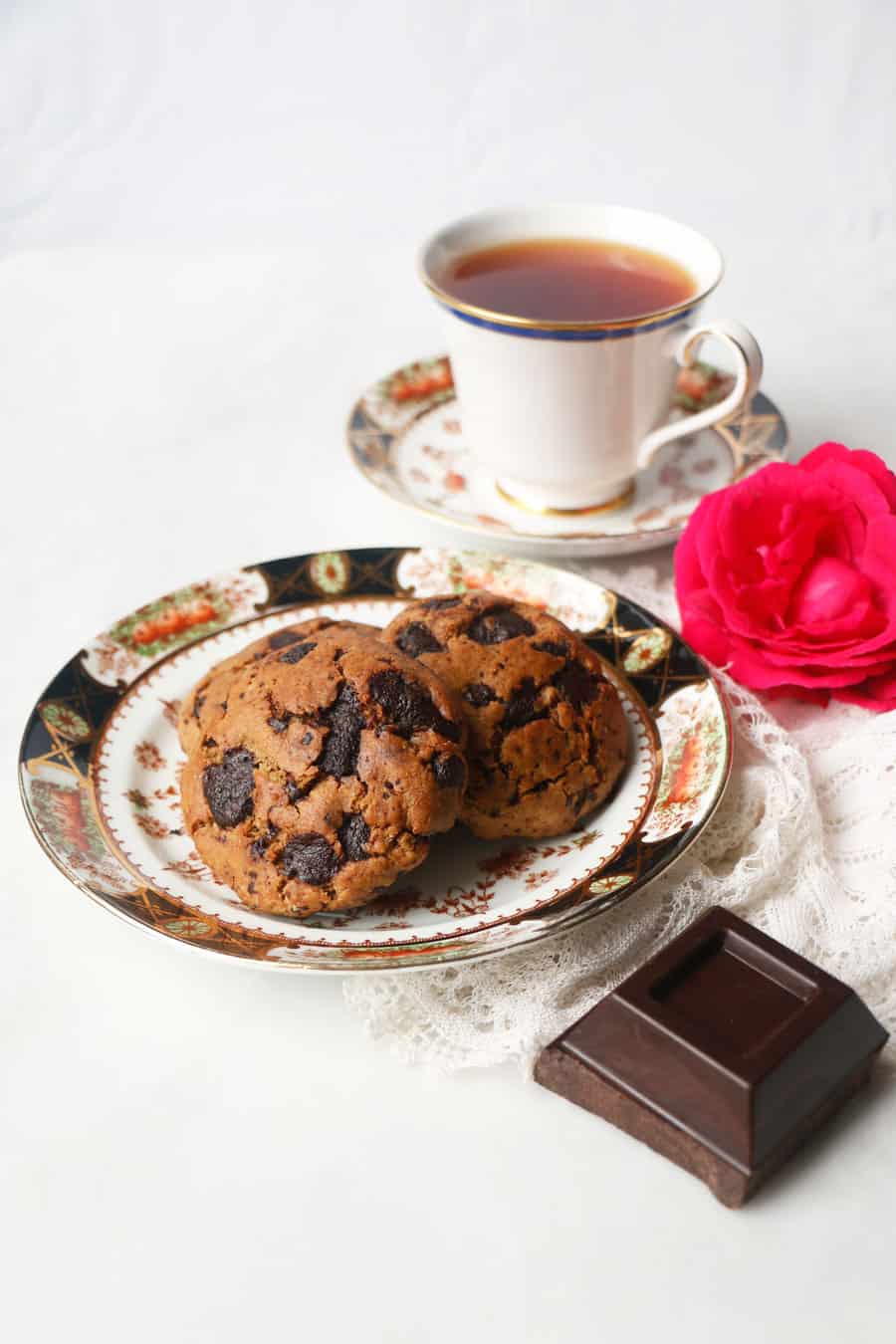 Yield: 12 cookies
Chocolate Chip Cookies (vegan & gluten-free)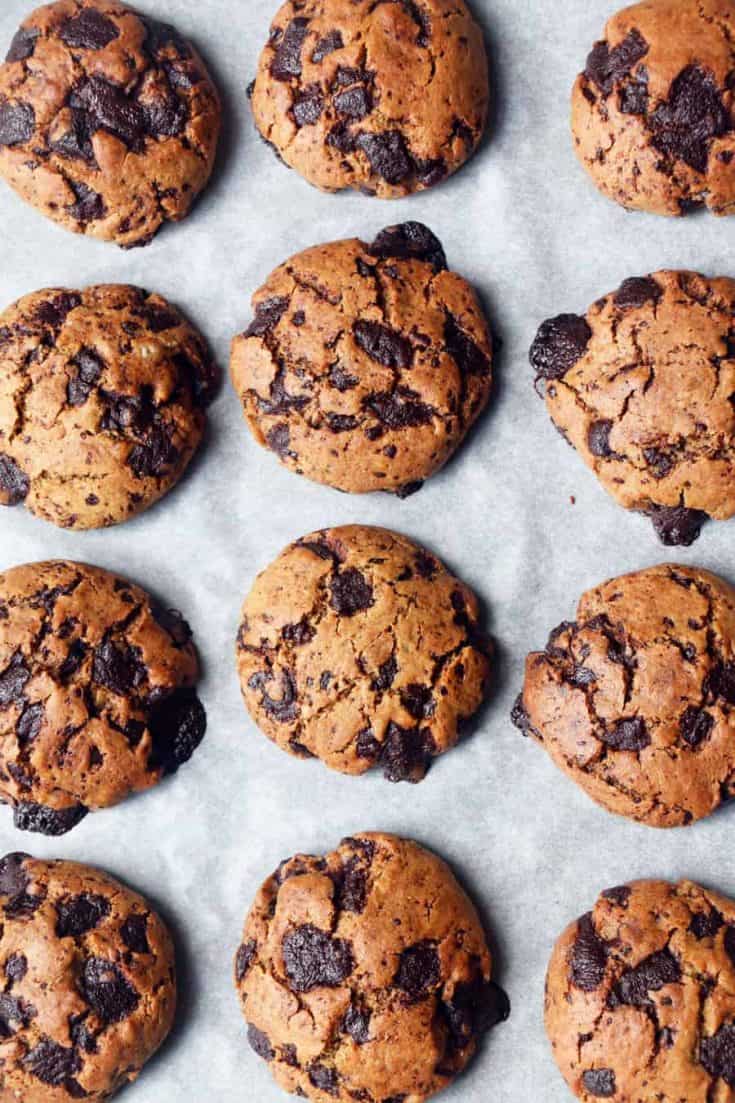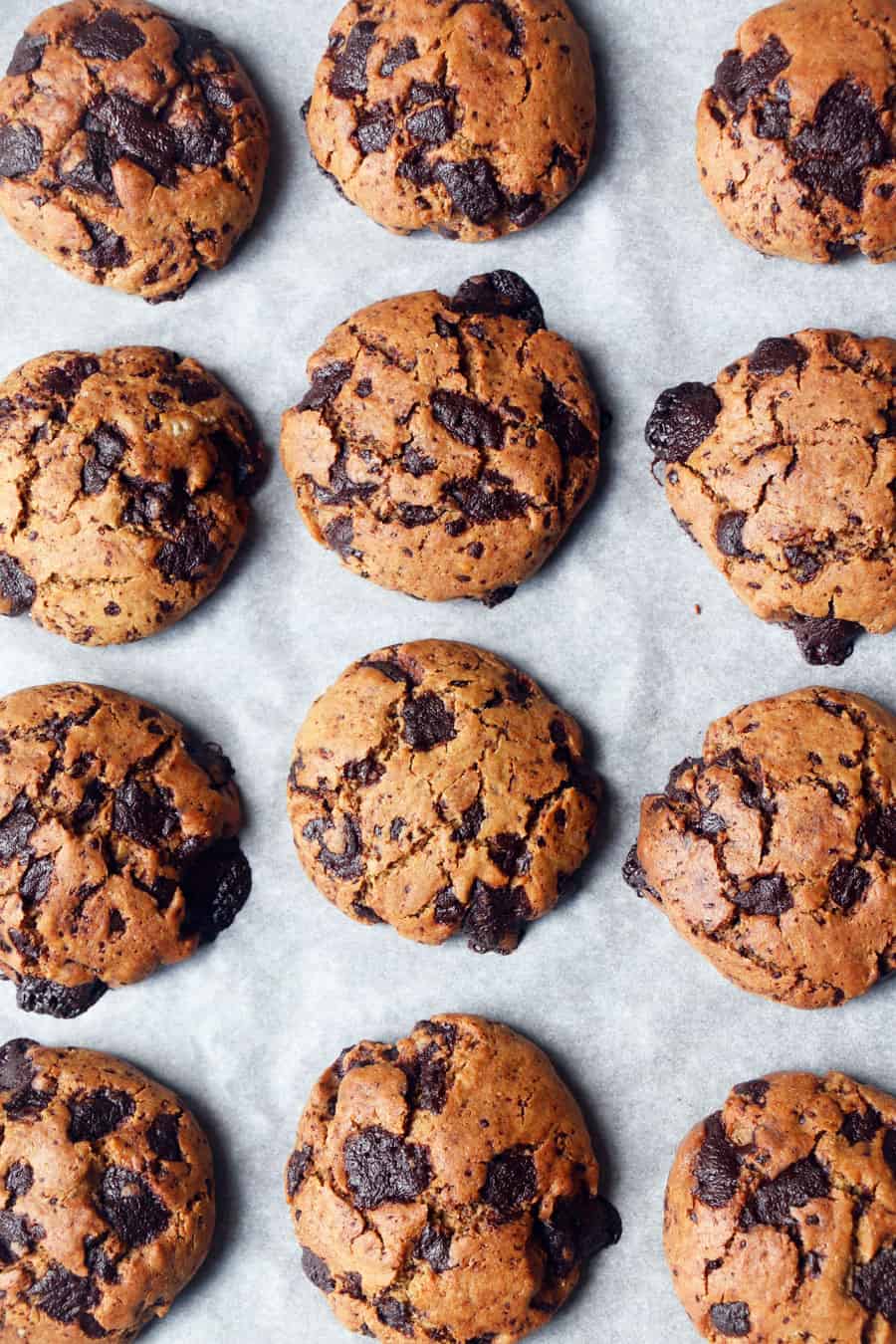 Ingredients
95g brown rice flour (3/4 cup)
70g buckwheat flour (1/2 cup)
70g sunflower seeds (1/2 cup) ground into flour consistency
2tbsp tapioca flour
1tsp baking powder
½tsp bicarbonate of soda
pinch sea salt
50g rapadura sugar (1/3 cup)
1tbsp ground flaxseed + 3tbsp water
60ml olive oil or melted coconut oil (1/4 cup)
1tsp vanilla extract
2-3tbsp almond milk
150g dark vegan chocolate (5.3oz)
Instructions
Preheat the oven to 180°C (350F)
Line baking sheet with baking paper.
Mix 1tbsp ground flaxseed with 3tbsp water and set aside to thicken.
Roughly chop the chocolate and set aside.
In a large bowl whisk together brown rice flour, buckwheat flour, ground sunflower seeds, tapioca flour, baking powder, bicarbonate of soda, sea salt and sugar.
Add gelled flax egg, olive oil and vanilla extract. Add 2 tbsp of almond milk and with a fork start mixing until it starts coming together.
Now using hands gently bring the mix into a soft dough. It should be soft and smooth. Add extra almond milk if needed.
Fold in chopped chocolate.
Using your hands make 12 balls, place onto a lined baking sheet and using the palm of your hand gently flatten.
Bake for 15 minutes.
Leave to cool down and enjoy!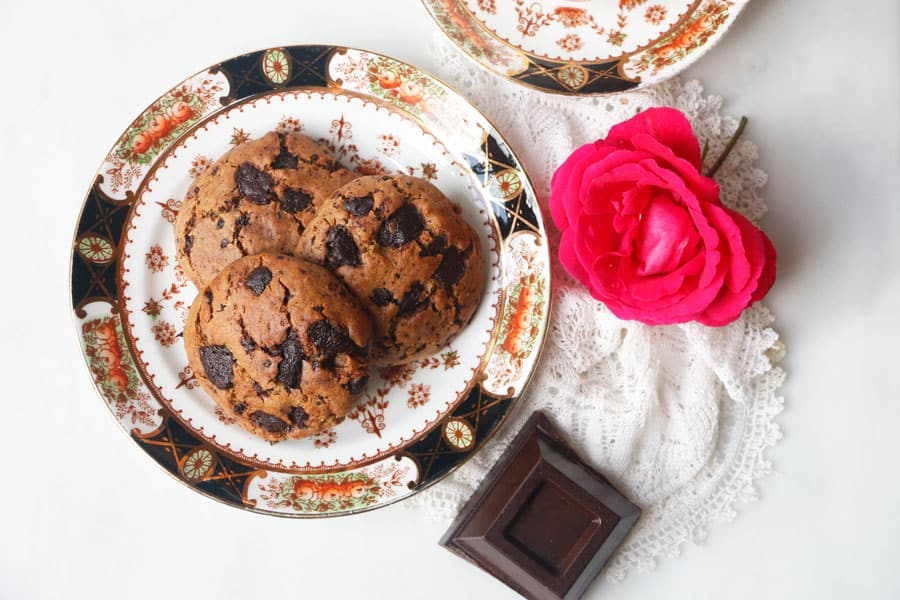 Similar Posts: