I've never used to bake so many cookies until I've become mum. My son has a very sweet tooth (most probably after his mum) and I don't want to deny sweets to him, I just prefer them to be a little more nutritious. I love to experiment and make new cookie recipes with minimum sweeteners and wholesome ingredients to satisfy all those sweet cravings.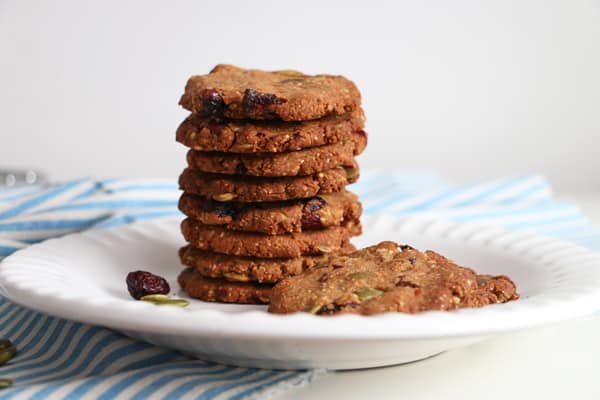 These Cranberry, Hazelnut and Buckwheat Cookies are gluten free and made with a mix of hazelnuts, coconut and buckwheat flour flavoured with cinnamon, ginger and orange zest. I've added some cranberries and pumpkin seeds to the mix and the result are deliciously crunchy cookies. And can I just say they do smell absolutely amazing! You could experiment with adding different nuts, dry fruit or seeds to the mix, whatever you have available in your pantry to make the recipe your own.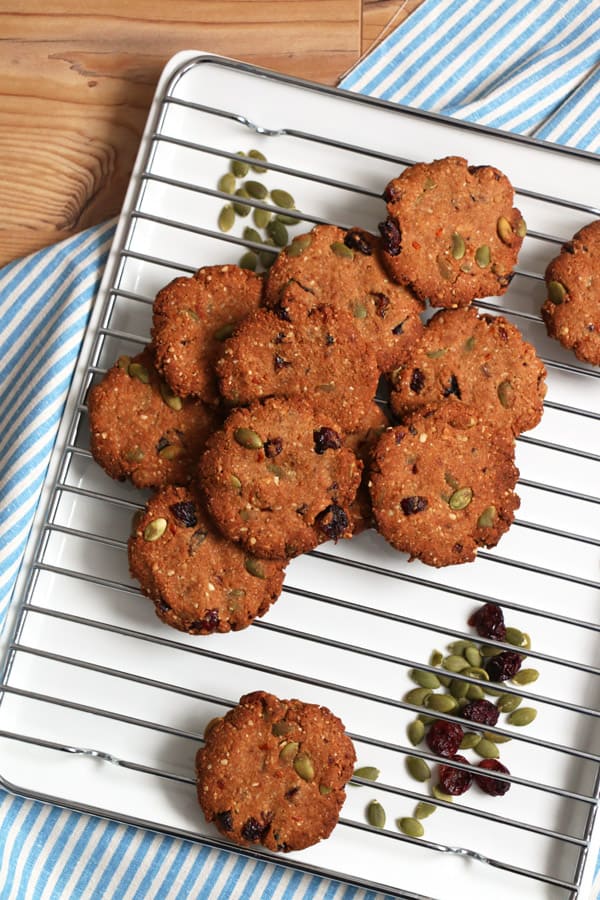 Yield: 18 cookies
Cranberry, Hazelnut and Buckwheat Cookies
Ingredients
100g ground hazelnuts (1 cup)
70g buckwheat flour (1/2 cup)
50g desiccated coconut (1/2 cup)
2tbsp coconut sugar
1/4tsp bicarbonate of soda
1tsp cinnamon
1/4tsp ginger
pinch of sea salt
40g pumpkin seeds (1/4 cup)
50g cranberries, chopped (1/3 cup)
zest of 1/2 orange
4tbsp melted butter (60g) or coconut oil
2tbsp maple syrup
1tbsp orange juice
1tsp vanilla
Instructions
Preheat the oven to 180°C (160°C fan)
Line 2 baking sheets with baking paper.
In a large bowl whisk together ground hazelnuts, buckwheat flour, desiccated coconut, coconut sugar, soda, cinnamon, ginger and salt.
Stir in pumpkin seeds, chopped cranberries and orange zest.
In a small pot melt butter (coconut oil) together with maple syrup, orange juice and vanilla and pour over the dry mix.
Mix everything well together.
With a hand form small balls with a mixture and place onto lined baking sheet.
Flatten gently with palm of your hand.
Depending on the size you should have about 18 cookies.
Bake for about 15 minutes or until light golden brown.
Enjoy!
Similar Posts: