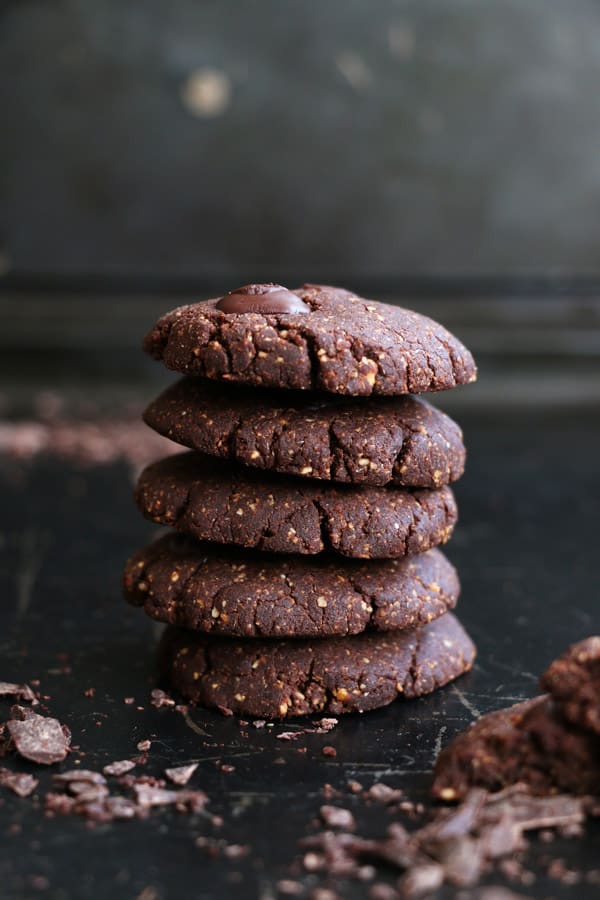 Today I've got a very rustic looking cookies for you that are inspired by my Chocolate and Hazelnut Teff Cake. There's something about chocolate, teff and hazelnut combination that I really love; I've really enjoyed the cake that I've made and I love these cookies. The ingredients are quite similar to the ones that I've used in the cake, but simplified. The cookies are dark, chocolaty and unusual tasting, naturally gluten-free and vegan.
They are fairly quick to put together, but what takes extra time is roasting and grounding hazelnuts. You can buy already ground hazelnuts which would save you time making these. I've used cardamom in the cookies and if you prefer you can replace it with cinnamon or use both. You don't have to use the extra dark chocolate pieces pressed onto the cookies, it's quite optional.  Other thing you could do is drizzle some melted chocolate over them once baked and cooled instead. I found it difficult to tell when they were baked and left mine baking for about 20 minutes, which was perfect. Depending on the strength of your oven 15-20 minutes should be the ideal time. Enjoy:)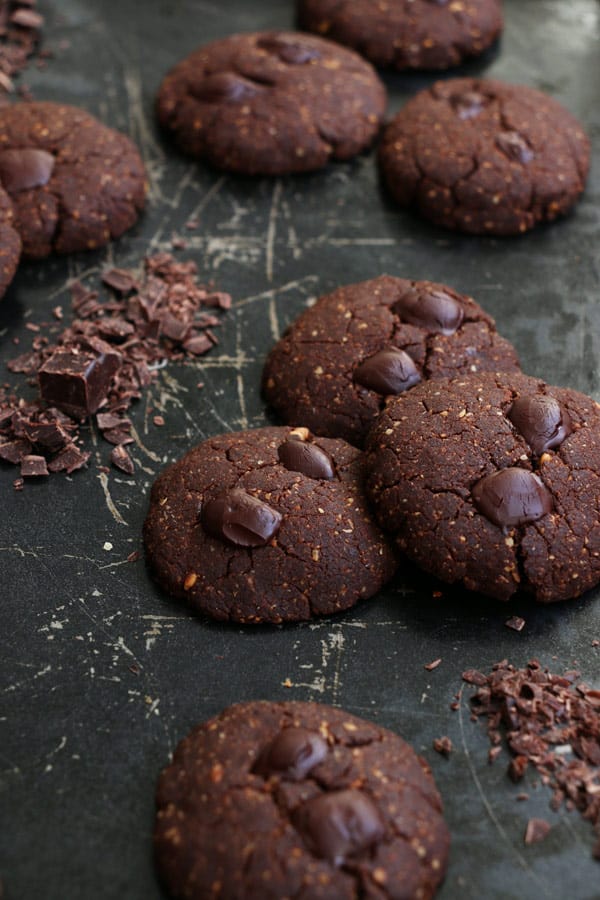 Yield: 18 cookies
Chocolate and Hazelnut Teff Cookies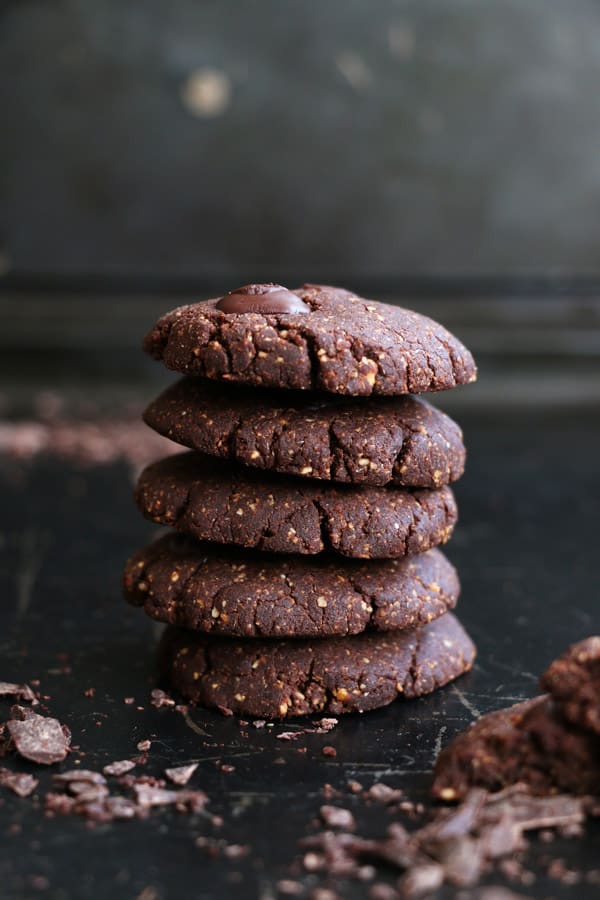 Ingredients
140g teff flour (1 cup)
100g ground roasted hazelnuts (1 cup)
30g raw cacao (1/4 cup)
1tsp cardamom
1/4tsp bicarbonate of soda
pinch of sea salt
1 medium banana, mashed
60ml coconut oil, melted (1/4 cup)
60ml maple syrup (1/4 cup)
1tsp vanilla
25g dark chocolate, chopped into small pieces (optional)
Instructions
Preheat the oven to 180°C (160°C fan)
Line 1 baking sheet with baking paper
In a large bowl whisk together teff flour, ground hazelnuts, cacao, cardamom, soda and salt.
Mash the banana and mix with melted coconut oil, maple syrup and vanilla. Add to the dry mix and mix everything together to form a dough.
With your hands form about 18 small balls (about 1tbsp size) with a mixture and place onto lined baking sheet. Flatten gently with palm of your hand. Press in couple of pieces of chocolate if you like.
Bake for about 15-20 minutes.
Enjoy!
Notes
Roasting hazelnuts is an additional step, but well worth the taste. You can roast hazelnuts in their skin and than remove the skin or buy blanched hazelnuts already.
Preheat the oven to 180°C and arrange the hazelnuts on a baking sheet. Roast for 10-15 min stirring in between until the skin looks cracked. Remove from the oven and place hazelnuts onto a cotton towel and leave to cool. Bunch the towel and rub the hazelnuts inside the towel until the skin comes off. It's pretty messy:) remove from the towel and ground in a food processor or blender.
Similar Posts: