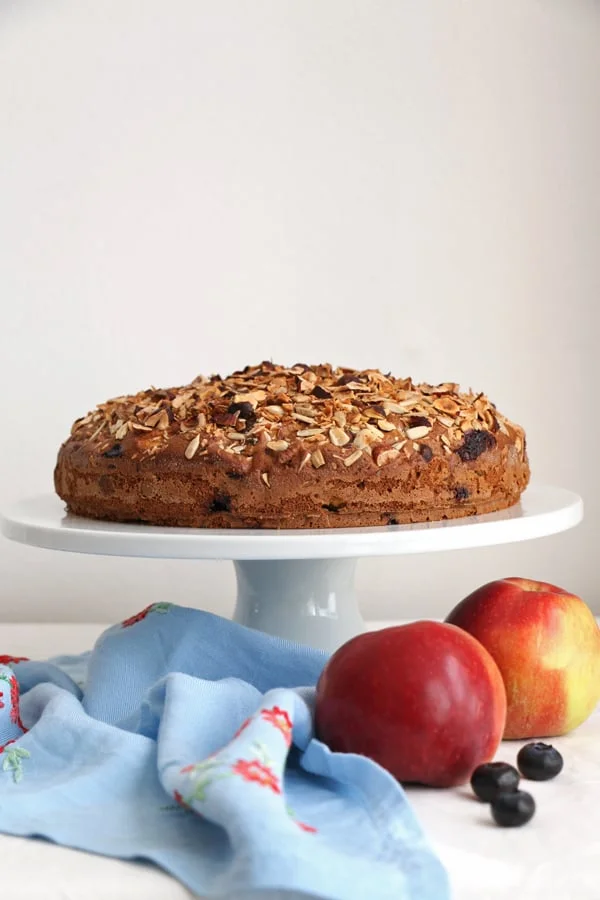 This Apple, blueberry and olive oil cake is just a perfect cake for a lazy Sunday afternoon. Delicious, wholesome cake to satisfy just anyone's taste and everyone who has ever tasted this cake loved it. I have made this cake so many times and I am constantly improving the recipe. Recently I have been experimenting more with gluten free flours, mainly because my husband is gluten intolerant and also to make more healthy choices in our diet. But I still love baking with spelt flour occasionally as it has such a lovely flavour and it's an easy substitute for more traditional wheat fours. Spelt flour is also more readily available in the shops and it is much gentler on the digestion and less refined.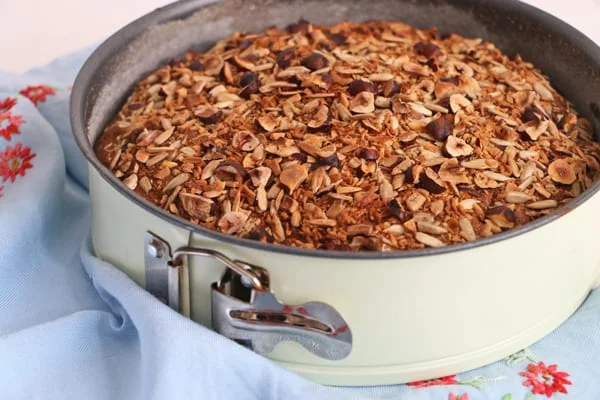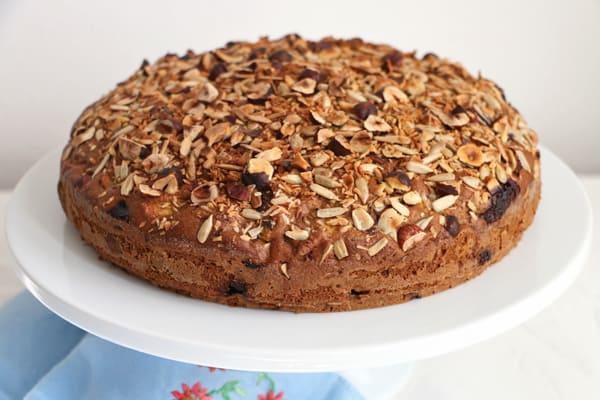 I really love this cake with rapadura sugar, but you could easily substitute this recipe with different sugars, it will be just as lovely with coconut or muscovado sugar or one you have on hand. I usually use frozen blueberries as I always have a bag in freezer, if you do so, add them frozen to the cake mix just at the end together with the apples. Simple enough recipe to make, so let's bake!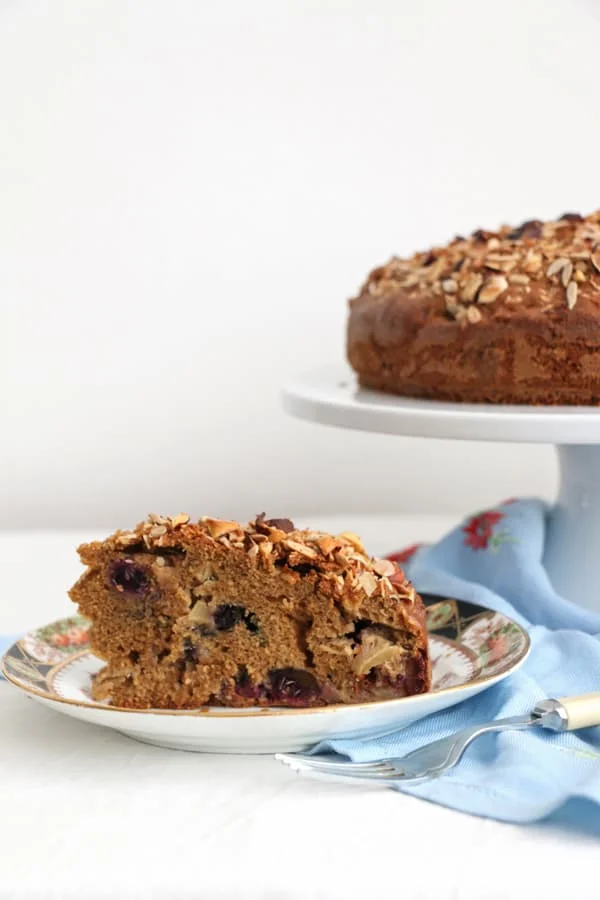 Yield: 9" round cake
Apple and Blueberry Cake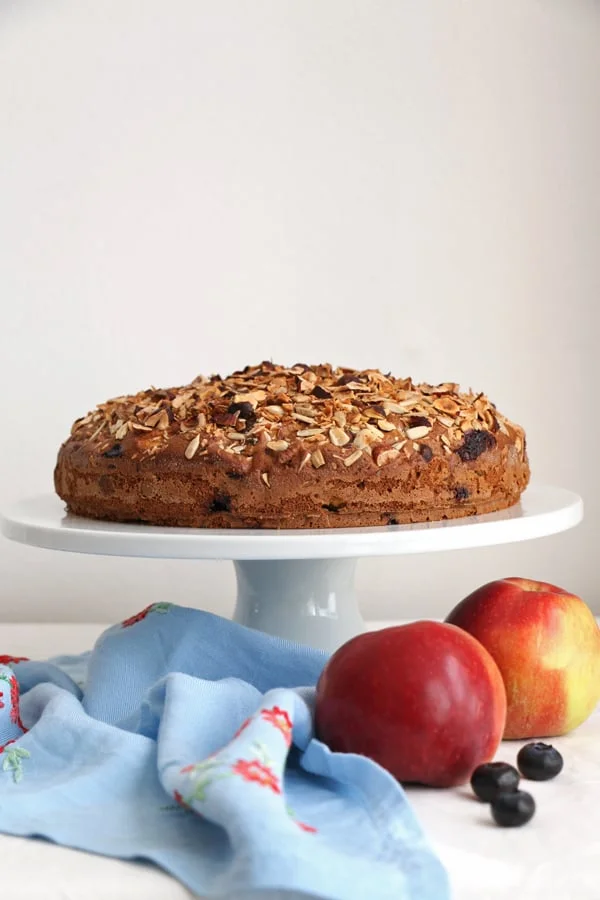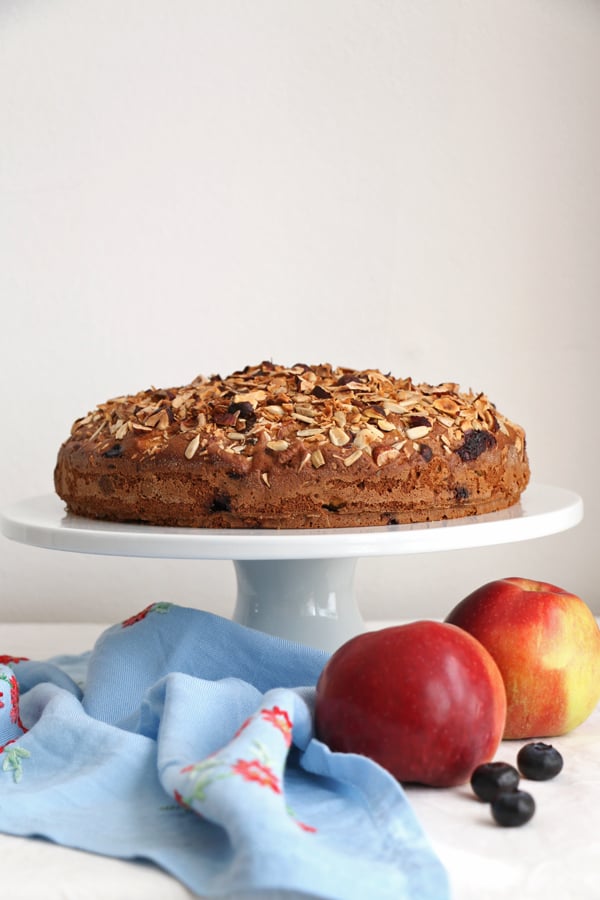 Ingredients
Cake:
2 apples
130g blueberries (1 cup)
280g spelt flour (2 cups)
1tsp baking powder
1/2tsp bicarbonate of soda
1tsp cinnamon
pinch of salt
140g rapadura sugar (just under 1 cup)
3 eggs
120ml olive oil (1/2 cup)
1tsp vanilla
Topping:
30g hazelnuts, chopped (1/4 cup)
20g sunflower seeds (2 tbsp)
10g desiccated coconut (2 tbsp)
1/2 tbsp rapadura sugar (optional)
Instructions
Preheat the oven to 180°C (160°C fan)
Grease and line 9" round spring form cake baking tin.
First prepare the topping. In a bowl mix the chopped hazelnuts, sunflower seeds, coconut and sugar and set aside.
Peel, core and slice the apples into small pieces and set aside.
In a bowl whisk together the spelt flour, baking powder, bicarbonate of soda, cinnamon and salt and set aside.
In a electric hand or stand up mixer whisk the sugar and the eggs for about 5 min, add the olive oil and vanilla and mix for 2 more min.
Add the dry ingredients to the mixture and mix until just combined.
By hand gently fold in the apples and blueberries.
Spoon the mixture into your prepared tin, level the surface, sprinkle with your prepared topping and bake for about 40 min or until a cocktail stick comes out clean.
Remove from the oven once ready and leave to cool down.
Place on a cake stand and enjoy!
Store in a fridge for up to 3 days.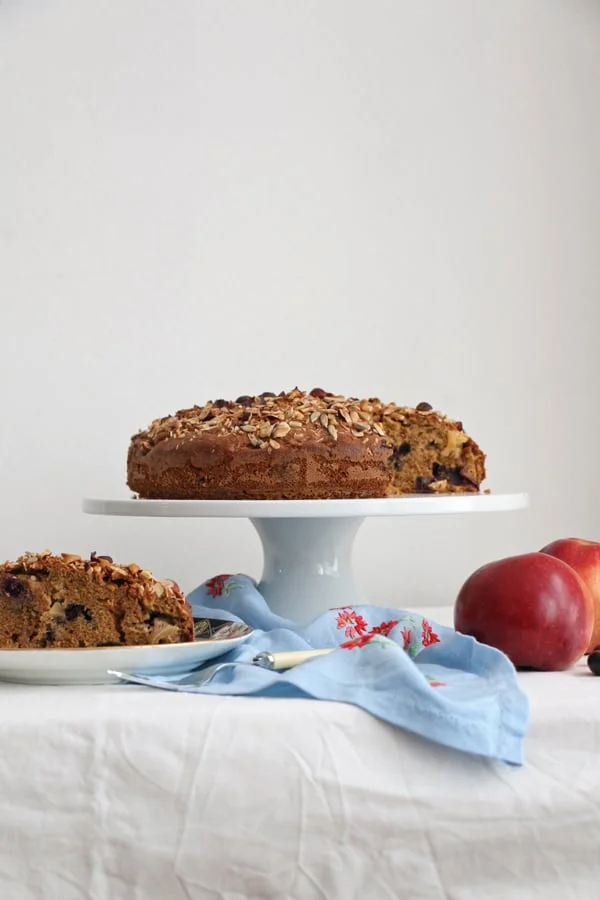 Similar Posts: