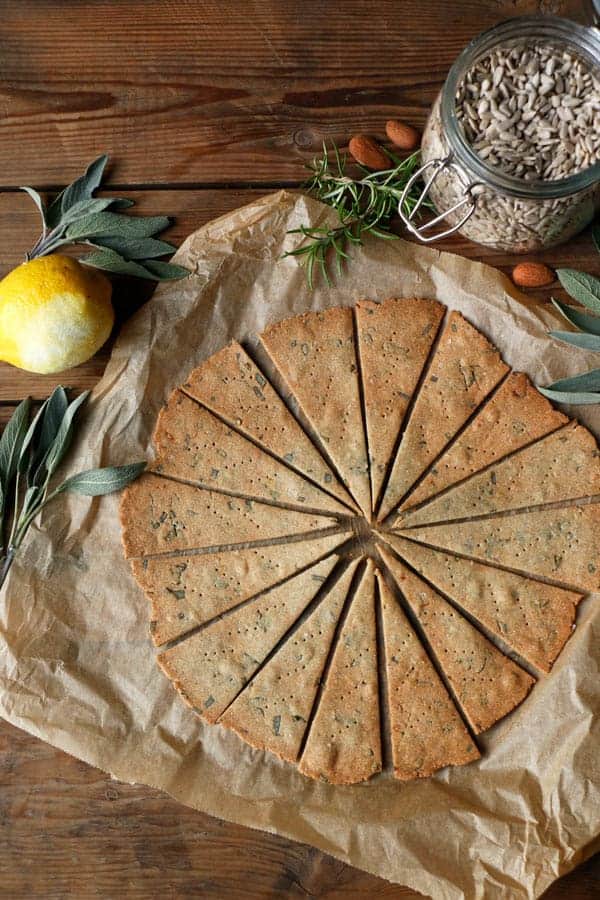 I'm back, I know it's been a while! And with a new cracker recipe that I know you will all love. My Buckwheat and Rosemary Crackers continue to be my most popular recipe on the blog and I've got a new variation for you just in case you're getting bored! These Sorghum Sage Crackers will hopefully be an amazing addition to your recipe collection as they already are to mine.
This is also the first time I'm baking with sorghum flour, it's not as popular gluten-free flour in the UK as it's in the US, but it's available in few places, mainly online. I thought it will be fun to try as some of you are not keen on buckwheat that I use so often, so sorghum could be another great alternative.
The crackers are beautifully crispy with gorgeous flavours coming from the sage and lemon zest. I made my first version with rosemary as well as sage, but I fell that the rosemary overpowered the sage so I've opted to use only sage in the recipe. If you like to try or aren't keen on sage, use only 1tbsp of sage and add 1-2tsp of fresh chopped rosemary. You could also use only ground almonds or only ground sunflower seeds, I like to mix the two.
I find that the dough is not as smooth as in my buckwheat crackers, somewhat feels more grainy, but delicious once baked. Enjoy the recipe :)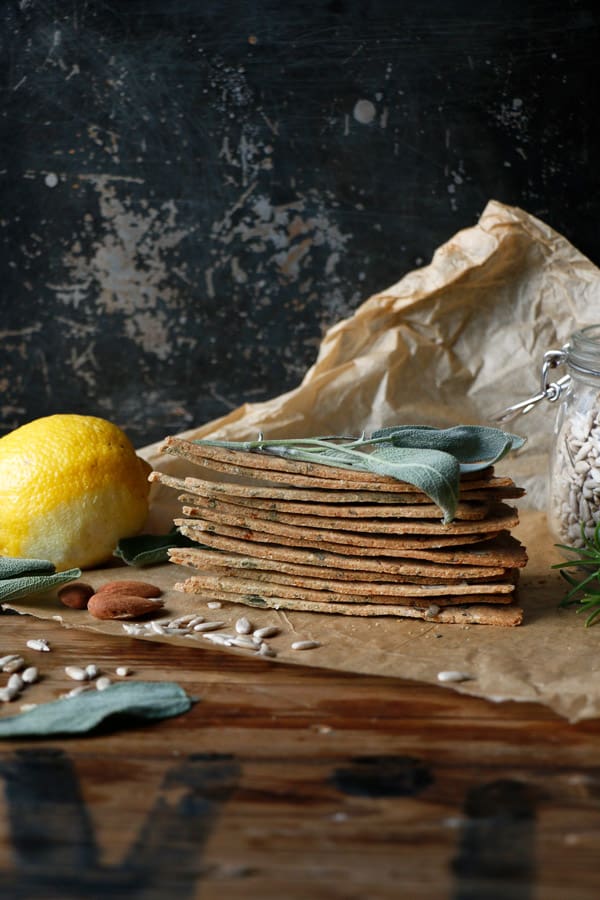 Yield: 32 crackers
Sorghum Sage Crackers (gluten-free & vegan)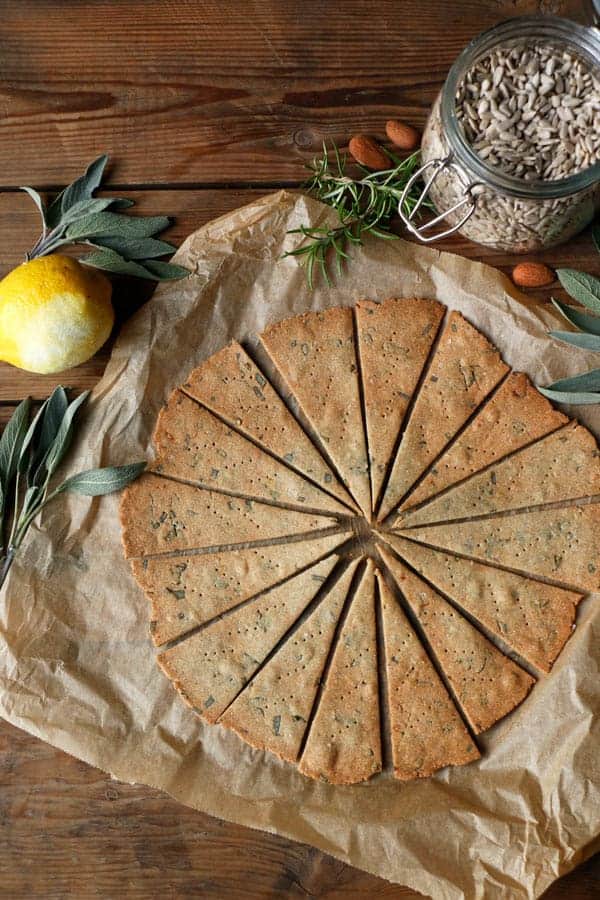 Ingredients
140g sorghum flour (1 cup+2tbsp)
50g ground almonds (1/2 cup)
40g sunflower seeds, ground (1/4 cup)
2tbsp ground flaxseed
1/2-1tsp sea salt to taste
black pepper to taste
2 tbsp finely chopped fresh sage leaves
1/2 lemon, zest
2 tbsp olive oil
95ml water (1/3 cup+1tbsp)
Instructions
Preheat the oven to 200°C (400F)
Prepare 2 baking sheets.
Place sunflower seeds into high speed blender or food processor and blend until flour like consistency.
In a large bowl whisk together sorghum flour, ground almonds, ground sunflower seeds, flaxseed, sea salt and black pepper.
Stir in chopped sage and lemon zest and set aside.
Mix olive oil together with water and add to the dry ingredients.
Bring together into a dough and knead on a surface until smooth. Add extra water or flour as needed, the dough should be smooth, not too sticky or too dry.
Separate the dough into 2 balls.
Place one ball between 2 sheets of greaseproof baking paper and roll out until about 2mm thickness. If you like to have more less perfect circle shape the edges with your hands as you roll the dough out. I tend to start with paper on top and then remove it half way through.
Cut the dough into 16 wedges like you would cut a pizza and prick each cracker with a fork few times.
Transfer onto a baking tray keeping the bottom layer of paper.
Bake for 10-15 min. Keep an eye on the crackers as the outer edges always bake quicker. You might have to break them and move around, so they bake evenly.
Repeat with the rest of the dough.
Store in an airtight container for up to a week.
Enjoy with your favourite dip or on its own.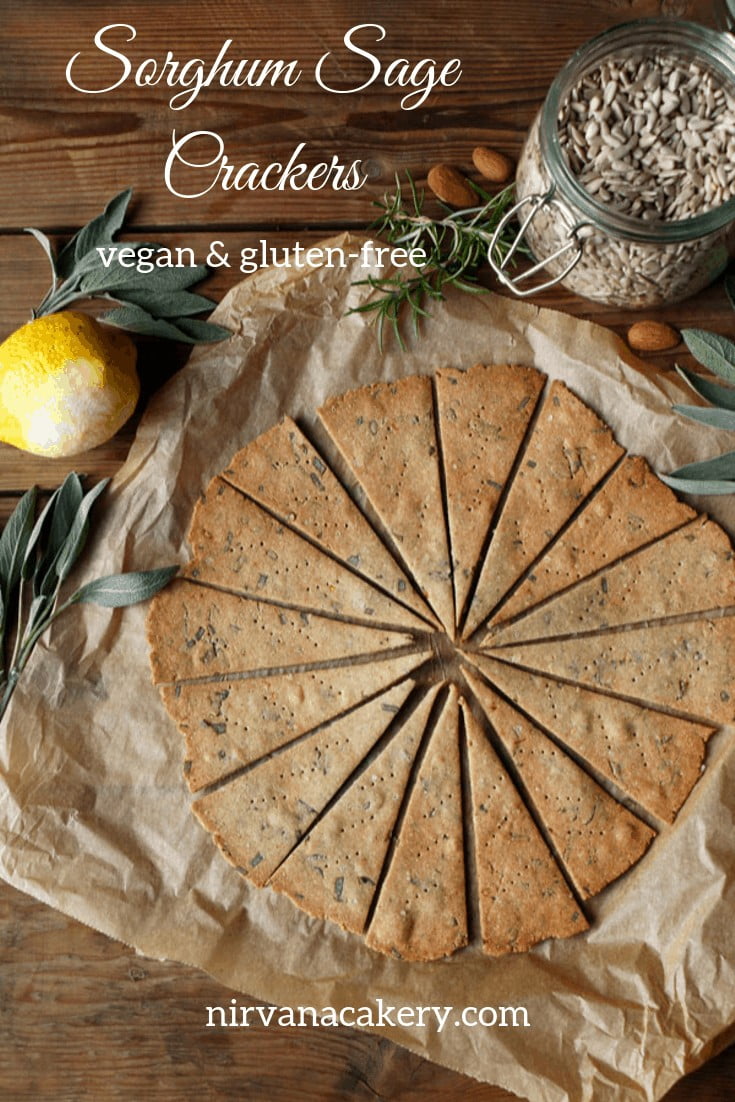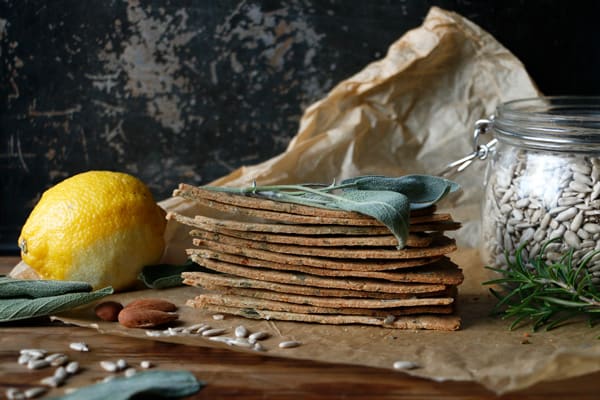 Similar Posts: