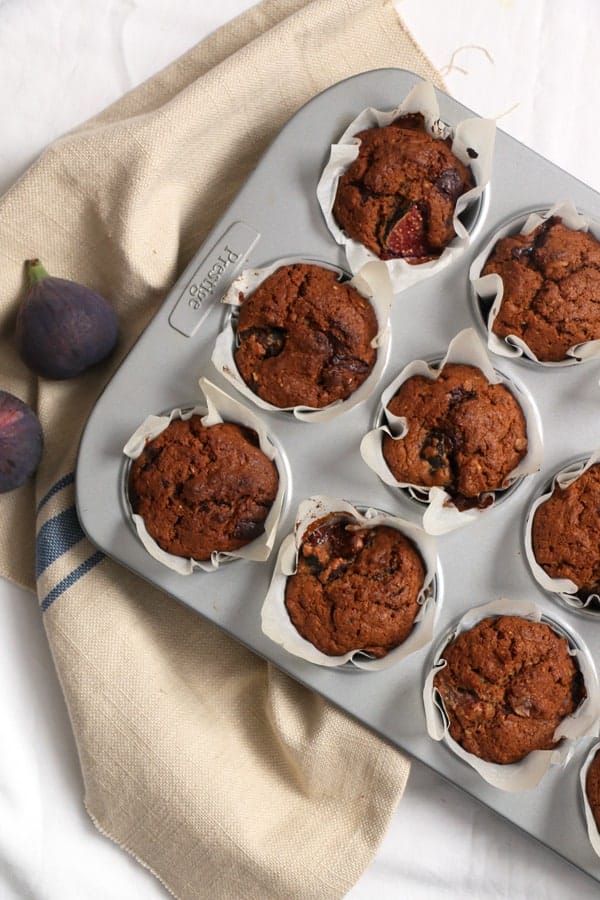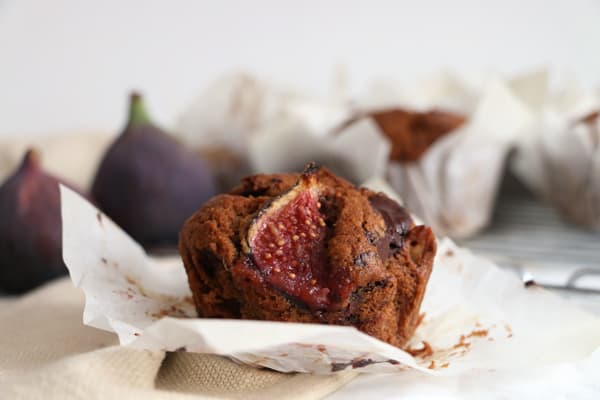 I just love this health food movement out there at the moment. So many more local shops started to stock organic produce and I can see so much change in London compared to just a short few years ago when all the health food shops were rather closing down because of the lack of business.
It's refreshing this newfound awareness. It also saves me so much time trekking to health food shops and yesterday I found coconut sugar in my local shop, yay.
I am so thrilled to bring you the recipe for these gorgeous Fig Walnut and Chocolate Muffins, oh, they are good! Moist, spongy, full of flavours complimenting each other….wholesome and delicious. I love fresh figs and in my dream garden, there is a fig tree; a beautiful tree and a beautiful fruit.
I've used spelt flour in this recipe as I was making them for my boys and they are not so keen on buckwheat flour that I often use these days. They are vegan and very simple to make, full of wholesome ingredients. I whisk them by hand fairly quickly and they only need about 25 min in the oven. Hope you have a great time making them:)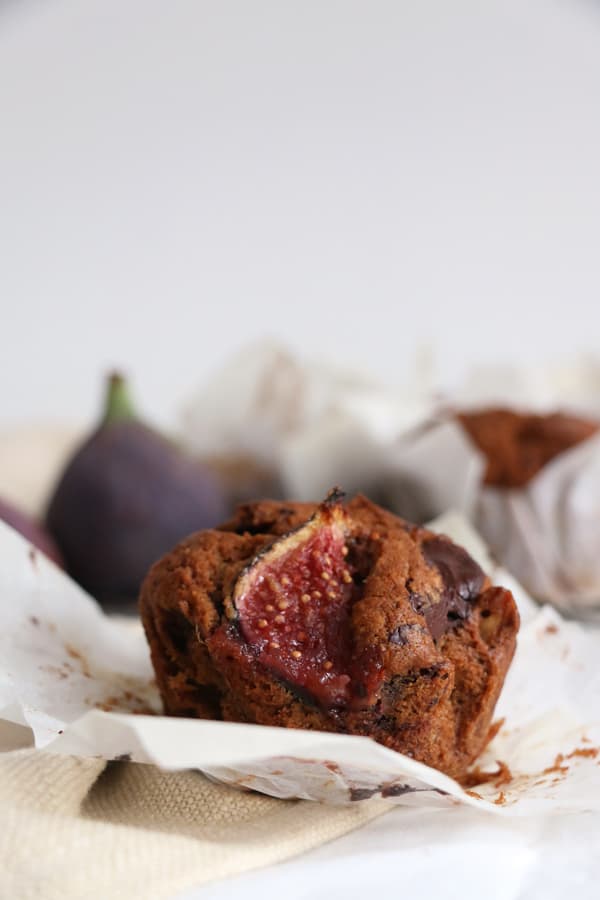 Yield: 12 muffins
Fig, Walnut and Chocolate Muffins (vegan)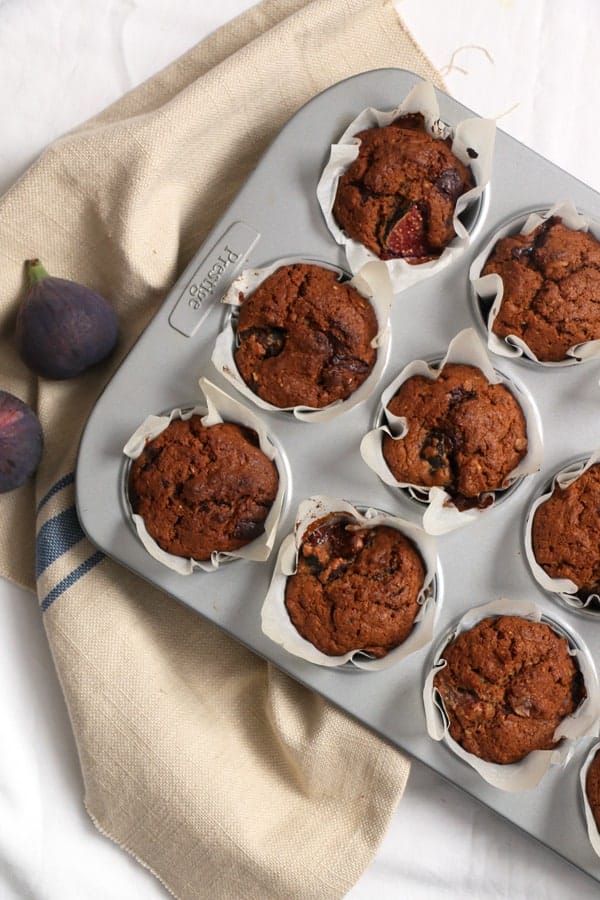 Ingredients
6 fresh figs, quartered
210g spelt flour (1 1/2 cups)
1tsp baking powder
1tsp bicarbonate of soda
1tsp cinnamon
pinch of salt
75g coconut sugar (1/2 cup)
50g desiccated coconut (1/2 cup)
80ml olive oil (1/3 cup)
240ml coconut milk (1 cup)
2tsp apple cider vinegar
1tsp vanilla
50g walnuts, chopped (1/2 cup)
50g dark chocolate, chopped (1/2 cup)
Instructions
Preheat the oven to 200°C (180°C fan)
Line 12 hole cupcake tin with cupcake size cases. I have used 5" squares cut from baking paper.
In a large bowl whisk together spelt flour, baking powder, bicarbonate of soda, cinnamon, salt, coconut sugar, desiccated coconut and set aside.
In a different bowl whisk together olive oil, coconut milk, apple cider vinegar and vanilla.
Add the wet mix to the dry mix and stir together until well combined.
Gently fold in chopped walnuts and chocolate and finally quartered figs.
Spoon the mixture into the cases, there should be 2 fig quarters in each case.
Bake for about 25min or until a cocktail stick comes out clean.
Remove from the oven once ready, leave to cool down for 15 min before moving onto a wire rack.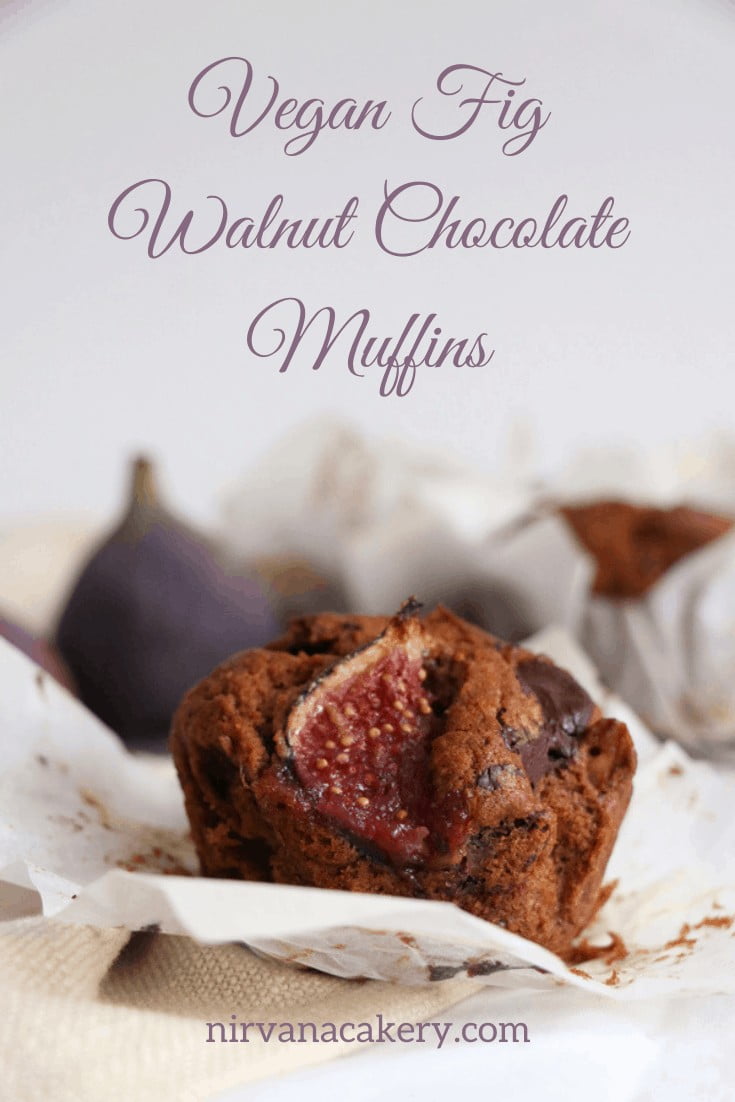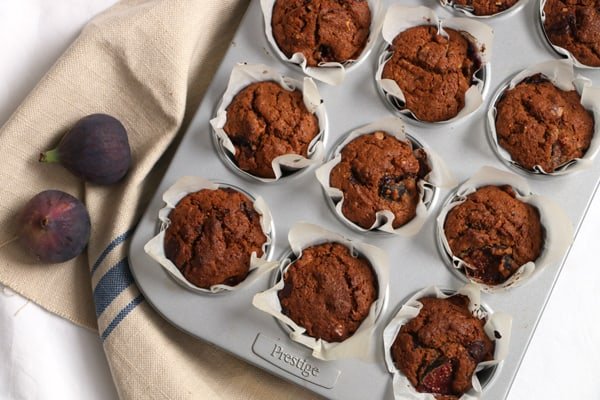 Similar Posts: