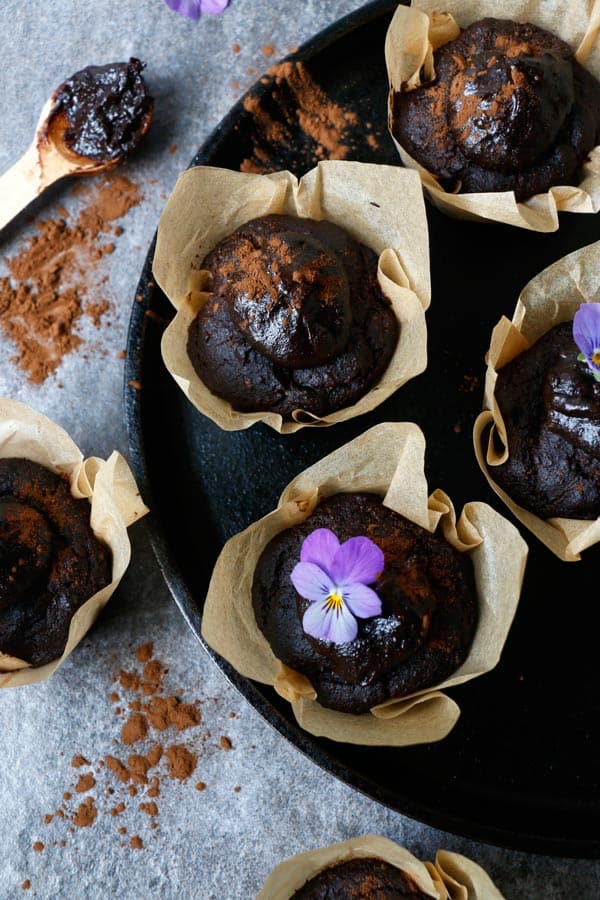 I have really craved some comfort baking today, I've had a crazy busy week, my son has been ill most of the week and I just wanted a bit of me time in the kitchen baking something nice.
I have lots of carob left that my mother in law has sent me from Portugal and I've just treated myself to some teff flour yesterday, which costed me a little fortune. And here we are, the fruit of my afternoon, totally decadent and dark Carob, Walnut and Teff Muffins with Carob Tahini Frosting, which by the way taste pretty amazing.
Teff flour is naturally gluten-free with a very interesting flavour, goes really great with chocolate, but I wanted to try it with carob. I've adapted these muffins from couple of my recipes – Banana Blueberry Muffins and Pear and Carob Muffins if you like to check them out. Teff flour gives these muffins a very nutty almost gritty flavour and carob makes them really dark brown almost black. Quite an unusual muffin, but so wholesome and different. And if you are like me and like things that are different, you will love these.
The recipe is fairly straight forward, I've used some ground walnuts with the teff flour and carob to create a gluten-free mix. I've added couple of bananas to build the structure as they are vegan too. And just to make them more interesting and little more special I've topped them with a bit off carob and tahini frosting. Well, I'm a blogger after all and I would love my recipes to be exciting enough for you to try and also little addicted to tahini:) Enjoy!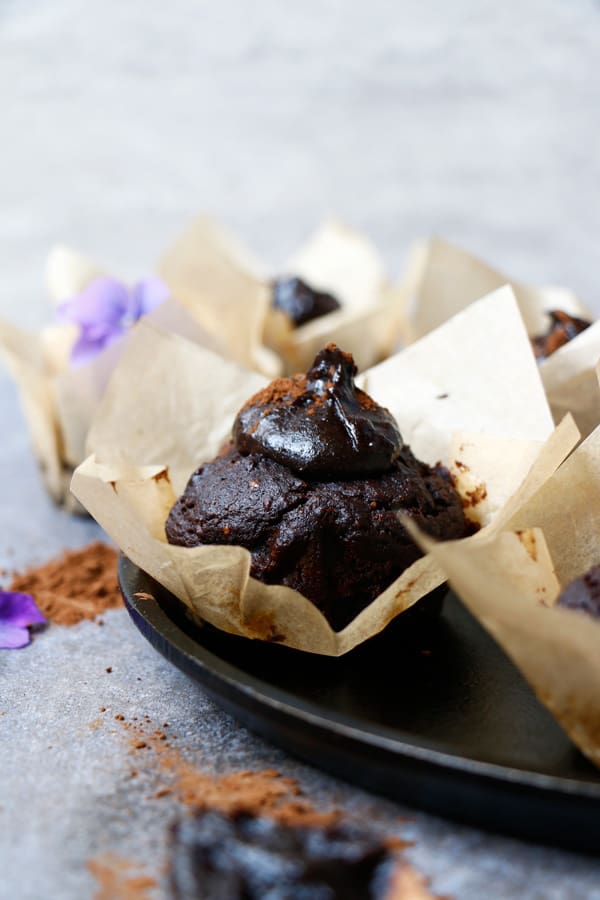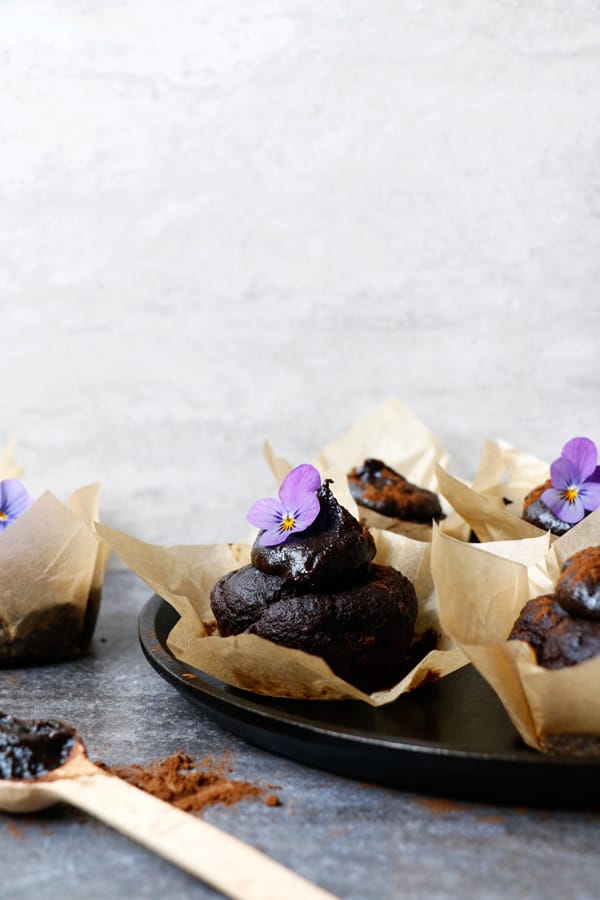 Yield: 12 muffins
Carob, Walnut and Teff Muffins with Carob Tahini Frosting (gluten-free & vegan)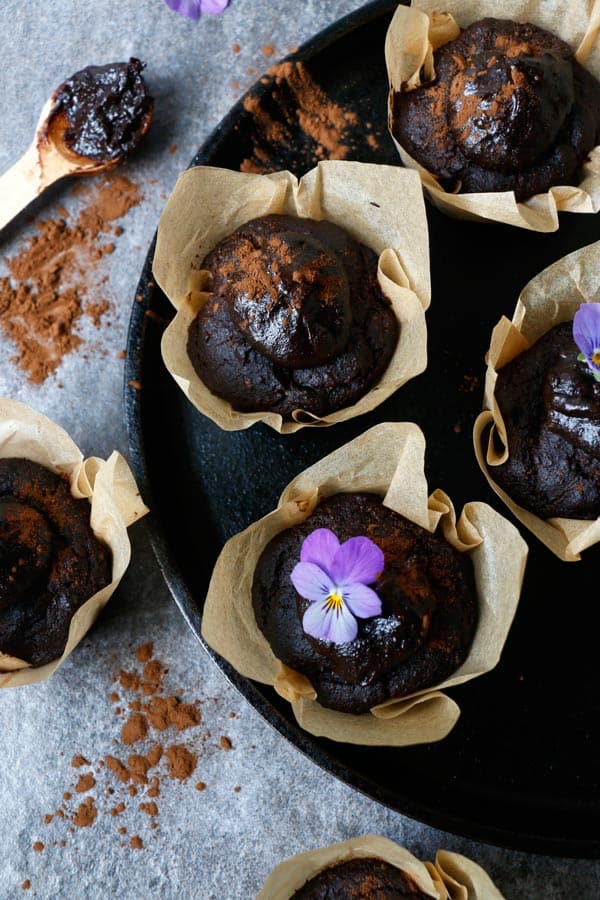 Ingredients
Muffins:
95g teff flour (3/4 cup)
100g ground walnuts (1 cup)
30g carob powder (1/4 cup)
50g coconut sugar (1/3 cup)
1tsp baking powder
1tsp bicarbonate of soda
1tsp cinnamon
pinch of sea salt
80ml coconut oil (1/3 cup)
120ml almond milk (1/2 cup)
2tsp apple cider vinegar
2 medium bananas, mashed
Frosting:
2 medjool dates, pitted
3tbsp tahini
1tbsp carob powder
1/2tsp cinnamon
pinch of sea salt
2-3tbsp almond milk
Instructions
Preheat the oven to 180°C (160°C fan)
Prepare 12 hole cupcake size tin with cases.
Mash the bananas and set aside.
Melt the coconut oil and set aside. Have the almond milk ready at room temperature.
In a large bowl whisk together teff flour, ground walnuts, carob powder, coconut sugar, baking powder, bicarbonate of soda, cinnamon and salt. Set aside.
In a small bowl whisk together coconut oil, almond milk and apple cider vinegar.
Add the wet mix together with the mashed bananas to the dry mix and mix until well combined.
Spoon the mixture into the prepared cases.
Bake for about 30-35min or until a cocktail stick comes out almost clean. It will be little sticky.
Remove from the oven once ready and leave to cool down for 20 min before moving onto a wire rack.
To make the frosting blend all of the ingredients until smooth. Spoon a small dollop on top of each muffin.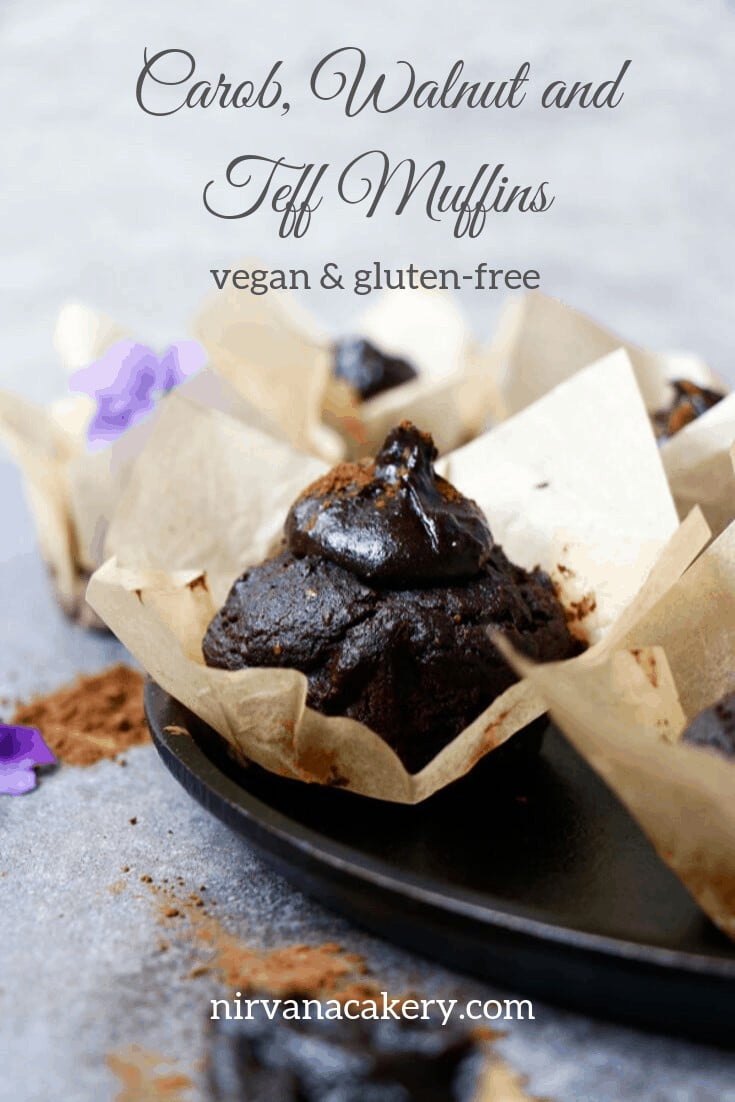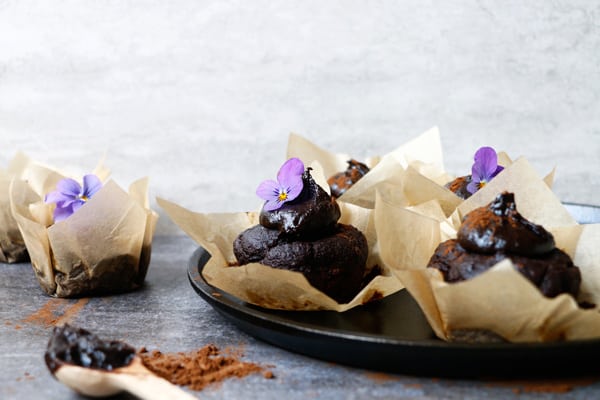 Similar Posts: