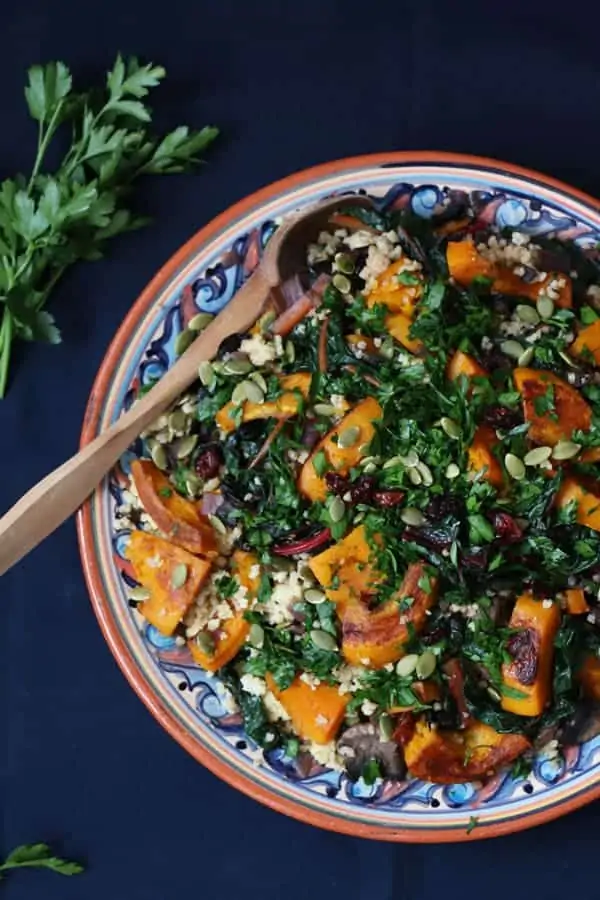 I've come to realize that sometimes it's rather difficult for a blogger to create a completely original recipe. I had this amazing idea to make a roast stuffed pumpkin with millet, chard, mushrooms, cranberries and almonds, and then when I've checked online for similar recipes I've found the lovely Green Kitchen Stories blog with pretty much the exact same recipe that I had in mind.
And so my epic stuffed pumpkin has made it into a salad:( which is by the way still pretty amazing.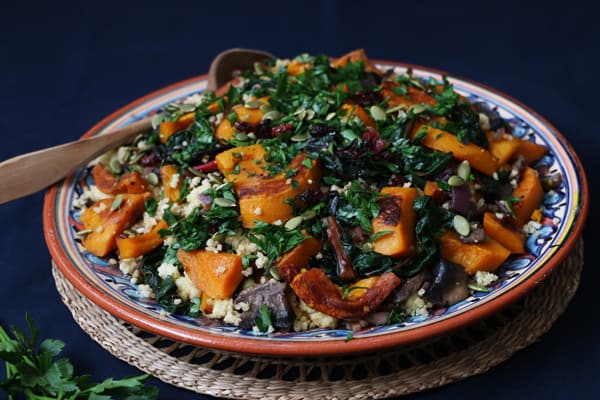 So here you have it superbly delicious cozy warm Pumpkin, Chard and Mushroom Millet Salad. I'll create an epic stuffed pumpkin at some other time perhaps.
This salad will take about an hour to make, while the pumpkin's in the oven and the millet's simmering, you sautee the veggies and then just toss everything together in a large serving bowl or platter. Lovely dinner ready in no time. You can eat this salad on its own or with some fresh green leaf salad on a side. You could even throw in some chopped avocado or pomegranate seeds for even more goodness.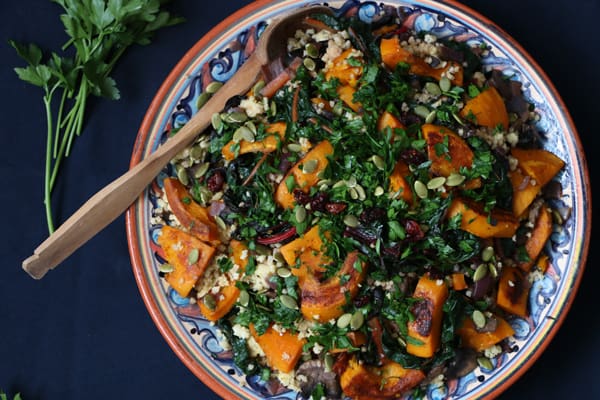 Yield: 4-6 servings
Pumpkin, Chard and Mushroom Millet Salad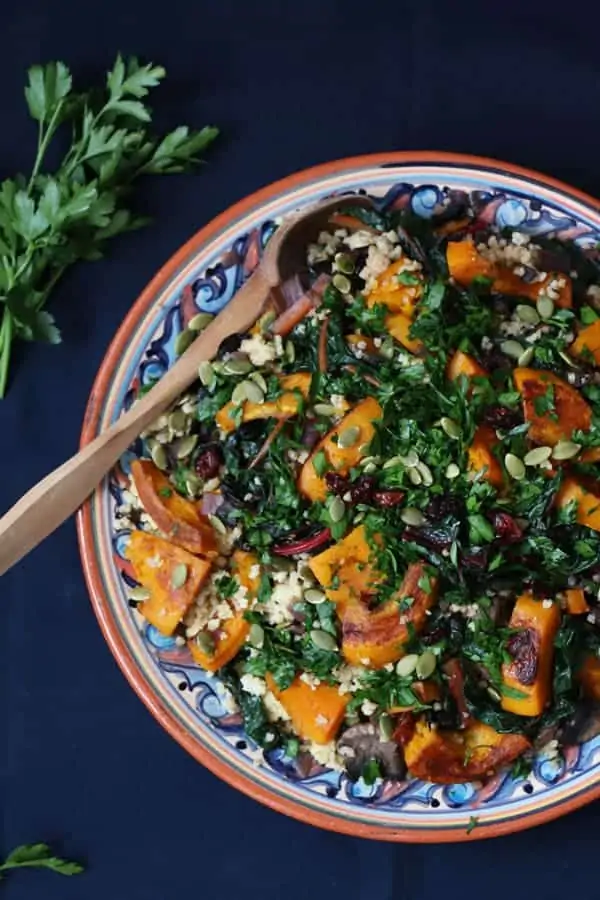 Ingredients
800g pumpkin (6 cups)
3 sprigs of thyme
250g millet (1 1/2 cup)
1 red onion, chopped
2 garlic cloves, finely chopped
2 medium portobello mushrooms, sliced
bunch of chard, chopped (about 3 handfuls)
40g pumpkin seeds (1/4 cup)
50g cranberries (1/3 cup)
salt & pepper
bunch of fresh parsley
olive oil
Instructions
Preheat the oven to 200°C (180°C fan)
Peel the pumpkin, remove the seeds and chop into wedges.
Place on a baking tray, toss with thyme, sea salt, and good drizzle of olive oil and bake for about 30min until soft and slightly browned around the edges.
Measure 1½ cup of millet, rinse with plenty of water and place into a pot. Add double the volume of water and bring to a boil. Simmer covered for about 15 min. After 15 min remove from the heat and leave to stand for 10 min. Fluff up with a fork.
In a pan sautee chopped onions with 2tbsp of olive oil for 5 min, add garlic and sliced mushrooms and sautee for another 5 min. Add chard and leave to cook for further 3-5 min until wilted.
In a large bowl toss all of the ingredients together, season with sea salt, freshly ground pepper and extra drizzle of olive oil.
Garnish with plenty of fresh chopped parsley.
Serve warm and enjoy!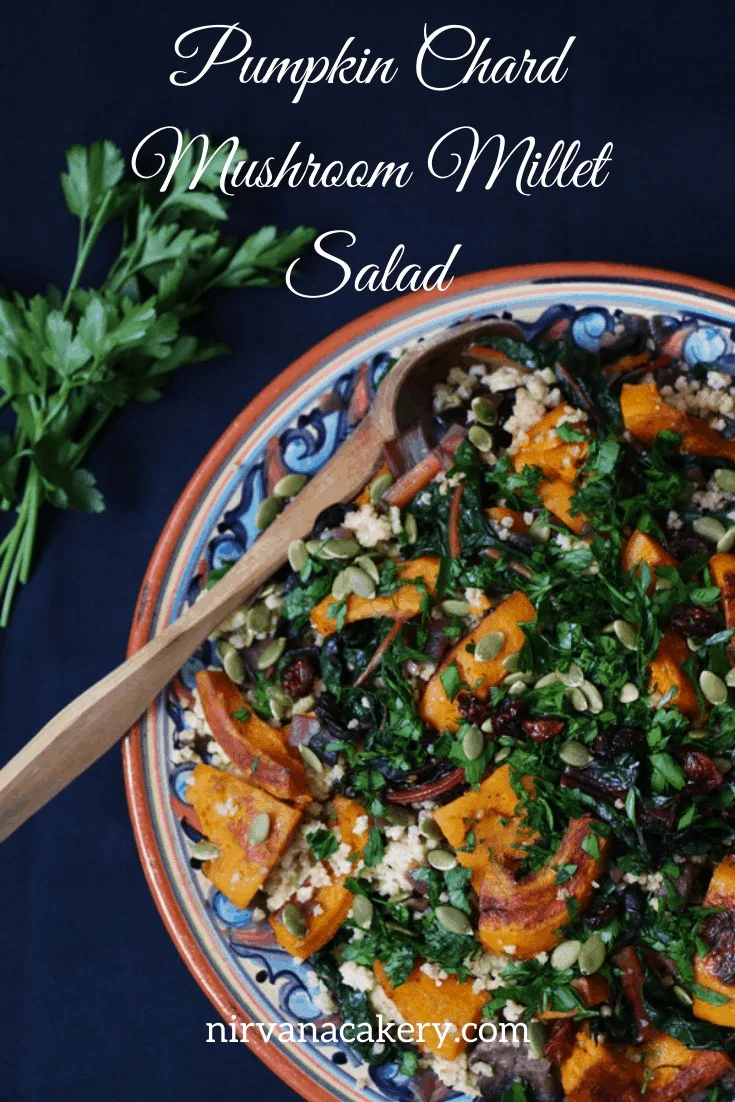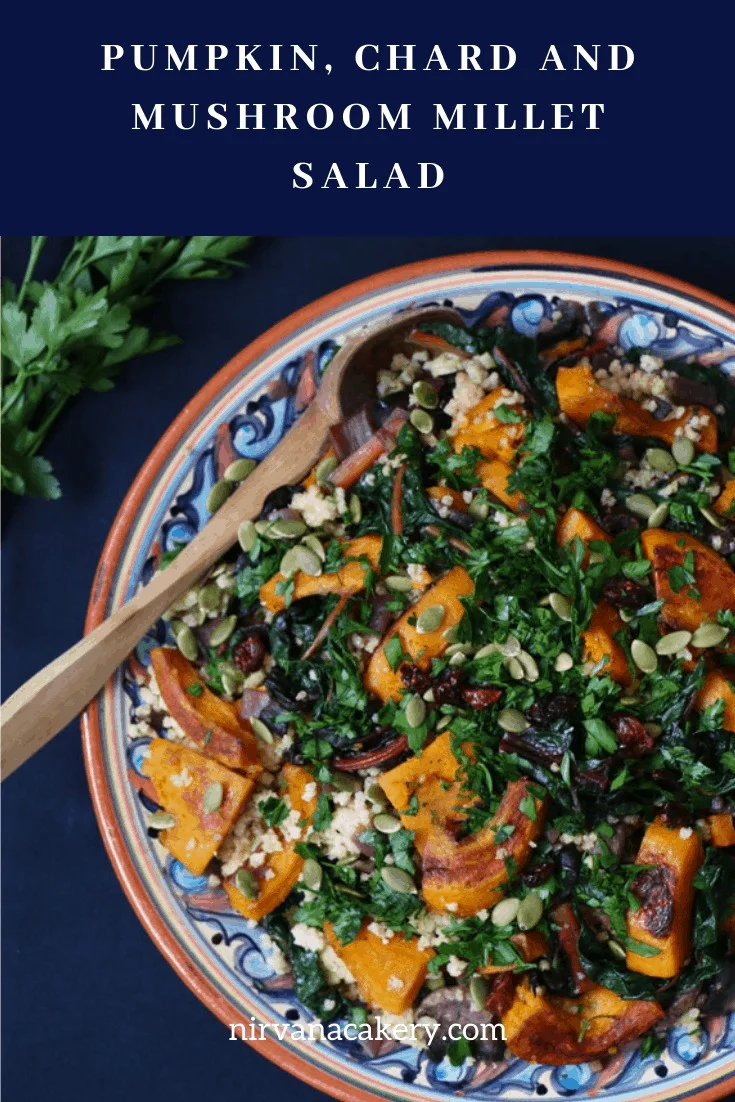 Similar Posts: