I have this beautiful lemon thyme plant on my windowsill and last weekend I had some apples that needed using and as it happened together they have made it into this simple sponge cake. I have used my almond and olive oil cake recipe for the base, added some thyme, topped it with some sliced apples and voila a new recipe was born!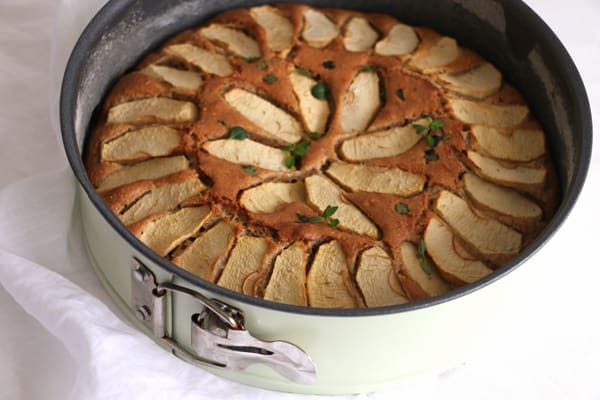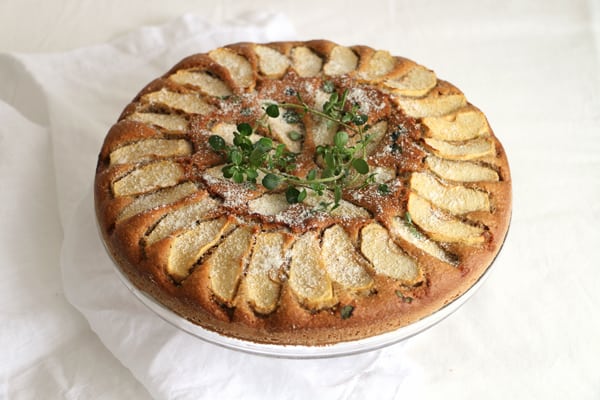 This cake is made with light spelt flour, ground almonds and it's lightly sweetened with maple syrup. The lemon thyme gives it a little lemony flavour that comes through nicely. You could choose to sweeten this cake with some unrefined sugar instead of maple syrup, just add extra milk if you do so. I have also dusted this cake with some coconut flour instead of sugar and decorated with some extra sprigs of lemon thyme. It's not a large cake, just perfect if you fancy a little not too sweet treat with your afternoon tea.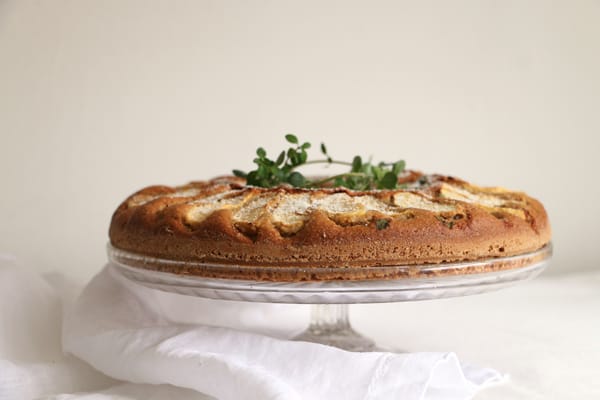 Apple, Thyme and Almond Cake
Ingredients
2 apples, peeled, cored and sliced
little squeeze of lemon
2 sprigs of lemon thyme
140g light spelt flour (1 cup)
100g ground almonds (1 cup)
1tsp baking powder
1/2tsp bicarbonate of soda
1tsp cinnamon
pinch of sea salt
2 eggs
80ml maple syrup (1/3 cup)
80ml olive oil (1/3 cup)
1 tsp vanilla
2 tbsp almond milk
Instructions
Preheat the oven to 200°C (180°C fan)
Grease and line 9" round spring form cake baking tin.
Peel, core and slice the apples, squeeze little lemon juice over them and set aside.
In a bowl whisk together spelt flour, ground almonds, baking powder, bicarbonate of soda, cinnamon, salt and thyme and set aside.
In a different bowl whisk together eggs, maple syrup, olive oil and vanilla.
Add the dry ingredients to the wet mixture together with 2 tbsp of milk and mix until just combined.
Spoon the mixture into your prepared tin and level the surface.
Arrange the sliced apples on top and bake for about 40 min or until a cocktail stick comes out clean.
Remove from the oven and leave to cool down.
Place on a cake stand and enjoy!
Notes
You can replace maple syrup with 1 cup of unrefined sugar and 1/2 cup of milk.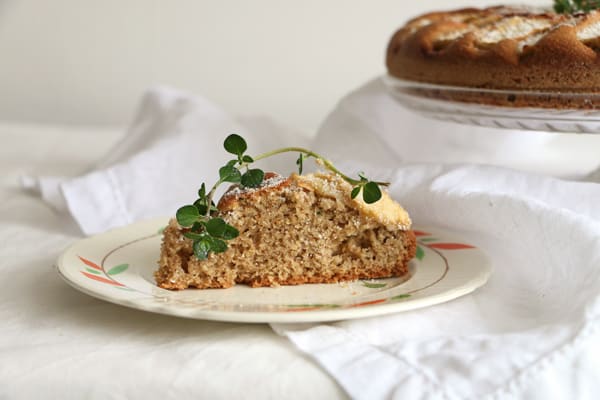 Similar Posts: