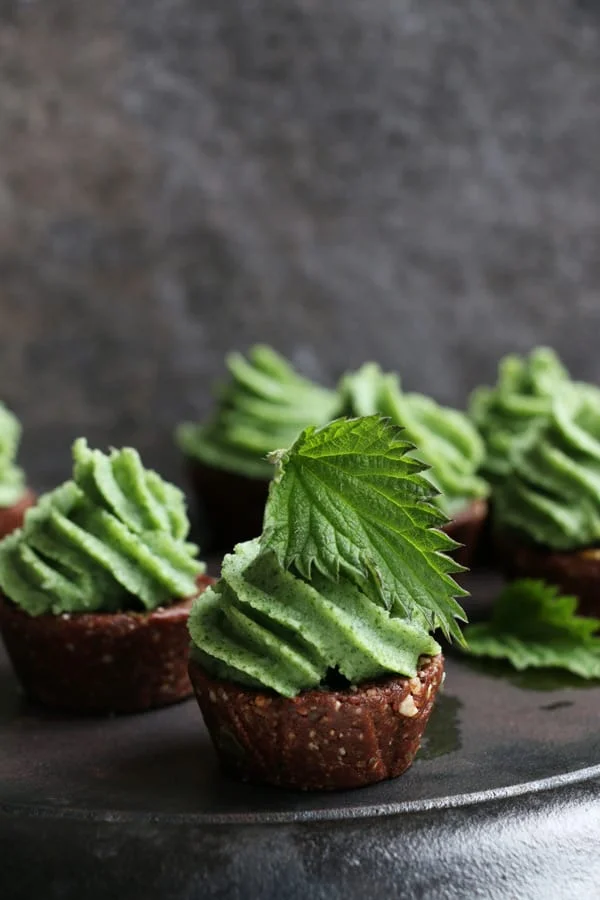 Ever since posting my Spring Nettle Soup recipe I've been thinking about making nettle frosting. The vibrant green colour of nettles is just too beautiful not to try! And so these Raw Chocolate Cupcakes with Nettle Frosting came to Life as a complete experiment and I totally fell in love with these gorgeous mini cakes. I've picked the nettle chocolate combination for the colour, not really knowing whether it would work, but the flavours! What a yummy wholesome treat these are.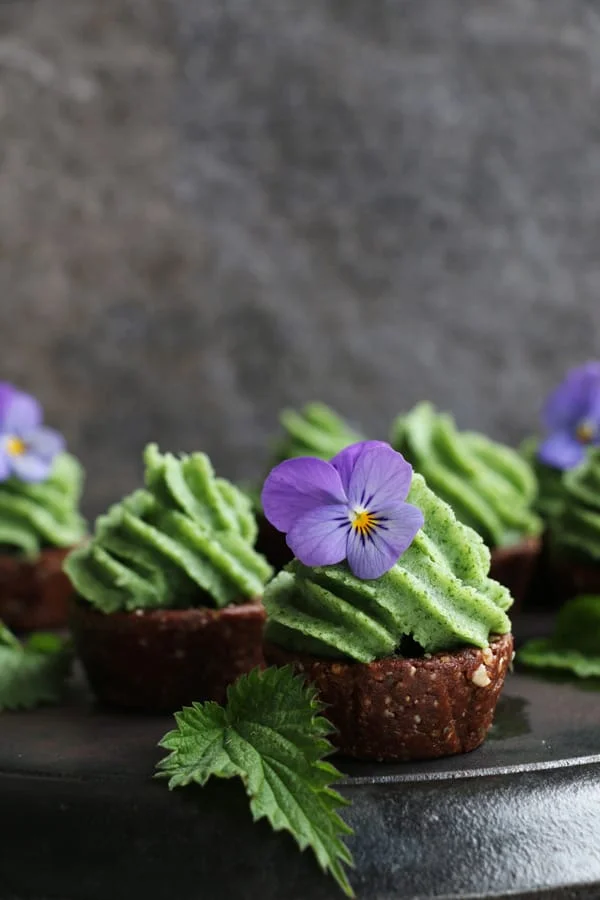 At first the frosting looked like oh this was a bad idea, but at the end it all came together just fine. The frosting is not technically raw, I wasn't completely comfortable using the nettles raw and so I've blanched them first. I've melted some coconut butter with coconut oil, added some maple syrup and lemon zest and blended everything together with the blanched nettles. First it looked a bit split, but after about 30 minutes in the fridge it all came together beautifully ready to frost the cupcakes. The chocolate rich cupcakes are a mix of walnuts, pumpkin seeds, medjool dates and raw cacao, perfectly complimenting the nettle frosting. There's a sweet spot for the frosting, don't let it cool too long, otherwise it'll be too hard to frost the cupcakes. You can use some cupcake liners for the cupcakes if you prefer. I've just pressed the mix straight into the tin and used the edge of a knife to pop them out after about an hour in the fridge. Looking forward to see what you think. Enjoy:) x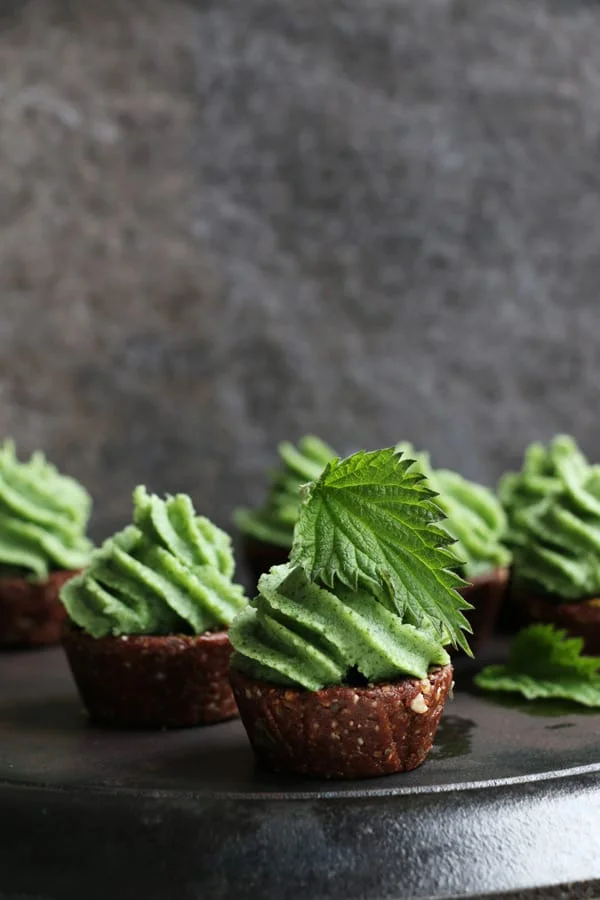 Yield: 12 mini cupcakes
Raw Chocolate Cupcakes with Nettle Frosting (grain-free & vegan)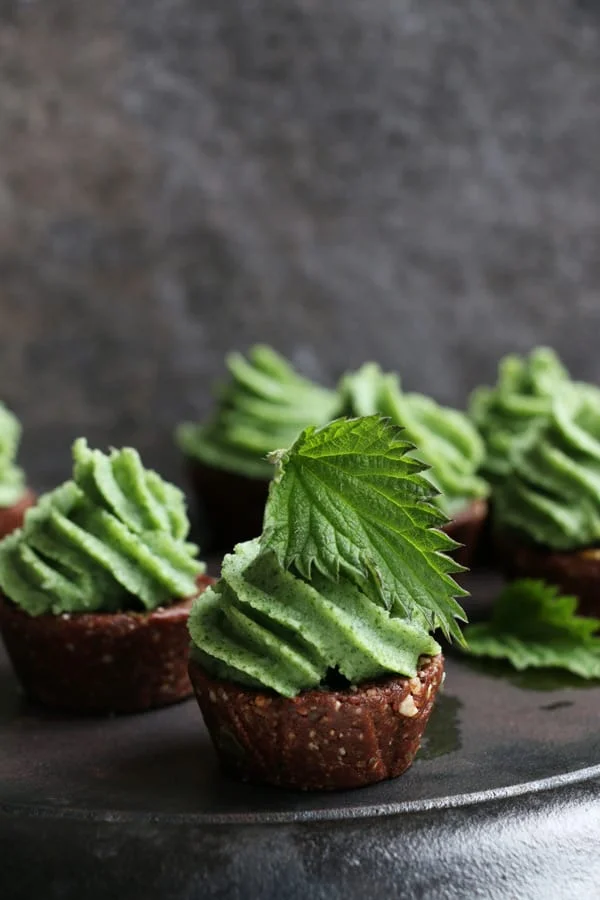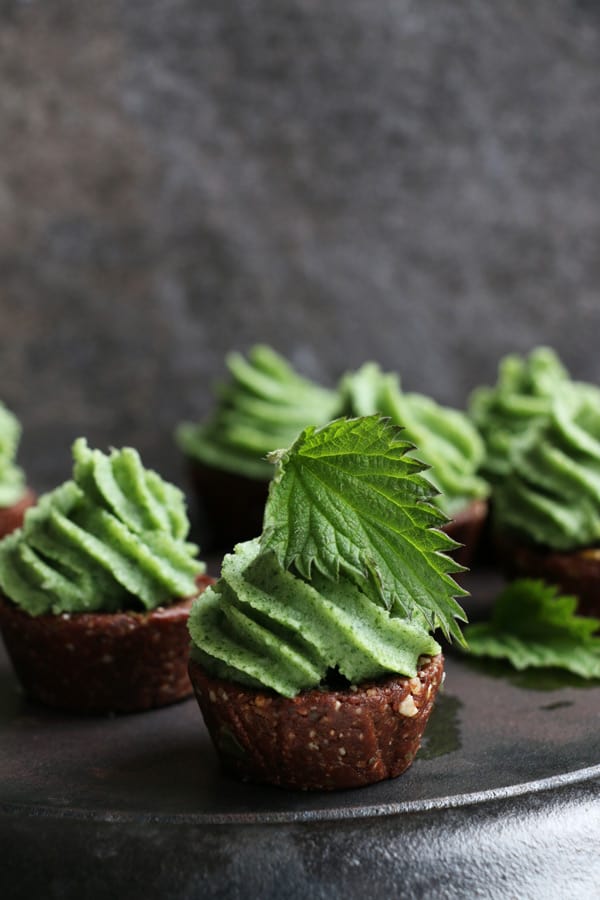 Ingredients
Chocolate cupcakes:
100g walnuts (1 cup)
80g pumpkin seeds (1/2 cup)
8 medjool dates, pitted
1tbsp coconut oil
30g raw cacao powder (1/4 cup)
1tsp cinnamon
pinch of sea salt
Nettle frosting:
200g coconut butter or creamed coconut (1 cup)
2tbsp coconut oil
2tbsp maple syrup
1/2 lemon, zest
1tbsp lemon juice
30g nettle leaves (2 cups)
Instructions
Place the walnuts and pumpkin seeds into food processor, pulse few times until they broken down to a coarse consistency. Add dates, coconut oil, cacao, cinnamon and sea salt and blend until the mixture comes together. Divide the mix evenly into 12 mini cupcake holes and press tightly down. Place into a fridge for about an hour to firm up.
In a double boiler gently melt coconut butter with coconut oil. Set aside and leave to cool down a bit.
Carefully pick nettle leaves from the stems and wash thoroughly. It's best to use gloves to do that. In a small pot bring water to a boil, add nettles and boil for 2 minutes. Rinse under cold water and drain well. Place into blender with 1tbsp of lemon juice and blend until smooth.
Add the melted coconut butter, maple syrup and lemon zest to the nettles and blend until incorporated. Scoop the mix into a bowl and refrigerate for about half hour until firm enough to frost the cupcakes. Don't worry if it looks a bit split at this point, just give it a good stir afterwards.
With an edge of a knife pop the cupcakes out of the tin, smooth out the edge if it gets a bit distorted.
Spoon the mixture into piping bag with a large nozzle and decorate the cupcakes.
Store in a fridge or freezer in an airtight container.
Enjoy!
Notes
There's a sweet spot for the frosting, don't let it cool too long, otherwise it'll be too hard to frost the cupcakes. If it does get too hard, you can soften it in a double boiler.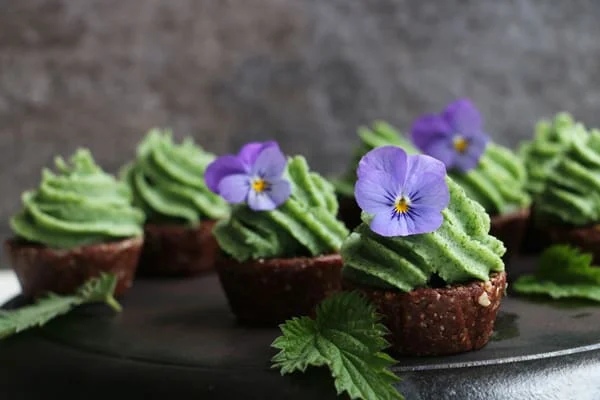 Similar Posts: