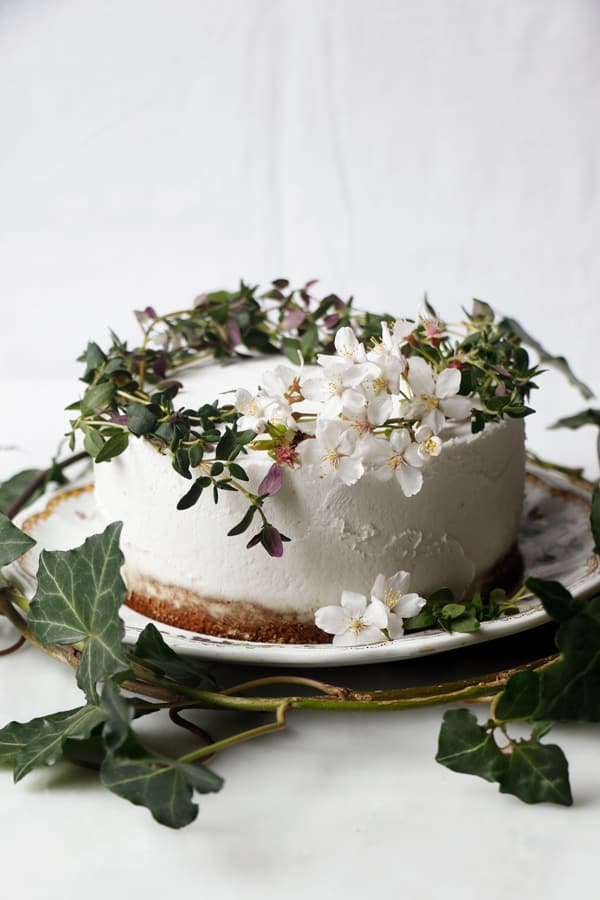 As the whole world is gripped by fear I'm coming with a message of Love and a Thyme Lemon Zucchini Cake recipe. Love over fear, Love over fear. The most important message to us all at this moment is to rise above any fear we might be feeling. Coming to our breath, to our hearts, here's our power. Here is our safety. Connect to Mother Earth, allow yourself to be held. You are safe. You are loved.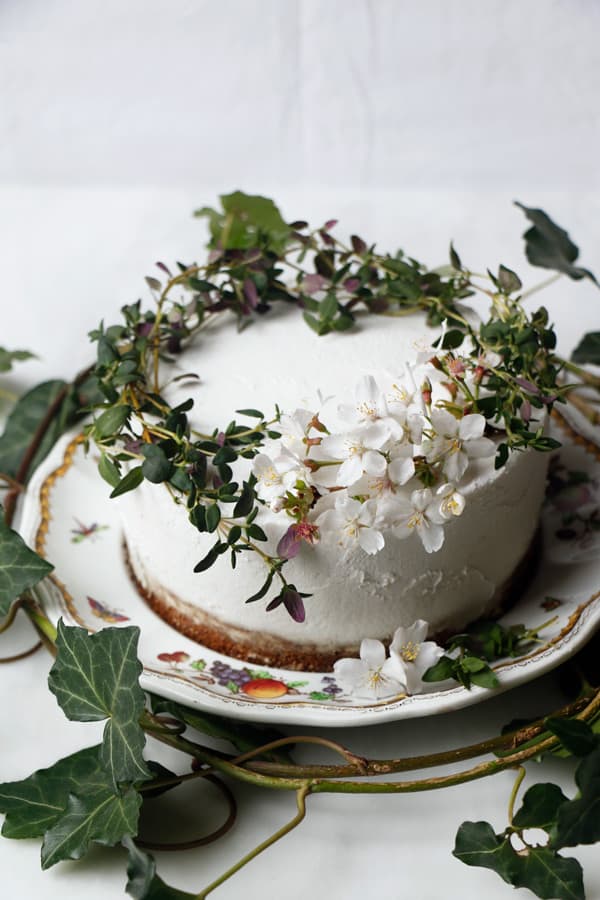 I have created this cake as a special request for one of my beautiful readers who had to recently change her diet. She's told me that she really doesn't want to give up on making my cake recipes and asked me if I could create a recipe with the ingredients she is able to include in her diet. So here is a special recipe for her to enjoy :)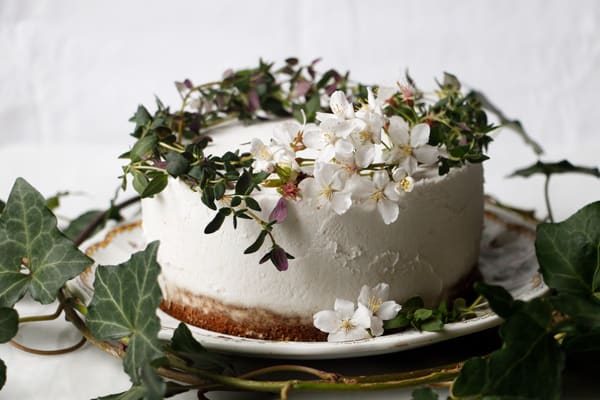 I'm giving sorghum flour another chance in this recipe. I've used it in a cake recipe before but somehow never got on with it, but it's worked really well in here. Another one is pumpkin seed flour, one which I'm trying for the first time in a cake recipe. It works as well as sunflower seed flour which I often use but it does add a slightly green tint to the cake which I have to say I loved. I will definitely be using pumpkin seed flour more and planning to make some brownies with it.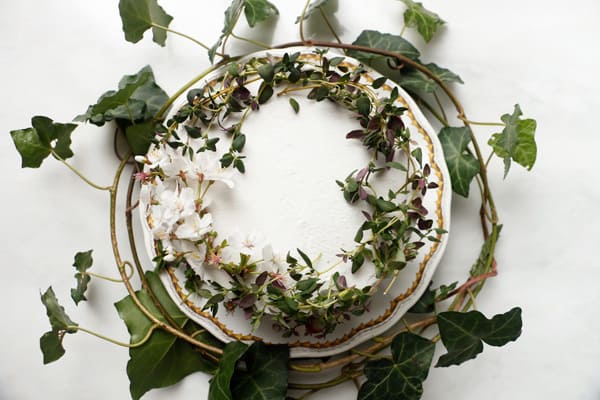 I have to say the cake tastes really healthy with lovely thyme and lemon flavour. The zucchini keeps it lovely and moist. It's not very sweet and you might want to add a little sweetener to the coconut cream if you'd like more sweetness.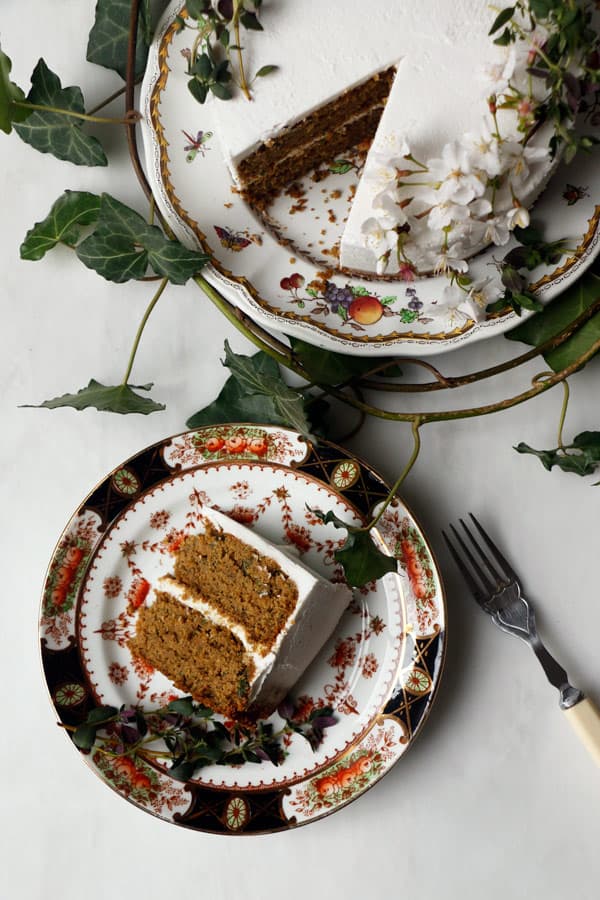 I've kept the decoration very simple with fresh thyme sprigs and few spring blossoms. You could also use lemon slices, lemon zest or some flaked coconut. I love the simplicity of this cake, the energy feels really pure and you can see how the thyme sprigs created a heart shape. It wasn't intentional but it's the message that is coming through.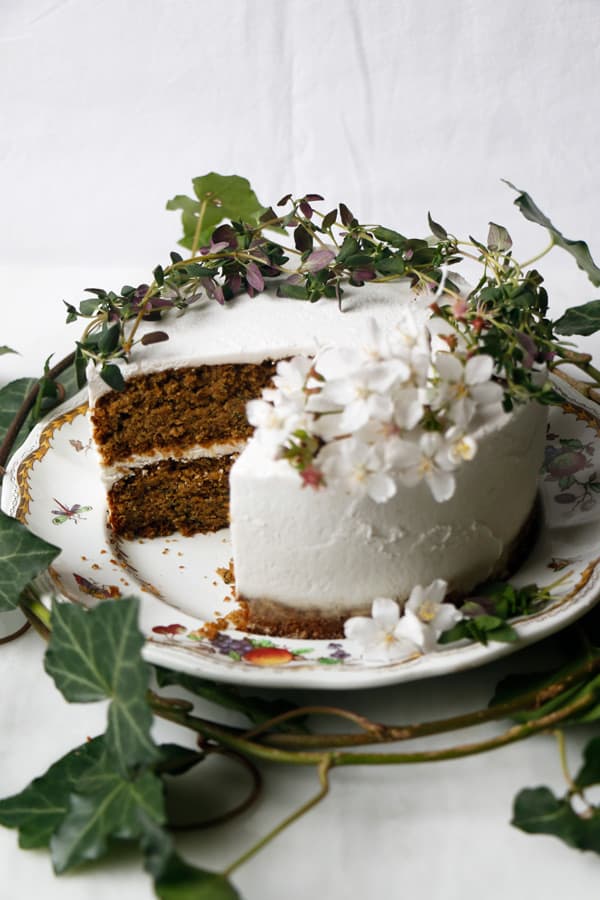 Yield: 6" layer cake
Thyme Lemon Zucchini Cake (vegan & gluten-free)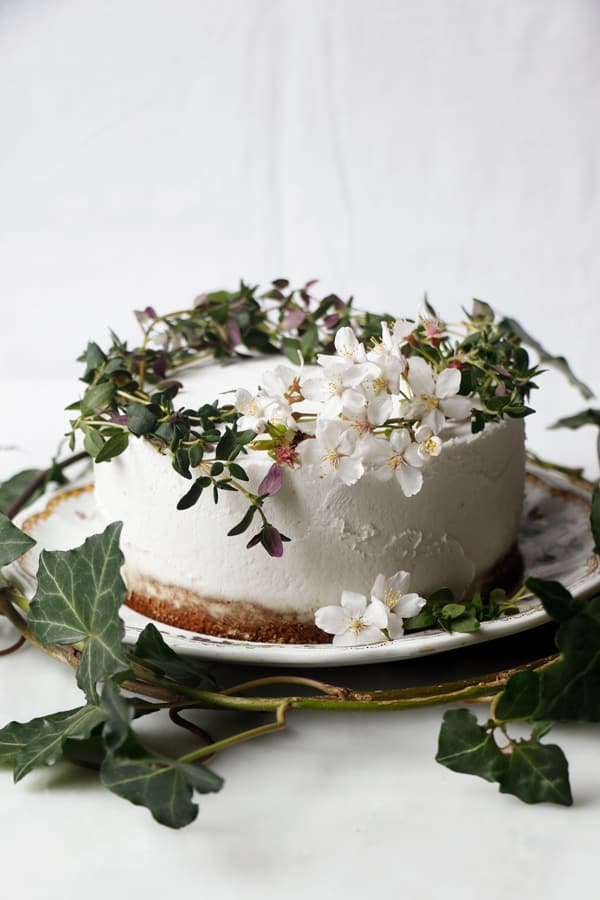 Ingredients
200g zucchini, roughly grated (1 1/4 cup)
90g sorghum flour (3/4 cup)
35g brown rice flour (1/4 cup)
70g pumpkin seeds, ground into flour consistency (1/2 cup)
30g arrowroot (1/4 cup)
1tsp baking powder
1tsp bicarbonate of soda
pinch sea salt
100g coconut sugar (3/4 cup)
1tbsp fresh thyme
1 lemon, zest
2tbsp ground flaxseed + 6tbsp water
80ml olive oil (1/3 cup)
1tbsp lemon juice
1tsp vanilla extract
To assemble:
whipped coconut cream
fresh thyme sprigs
lemon zest
Instructions
Mix 2tbsp ground flaxseed with 6tbsp water and set aside to thicken.
Preheat the oven to 180°C (350F)
Grease and line the base and dust the sides of two 6" round cake baking tins.
In a large bowl whisk together sorghum flour, brown rice flour, ground pumpkin seeds, arrowroot, baking powder, bicarbonate of soda and salt. Stir in sugar, thyme and lemon zest and set aside.
In a small bowl whisk together gelled flax eggs, olive oil, lemon juice and vanilla.
Add the wet mix to the dry mix together with grated zucchini and mix until well combined. You should have muffin consistency. Spoon the mixture evenly into your prepared tins and level out the surface. Bake for about 30 minutes or until a cocktail stick comes out clean. Remove from the oven once ready and leave to cool down for 20 minutes before removing from the tins.
Once the cakes are completely cool, you can frost the cake. Place the bottom layer onto a cake stand and spread generously with some whipped coconut frosting. Top with the second cake layer and frost the top and the sides of the cake.
Decorate with thyme sprigs, lemon slices, lemon zest, flaked coconut.
Enjoy!
Notes
You can replace olive oil with melted coconut oil.
You can replace arrowroot with tapioca flour or potato starch.
I didn't need any extra liquid in the recipe but if the mixture is too dry you can add plant-based milk as needed.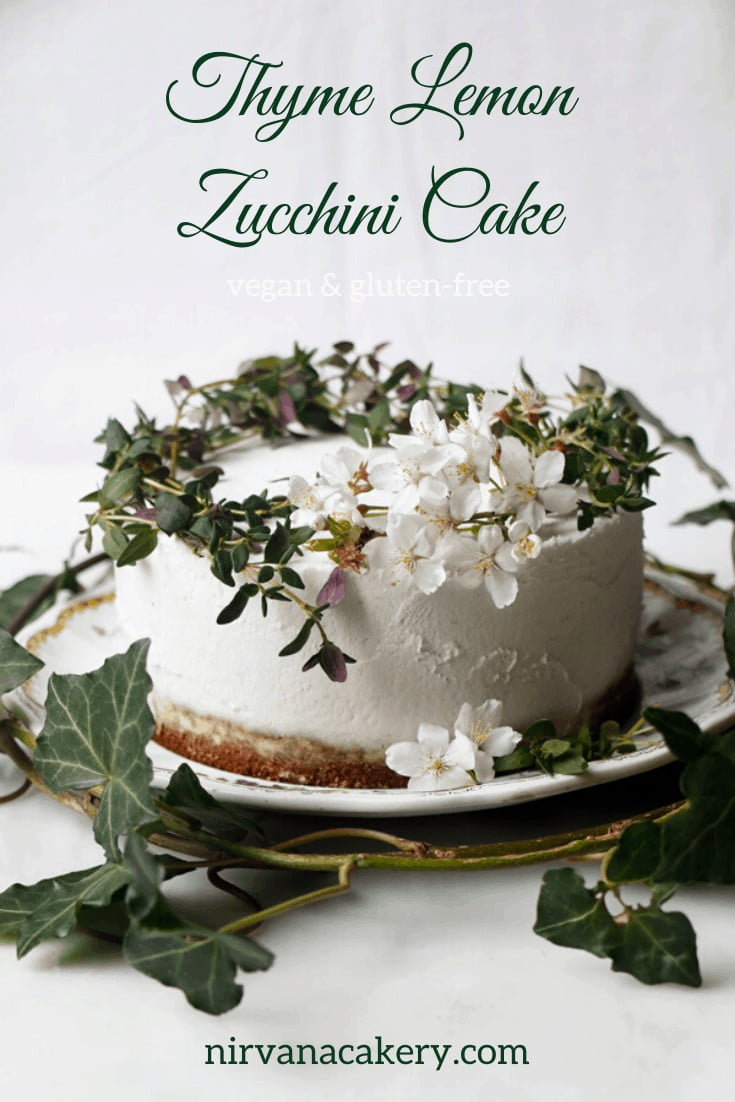 Similar Posts: