Wholesome gluten-free vegan cheesecake with almond chickpea crust, creamy tofu filling and wild blueberries.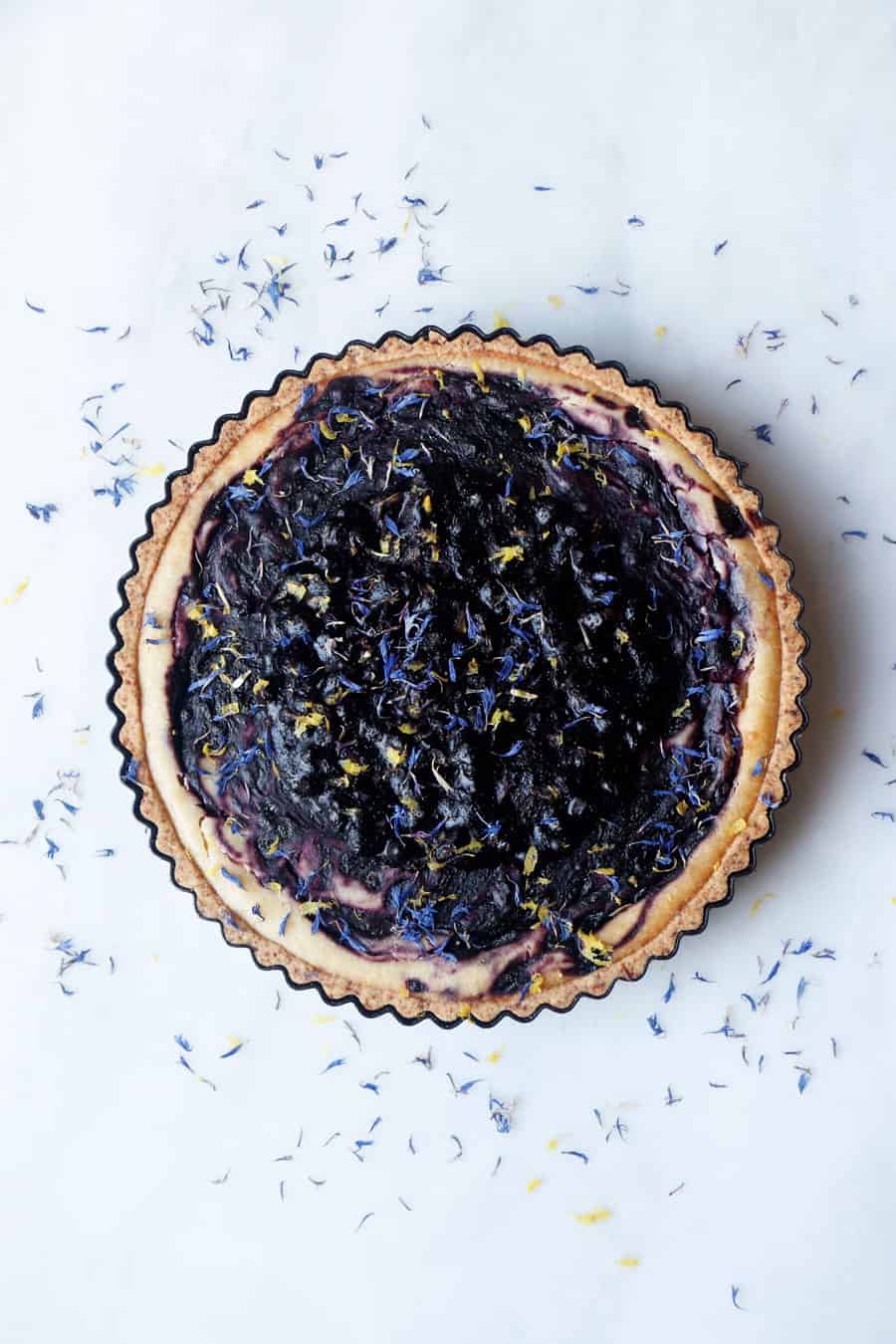 Happy March! To celebrate this beautiful month I've baked this wonderful Wild Blueberry Cheesecake. It's been a while I haven't make something with my all time favorite fruit. Wild blueberries are just full of magic and deliciousness.
This cheesecake is adapted from my Baked Gingerbread Cheesecake that I've created last December and I hope you enjoy my newest plant-based adaptation of this classic recipe.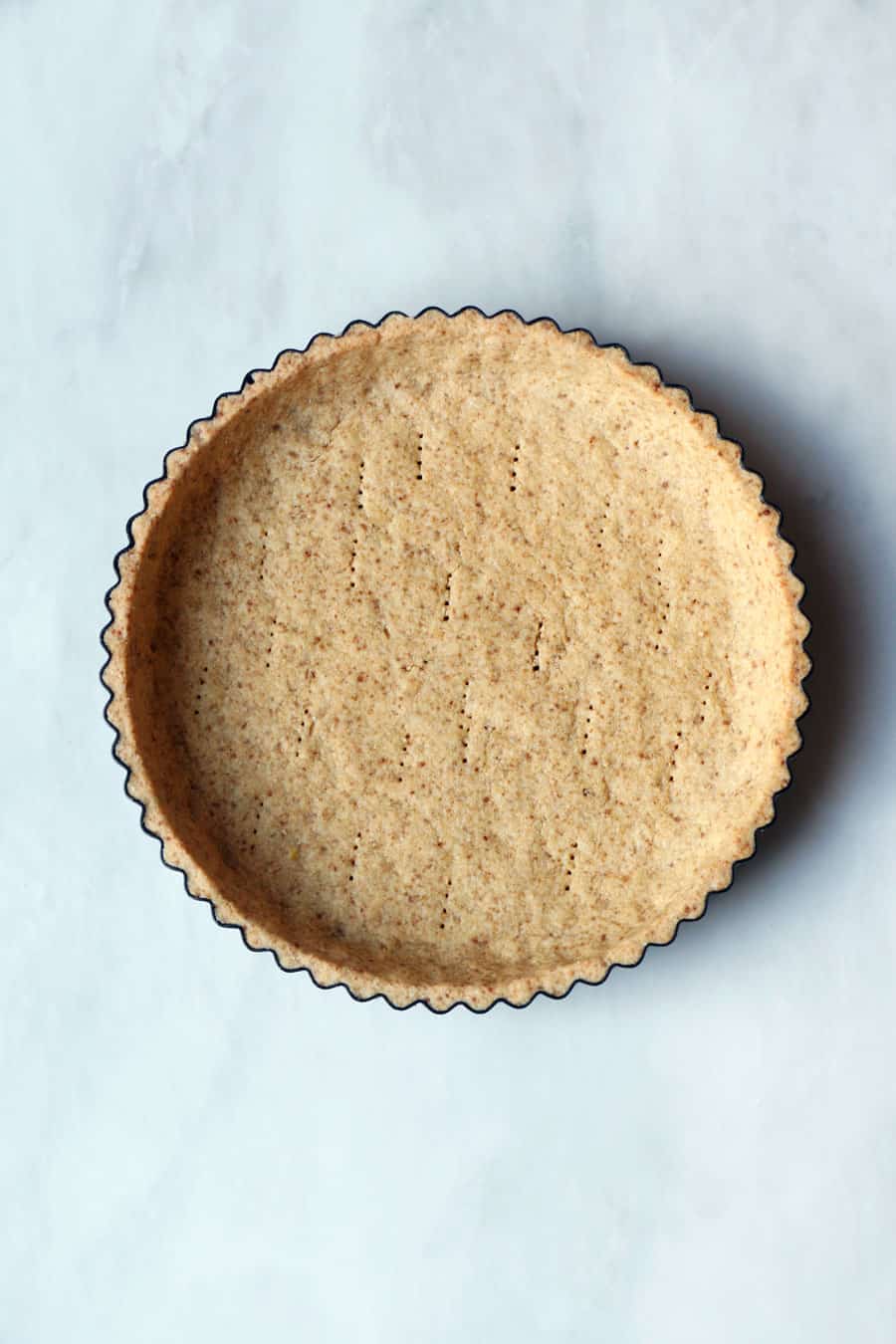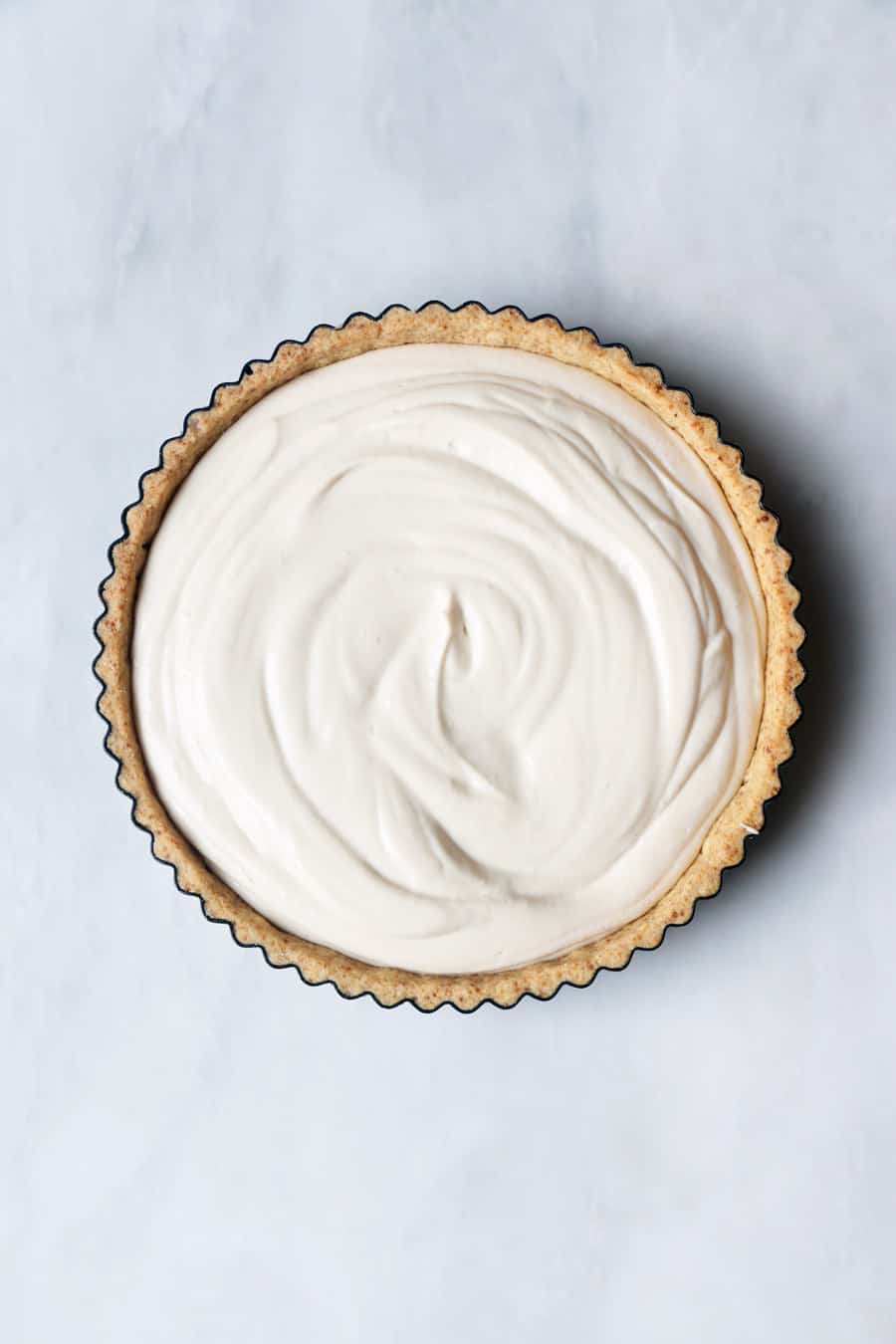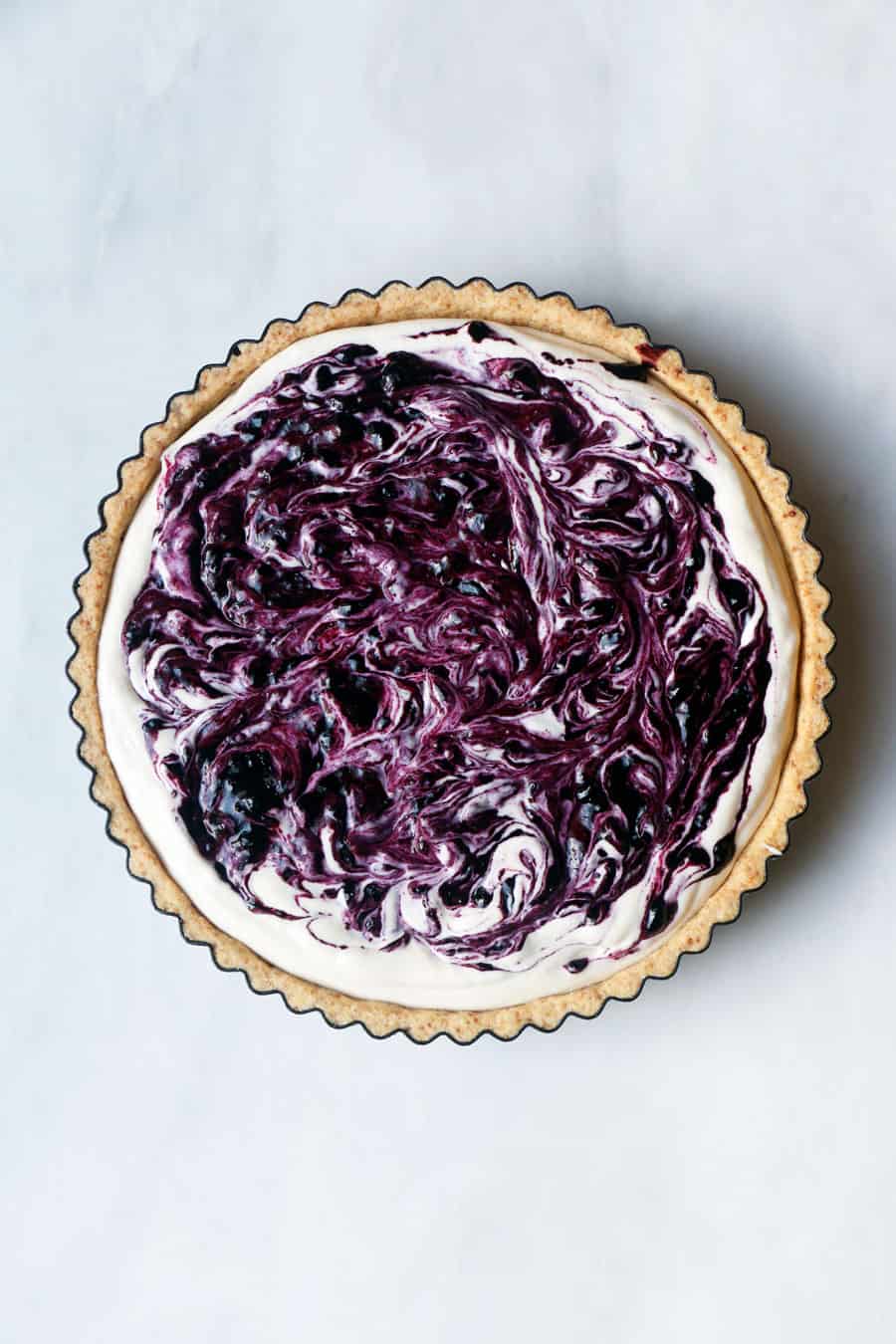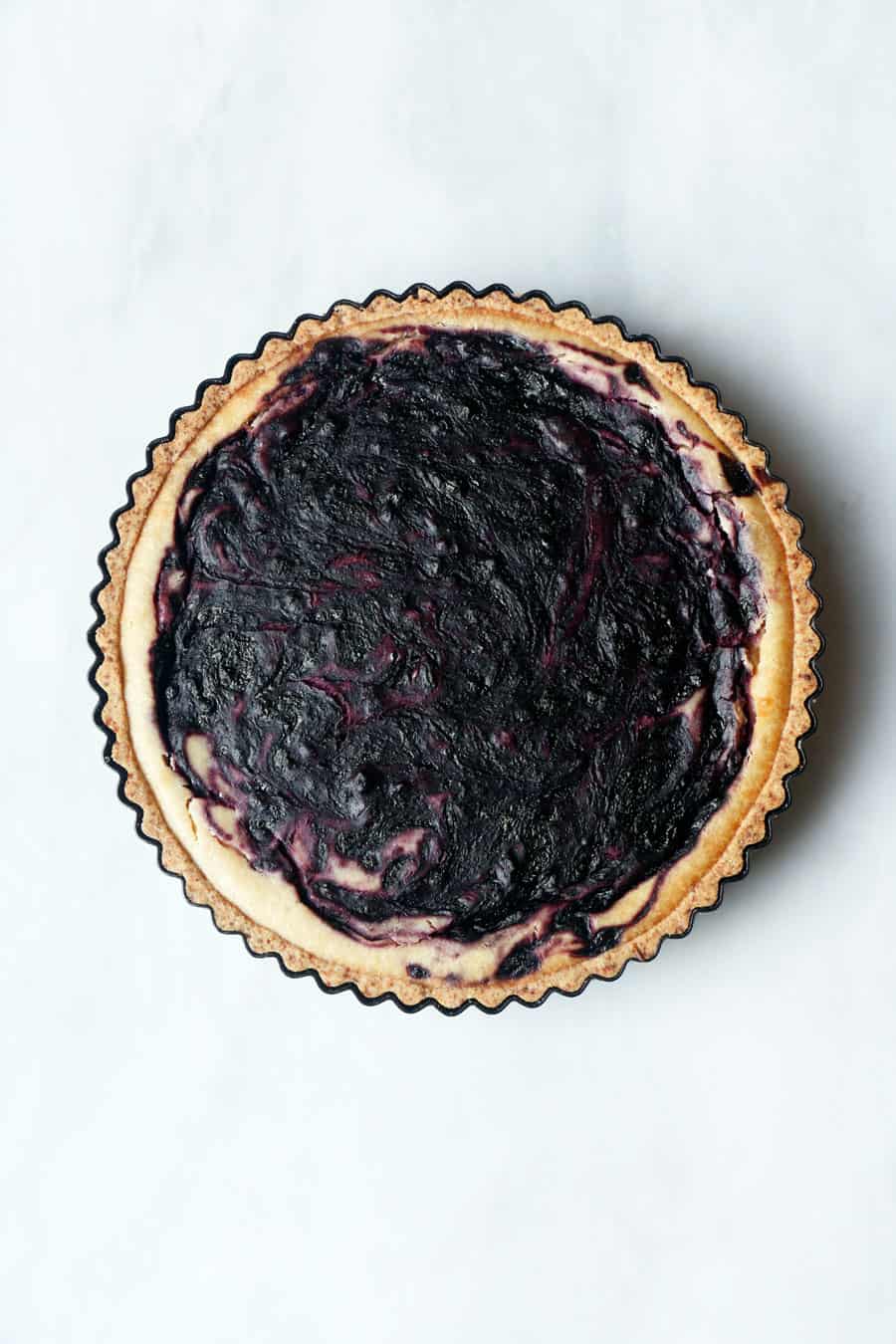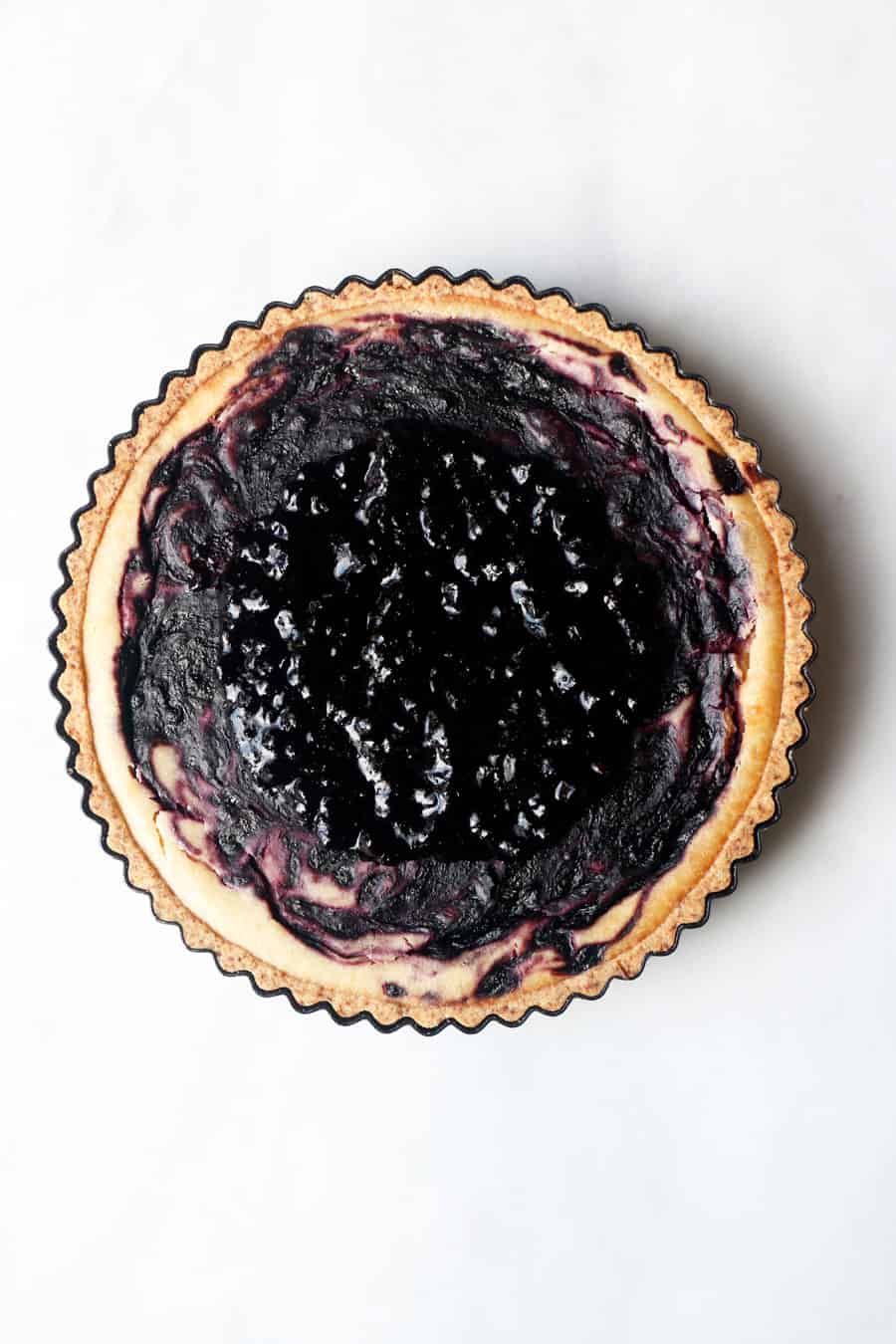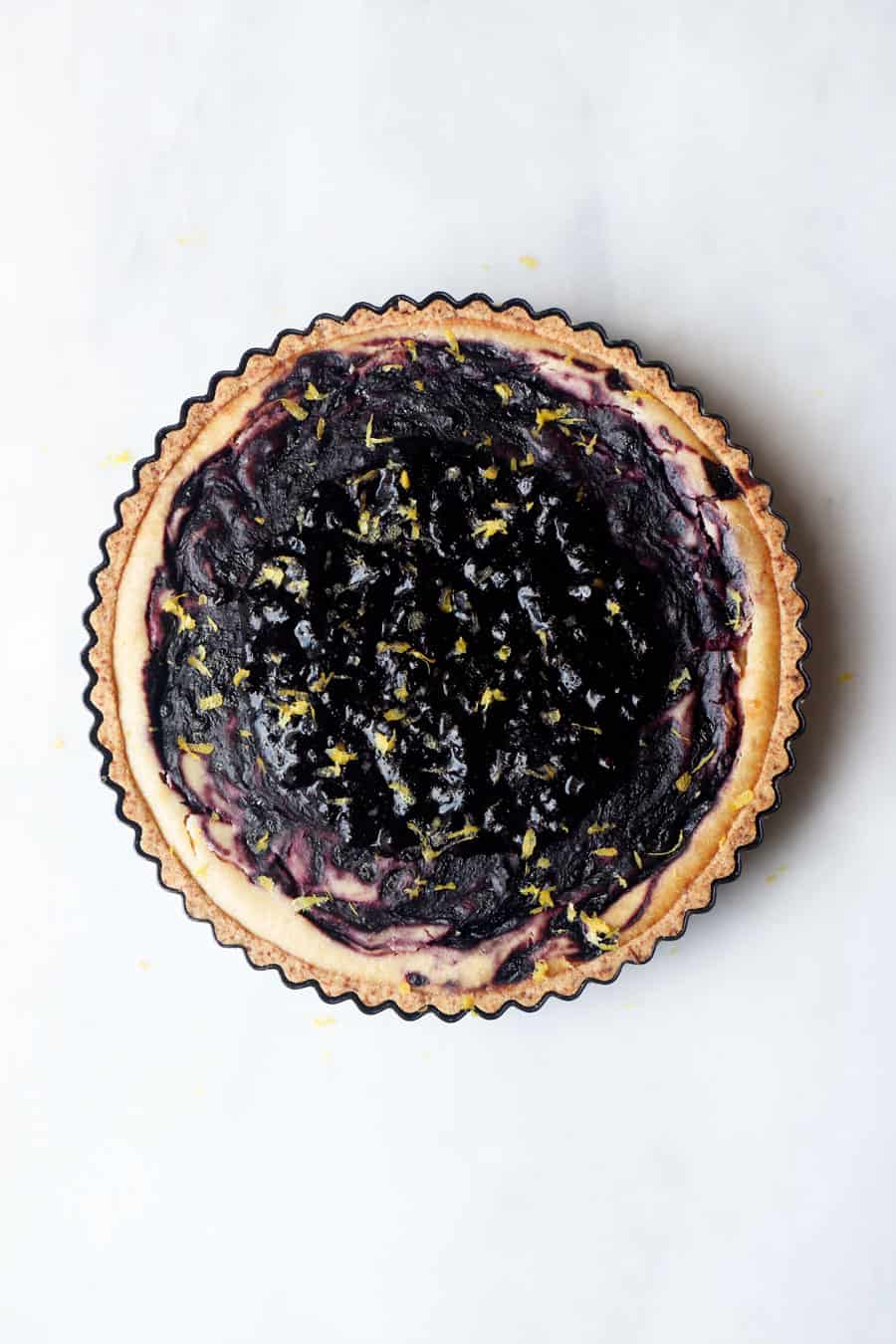 I baked the cheesecake in 9″ tart tin. It works so well and it's wonderful for decoration. I've used my favorite almond chickpea crust again, it's just the best and can I ever really beat it?! The cheesecake filling is made with silken tofu, cashews and vegan creme fraiche.
I have used white sugar to keep the light creamy color to get nice contrast with the blueberries. But feel free to use any sugar of your choice. I've only used 4 tablespoons and for me that was enough sweetness but you might want to add more depending on your taste.
I've made blueberry compote that I swirled into the cheesecake mixture leaving some for topping later. If you prefer you can bake it with the white cheesecake layer only and leave the blueberry compote for the topping. Experiment with what you prefer.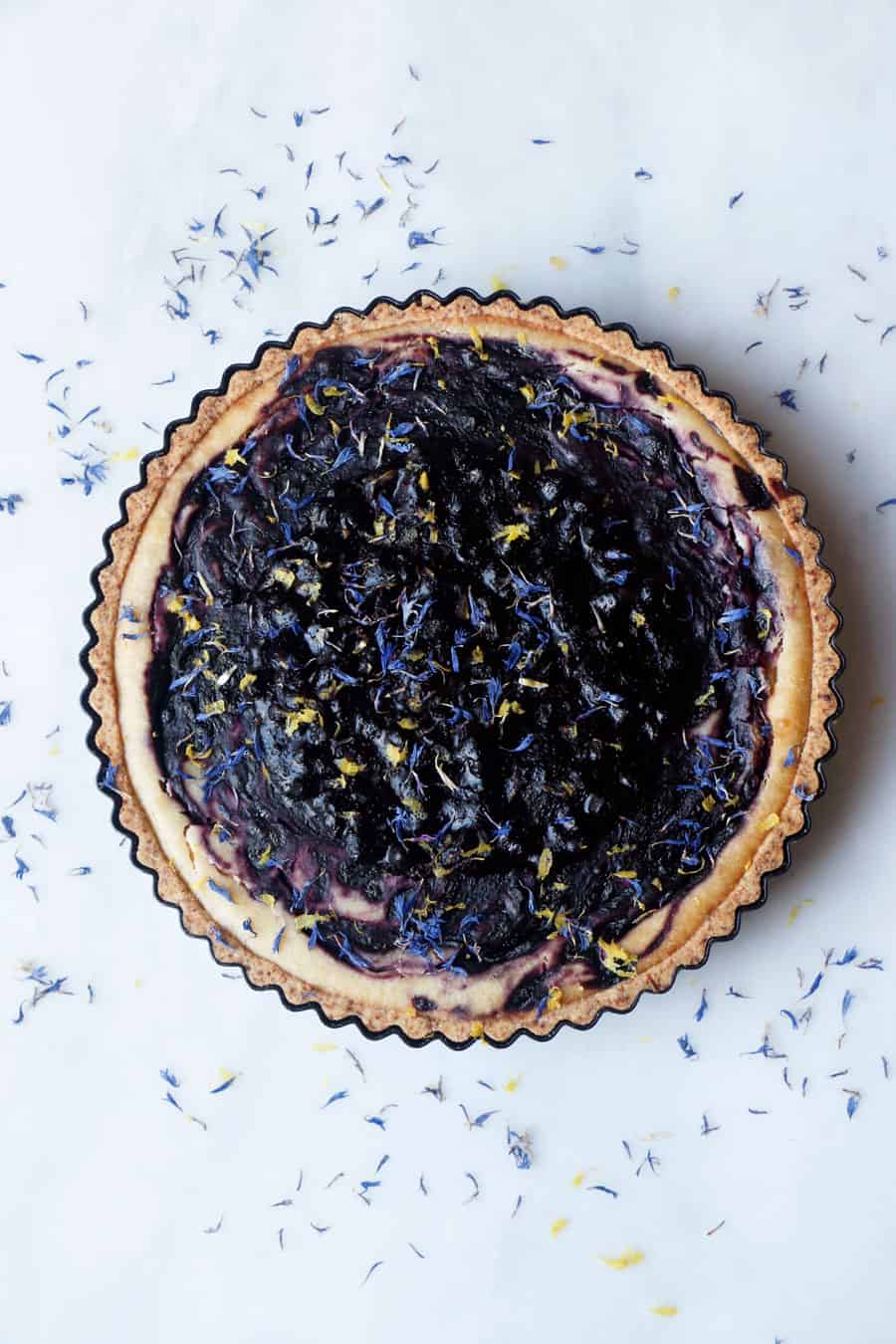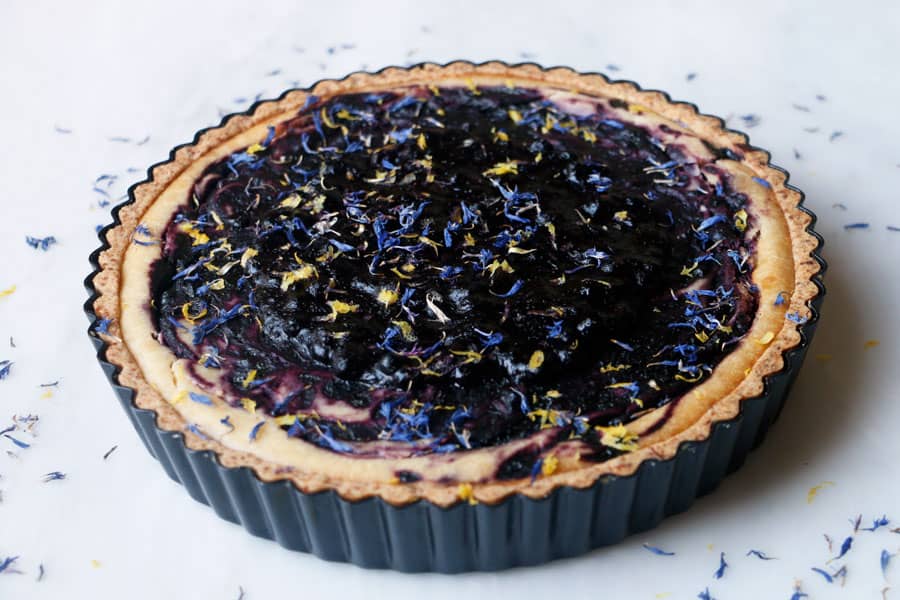 The taste is wonderful, zesty, creamy and I think it's pretty close to a classic cheesecake made with cream cheese. I'm rather happy with the result.
When I was taking the photos the cheesecake wasn't chilled yet, but you can see the very last slice taken on the next day where it's well set.
For the decoration I've used lemon zest and some edible dried cornflowers to add a touch of color.
Hope you love it!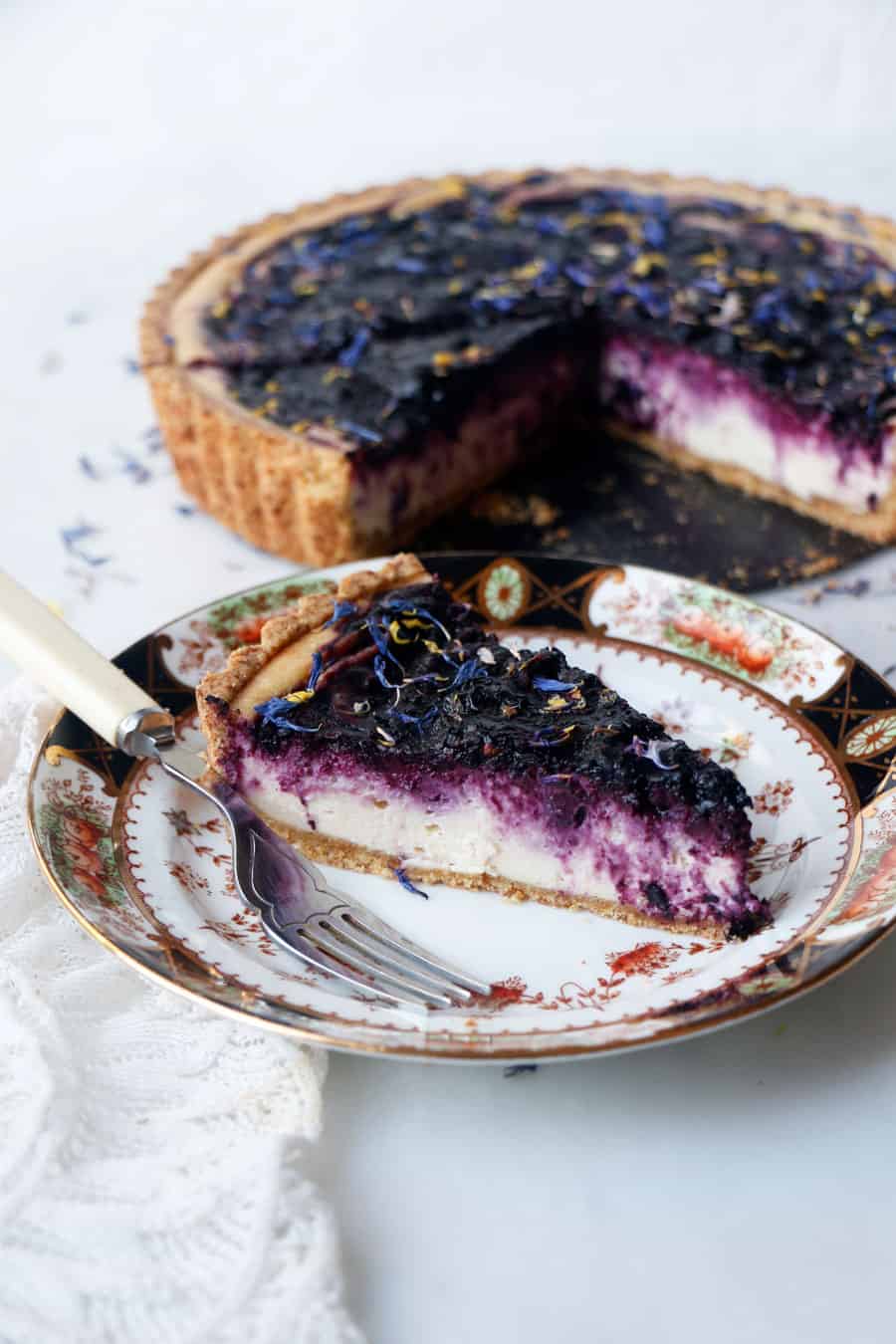 Yield: 9" tart
Baked Blueberry Cheesecake (vegan & gluten-free)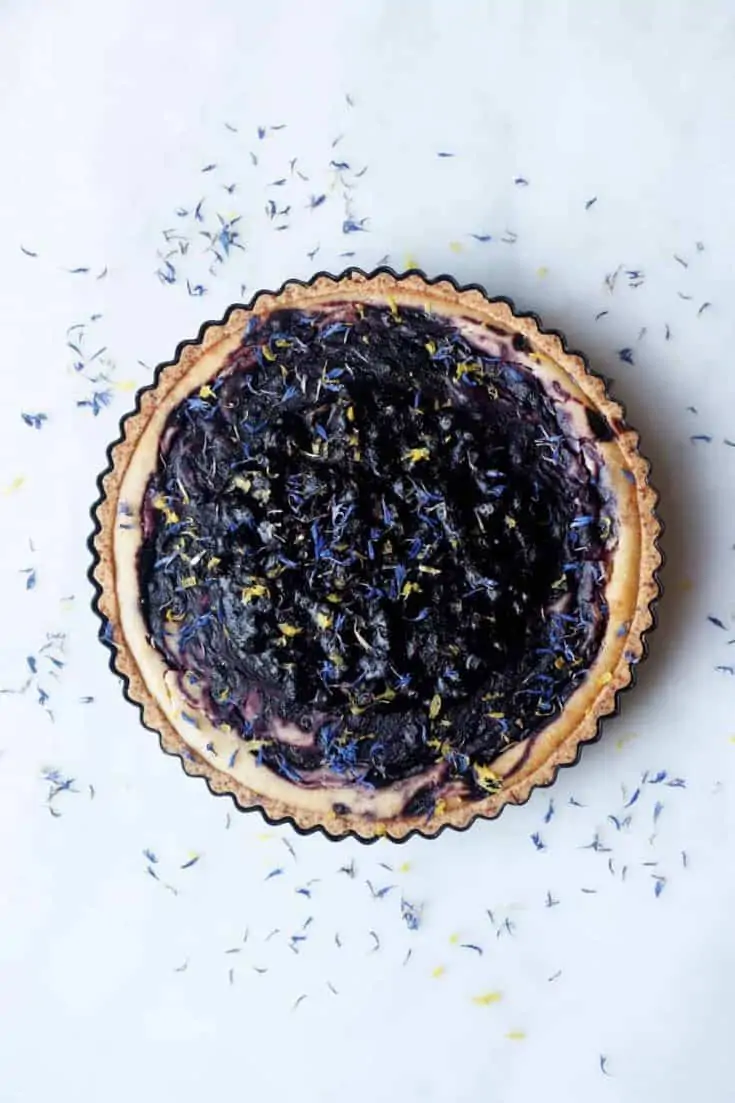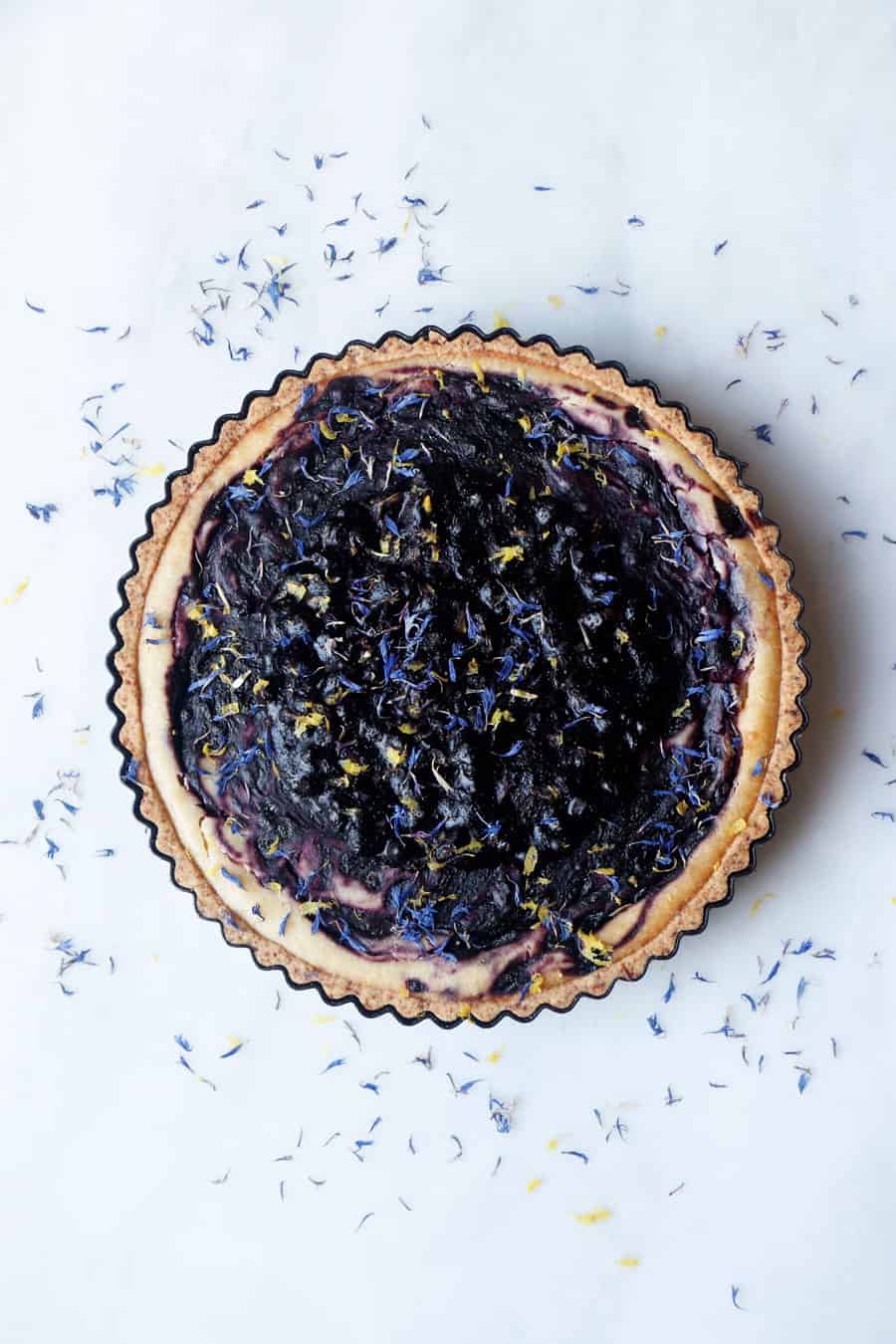 Wholesome gluten-free vegan cheesecake with almond chickpea crust, creamy tofu filling and wild blueberries.
Ingredients
Cheesecake crust:
1 cup ground almonds (100 grams)
1/2 cup chickpea flour (60 grams)
1/4 cup tapioca flour (30 grams)
2 tablespoons coconut sugar
pinch sea salt
4 tablespoons solid coconut oil
1-2 tablespoons water as needed
Cheesecake filling:
1 cup cashews, soaked for 3 hours (120 grams)
12-ounce silken tofu (350 grams)
3/4 cup vegan creme fraiche, or use coconut cream or coconut yogurt (200 ml)
2 teaspoons vanilla extract
zest of 2 lemons
juice of 2 lemons
4 tablespoons light-colored sugar
2 tablespoons corn flour
pinch sea salt
Blueberry compote:
2 cups frozen wild blueberries (200 grams)
1 tablespoon lemon juice
2 tablespoons water
2 tablespoons coconut sugar
2 teaspoons corn flour
1/2 teaspoon agar powder (optional)
Instructions
Preheat the oven to 360 °F (180 °C)
Prepare a 9" nonstick tart tin with a removable base. You can grease and line the base, but the pastry is quite greasy and it's not necessary.
In a medium bowl whisk together ground almonds, chickpea flour, tapioca flour, coconut sugar and sea salt.
Using your hands rub in the coconut oil until mixed in. Now add 1 tablespoon of water at a time until you have a smooth soft dough. Don't overwork it, rather just bring it together.
Press the dough directly into the tart tin and work your way around the base and up the sides to form a crust.
Pierce the base a few times with a fork and bake for 10 minutes.
Remove from the oven and leave to cool down. If the base puffed up gently press it down.
Filling:
Rinse cashews with plenty of running water and drain well.
Place cashews and well-drained tofu into a blender, add creme fraiche, vanilla, lemon zest and juice and blend until smooth. Add sugar, corn flour and sea salt and blend again until incorporated. Taste for sweetness and add extra sugar if needed.
Pour the filling into your pre-baked crust and top with 3/4 of the blueberry compote. Using something like toothpick swirl the top.
Blueberry compote:
Place frozen blueberries, lemon juice, water and sugar into medium pot and bring to boil. Leave to simmer for 5 minutes. Stir in cornflour and agar if using. Leave to boil for another 5 minutes and take off the heat. Use 3/4 of the compote to top the cheesecake layer and save some for later.
Bake for 45 minutes at 360 °F (180 °C) until set. Switch off the oven and leave it cool down in the oven with the door open for another 30 minutes.
Remove from the oven and leave to cool down completely before transferring to the fridge to set.
Before serving top with the leftover blueberry compote. This will likely thicken if you use agar so heat it up with a little more water or you can add more frozen blueberries to thin it.
Nutrition Information:
Yield:
8
Serving Size:
1
Amount Per Serving:
Calories:

510
Total Fat:

33g
Saturated Fat:

15g
Trans Fat:

0g
Unsaturated Fat:

16g
Cholesterol:

31mg
Sodium:

272mg
Carbohydrates:

45g
Fiber:

5g
Sugar:

26g
Protein:

12g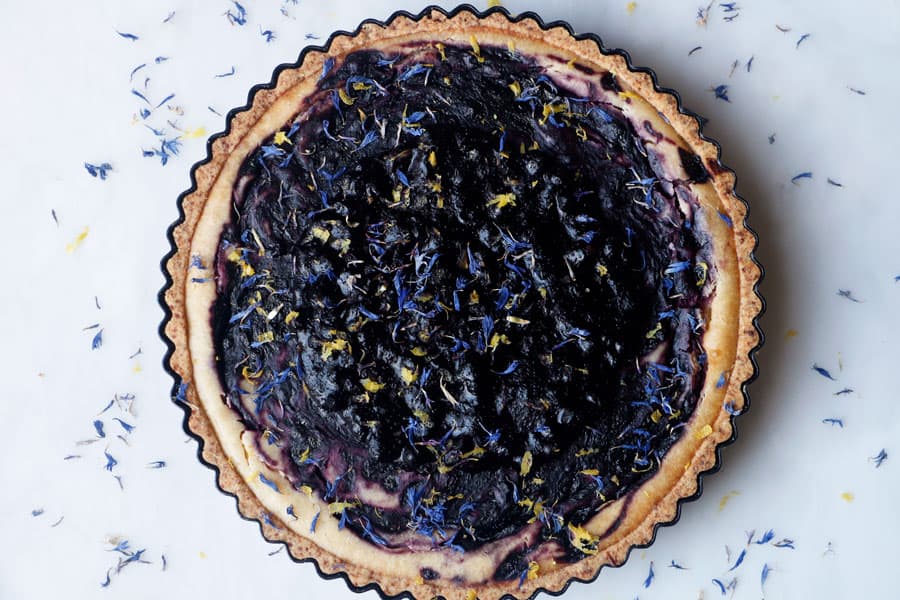 Similar Posts: