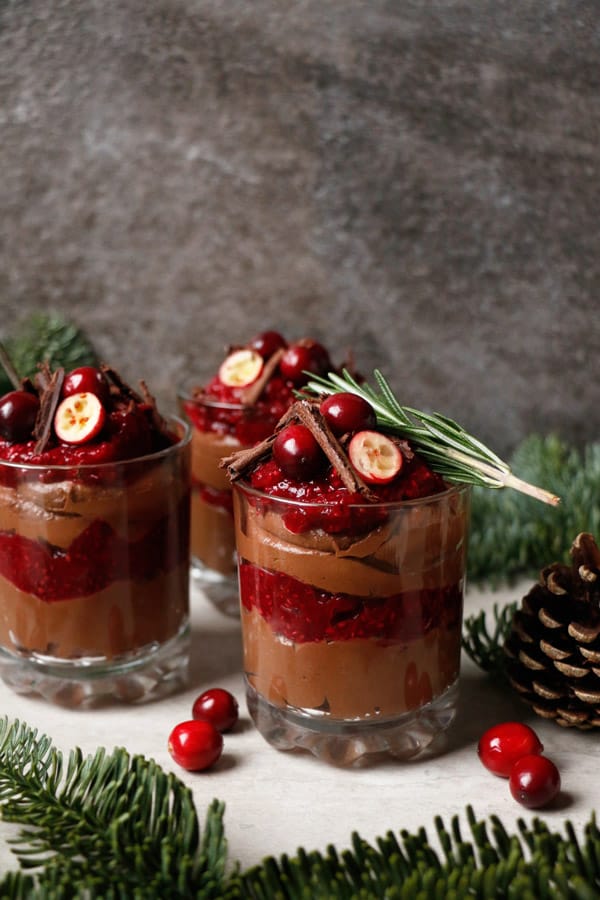 Special thank you to Amore di Mona for sponsoring this post.
I have another beautiful, delicious and Christmassy recipe for you today. This festive Vegan Chocolate Cranberry Pudding Parfait is a dessert for the ones of you who don't feel like much of a Christmas baking and would love something easy and simple for dessert. It's gluten-free, nut-free, coconut-free and with just a few ingredients makes the perfect last-minute pudding.
I loved the chocolate cranberry combination in my Chocolate Cranberry Christmas Mini Cakes and I wanted to create another recipe with these amazing flavours. You can only get fresh cranberries at this time of a year, so we might as well make the most of them:)
This pudding parfait is a mix of millet chocolate pudding with cranberry chia jam and your choice of toppings, very simple. Millet is perfect for pudding, once it's cooked, it can be easily blended into a smooth custard-like pudding, perfect for those on a gluten-free plant-based diet. Then I've simply stirred in some chopped dark chocolate and that's it.
Cranberry chia jam takes 10 minutes to make and tastes utterly amazing. Choose the best quality vegan dark chocolate to make these parfaits, the chocolate really makes these. I'm using Amore di Mona bulk chocolate, which is so rich in cocoa and cacao butter, it really shines in chocolate recipes.
I've topped the parfaits with fresh cranberries, chocolate shards, and fresh rosemary. You could serve these warm topped with some melted chocolate if you prefer, I've served mine chilled. Enjoy:)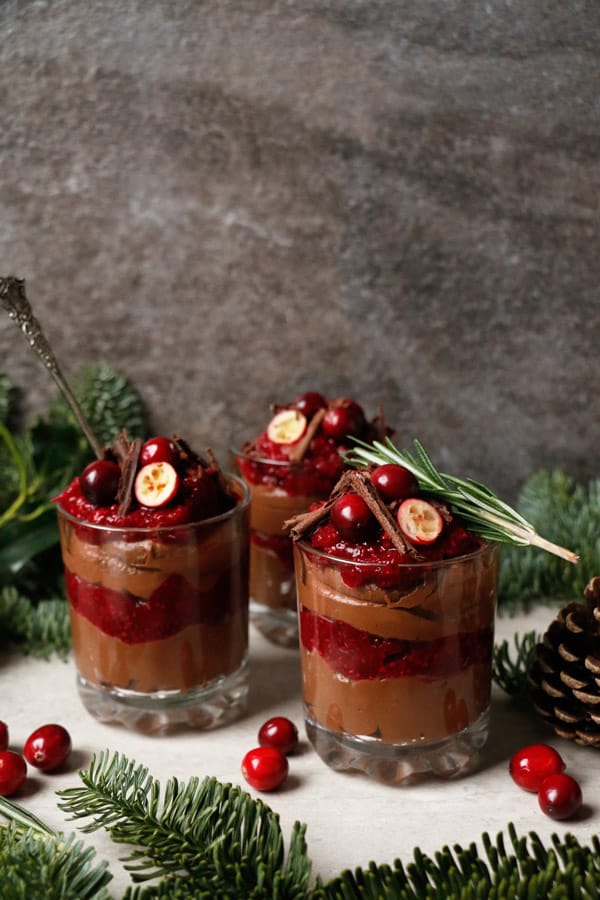 Yield: 4 servings
Vegan Chocolate Cranberry Pudding Parfait (gluten-free, nut-free)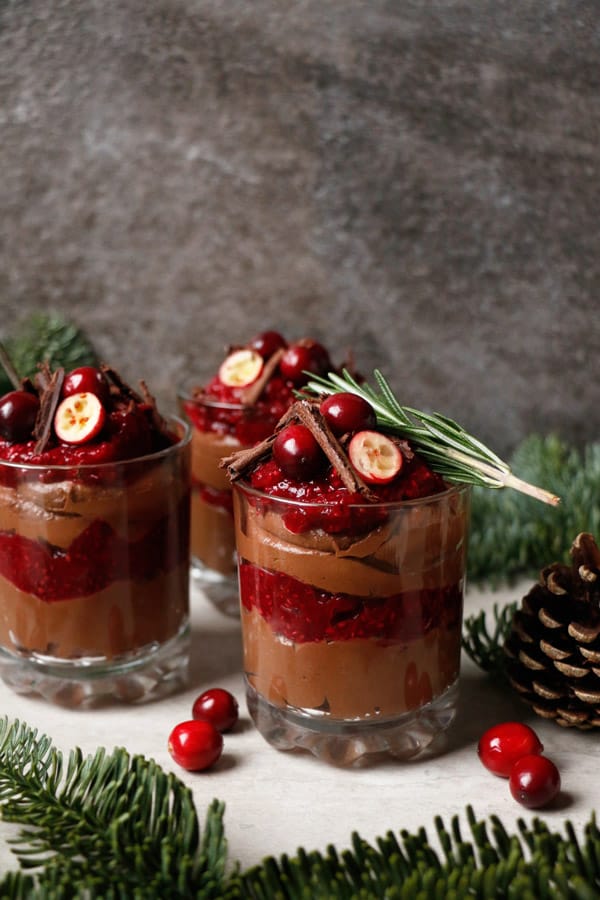 Ingredients
Chocolate millet pudding:
100g millet (1/2 cup)
360ml rice milk (1 1/2 cups)
seeds of 1/2 vanilla bean
1 cinnamon stick
1tbsp maple syrup
100g dark vegan chocolate (3.5oz)
Cranberry chia jam:
200g cranberries (2 cups)
120ml orange juice (1/2 cup)
little orange zest
2tbsp maple syrup
small cinnamon stick (optional)
2tbsp chia seeds
Topping:
fresh cranberries
chocolate shards
fresh rosemary
Instructions
Measure 1/2 cup of millet, put into mesh sieve and rinse under running water. Place into medium pot, add rice milk, vanilla, cinnamon stick and bring to boil. Leave to simmer covered for about 35 minutes until creamy thick porridge like consistency. Add extra milk only if necessary. During the last 10 minutes of cooking give it a little stir now and then to ensure it doesn't catch at the bottom of the pot.
Switch off the heat and leave to stand for 5 minutes. Finely chop chocolate and set aside. Remove the cinnamon stick and stir in maple syrup. Using a hand held blender blend until smooth and creamy. Add little warmed milk if needed. Add finely chopped chocolate and stir until completely smooth. Transfer into bowl, leave to cool for a bit and refrigerate until you are ready to assemble the parfaits.
To make the cranberry jam place cranberries, orange juice, zest, maple syrup and cinnamon stick into a pot and gently heat for about 10 min until cranberries have popped and are soft. Remove the cinnamon stick and roughly mash the cranberries with a fork. Stir in chia seeds and leave to cool down for a bit before transferring into fridge to set.
Once everything is set, assemble the parfaits. Spoon a dollop of chocolate pudding into each glass followed by cranberry jam and repeat with another layer. Top your parfaits with some fresh cranberries, chocolate shards and rosemary sprigs for a festive feel.
Refrigerate until ready to serve.
Enjoy!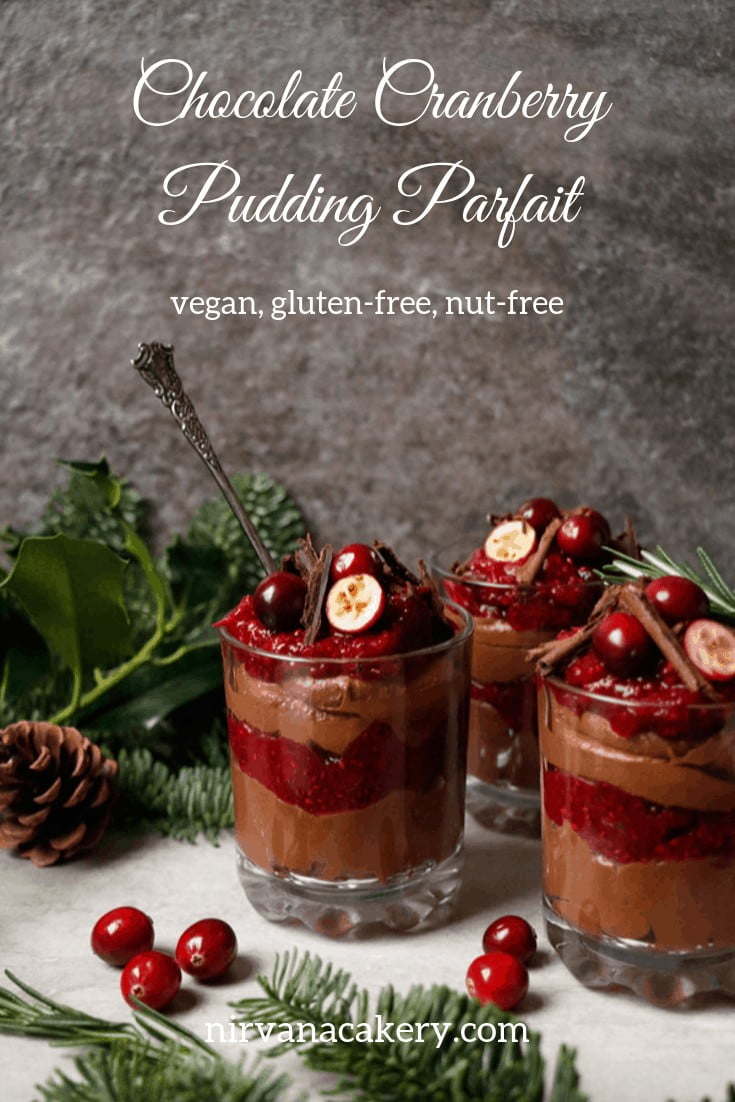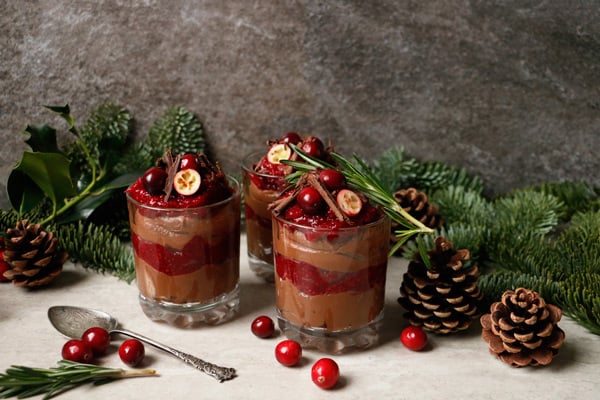 Similar Posts: